Everything You Need to Know About Hot Strike Summer
Your essential guide to the next few months of industrial action.
13 July 2022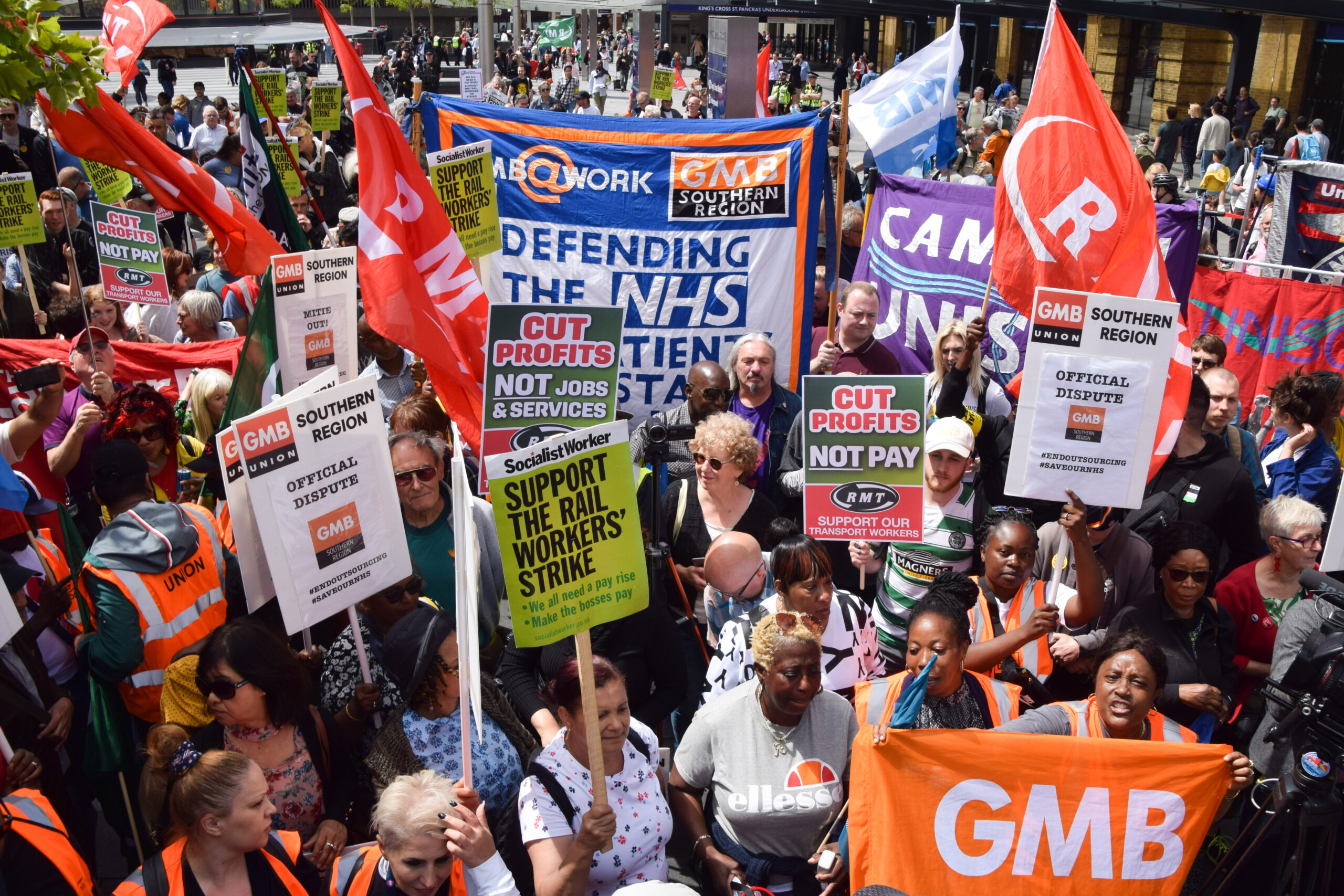 Trade unionists hold a rally in support of the RMT's nationwide rail strike, London, June 2022. Vuk Valcic/Reuters
Editor's note: This piece will be updated as industrial disputes develop throughout the summer.
As inflation sky-rockets and the cost of living bites, industrial action is on the rise across the UK. Novara Media and Strike Map UK have pulled together a list of which workers are striking this summer (and beyond) – and how you can support them.
Rail workers.
Who: Rail workers, organised by the National Union of Rail, Maritime and Transport Workers (RMT), the Associated Society of Locomotive Engineers and Firemen (Aslef) and the Transport Salaried Staffs' Association (TSSA). It's the first time in a generation that all three specialist rail unions are taking part in industrial action at the same time.
Why: Pay, conditions, job losses, and the threat of 'fire and rehire' contracts.
The RMT is demanding a pay rise of between 7% and 8%. Workers were initially only being offered a 2% pay rise by Network Rail, with 1% more if they accept job cuts and 'modernisation' – which the union claims will make conditions for rail workers and passengers more unsafe. Network Rail have since come back with an improved pay offer, which the RMT have rejected.
Aslef members at eight train companies have also voted overwhelmingly for strike action over pay, while TSSA rail workers in Network Rail and Southeastern have voted to take action over pay, conditions and job security.
When: The RMT strikes began in June, when over 40,000 workers went on strike, causing 80% of national rail services to grind to a halt. Following Network Rail's most recent offer, which RMT leaders have described as "paltry", another walk-out is to take place on 27 July. TSSA staff at Avanti West Coast are set to strike on the same day. Two more days of national strike action are now planned for 18 and 20 August.
Aslef members at Greater Anglia went on a 24-hour strike in early July, and have further strike action planned for 30 July.
How can I support them? You can donate to the RMT's National Dispute Fund here.
Criminal barristers.
Who: Criminal barristers – aka barristers who specialise in criminal law – in England and Wales, organised by the Criminal Bar Association (CBA).
Why: Pay. The CBA says legal aid cuts mean some junior barristers are now making less than the hourly minimum wage. Under legal aid, the government pays barristers to represent clients who can't afford their services on their own, and sets the rates for that pay. 
Barristers are asking for a 25% legal aid pay increase, and have rejected a government offer of 15% because it won't be implemented immediately, nor apply to backlogged cases.
The CBA claims incomes have fallen by nearly 30% in the past 20 years, and barristers in their first three years of practice can expect to make around £12,200 after expenses. It says hundreds of criminal barristers have left the profession as a result, contributing to the backlog of over 58,000 cases. 
When: Strike action began with a two-day walkout in late June. Since then, strike action has increased by one day a week, and will culminate in a five-day walkout from 18-22 July. Action will then pause for a week before another five-day walkout starts on 1 August. From then on, criminal barristers say they will walk out every other week until the situation is resolved. 
As well as walkouts, those on strike won't accept new instructions (the act of taking on a case) and will continue to refuse 'returns' (replacing a barrister who can no longer attend a case).
How can I support them? There's no strike fund at this time, but keep an eye on the CBA's news section for details of how to join picket lines.
BT workers.
Who: BT Group engineers and call centre workers, organised by the Communication Workers Union (CWU). If action goes ahead, it will be the first national strike by BT workers in 35 years. 
Why: Pay. This year BT gave workers a £1,500 per year pay rise, the CWU says this is a "dramatic real-terms pay cut"  against rising inflation. Last year, BT's chief executive Phillip Jansen received a 32% pay increase, taking his salary to £3.5m.
The CWU balloted nearly 40,000 BT workers across Openreach and call centre staff, and both groups voted overwhelmingly in favour of strike action.
When: Two days of strike action have been announced for 29 July and 1 August.
How can I support them? Until strike action takes place, keep an eye on updates from the CWU.
Postal workers.
Who: 115,000 Royal Mail Group (RMG) postal workers, organised by the CWU. On 19 July, members voted overwhelmingly in favour of strike action, with a 97.6% 'yes' vote on a 77% turnout. 
Why: Pay. RMG is planning to impose a 2% pay increase on workers, but the CWU says this isn't enough. Instead, the union is demanding negotiations to secure a "no-strings attached" pay increase for its members. RMG claims it has offered a 5.5% pay increase, but that this has been rejected.
When: CWU general secretary Dave Ward has expressed willingness to get around the negotiating table with RMG but has said the company would be notified of strike action dates if a deal is not reached.
How can I support them? Keep abreast of CWU announcements here.
Royal Mail managers.
Who: 2,400 managers within RMG, organised by Unite the Union. 86% of those ballotted in Britain voted for strike action, while those in Northern Ireland voted in favour by 89%.
Why: Pay and job cuts. RMG plans to cut 700 more management roles and slash pay by up to £7,000. Unite says the action is a last resort after months of consultation, and that proposed job losses would make the six day-a-week postal service "impossible" to provide.
When: From 15-19 July, managers will 'work to rule' – do the bare minimum required by an employment contract. Unite alleges the postal service is currently reliant on thousands of unpaid hours provided by managers. A two-day walkout will follow between 20-22 July. 
How can I support them? Follow Unite's 'Royal Mail – Save Our Service!' campaign here.
British Airways workers. 
Who: 700 British Airways (BA) workers, made up of check-in and ground staff. The majority are women on low pay, and are organised by Unite and the GMB.
Why: Pay. The dispute is over a 10% pay cut imposed on workers during the peak of the pandemic using 'fire and rehire' tactics. BA says it's offered a 10% one-off payment to address low pay, but Unite and the GMB are demanding workers have the 10% cut reversed permanently, noting that BA managers have had their pay returned to pre-pandemic levels. 
95% of staff backed strike action on both ballots on a turnout of 63% at Unite and 81% at the GMB.
When: Strikes may be avoided after talks. On 7 July, it was announced that action planned for late summer had been suspended after BA came to the negotiating table with a "vastly improved" pay offer. Unite and GMB members are now being balloted on accepting the new deal.
How can I support them? If the new pay deal goes ahead, no extra support will be needed.
Further education staff.
Who: 39 colleges across England, via three separate ballots. In the largest, staff at 29 colleges across England returned an 89.9% yes vote, on a 57.9% turnout – apparently the "biggest mandate for industrial action" since the threshold was introduced in 2016.
Six colleges in London were also balloted: Barnet & Southgate College voted 98.4% in favour of action, on a turnout of 77.4%. At Hackney, Havering, Redbridge, Tower Hamlets and Epping Forest colleges, 88.6% voted 'yes' on a turnout of 65.8%. 
They will be joined by four colleges in the north west, across Liverpool, Burnley, Manchester and Oldham, who will be taking further action after initial strikes in May 2022.
Why: Pay. UCU wants pay increases to match inflation and the demands of the cost of living crisis. The union says the pay of further education staff has fallen 35% behind inflation since 2009; meanwhile FE employer body, the Association of Colleges, is recommending a pay rise of 2.5%. 
FE staff pay falls well below other sectors; compared to pay of teachers in schools it's an estimated £9,000 less on average, Tom Colclough, UCU's head of communications told Novara Media. 
A UCU study published 8 July found that eight out of 10 FE staff are financially insecure, with workers reporting they are imposing restrictions on heating their homes and using hot water. A quarter of FE workers said they are skipping meals due to financial precarity. 
When: Walkouts will take place at Burnley College, The Manchester College, City of Liverpool College, and Oldham College on 6 and 7 September unless pay negotiations bear fruit. 
Strike dates have not yet been announced for the remaining 35 colleges; UCU have now invited college administrations to increase their pay offer to avoid disruption. 
The disputes could yet be resolved; 2022 has seen a number of FE strikes called off after UCU members have won new pay deals of up to 9%. 
How can I support them? You can donate to the UCU Fighting Fund here.
University staff.
Who: All UK higher education staff belonging to the University and College Union (UCU). 
Why: Pay, pensions, workloads and casualised contracts. Potential action follows 10 days of strike action earlier this year over cuts to the Universities Superannuation Scheme (USS), a higher education pension scheme with over 400,000 members. According to UCU, pension cuts – which came into force in April 2022 – saw the average lecturer lose at least 35% from their retirement income.
To avoid strike action, UCU wants pension cuts scrapped and for a new "evidence-based" valuation to be carried out. It's also calling for a minimum pay rise of £2,500 for all staff, and action to address wage inequality, casualised contracts and excessive workloads. 
When: On 1 July, UCU confirmed it would be balloting all higher education members – about 80,000 people – on strike action in late summer. If a yes vote is returned, strikes will follow in November.
How can I support them? You can donate to the UCU Fighting Fund here.
Teachers. 
Who: Teachers in England and Wales, organised by the National Education Union (NEU).
Why: Pay. The NEU says teachers have lost 20% of their pay in real terms since 2010. They are likely once again to receive a pay offer below inflation – a real-terms pay cut. The NEU is instead demanding an "inflation-plus" pay rise. The government hasn't confirmed if an improved offer is on the table, but if this comes it's unlikely to be as high as the NEU is demanding. 
When: In this instance, the NEU will issue an initial indicative ballot to gauge willingness to strike, followed by a formal ballot. If members vote in favour of strike action, such action would likely take place in the autumn.
How can I support them? Keep an eye on any further news by following the NEU's pay campaign here.
Strike Map UK is a Red For Workers project, mapping strikes across the UK.
Moya Lothian-McLean is a contributing editor at Novara Media.