Direct Action is Just What the Doctor Ordered
Resistance isn't futile - and more people are realising it.
16 June 2022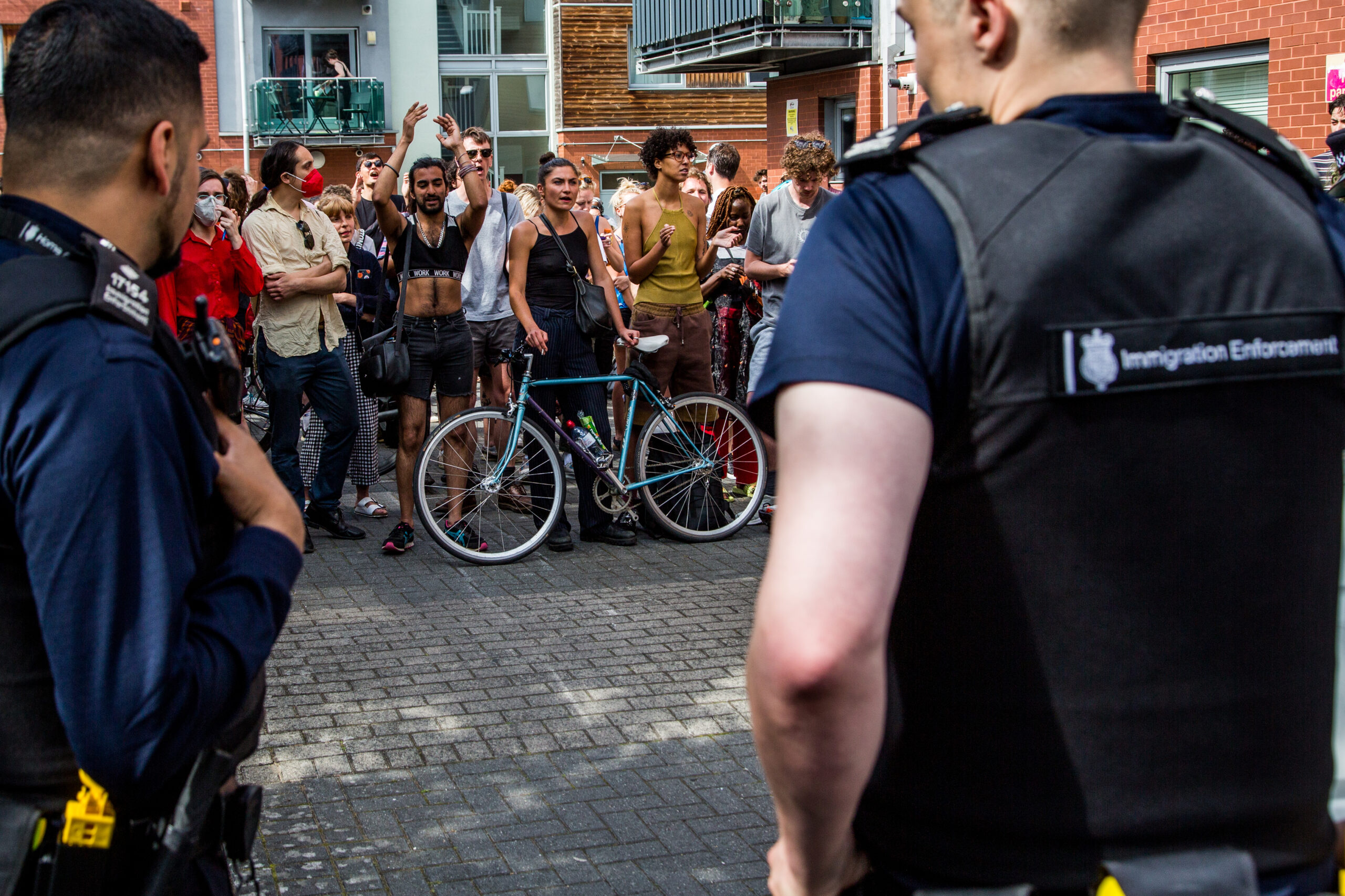 Protesters block an immigration raid in Peckham, London, June 2022. Thabo Jaiyesimi/Reuters
On 11 June, over 200 people crammed themselves into a small brick courtyard in Peckham, south London, facing a line of police officers and a white van. The van was their focus; inside was a local resident, detained during an immigration raid. When he was first bundled inside, just seven people had blockaded the van from leaving, including one individual who lay down in front of the vehicle. But as the afternoon wore on, a social media clarion call and word of mouth brought forth reinforcements. Police ranks swelled, and so did the number of citizens. Officers violently attempted to force a path through. But they couldn't. And so, around 5pm, their captive was released. The community had won. 
In recent months, it's felt like direct action is back on the cards again. Successes are coming thick and fast: deportations delayed by activists from Stop Deportations blocking roads at Colnbrook and Brook House detention centres, immigration raids foiled in Glasgow and Dalston; victorious strike action across industries, and headline-grabbing protests by the likes of climate groups – never before has home insulation has never been so high on the radar. Copwatch groups are popping up all over the country, and resources previously confined to activist spaces are getting Insta-friendly makeovers. Tabloids and broadsheets alike have taken furious notice. 
To members of the public not engaged in organising, all of this might seem like a sudden burst of activity. But this momentum didn't come from nowhere. It's a testament to dogged, consistent campaigning, combined with clear, comprehensible goals. It's too early to say anything with certainty, but it feels as if once more, the recognition that struggles are interconnected is reaching further than those for whom this has long been an accepted fact. 
The disconnect between public concerns and government policies has certainly helped this process. Whilst the Tories insist on pushing their anti-migrant agenda, the fact is that immigration has slipped far down the list of national concerns. The Rwanda plan is more unpopular than they expected – albeit largely amongst liberals and the left. 
Meanwhile, the different treatment of mostly Black and brown refugees arriving via boat to those fleeing from Ukraine who are racialised as white has also helped people join the dots when it comes to the racism underwriting Britain's hostile environment. Similarly, threads are being pulled together by the cost of living crisis and the need for a robust labour movement – which in turn feeds into solidarity shown to gig economy workers targeted by the likes of immigration raids. 
In short, everything intersects. As outlined in the forthcoming book Race to the Bottom: Reclaiming Antiracism by Azfar Shafi and Ilyas Nagdee, "anti-racism from below" and "socialism from below" movements are one and the same. Historic examples of successful grassroots antiracist actions like the 1972 Mansfield Hosiery Strikes were migrant-led, bypassed institutional machinery and entwined struggles against racist policy with worker solidarity from the get-go. This current of solidarity is clear in this new period of direct action. Ahead of the fifth anniversary of the Grenfell Tower fire, for instance, direct action network Palestine Action, birthed in 2020, completed a second blockade against Arconic, a company that both sells materials to the Israeli military and provided the flammable cladding that saw Grenfell Tower go up in flames.
This solidarity comes to the clear relief of organisers who have been trying to convey the interconnectedness of struggles for years. Speaking at a rally outside the Home Office this week in opposition to the Rwanda deportation plan, a representative from the Women of Colour bloc of Global Women's Strike linked anti-deportation actions to women's rights and withdrawing policing consent, telling the assembled that current actions were an example of "​​a more lively demonstration of a movement than we've seen in decades". 
This hasn't happened overnight. There's no 'start' or 'end' to movements like this, only patterns of action then institutional suppression, followed by apparent dormancy. Direct action is most effective when there is a specific, immediate goal, like a pay increase or stopping a deportation flight, which forms part of a longer-term strategy. From 2015-2018, there were notable pockets of action – those of Sisters Uncut, the Stansted 15 – but the political landscape has been far more absent of these particular grassroots displays of resistance than, say, the much vaunted heyday of the 1970s. 
Multiple factors are starting to change that: increasingly desperate times; a realignment of British political identities from being based around which party you vote for, to which issues you care most about. This sees, in some spaces, an abandonment of investment in state-led change. Mass mobilisations – from Extinction Rebellion in 2019 to the Black Lives Matter protests in 2020 and the Kill The Bill movement in 2021 – have helped fertilise the ground. Trivial though it may seem, hot summer weather also creates prime conditions for getting people up, about and occupying arms factories.
Direct action, of course, is just one piece of the larger puzzle. It's very much not the be all and end all; without being part of a wider strategy it can be a little like shouting into a void. After collective efforts helped ground the first planned flight to Rwanda, one individual cited radical poet Diane di Prima: "No one way works, it will take all of us shoving at the thing from all sides to bring it down". Sage words. But the visible upswing in direct action is indicative of the fact that a wider swathe of people are once again lending their strength to do the shoving. Many hands, they say, make light work.
Moya Lothian-McLean is a contributing editor at Novara Media.