How We Won: The Activists Who Put a Stop to TUI's Deportation Flights
The airline was responsible for hundreds of deportations.
4 March 2022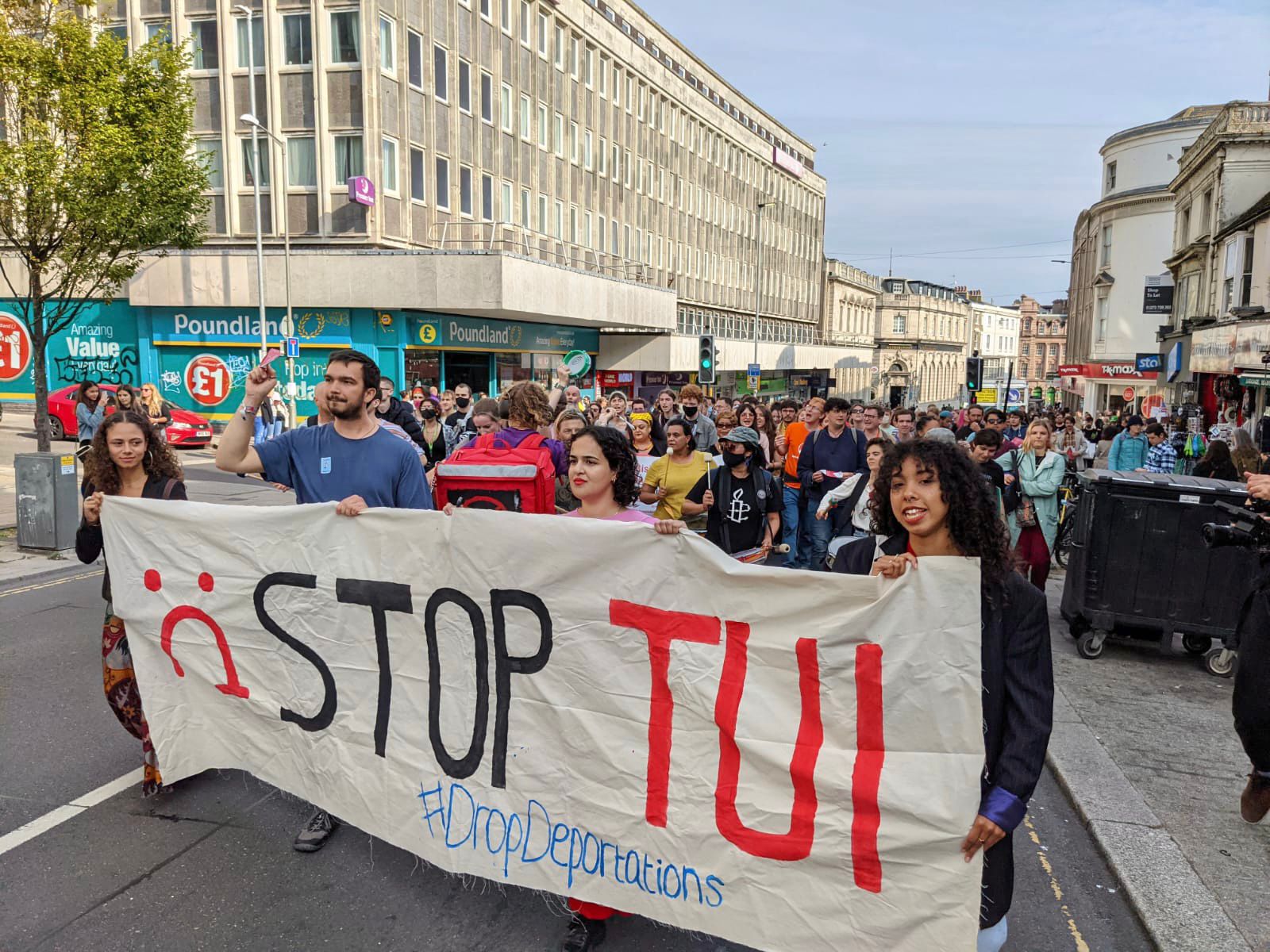 Nadia Whittome / Twitter
Campaigners trying to end airline TUI's involvement in deportation charter flights announced their victory earlier this month. Following a little over a year of organising by the StopTUI campaign, TUI has not run a deportation flight in over six months. 
For years, TUI was one of the main airlines flying mass deportation charter flights on behalf of the Home Office. These flights, which often happened in the dead of night, tore hundreds of migrants from their lives in the UK, returning them to countries where many faced persecution. 
Campaigners suspected TUI had stopped working with the Home Office in November 2021, when they noticed the airline had not run a deportation flight for three months. These observations were then corroborated by an anonymous source, who confirmed that the airline had severed ties with the government.
The implications of this win are significant. While it won't stop deportations altogether, campaigners believe it will make them more difficult to carry out, and sets a powerful example for what is possible in resisting the hostile environment.
"Now, due to successful campaigning, any time [the Home Office] decide to make a [deportation] flight happen, [they have] to scramble," says Steve Jackson, a StopTUI campaigner. "Over the last six months, we've seen that they've had to use seven different airlines, mostly not based in the UK […] it's more difficult for them every time, which means they're less likely to order a deportation flight."
✊CAMPAIGN VICTORY✊

For almost a year, we have been campaigning against @TUlUK, aiming to end their role as The Home Office's main deportation partner.

Today, we are pleased to announce the success of this campaign.

Full statement:https://t.co/v1TkkrdjxV pic.twitter.com/nsjXuYRSh7

— SOAS Detainee Support (@sdetsup) February 14, 2022
People power was key. 
The StopTUI campaign was launched in early 2021 by a coalition of groups, coordinated by SOAS Detainee Support (SDS), an abolitionist group that visits migrants detained by the government. The other groups involved were Black Activists Rising Against the Cuts (BARAC), Kurdistan Solidarity Network (KSN) and Lesbians and Gays Support the Migrants (LGSM). 
Having been set up during the pandemic, StopTUI's first action was a month-long online campaign in April 2021, which aimed to raise public awareness about deportations, TUI's involvement in them, as well as its poor practices overall – such as its strongarming of the Greek government to open its borders, which resulted in the first wave of coronavirus in the country. The campaign called upon people to make placards and share them on social media, to engage in Twitter storms and phone barrages, and to sign an open letter. 
Having harnessed significant support online, the activists decided to further build power by taking to the streets, holding actions outside TUI shops and putting on marches. All of this allowed the group to build momentum for its centrally-coordinated national day of action on 28 August 2021, which it hoped would raise more awareness of the campaign and its aims.
TUI has been responsible for at least 21 deportation flights since January 2021. Enough is enough. Join the national day of action against the UK's #1 Deportation Airline on 28th August – Find your local TUI action below ⤵️ 🚫🚫✈️✈️✈️🚫🚫 #TUIDropDeportations pic.twitter.com/zknk398Bx5

— SOAS Detainee Support (@sdetsup) August 20, 2021
"Really the success [of the campaign] was down to people power," says StopTUI activist Zita Holbourne, the national chair and co-founder of BARAC. It was about "lots of groups and ordinary people coming together and responding to our calls to action both online and physically, on the streets".
This widespread action made the campaign "very hard to ignore for TUI", adds Nik, a member of SOAS Detainee Support and the StopTUI campaign.
"We were really really surprised by how the campaign proliferated across the UK," they continue. Around 13 local StopTUI groups were formed in response to the initial online campaign, with demonstrations held in Glasgow, Manchester, Brighton and London. This growth happened "really organically", explains Nik, "because it's obviously something people really care about".  
We marched through Brighton to demand that @TUIUK stop running brutal deportation flights.

These flights tear families apart, send people to countries they have no memory of and put lives in danger.

Companies making profits from suffering are complicit.#StopTUI #TWT21 pic.twitter.com/6P5Lw2pkhM

— Nadia Whittome MP (@NadiaWhittomeMP) September 26, 2021
Beyond some basic coordination around resources and messaging, each group operated autonomously, joining up with local organisations and individuals to devise their specific strategies. This, StopTUI campaigners believe, was a real strength of the campaign. "That self-organising environment, I think, really allowed people… to take their organising into their own hands," says Nik, "which […] gave us the momentum to push the campaign over the edge."
Damaging the brand. 
Another important strategy for the campaign was the way it "name[d] and shame[d] TUI as loudly as possible", explains Holbourne. Its core messaging was strong, clear and focussed: "no overly-victimising […] migrants, no white saviour complex, no good migrant/bad migrant discourse," says Nik. 
Campaigners consistently strived to communicate the violence of deportations, and TUI's complicity in them, in relatable and accessible terms. Whilst explaining border abolition can be challenging, says Jackson, "If you're standing next to a TUI store and you literally point and say 'you know it's them [deporting people]?', then that's really shocking and people jump on board." 
Running actions outside TUI shops allowed campaigners to both reach "audiences that we wouldn't otherwise", and to embarrass the airline, says Holbourne. Often, she says, the TUI staff closed the shops as a result of the protests. 
We are here outside @TUIUK in Stratford Westfield to demand they stop carrying out deportations in collusion with the home office. No borders! No nations! Stop deportations! pic.twitter.com/xgrHsJRKNv

— Stop TUI – East London (@stoptui_eastldn) October 2, 2021
Targeting TUI's brand proved very effective, says Jackson, since "[private companies are] very susceptible to their public image being hampered". As part of these attempts to damage the airline's reputation, campaigners inverted its well-known smiley face logo into a frown. They also encouraged people to boycott the airline. 
Though the campaign might not have directly impacted the company's profits, campaigners soon realised that the airline was concerned about the bad PR it was receiving. In reviewing publicly available minutes from TUI's internal meetings, campaigners learnt that "investors were raising the negative PR from deportations as a massive risk factor" for the airline's profitability, says Jackson. 
A 'harrowing duality'. 
In damaging the airline's brand, campaigners were also able to highlight the company's "greed and hypocrisies", explains Nik. They wanted  to draw attention to the fact that whilst TUI was running deportations – many of which tore people from their families – it was "market[ing] itself as a family-friendly organisation, and extract[ing] huge financial wealth from that". 
Exposing this "harrowing duality", says Jackson, allowed campaigners to quickly convince people of the inhumanity of TUI's actions. Apart from "some really unpleasant reactionary types", he says, "people do not support the deportation regime… after learning about it." 
Focussing on human stories as opposed to abstractions was effective, explains Nik, who says they are what "connect with people most". The campaign circulated testimonials by people harmed by the hostile environment online, and read them out at protests across the UK.
The power that the right-wing media has "to distract and alter the truth" around immigration policy was evident throughout the campaign, Nik continues. However, with activists working hard to counter this rhetoric, once people knew about the violent, racist, and often illegal, reality of deportations, they "[didn't] want to stand for it", they explain. 
'The campaign will evolve and transform.'
While TUI is yet to release a statement about it severing ties with the Home Office – a decision that Jackson believes "reeks of [the airline] trying to hide from accountability" – campaigners are cautiously optimistic that the company will refrain from any further collaboration with the government.
And galvanised by their win, campaigners are already getting ready to move on to new targets. "The StopTUI campaign will evolve and transform because the hostile environment still exists, deportations still exist," says Nik. 
In waging this fight, Holbourne says that attacking the private contractors the government relies on, rather than the government itself, will prove to be a vital tactic. "Although the hostile environment and the Home Office operate a complicated and powerful web of machinery that keeps this absolutely violent, discriminatory policy on freedom of movement ticking," he says, "there are weak points." Private companies are one such vulnerability because they put their profits first and are, therefore, "really susceptible to pressure points that the Home Office doesn't have to care about" – a fact that TUI's concerns about its profitability made very clear. 
"We identified a loose brick within the wall that is the hostile environment and we started tapping at it," says Jackson. Other campaigners, he argues, can do the same: "You don't need resources, you don't need huge amounts of power: you need a clear message, and you need to speak to people about that message."
Sophie K Rosa is a reporter for Novara Media. Her book, provisionally titled Radical Intimacy, will be published by Pluto in 2023.