How We Won: The Care Workers Who Struck for a Living Wage
'We delivered this win.'
24 November 2021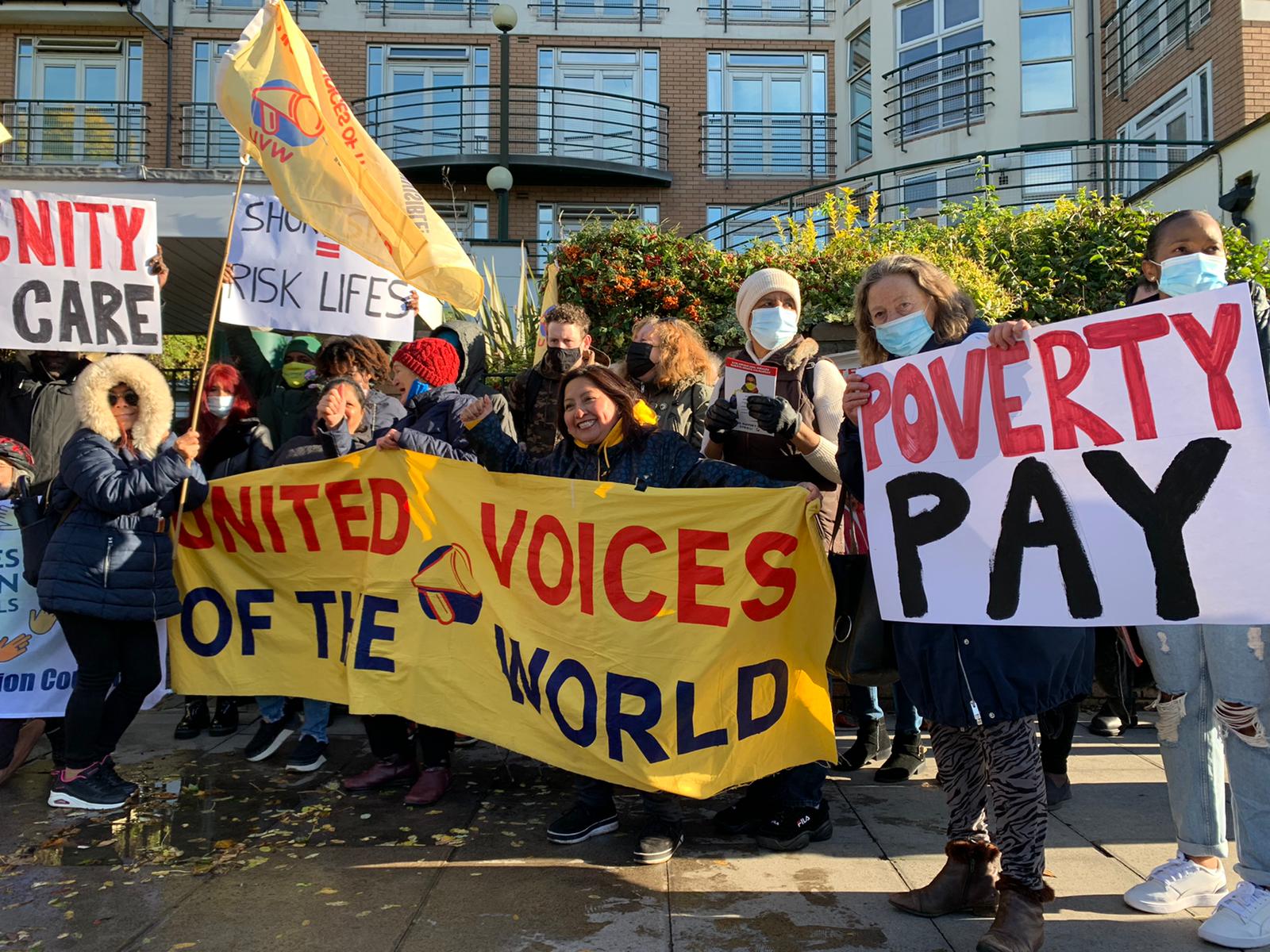 Workers at Sage care home in north London have won a huge victory in their campaign for fair wages. Photo: United Voices of the World
Last week, workers at Sage – a small, independent care home in north London – saw an important victory in their campaign for fair wages. From 1 December, care workers at Sage, along with domestic and maintenance staff, will now receive the London living wage (an increase of at least 11%), while all other members of staff will see their pay increased by 5%. 
The workers didn't achieve all of their demands: £12 an hour pay, recognition of their union, United Voices of the World (UVW), or parity with NHS workers in terms of sick pay. However, organisers say they have still achieved a "huge victory", and hope it will set a precedent in a sector beset by poor pay and working conditions and in which strike action is still all too rare.
BREAKING: VICTORY FOR SAGE WORKERS!💥 Trustees at the London nursing home capitulate after a long, hard fought campaign for equality by pandemic heroes. These workers self-organised, joined UVW and built a high-profile campaign, supported around the UK.https://t.co/qBpXQ4KGxO

— United Voices of the World (@UVWunion) November 18, 2021
The dispute began at the start of the pandemic in March 2020 – a time when the poor pay and working conditions of the sector were becoming more apparent than ever. At the height of the first wave, care workers across the country faced shortages of PPE and long working hours, while still being paid less than the living wage. In response, workers at Sage began to organise, and a campaign was soon underway. As carer Andrene told Novara Media in January 2021: "The pandemic triggered something inside of us. It made us realise that as carers, we are essential workers, and we deserve better." 
Working with UVW, the workers launched leafleting drives and petitions (signed by as many as 70,000 people), garnered significant support from the local community, inspired an early day motion in parliament, organised three rounds of strike action, and rode a "solidarity bus" to deliver a list of unmet demands to the central London offices of Sage board member Benzion Shalom Eliezer Freshwater. 
According to a press release issued by Sage trustees, the strike action was not the determining factor in the wage increase. "Contrary to some reports from the United Voices of the World", the statement reads, "the decision to increase wages was not due to strike action by the union. We have always said that once we begin to see a rise in admissions and admissions enquiries that we would increase pay […]".
The striking workers, however, disagree. "We delivered this win", Julia, a care worker at Sage, said in a statement released by UVW. "But the battle is not over. We are clear we must keep fighting to get what we want and what we – and the residents – deserve."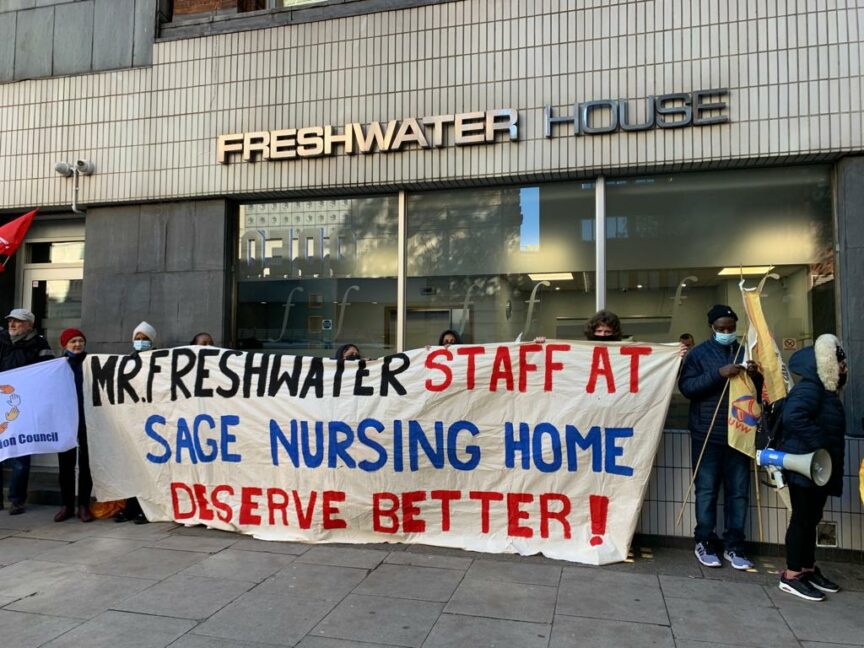 For campaigners, this win is notable precisely because while care workers – who are disproportionately migrant workers – are often badly exploited, strike action in the sector is unusual. This is because most care workers feel a strong sense of concern towards the people they look after, which can make them reluctant to strike, and which employers often take advantage of.
"Pay in the care sector is notoriously low, with care workers often earning minimum wage to carry out incredibly long shifts which are both physically and emotionally demanding," Isabel Cortes, an organiser at UVW, explains to Novara Media. "Staff rarely enjoy contractual benefits above the legal minimums, which means care workers often face the impossible decision of working when ill or falling behind on rent."
These already poor working conditions were worsened by a 2015 ruling that "sleep-in" shifts (in which workers have to stay overnight in care homes between shifts) don't count as working time, meaning staff aren't entitled to the minimum wage for the time they spend at work. Most care workers are on zero hours contracts, too – yet another factor that makes collective organising more difficult.
In the case of the Sage dispute, campaigners argue some of these challenges were mitigated by the fact that the workers received significant support from the local community. This was particularly the case amongst the Jewish community, as Sage caters to elderly Jewish people. "The Sage campaign itself had nothing to do with religion," says Holly Kal-Weiss, a teacher and activist involved in the campaign. "But because it was a Jewish-run care home, a lot of Jewish people got involved […]. People felt it was our home and wanted to do the right thing."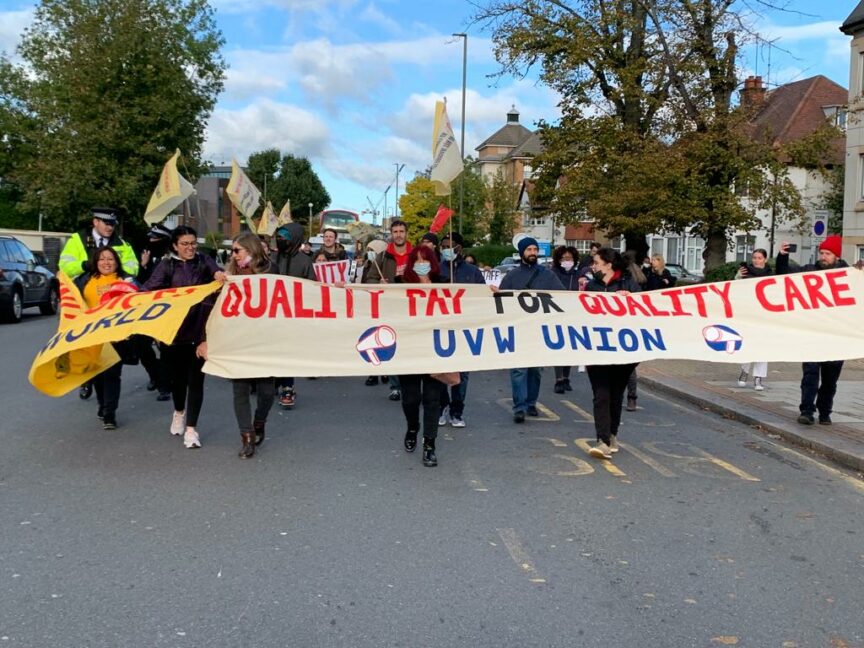 What's more, Holly sees this victory as having important impacts beyond the pay rise for the Sage workers. "I think it's a positive result for the workers and for the community", she says. "And I think it's positive for the [Sage] employers as well, because hopefully they'll be setting an example for other people to follow. There's other care homes out there, and particularly big chains, that don't seem to be following suit – that's where the focus should be shifted to now."
This is exactly what the people involved in the campaign hope happens next. According to Joanna Phillips, co-founder of activist group Jewish Solidarity Action, who helped support the striking workers, the campaign's success is already beginning to have a wider impact on the care sector. "Jewish Care [a community charity] announced in October that it would begin paying staff London living wage – a move which feels heavily influenced by events at Sage," she tells Novara Media. "The Jewish community has a disproportionate number of elderly people and there is a huge appetite in the Jewish community to see the staff who look after our elderly be fairly compensated and these workplaces to be safe." 
Indeed, for Holly and the rest of JSA, the fight was never just about Sage, but about recognising the mistreatment of care workers across the sector. "I hope this inspires more care workers to unionise and put their demands to bosses," she says.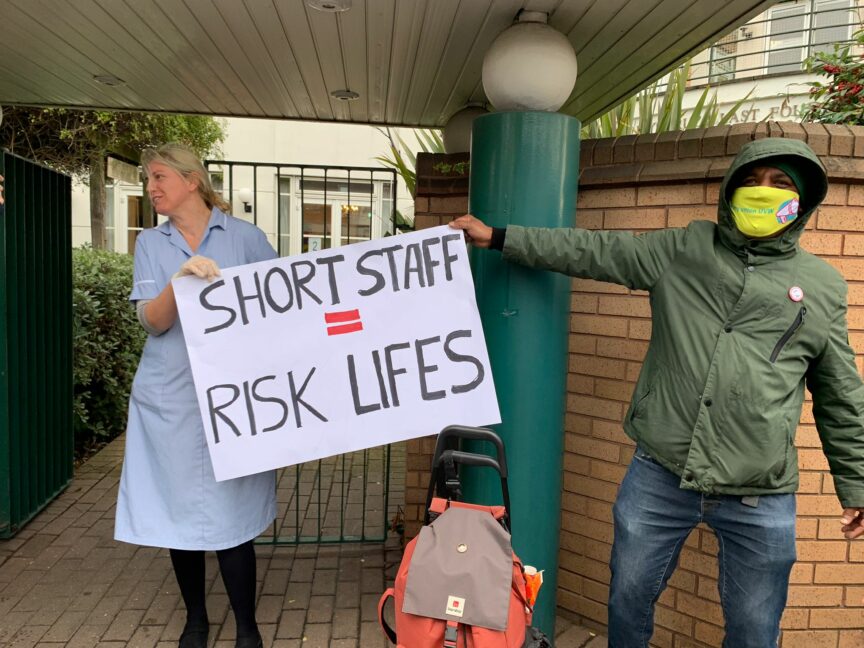 But while Holly argues part of the reason the campaign was successful was because Sage is a small, independent care home and many of the staff had worked together for a long time (which made it easier for them to organise), whether or not their success can be replicated across the sector, where workforces are often transient, remains to be seen. However, there are certain factors which mean now could be a good time for care workers to begin organising more widely. "With the vaccination programme that's kicking in [mandatory vaccination for care workers], employers will suddenly find they don't necessarily have the care worker supply they need," Holly says. "Everybody always says 'the market dictates'. Well, I really hope that's true in this case – I hope it becomes an employee's market."
As for what UVW organisers think people can do to support striking care workers in the future, solidarity is key. As Isabel says: "This dispute is a big lesson in the importance of unity, action, determination, resilience, and bravery and effective direct action – by the people, for the people!"
James Greig is a freelance journalist.