Could 'Don't Pay' Pull It Off?
Huge if so.
11 July 2022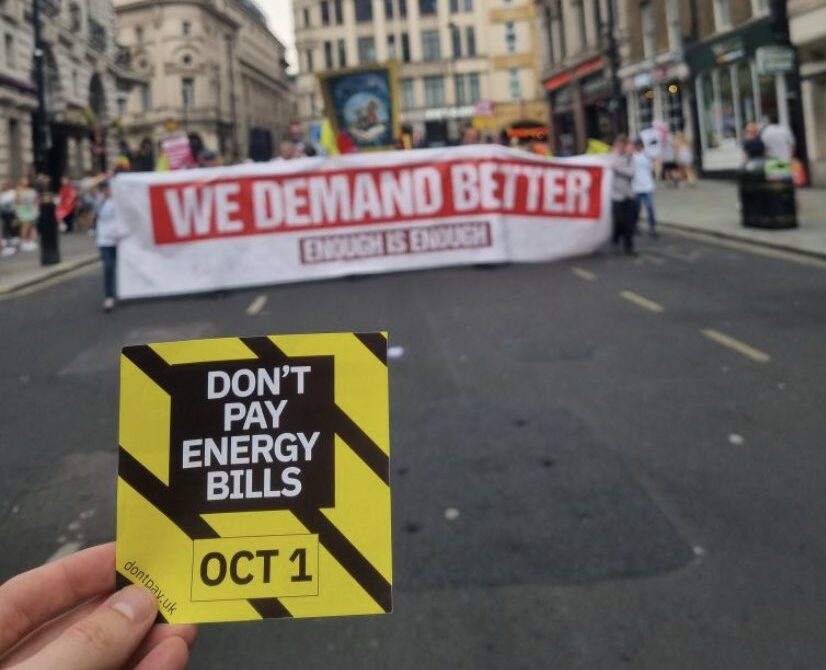 Photo: Don't Pay
Once a matter of heating or eating, now the stakes of the cost of living crisis are "living or dying", says fuel poverty campaigner Sam*. Sam is one of around 20 core organisers of Don't Pay, a campaign proposing mass non-payment of energy bills as a strategy to resist Tory inaction on the cost of living crisis.
The campaign was initiated in April by a group of friends at the pub concerned about and impacted by the crisis. Though many had been involved in activism that did the usual stuff – campaigns for policy change, marches and direct action – this time, they agreed, something more drastic was necessary. When "even someone like [Money Saving Expert Martin Lewis] is out of ideas", adds core organiser Matthew*, an engineer from London, we need "innovation in terms of actions".
Despite having a relatively similar political pedigree, the organising group was also clear they would need to draw in broad-based support in order to win – that the campaign would need "more than the usual leftist groups to get behind it," says Sam. He and his fellow organisers looked to different class-based resistance movements, such as the gilets jaunes, anti-lockdown protesters and poll tax rioters for inspiration, seeking to develop a strategy that built as much support as quickly as possible.
Don't Pay finally launched on 18 June at the Trade Union Congress (TUC) cost of living demo, where campaigners distributed 20,000 flyers. After the TUC demo, organisers were approached in the pub by people asking for stacks of leaflets to distribute in their communities and workplaces. The response since then, says Sam, has been "massive".
To date, 5,913 people have signed up to volunteer, 2,868 of them to organise. Meanwhile, 140,000 leaflets have been ordered from the Don't Pay website. Support currently spans 370 cities, towns and villages across the UK. "Support has built so quickly," Sam believes, "because [non-payment] was on everyone's minds already."
'10 million face poverty – we're close to mass civil disobedience'

Martin Lewis is right & mass non-payment is a legitimate tactic in this crisis.

For too long the rich have stood on the backs of the poor in Britain: enough is enough.

Don't tread on us: #DontPay https://t.co/sDjIJqD2cI

— Don't Pay. (@dontpayuk) July 6, 2022
Marco*, 43, a specialist school teacher living in London, joined the campaign after being handed a Don't Pay leaflet at the TUC demo; he's since handed out many of his own in his community. Facing rising living costs alongside repaying a student loan and supporting his partner and teenage child, living in precarious, overcrowded social housing and struggling to improve his conditions at work, the Don't Pay campaign offered him "an opportunity to do something […] something that an ordinary working person can do". He was drawn to the way the campaign is "negating being a 'consumer', turning it on its head". Whilst he doesn't believe ethical consumerism will get us very far, he says Don't Pay has made him think that "maybe the most 'ethical consumption' is to just stop paying".
The campaign's demand is simple: the government must scrap the energy price hike scheduled for 1 October. If it does not, those who have pledged their support for the campaign will cancel their direct debits to energy companies.
As with all strikes, this strategy requires big numbers: the strike will only go ahead if one million people pledge their support on the Don't Pay website by 1 October. This threshold is to provide "safety in numbers", says Matthew. Energy companies' customer services are already buckling under the pressure of so many people struggling to pay; it is inconceivable they would have the staff to reprimand one million bill strikers at once, say campaigners.
Regardless, due to administrative and legal roadblocks, it is difficult for energy companies to disconnect customers at all. According to the Don't Pay website, "energy supply disconnections for non-payment are already extremely rare – as few as eight in 2018 were reported."
So many people are in the same position. We're at our wit's end, we don't have any more money left to give! #CostOfLiving #FuelPrices #june18 #dontpayuk #oct1strike pic.twitter.com/ldqSzfhSgO

— Don't Pay. (@dontpayuk) June 17, 2022
Energy bills rose by almost half in April. This has left an estimated 6.5 million people in fuel poverty, meaning they are unable to adequately heat their homes. For those who are more vulnerable – due to age, for example, or respiratory conditions – this is a matter of life or death. in October, energy bills are set to increase again from an average of around £2,000 to almost £3,000 per year. In response, recently-resigned chancellor Rishi Sunak has announced a £400 grant for all households. Meanwhile, the Queen is set to receive a £30m "bonus" to counterbalance rising inflation. The Don't Pay campaign, says Matthew, is "a class-focused rejection of having to pay for this crisis". Rather than tinker with reforms, the campaigners are going straight for the jugular. "[J]ust campaigning or asking for policy change" doesn't go far enough, says Sam; non-payment means "tak[ing] power back".
The campaign has three phases: build popular support for the idea of an energy bill strike; gather one million strike pledges; then strike.
Currently, Don't Pay is in the first phase."We want the [campaign] to be something that massifies and becomes a generalised strategy," says Matthew, rather than something "belonging to a group, or a set of activists". The "universalising condition" of the cost of living crisis – as with the poll tax in the 1980s and 90s – is an opportunity to "build a collective mass action around refusal".
Matthew says the campaign is doing well so far at uniting people "across a lot of divisions". "People who were opposed to the lockdowns, opposed to the Covid jabs, Brexiteers, remainers, eco-activists [and] trade unionists" have all joined Don't Pay, he says. Thus far, Don't Pay appears to be having more success in building mass, unified support than the Kill the Bill movement, which attempted the same.
Don't Pay is focusing on offline, grassroots tactics to build mainstream support. They are encouraging people to order leaflets and stickers to distribute door-to-door, at pubs, football games and festivals. Core organisers are hoping the campaign will establish its own momentum, with local groups forming. "We wanted to activate people – and overwhelmingly, people wanted to be activated," says Matthew.
Over the coming weeks, Don't Pay will move into the second phase, launching a pledging system on its website, so that people can officially and anonymously (the campaign won't ask for names, to minimise the risk of repercussions) commit to striking. "We're very adamant that we think it's a big possibility we can get one million people pledging," says Matthew. Indeed, people are already not paying energy bills because they can't: Don't Pay has received emails from people explaining how, even before hearing about the campaign, they had been coping with price rises by refusing to pay increases.
If the campaign reaches its third and final phase and the strike does go ahead, "community solidarity" among strikers will be crucial, says Sam. He doesn't mean this in any sentimental way: direct resistance will be required to prevent energy companies from disconnecting people or putting them on pre-payment metres. Such action will rely heavily on the networks being established now in building the campaign – both in person and on Twitter, Facebook, Instagram and Telegram.
Marco is motivated to build support in his local community. Leafleting in Whitechapel, he says, everyone from market workers to tourists engaged with him; some people told him they had already stopped paying for energy. "If you're on benefits, how are you supposed to absorb this cost of living?" he asks. "I'm sick of it […] the ease with which poverty is accepted [in the UK] is disgusting – something has to change."
Amid such collective struggle, Marco asks: "Isn't there a tremendous beauty in 'let's just not pay'?"
Sophie K Rosa is a freelance journalist and the author of Radical Intimacy.