This Is Why 'Gender Critical' Campaigners Like Allison Bailey Are Laying Siege to Stonewall
The campaign to delegitimise Europe's biggest LGBTQ+ rights organisation.
28 July 2022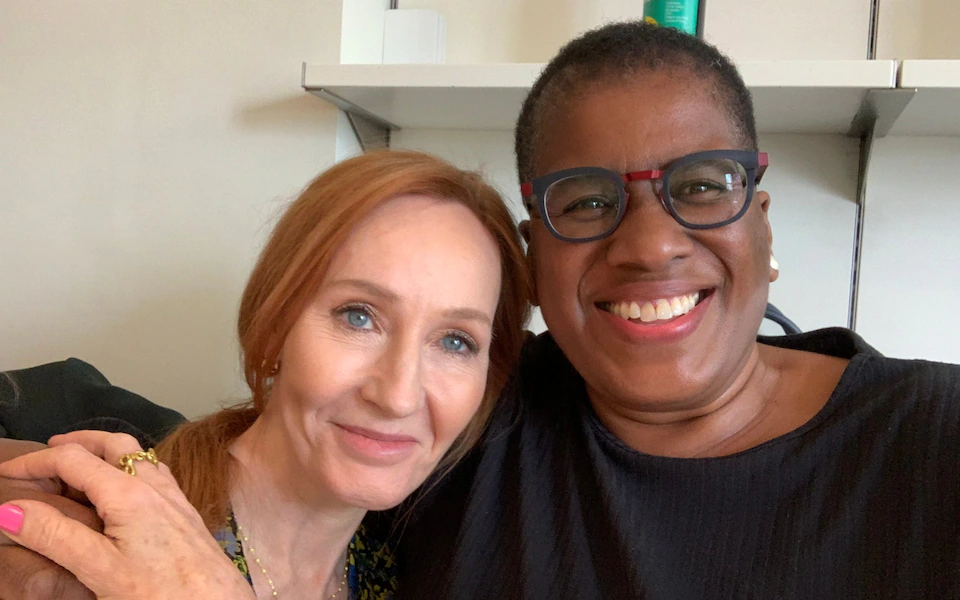 Allison Bailey, a criminal defence barrister, has made headlines by 'suing' Stonewall. JK Rowling/Twitter
On Wednesday, barrister Allison Bailey lost a tribunal claim she brought against Stonewall, the biggest LGBTQ+ advocacy organisation in Europe. Bailey – a prominent figure in the 'gender critical' movement – had raised over £550,000 to pursue a joint employment tribunal against her employer, Garden Court Chambers, and Stonewall. The criminal defence specialist claimed she experienced discrimination at work because of her beliefs about transgender people, and that Stonewall had unlawfully induced Garden Court to penalise her because of those beliefs. 
Bailey claimed a tepid victory in one aspect; Garden Court was judged to have discriminated against her on two occasions because of her trans-hostile views (including her conviction that Stonewall's trans inclusivity is eroding women's rights), which have been ruled a 'protected belief' under the Equality Act, thanks to the fervour with which she holds them. This doesn't mean the beliefs are "right", emphasised the judge – merely that they exist as strongly as one would subscribe to a religious doctrine. Bailey was awarded £22,000 for "injury to feelings".
But Bailey – co-founder of trans-exclusionary group, the LGB Alliance (supposedly representing lesbians, gays and bisexuals, despite the recent revelation that only 7% of its membership are lesbians) – had promoted the case up as a legal blockbuster. She was the lesbian woman "suing Stonewall". It was the tagline on crowdfunders, her Twitter profile (quietly removed after the case's conclusion) and sympathetic news coverage. She did sue Stonewall. And she lost. All her claims regarding Stonewall's supposed "malign influence" – including that the charity had directed Garden Court's complaints process and induced the chambers to discriminate against Bailey – were rejected. 
Nevertheless, Bailey and her allies are celebrating a triumph against Stonewall. This is due in part to the tenuous grip on reality that being embedded at the heart of the trans-hostile movement necessitates. But it's also thanks to the wider war that the movement is waging on the charity.
Reputational damage. 
Losing the specifics of a tribunal against Stonewall doesn't matter. The goal instead is to delegitimise the organisation in the eyes of the mainstream by enveloping it in the stench of controversy. 
No matter that it's anti-trans activists manufacturing the stink; Stonewall derives its ability to advocate for LGBTQ+ people in the mainstream from its positioning as a 'respectable', rather than a radical body. It seeks reform, via the courts and House of Commons, in lieu of revolution. In supporting trans people, Stonewall threatens to give the fight for trans rights the same patina of mainstream credibility. So its reputation must be destroyed altogether. 
"To most radical activists, Stonewall is anything but [radical]. It was founded to campaign for equality, within the present system, using conservative – small c – tactics," says Shon Faye, author of bestseller The Transgender Issue.
"The anti-trans fixation comes because Stonewall is the largest, most authoritative and legitimate actor in the wider fight for equality and liberation for LGBTQ+ people. It lends trans campaigning points a lot of legitimacy within the corporate sphere, with people in parliament, with certain parts of the media and so on".
Anti-trans campaigners are now dedicating themselves to dismantling the sense of legacy and mainstream trust built up in Stonewall as an authority on achieving LGBTQ+ equality.
A key focus for the trans-hostile movement is Stonewall's Diversity Champions scheme, which sees UK employers pay a fee in order to receive support to create an inclusive workplace for LGBTQ+ staff. 
According to the charity, over 900 organisations across the UK are currently fee-paying members of the scheme, which sees employers use Stonewall's legitimacy to present their workplaces as progressive welcoming spaces. It's just one income stream for Stonewall, which is funded via a mix of corporate and charitable donations, grants, and initiatives like the Diversity Champions programme. 
Similarly, Stonewall's Workplace Equality Index (WEI) encourages employers to submit evidence of their work in "eight areas of employment policy and practice". In return, Stonewall provides them with an assessment of their equality efforts. The 100 best-performing organisations then have the option of being celebrated publicly in Stonewall's annual 'Top 100 Employers' round up (with the added bonus of taking home a shiny piece of silverware for office display). 
Trans-hostile campaigners have developed a strategy to try and deter organisations from working with Stonewall via these projects: by making it too much of a hassle. 
A war of attrition. 
"One of the explicit goals [of the anti-trans movement] is to stop employers and organisations from working with Stonewall," says a former Stonewall staffer who wishes to remain anonymous."One of the ways they've been doing that is intimidating and scaring employers around working with Stonewall through [the likes of] court cases". 
Anti-trans campaigners have a number of tactics when it comes to discouraging people from working with Stonewall. One is costly legal cases like Bailey's, which pulled Stonewall into an employment dispute it was judged to have no hand in but still saw itself reputationally tainted by – at least according to a hostile and misinformed press.
Practically, as well, the case has left Garden Court Chambers financially liable. Prominent anti-trans figures are already trumpeting this outcome as a warning for organisations adhering to the mythical concept of "Stonewall Law" (read: the 2010 Equality Act), despite the judgement concluding that in the relationship between Garden Court and the charity, it was Stonewall who benefitted from voluntary legal advice from the chambers.
In social media posts following the Bailey verdict, trans-hostile campaign aims were spelled out. "NO-ONE will touch your so-called 'Diversity' champions scheme now. Dead in the water. Close the door on the way out," sneered lesbian writer and anti-trans activist Julie Bindel, attaching Stonewall's official response to the judgement. 
Additionally, trans-hostile campaigns like #StonewallOut and 'Don't Submit To Stonewall' – which dissuades organisations from engaging with the Workplace Equality Index – operate via bombarding targets until they are too fatigued to keep up their association with the charity. 
One favoured action within this tactic is the strategic use of Freedom of Information requests (FOIs). Employers and organisations required to answer FOIs find themselves on the receiving end of an onslaught of requests from anti-trans campaigners, wanting to know every facet of communication they've had with Stonewall, from advice received to evidence submitted to the WEI. In the first quarter of 2021, Stonewall estimated that around 900 FOI requests were sent to organisations it worked with, coordinated by blogs and forums on Mumsnet, the parenting website and "hotbed for transphobia".
"If you're a small public body, it can be quite scary to get an FOI," notes the former Stonewall staffer. "But it's also placing an extra burden of work on these employers to get across the idea that working with Stonewall isn't worth the hassle". 
Similarly, larger more 'traditional' organisations begin re-evaluating the positive PR a relationship with Stonewall has historically garnered. 
"By repeatedly tagging [Stonewall] as controversial – with very little substance, actually – more conservative fairweather friends within the corporate diversity inclusion sector, government and so on, will start to retreat from it because they wanted to use Stonewall to make them look good," says Faye. 
In recent months, Stonewall has seen high profile departures from the Diversity Champions programme, including University College London, Ofsted, Channel 4, the Equality and Human Rights Commission (EHRC) and the BBC. While this hasn't yet dampened enthusiasm for the scheme – the former Stonewall staffer says it has actually seen an increase in members – it has dealt a cultural blow to Stonewall's legitimacy and reach.  
"In effect, [trans-hostile campaigners] are trying to get employers to go back into the closet about working with LGBTQ+ people," says the former Stonewall staffer. "They're making it controversial to support the LGBTQ+ staff". 
In the courts, the wider trans-hostile campaign is losing the legal battle. In addition to Bailey's case, an attempted judicial review of the EHRC's guidance on single-sex space exemptions, brought by fellow LGB Alliance co-founder Ann Sinnott, was refused permission in May 2021. Earlier this month, a Christian doctor, who insisted on his right to misgender patients, lost his discrimination tribunal against the Department of Work and Pensions – as a belief, 'gender criticism' may be protected, but if it infringes upon the rights of others, there are consequences. 
But the anti-trans movement is banking on winning in the court of public opinion, with the assistance of an eager media. The siege of Stonewall looks set to continue.
Moya Lothian-McLean is a contributing editor at Novara Media.