'It Was Just Relentless': Black and Muslim Labour Councillors Reveal Experiences of Party Racism
The party has 'failed to tackle anti-Black racism and Islamophobia'.
29 July 2022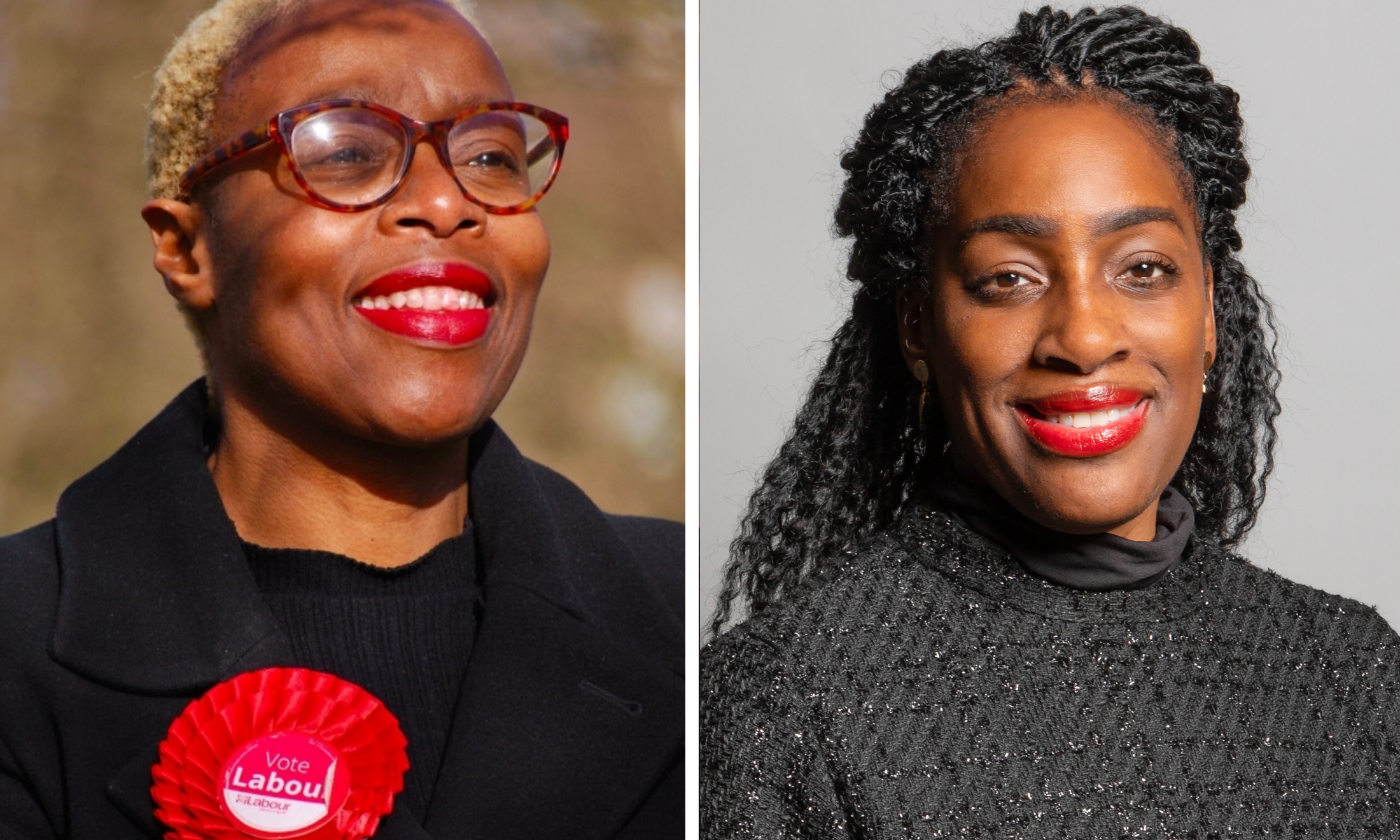 Former councillor Marcia Hutchinson has alleged experiencing racism during her time in Labour and MP Kate Osamor says she feels 'let down' by the official response to the Forde report. Marcia Hutchinson/Facebook/Richard Townshend/Parliament UK
In December last year, Marcia Hutchinson, Manchester council's only Caribbean councillor at the time, stepped down after a mere six months in office. Hutchinson, the daughter of Windrush immigrants, grew up in Bradford when the National Front was at its height. In her resignation letter, she wrote: "I have endured more racism and bullying in my five years in the Labour party than the rest of my life combined."
The Forde Report, released last week after a two-year delay, resonated with Hutchinson and others who say they have experienced racism within the Labour party. Commissioned after an internal Labour document leaked in April 2020, the report revealed – amongst other findings – that senior Labour staffers had sent a number of "factional, insensitive and, at times, discriminatory" Whatsapp messages laced with anti-Black racism and Islamophobia. 
Messages described the likes of Diane Abbott as a "truly repulsive" and "very angry woman" who "literally makes me sick". The report concluded this manner of depiction was one of "visceral disgust, drawing on racist tropes" and bore "little resemblance to the criticisms of white male MPs elsewhere in the messages". The report states that "there are serious problems of discrimination in the operations of the party" and that: "the party's more recent steps to address the problems with antisemitism […] have not been matched by a commitment to tackle other forms of racism."
When Hutchinson joined the Labour party in 2016 and got involved in local politics, she says she became acutely aware of the lack of diversity within Manchester council. Out of 96 councillors, only three were Black, despite Black people making up 12% of Manchester's population. Hutchinson set up the Pipeline project in 2017, which aimed to get Black candidates on to councillor selection shortlists, but says she encountered significant hostility from white councillors who felt threatened by the project. "They said 'Marcia is after your seat. She is a racist who wants to take out white councillors'," she told Novara Media.
In 2019, when Hutchinson and a fellow Black woman, Ekua Bayunu were the only two people on the ballot for woman's officer for the Manchester City Labour party – an administrative group that runs five local constituencies – eight of the 50 people present, she alleges, wrote derogatory comments on their ballot papers instead of casting a vote, right in front of Hutchinson. Comments included "fuck off", "they're both shite" and "neither". Marcia explains that this led to a national inquiry where it was advised that Manchester Labour group should have race equality training. This training was cancelled when lockdown was announced and is yet to be rescheduled.
Hutchinson was eventually elected as a councillor in May 2021 but getting in was only half the battle. From the very outset, she felt completely isolated within the council, she says. "Someone pointed out to me [that in 2018] there were more people called Murphy on the 12-member executive than there are Black councillors in the whole of Manchester," she tells Novara Media.
In 2021, Hutchinson was threatened with disciplinary action by the Whips Office for tweeting support for Pipeline Project alumni who were shortlisted for council seats. In an email seen by Novara Media, former leader of Manchester council, Sir Richard Leese, sent an email to all 94 Labour group councillors confirming that while Marcia hadn't broken any rules, he had received "a large number of complaints" about her. 
For Hutchinson, these emails from senior Labour figures encouraged a pile-on and exacerbated the bullying she faced within the local party. As a Black woman, she felt deliberately targeted and singled out, alleging that there was selective enforcement of the rules against Black people.
"It was just relentless," she says, explaining her decision to step down as a councillor after a mere six months in office.
Institutional Islamophobia.
Hutchinson isn't the only Labour councillor to have stepped down in the past 12 months, citing racism within the party.
Robina Ahmed, a British Kashmiri Muslim based in Buckinghamshire, stepped down as a Labour councillor a few months ago after experiencing Islamophobia within her local party. As the former BAME officer for Buckingham CLP – and only person of colour when she joined – Ahmed believes that she was used for optics in marketing material to make the party look inclusive. But her experiences made her realise it was anything but.
In August 2021, Ahmed was witness to messages sent within the Buckingham CLP members' Whatsapp group by both the local party's communications officer and the policy officer. She alleges that they were intensely Islamophobic in nature. 
"I was disgusted to see a WhatsApp group attacking my Muslim colleague, bringing up Sharia law and saying how backwards Muslims are," she tells Novara Media, adding that a culture of intimidation within the party meant "no one had the decency to tell anyone attacking us to stop". The messages were later deleted.
The Forde report accuses the Labour party of "operating a hierarchy of racism or discrimination," under which many forms of discrimination were ignored. Minority organisations within the party concurred with the findings. In its public response to the report, the Labour Muslim Network (LMN) said: "Muslim members have consistently told us they feel Islamophobia often sits at the bottom of this perceived hierarchy. It is difficult to read this report and reach any other conclusion than there being institutional Islamophobia within the Labour Party."
Forde's revelations follow a 2020 LMN report on Islamophobia within the Party which found that 29% of Muslim Labour members had suffered Islamophobia within the Party while 37% had witnessed it.
In a formal complaint sent to the Labour party, seen by Novara Media, Ahmed's Muslim colleague highlighted the Islamophobia that he and Ahmed had been subjected to. Nearly four months on, he still hasn't received a reply from the party. In response to a request by Novara Media, a Labour spokesperson said they were unable to comment on individual cases but that: "The Labour Party takes all complaints seriously. They are fully investigated in line with our rules and procedures, and any appropriate action is taken."
In June 2021, Robina Ahmed withdrew from participating in CLP meetings to care for her child, who was critically ill. "As I was dealing with my ill child they removed me from the CLP team WhatsApp group," Ahmed says. "That was it. No phone call, email or message. Simply discarded". The experience, she says, "seriously compromised" her mental health and Ahmed is no longer a Labour member, let alone a councillor. "I have not only left Labour but it is very unlikely that I will vote for Labour under its current guise again," she adds.
Ahmed is appalled that her colleague's complaint has not yet received a party response. "There is a widespread culture of Islamophobia in the Labour Party, the culprits have been emboldened further by Keir Starmer and his total disregard for the concerns of Muslims," she says. 
An anonymous Muslim councillor, based in the southeast of England, tells Novara that she has struggled with her mental health due to constant hostility. "I have worked in the NHS for many years but the nastiness and racism embedded in Labour politics is of a totally different, hard to call out and pernicious nature," she says.
The Forde Report drew attention to the way in which MPs of colour are treated differently in comparison to their white counterparts not just in terms of the level of abuse they face, but in terms of "the level of instinctive respect" they are afforded.
Rita*, a Muslim Labour member, says she has huge respect for many Labour MPs of colour. "As individuals they do incredible work but the problem is they are working for a racist party which has shown that it couldn't care less about them," she says. "Look at the despicable abuse directed at Diane Abbott or the unforgivable manner in which Apsana Begum has been treated." 
MPs of colour who also exist on the left of the party, seem to face greater hostility, Rita adds. One Forde inquiry submission detailed how activists and politicians were referenced by Labour party staffers on the right when their political opinions diverged. "They [the staffers] use far more extreme or dangerous references to them," it concluded.
Visibly Muslim women often bear the brunt of Islamophobia. That has been the experience of Apsana Begum MP, who previously spotlighted micro-aggressions she faced in Westminster, and online abuse she has been subjected to. The first hijab-wearing Muslim MP and a survivor of domestic abuse, Begum was signed off work by her GP in June, following an alleged "campaign of abuse" in her local party. According to Begum's supporters, the Labour leadership failed to intervene in her defence.
A party in denial.
The Labour party's response to the Forde report, where progress has been alluded to without any reference to the anti-Black racism highlighted in the report, has been condemned by a number of Black Labour MPs.
"As a Black Labour MP, the response from this party's leadership to the Forde report feels like a kick in the teeth," wrote former shadow cabinet minister Kate Osamor, in a statement posted to social media. Later, speaking to LabourList, Osamor expanded on her comments, saying she felt "completely let down […] This is not a historic account of the state of the party two years ago, and it should not be dismissed as such.
"Unless the party's leadership produce a specific plan of action that responds to the issues raised in this report and apologises to those who have been impacted, then they risk creating a hostile environment for Black and ethnic minority people in the Labour Party."
A fundamental issue with Labour's approach to anti-racism, the Forde Report found, is that: "people who are committed to progressive politics find it difficult if not impossible to accept that they might have acted in a way which was discriminatory." 
The conclusion is echoed by Marcia Hutchinson, who believes the Labour party is in denial when it comes to anti-Black racism. "It's the inability to understand that treating one group of people less favourably, in and of itself, is racism," she observes.
The dehumanisation of Black and Brown people doesn't occur in a vacuum; it is enabled by inaction from those at the top. One immediate step, says Marcia Hutchison, is reforming the complaints procedure. "They need to outsource disciplinary proceedings. You cannot be judge and jury in your own case". 
This article was updated on on 29 July 2022 to reflect that there were more people with the surname 'Murphy' on the 12 member Manchester Council executive in 2018 and that Ekua Bayunu was not present during the 2019 vote to elect the woman's officer position for Manchester City Labour.
Taj Ali is a freelance writer with a focus on class and socio-economic inequality.