More Amazon Strikes Expected in Row Over Pay
A boss said striking workers are "like animals".
10 August 2022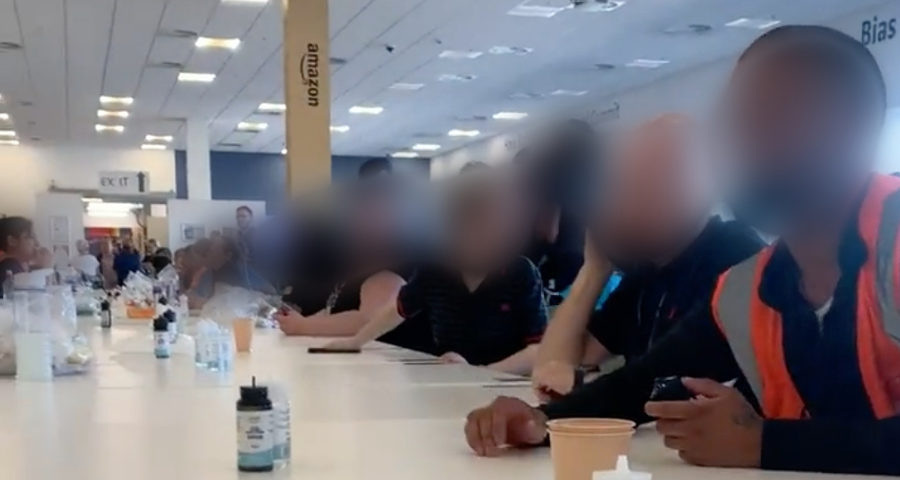 Amazon staff on strike. Photo: Twitter
More protests are expected at Amazon warehouses after the company refused to budge on a pay offer following wildcat strikes.
Last week, unofficial strike action began in a massive Amazon warehouse in Tilbury, Essex. Hundreds of workers occupied a canteen after they were offered a pay rise of 35p, described as a "kick in the teeth" by one worker.
The strikes quickly spread to sites including at Coventry, Staffordshire, Swindon and Buckinghamshire, where similar pay offers had been made.
On Tuesday, Amazon workers were told that there would be no change to the pay offer.
Video shared with Novara Media shows the moment an Amazon manager at a warehouse in Tilbury, Essex, informs staff of the decision.
She tells workers: "Your opinions and feedback along with all your colleagues are valued and help us continue to improve", while doubling down on the real-terms pay-cut.
One worker, speaking Novara Media on condition of anonymity, said: "Many are frustrated, angry and disappointed."
Novara Media understands that further protests have been planned for Wednesday evening and Thursday.
The expected protests come despite alleged threats of dismissal from Amazon to striking workers.
The Insider website obtained documents showing that one worker was suspended for alleged "potential misconduct", including "violence, intimidation or abusive behaviour or language" after her manager told her that she had been talking to other workers about the protest.
At a warehouse in Bristol, a large fence has been erected around the site, apparently in an attempt to stop reps from the GMB union talking to workers. The union is not recognised by Amazon but has submitted a pay claim to the company demanding a minimum £15 an hour.
When an Amazon manager in Swindon says its like animals when addressing staff. Also only prepared to speak to small groups to divide and conquer #Amazon #GMBUnion #membersfirst #makeworkbetter Join here: https://t.co/NeU5XbI5Io pic.twitter.com/b8lftq0Tos

— Steve Garelick (@steve_garelick) August 9, 2022
Video has also emerged of an Amazon boss in Swindon saying striking workers are "like animals".
"We're happy to talk to anyone in small groups. It's like animals when everyone's arguing in here," the manager says.
Steve Garelick, GMB regional organiser for logistics and the gig economy said it shows Amazon's "divide and conquer" tactics.
"It's management 101 – you don't use that kind of phraseology […] It's not good," he said,
An Amazon spokesperson said: "This was a poor choice of words and we apologise for any offence caused by one of our site managers."
On the pay offer, the spokesperson said: "Starting pay for Amazon employees will be increasing to a minimum of between £10.50 and £11.45p/h, depending on location. This represents a 29% increase in the minimum hourly wage paid to Amazon associates since 2018.
"On top of this, employees are offered a comprehensive benefits package that includes private medical insurance, life assurance, income protection, subsidised meals, an employee discount and more, which combined are worth thousands of pounds annually, as well as a company pension plan."
Simon Childs is a commissioning editor and reporter for Novara Media.