Hundreds of Amazon Workers Stage Wildcat Strike Over 'Kick in the Teeth' Pay Offer
Novara Media spoke to workers taking part in the impromptu sit-in.
4 August 2022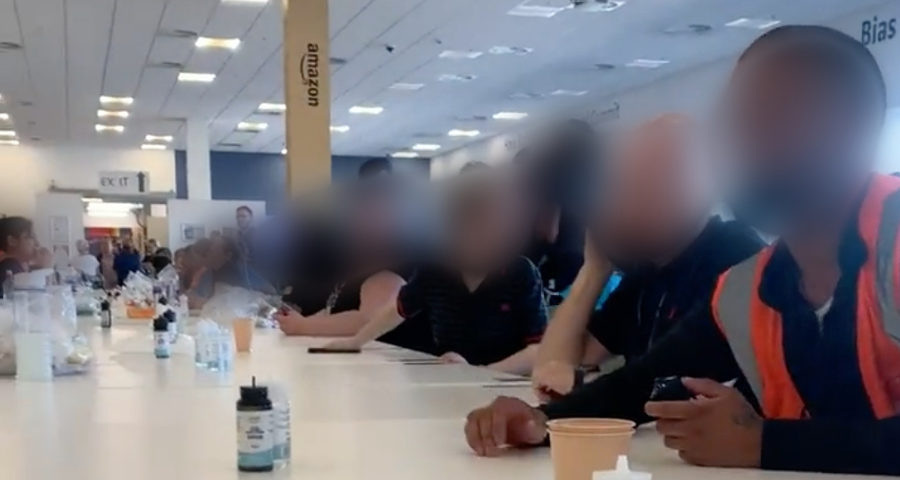 Amazon staff on strike. Photo: Twitter
Hundreds of Amazon workers are staging a wildcat strike over a "kick in the teeth" pay offer of 35p more per hour.
Workers at a huge Amazon warehouse complex in Tilbury, Essex, have been protesting in the cafeteria and refusing to work. The strikes began on Wednesday afternoon after managers announced the pay rise which amounts to a real-terms pay cut with inflation. Workers on the night shift continued the strike. On Thursday morning, approximately 400 day-shift workers continued to protest.
Union officials say that at one point on Thursday between 700 to 1,000 workers were protesting at the site where around 3,500 are employed.
The strike has already started to spread, according to reports. At an Amazon warehouse in Rugeley, Staffordshire, workers have walked out over a 50p pay offer. One worker told the Birmingham Mail the offer was "an embarrassment".
Workers spoke to Novara Media over social media from inside the Tilbury warehouse as they protested. They spoke anonymously for fear of reprisals from management.
One worker said: "We are still protesting here. They are not listening to us. We want our pay to be as per the current inflation rate. 35p is unfair. No one agrees."
"We have stopped working and we sat down in one of the main canteens here at Amazon warehouse."
Another worker said: "For everyone, rolling sentiment was, [the pay offer was] a kick in the teeth. During Covid we were required to still come in and work. Many people made sacrifices. Many workers felt it was shameful from Amazon Tilbury. Many workers are trained in multiple areas. So in a day a worker could be going to pack, then stow, then picking. All extra jobs for just 35p more."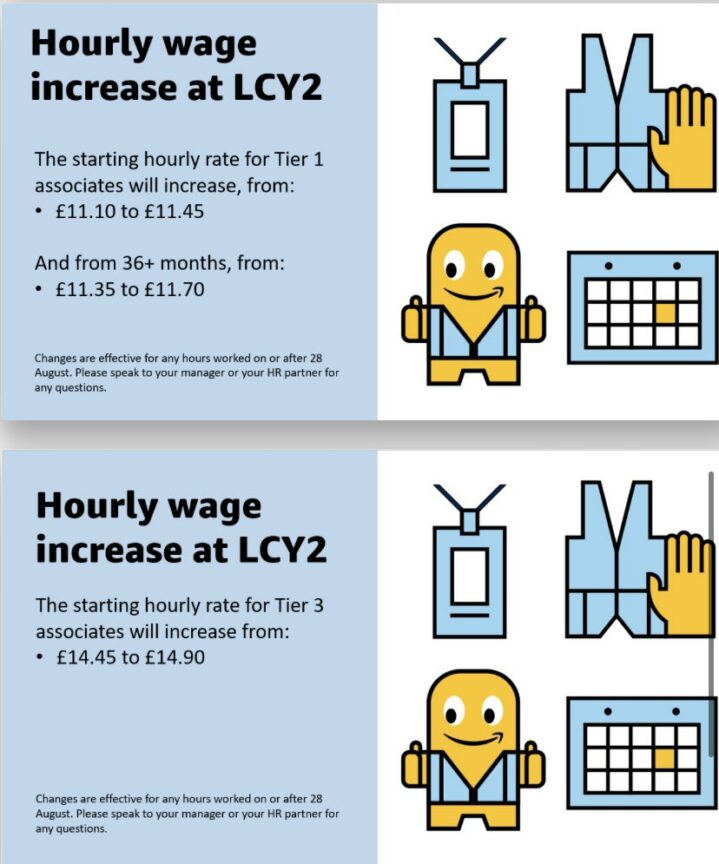 Images from an internal Amazon newsletter seen by Novara Media show that lowest paid "associates" – as Amazon calls its staff – were offered a raise of 35p from £11.10 to £11.45. Higher paid "tier 3 associates" were offered a raise from £14.45 to £14.90.
Part 2 pic.twitter.com/tfdkHiDvow

— Steve Garelick (@steve_garelick) August 3, 2022
Video footage circulating on social media shows a large number of workers gathered in a canteen and an Amazon manager pleading with them to end their protest: "This is not going to get us anywhere. You wanted to make the point, you made the point," the manager says.
"First of all, it's not very safe and I don't think this is a nice experience for any of you," they say.
Workers respond by shouting, "We are fine!"
Steve Garelick, the GMB trade union's regional organiser for logistics and gig economy, said that managers told striking workers, "'Look, if one person stayed on behalf of everyone else they would talk to them', and [the workers] basically said, 'piss off'."
He said that the protest is ongoing. "Night shift is already coming in to make sure they can be in the canteen so that the company can't pull a stunt and then lock that off.
"[Amazon] know they're doing wrong, they know they have upset people and rather than owning it and saying, 'let's sort this out', they're looking to try and kill what [protest] there is, and that's standard ignorant behaviour as far as I'm concerned."
One worker told Novara Media that management said workers would not get paid today if they were protesting and threatened staff that if they joined the strike they would be given a warning on "ADAPT" – the system that Amazon uses to track employee performance.
Garelick, said workers have been threatened with dismissal for protesting. "If they leave the premises they're being told they will be dismissed at the moment," he said. Garelick said HR staff are scouring social media looking for protesters. When approached for comment about these allegations by Novara Media, an Amazon spokesperson said: "There have been no sackings or disciplinary actions."
"They are trying to do everything they can to control this," said Garelick. GMB will support workers who are put through disciplinary procedures.
The GMB has a presence in the Tilbury warehouse, but there is no recognised trade union. Both union members and non-members are part of the strike. One striking worker said: "We have no union in Amazon. All employees are protesting."
The Essex fulfilment centre is the largest in the UK, and second largest in the world, measuring 2 million square foot. That's the same size as 28 football pitches – so vast that workers sometimes have to walk half a mile to reach the toilet.
Between 2017 and 2019, nearly 50 serious injuries were suffered by Tilbury Amazon workers, including fractured toes, fingers and feet. An undercover Sunday Mirror report in 2017 found workers at Tilbury falling asleep on their feet mid-shift from exhaustion. In 2021, a worker was found dead in the toilets on-site. The incident was not work-related.
Hot strike summer.
The strike comes amid a renewed wave of industrial action in the UK. As inflation soars, causing a cost-of-living crisis, unrest is spreading from industry to industry.
Recent weeks have seen major public sector strikes from railway workers, bus drivers and postal workers. There has also been unrest in workplaces with less union representation. Last week, non-union workers at a food factory in Bury staged a stoppage over working conditions and pay.
Amazon's UK arm made £20.63bn in revenue in 2020. Amazon UK Services, which runs its warehouse and logistics, paid just £18.3m in tax despite sales soaring.
Amazon, one of the world's biggest companies, has been repeatedly criticised for its working conditions, with aggressive productivity targets and the monitoring of workers' performances creating a relentless pace at which tasks must be completed.
The company also has a long history of hostility towards trade unions. Back in 2001, it was accused of dismissal of union activists and circulation of anti-union materials in a dispute with the Graphical, Paper and Media Union (later merged into Unite) at a distribution centre in Milton Keynes, Buckinghamshire.
Since 2013, the GMB union has been organising in Amazon warehouses. According to Amnesty International, Amazon has repeatedly sought to prevent GMB organisers from recruiting new members and picketing at Amazon's facilities, particularly around Prime Day and Black Friday. The union has received multiple legal notices regarding "alleged trespass"' and threats of injunctions for "unlawful trespass" if they attempt to enter the premises.
In Alabama, US, Amazon requested city officials alter traffic light patterns outside their Bessemer warehouse to prevent unions from canvassing workers while they waited at red lights. Amazon's internal worker chat app blocks and flags key-words relating to trade unions.
In April, workers at the JFK8 warehouse in Staten Island, New York, US, became the first Amazon facility in America to unionise. Workers alleged that Amazon colluded with the NYPD to fire and arrest pro-union workers in the run-up to the union election.
When approached for comment by Novara Media, an Amazon spokesperson said: "Starting pay for Amazon employees will be increasing to a minimum of between £10.50 and £11.45p/h, depending on location. This is for all full-time, part-time, seasonal, and temporary roles in the UK.
"In addition to this competitive pay, employees are offered a comprehensive benefits package that includes private medical insurance, life assurance, income protection, subsidised meals and an employee discount among others, which combined are worth thousands annually, as well as a company pension plan."
Simon Childs is a commissioning editor and reporter for Novara Media.
Polly Smythe is Novara Media's labour movement correspondent.