Amazon's 'Total-Surveillance' Supermarkets Have Arrived
As if shopping wasn't already stressful enough.
30 September 2021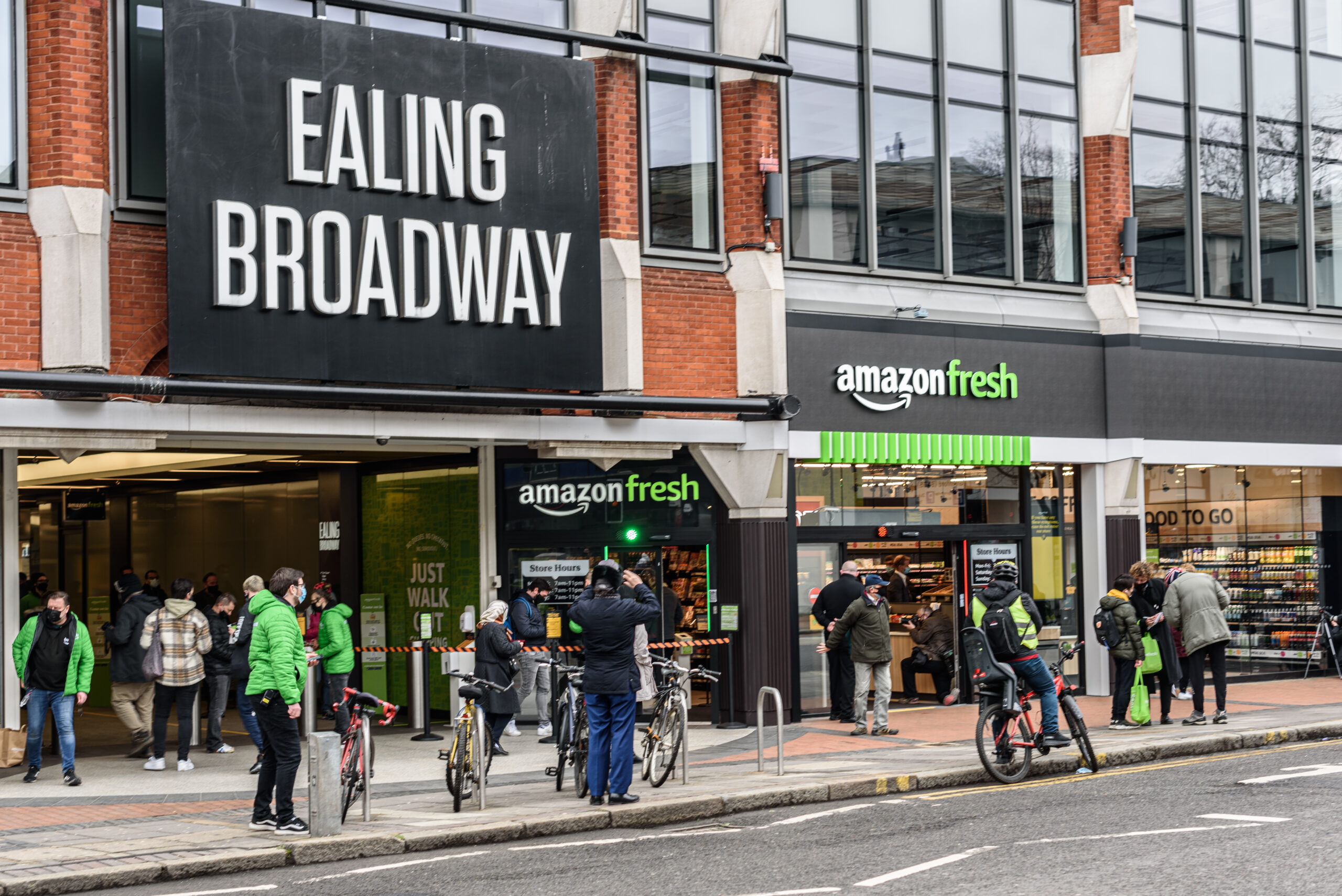 (Roger Green, Wikimedia Commons)
"Four years ago, we started to wonder: what would shopping look like if you could walk into a store, grab what you want and just go?" asks the voiceover in a glossy promotional video for Amazon Go, Amazon's chain of convenience stores that launched in the US in 2017. The venture – which has since been rebranded as Amazon Fresh – launched in the UK earlier this year, with the most recent opening in Hackney, London just this month. 
With Amazon Fresh stores at the cutting edge of surveillance shopping, the tech giant has worked hard to avoid any fanfare about the opening of its new UK stores, likely due to the anticipated controversy around the use of such technology. Campaigners, however, are keen to raise the alarm about the stores' potential implications – for privacy, workers' rights, food sovereignty and the wellbeing of local communities. 
Amazon Fresh has opened in London, giving customers a total-surveillance shopping experience.

The store takes huge amounts of personal data with sensors and trackers – what happens to it? Customers should know. https://t.co/kWiKBUsJwK

— Big Brother Watch (@BigBrotherWatch) March 4, 2021
'An effortless experience.'
Amazon Fresh stores use 'Just Walk Out' technology, whereby customers enter the shop using a smartphone logged into their Amazon account, select their items – monitored by a network of sensors and cameras – and leave, all without having to go through any kind of check-out process; instead, their purchases are charged directly to their Amazon account. 
According to Amazon, 'Just Walk Out' stores make for "an effortless experience", and leverage "the same types of technologies used in self-driving cars: computer vision, sensor fusion, and deep learning". Significantly, the corporation is also selling this technology to other retailers.
Here's another one!…🤔 @amazon Shop & Go technology is gaining traction so fast here in the UK! 🦾🤖 I'm all for new tech, AI & automation making people's lives easier BUT people's 💷 & standards of living need to be protected too! @BorisJohnson #Time4UBI https://t.co/xqQk8qq0dy

— The Ask Avani Show (@AskAvaniShow) September 20, 2021
Since the start of this year, Amazon has opened six Amazon Fresh shops in the UK – specifically around London. And with 30 such stores planned for the UK, Amazon is allegedly using underhand techniques to deter public attention around its expansion on to high streets. 
According to an investigation by betterRetailing, Amazon's "stealth tactics" include hiring commercial landlords to apply for planning permission and licenses on its behalf in order to keep its name out of public records. 
BetterRetailing also revealed that the Metropolitan Police, Islington council and local councillors had all complained about Amazon's secretive approach for its Islington store, ultimately forcing the company to disclose that it was behind the planning application for the site – a fact that it had previously taken steps to obscure.
In order to resist these objections – some of which were also made by local residents – Amazon employed former Metropolitan Police chief superintendent and borough commander Andrew Bamber to write a statement in support of the stores. Industry sources also told betterRetailing that Amazon uses "false facades" whilst they refurbish premises, to keep their openings under wraps for as long as possible. 
"I only heard about [Amazon Fresh] two weeks ago, which is odd considering my day-to-day job is in the food industry," says Will Dorman, the co-director of the National Food Service. "I think Amazon is very keenly aware that a massive publicity push would be quite heavily resisted." Dorman believes the company isn't concerned with the immediate profitability of the stores, but with the far bigger picture: its expansion on to and domination of high streets, not just in the UK but across the world. 
One reason the tech giant may want to avoid this publicity is due to its notoriously bad treatment of workers, which is only like to continue under Amazon Fresh. Despite its 'Just Walk Out' technology largely rendering workers unnecessary on the shop floor, the company's notoriously bad working conditions are as relevant here as anywhere. Amazon's high street ventures will still require workers to monitor the automated processes – and will still likely employ them on the same highly precarious terms.
"Where artificial intelligence is being used there tends to be a lot of invisible data work happening in the background," explains Phil Jones, a researcher with the think tank Autonomy. Since the technology "requires a large, remote, on-demand workforce of outsourced labour, often from the Global South, to train, supervise and modulate the algorithms." And since Amazon is "at the vanguard of poor labour conditions" – for example, making employees work unrelenting 12-hour packing shifts in warehouses with high injury rates and difficult-to-meet targets – anywhere they are employing people is a concern for workers' welfare and rights.
'One of the chief architects of surveillance capitalism.'
Amazon's workplaces are characterised by surveillance, with its warehouse workers tracked by various means, including thermal cameras, and its delivery drivers by Amazon vans' four-part camera system, which monitors if they look away from the road, speed, or even yawn. Amazon Fresh "encapsulates" this approach in its stores – only now turning its surveillance on to its customers – with "a total surveillance shopping experience", explains Silkie Carlo, the director of the civil liberties and privacy campaign group, Big Brother Watch. As one of the market leaders in "dystopian" surveillance products – including facial recognition products and home security drones –  Amazon is already "one of the chief architects of surveillance capitalism," she says. 
Its encroachment on to our high streets is a concern, continues Carlo, because its existing surveillance products are already "changing the shape of communities" in harmful ways. Amazon Ring, the company's video doorbell, effectively builds a surveillance network that can be tapped into by authorities. In the US, Amazon is using its surveillance technology to collaborate with the police, even incorporating facial recognition technology, which enables "not only a privatised CCTV network, but almost like a privatised, constant police lineup," she says. US police departments' employment of this often inaccurate technology, is related to intensified police harassment, which disproportionately impacts people of colour.  
remember:
google owns Nest cameras and as such may lie to encourage compliance with police for monetary gain

amazon owns Ring doorbells, sells facial recognition to cops, & has deals with the CIA, and as such has financial incentive to lie to encourage compliance with police
ee

— Silvacor | STOPLINE3 | WinstonSmith = Assassinated (@EnbyCharlieBrwn) September 25, 2021
With Amazon Fresh too then, we can be sure that such technology is not being deployed for the benefit of its customers, but to boost the profits of "one of the most unscrupulous big tech companies there is," says Carlo. She admits that while the technology may have "interesting" potential, it has ultimately been "hijacked by exploiters" – with Amazon, almost inevitably, at the helm. 
Ultimately, Amazon wants data, says Carlo – and as with its other ventures, Amazon Fresh shows no signs of protecting our privacy to get it. The shops will closely track customers' behaviour, collecting untold amounts of data: to date, Carlo has not been able to track down a privacy policy. 
When asked by Novara Media to provide such a document, Amazon instead gave a link to its generic privacy statement. This is worrying, says Carlo, because without a privacy policy, customers don't know what their rights are – an ambiguity, she argues, that Amazon is "very comfortable" with. 
With Amazon products, Carlo explains, people never really know what data is being collected, how much is being collected, how it's going to be used, where it's going to be stored, or for how long. In the case of Amazon Fresh, this data could be very sensitive, she says – especially for people from marginalised groups, who may have more reason to be cautious about a multinational tech company collecting information about their identity and lifestyle patterns.
'The anathema of food sovereignty.'
Amazon Fresh poses a threat to the fabric of communities in multiple ways; as well as subjecting them to further surveillance, the shops could undermine local businesses and food sovereignty. Its most recent store opening on Kingsland Road in Hackney is just minutes away from Dalston's Ridley Road market, an important shopping and community space, particularly for the local Black community, and one that is already under threat.
As well as jeopardising the livelihoods of local stallholders by luring customers in with the "tyranny of convenience", Dorman argues that Amazon choosing to set up shop so close to a local market that is so "representative of the community" is an "absolute travesty" and "really tone-deaf". 
Whilst Ridley Road market offers affordable, culturally appropriate food, sold by local traders, Amazon Fresh is "the anathema of food sovereignty", he says. "Nothing could be further away from a connection to nature or to other humans, or a connection to how food is produced and who produces it, and how it gets to [us], than something like this."
Here's the 'Amazon Fresh' opening opposite Ridley Road, as part of the gross FiftySevenEast development. THIS is what we get from big developers in Dalston. Disgusting faceless exploiters muscling in on Ridley, driving out small businesses, turning the area greyer than grey. pic.twitter.com/PVZmNntMT8

— SaveRidleyRoad (@SaveRidleyRoad) August 22, 2021
As Amazon continues its shrouded march on to the UK's high streets, Carlo believes it's vital we ask ourselves some important questions: "What do want our future to be? Is this how we want to do our shopping? Are these the kinds of companies we want to be relying on?"
There is currently "little sense of how successful the stores will be in the UK," says Jones. Amazon Fresh has fared poorly in the US, "hampered by stories of poor produce, logistic[al] problems, as well as legal efforts to ban the technology". Nevertheless, the threat they pose – to workers, to our privacy, to communities, to small businesses, and to food sovereignty – is too great to ignore. 
'A single, coherent struggle.'
In resisting its potential takeover of the UK's high streets, Jones says it is vital that Amazon workers are at the helm, united in "a single, coherent struggle, rather than many, fragmented along [the] lines of [different departments]; logistics, retail, etc". He warns against viewing Amazon Fresh as a conventional store, arguing that workers and shoppers alike must remember that Amazon is, first and foremost, "a software and logistics company" – and fight it with that in mind. 
As well as showing solidarity with the workers' struggle, Dorman believes all of us who can, should boycott Amazon Fresh, and instead support small businesses, and organise for food sovereignty. One way to do this is through community food co-ops, he explains, which allow communities "to make their own decisions about the things they want to have available to them… and how they want to share their resources". 
"The reality is we need to be looking at how food sovereignty can become the fundamental principle upon which we reconstruct the relationships in our community," says Dorman. Only by doing this can we build better alternatives to destructive ventures like Amazon Fresh. 
Sophie K Rosa is a freelance journalist. In addition to Novara Media, she writes for the Guardian, VICE, Open Democracy, CNN, Al Jazeera and Buzzfeed.