Amazon Hit by Strikes Across the Globe
The cost of living crisis is biting internationally - and Amazon workers are fighting back.
19 August 2022
Amazon workers protesting in California. Photo: @ieamazonworkers on Twitter
Amazon has been hit by walk-outs and strike action across the globe in protest at poor pay and conditions, as inflation hits economies everywhere.
After wildcat strikes in the UK following a pay offer that amounted to a real-terms pay cut, workers in the US, Turkey and Germany have staged strike action and protests over the last fortnight.
Workers walked off the job at a warehouse in San Bernardino in southern California in the heart of the company's US supply chain on Monday.
Inland Empire Amazon Workers United said 160 workers walked out in a dispute over pay and sweltering working conditions. Amazon said 74 workers walked out.
We work at KSBD, @amazon's air hub in San Bernardino, where temperatures soar above 95°.

Over 800 of us signed a petition for higher pay, safer working conditions, and an end to retaliation for speaking up.

Amazon refused, so today we walked out. pic.twitter.com/kPHpHE3mEm

— #IEAmazonWorkers (@ieamazonworkers) August 16, 2022
The walk-out came after about 900 workers signed a petition demanding that the base rate of pay be increased from $17 an hour to $22, saying: "Over 75% of our income is going into rent alone […] We can barely afford to live in today's economy."
Workers are also demanding additional protections from the heat. The temperature hit 35C in San Bernardino on 24 days in July.
Melissa Ojeda, who has worked at the facility for more than a year, said: "Working in the heat feels like you are suffocating. You need to take breaks and you can overheat really easily. They don't make it easy to take breaks to allow your body to cool down."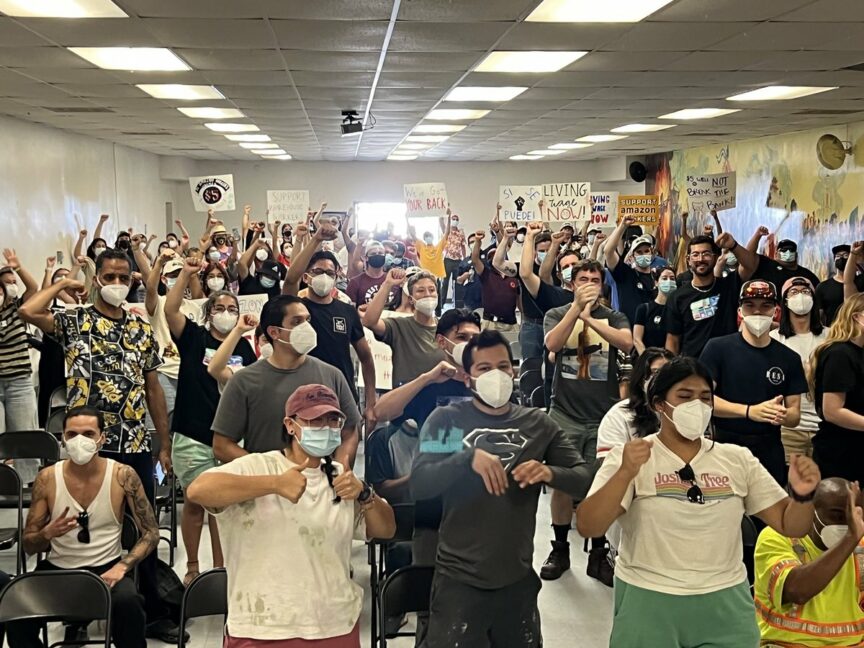 The facility, known as KSBD, opened in 2021 amid opposition over air pollution and concerns about job quality. It is one of only three Amazon "air-hubs" in the USA, according to the Warehouse Workers Resource Centre. Amazon's air freight division uses Prime-branded planes to fly packages around the country. While a small proportion of the 1,500 workers at the facility walked out, these walkouts can cause significant disruption.
Paul Flaningan, Amazon spokesperson, said: "We are proud to provide full-time employees at our San Bernardino Air Hub and throughout the region a minimum starting wage of $17 an hour."
Full-time employees can earn up to $19.25 an hour and receive benefits including health care and paid parental leave, Flaningan said.
"While we're always listening and looking at ways to improve, we remain proud of the competitive pay, comprehensive benefits, and engaging, safe work experience we provide our teams in the region."
"While there are many established ways of ensuring we hear the opinions of our employees inside our business, we also respect their right to make their opinions known externally," said Flaningan.
Those "established ways" apparently aren't doing it for workers at the ALB1 warehouse in upstate New York, who filed a petition for a union election on Tuesday. The workers are organising with the Amazon Labor Union (ALU), which successfully won the first union election at a US Amazon warehouse in Staten Island, New York in April.
ALU is currently battling against a legal onslaught from Amazon, which has appealed the election in Staten Island on the grounds of alleged illegal tactics from the union such as handing out marajuana to workers.
Shoutout to @genzforchange for using their platform to push back against Amazon's union busting. pic.twitter.com/lhCZD067ya

— Nina Turner (@ninaturner) August 16, 2022
Amazon workers in the US are now getting solidarity from an unusual source – TikTok influencers. The People Over Prime Coalition is a group of 70 content creators boasting a combined following of 51 million. The group has pledged to stop Amazon monetising TikTok until the demands of the Amazon Labor Union – which include a $30 an hour minimum wage – are met.
A statement from the People Over Prime Coalition says: "Amazon's widespread mistreatment of their workers and blatant use of union busting tactics will no longer be tolerated by the TikTok Community or TikTok Creators."
Amazon has tried to cosy up to content creators over recent years. With the Amazon Influencer Program, creators can make money by recommending products in personalised Amazon storefronts. People Over Prime will refuse sponsorship deals and will not sell products on Amazon Storefront.
"We have these rising costs too"
Amazon, which has long been criticised for its working conditions and alleged union busting tactics, is also facing headaches elsewhere.
In Germany – Amazon's second biggest market after the US – workers struck at a warehouse in Bad Hersfeld on Friday 12 August. Mechthild Middeke, secretary for the Verdi trade union, said the cost of living is "a heavy burden for many employees."
"If Amazon makes Prime membership 28% more expensive and justifies this with rising costs, then we have these rising costs too and want compensation for it," she said.
Amazon has resisted calls from Verdi to sign up to a collective bargaining agreement.
Amazon has said logistics workers in Germany receive at least €12 per hour, rising to at least €12.50 by autumn.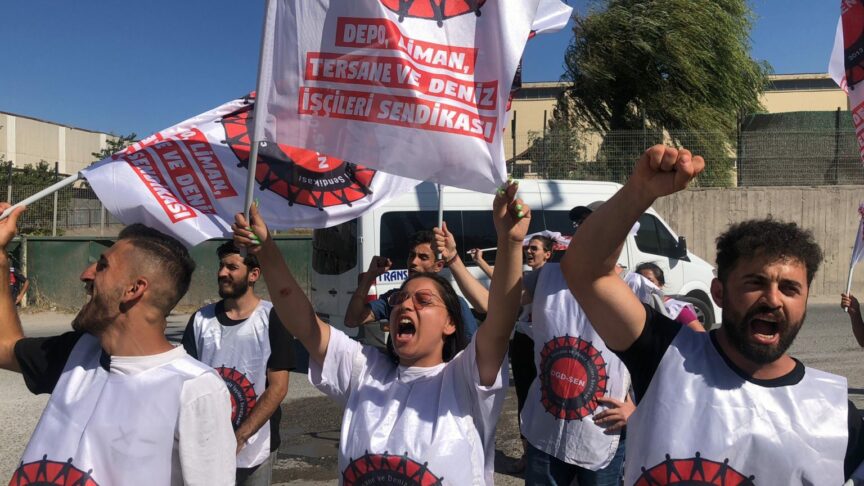 Workers also staged a sit-in protest at Amazon's main warehouse in Turkey, where inflation recently hit a 24-year-high of 79.6%, on 8 August.
Around 600 workers at the facility in the western province of Kocaeli had signed a letter demanding higher wages, health and security measures, worker transport services and meal services.
Local media reports that Amazon transferred disgruntled workers to a distant warehouse and those who refused were dismissed.
Dismissed workers staged a sit in protest with the help of DGD-Sen, the warehouse, port, shipyard and marine workers' union.
A statement from trade union Umut-Sen said: "The workers didn't let the heat, dust and smoke get in the way of fighting for their friends and their rights."
Commenting on working conditions in Turkey generally, Peoples' Democratic Party (HDP) MP Zuleyha Gulum said: "We have always been exploited, but it's now slavery that is imposed upon us. The employers are now trying to lower the price of labour more than ever. And we're actually living in a country where the government calls on the foreign capitalists and says, 'Labour is cheap here, come and exploit these workers as much as you wish'."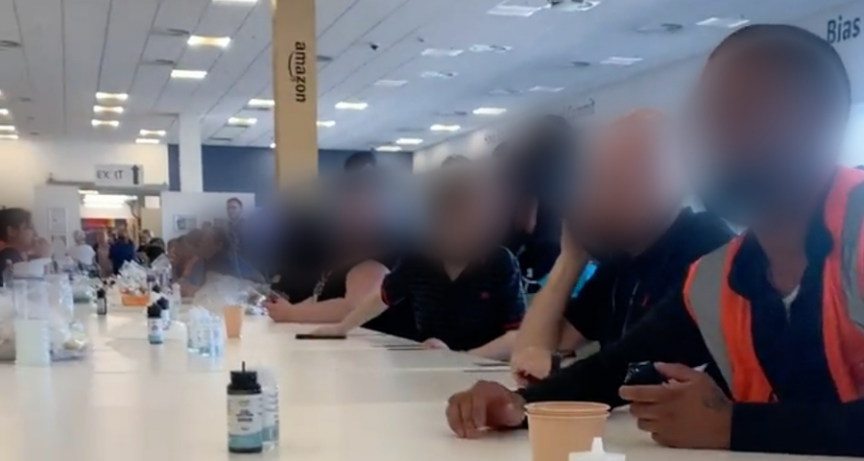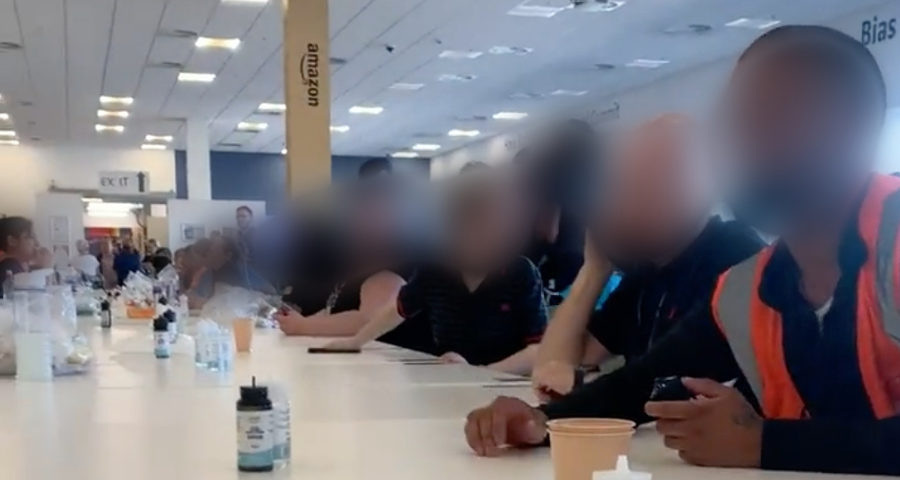 The news follows wildcat strikes in the UK, where protests broke out at several warehouses in August following a pay offer that would amount to a real-terms pay-cut amid sky-rocketting inflation.
The strikes come as Amazon faces pressure from consumers because of inflation. In the UK 600,000 customers left Amazon Prime in the second quarter of 2022, according to Ofcom. But at least Amazon doesn't have to worry about paying too much tax in the UK. Tax breaks brought in when Rishi Sunak was chancellor will let the company off the hook for at least another two years, according to a report from the Fair Tax Foundation.
Meanwhile in the States, Amazon is being investigated over concerns that it manipulates users into signing up for Prime accounts. The company accused the Federal Trade Commission of "harassing" chairman Jeff Bezos and CEO Andy Jassy by asking them to testify in the investigation.
Simon Childs is a commissioning editor and reporter for Novara Media.