The Tories Are Putting Jews in Danger by Making Them a Model Minority
The boycott, sanctions and divestment bill is the latest threat.
30 August 2022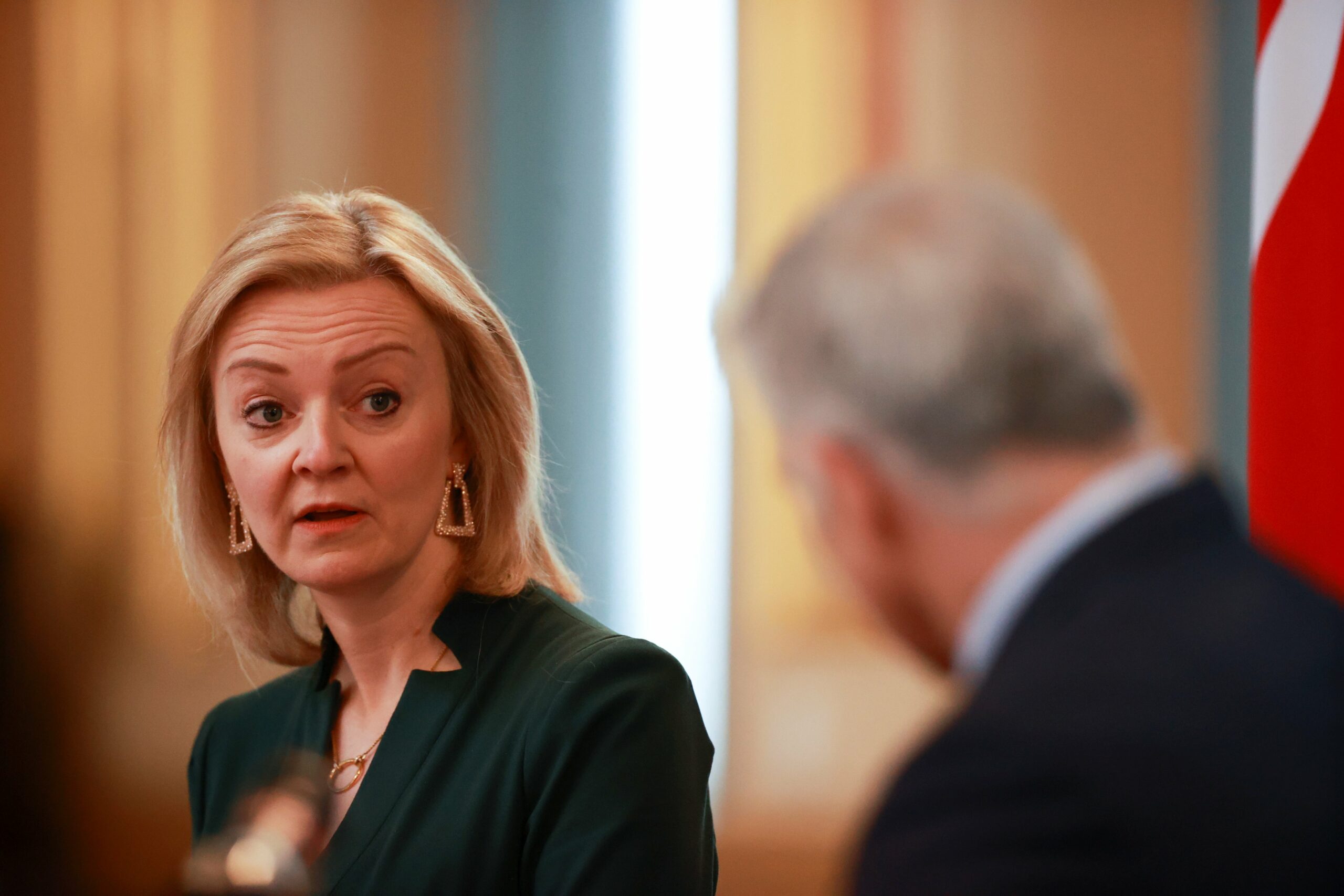 Prospective prime minister Liz Truss has promised to push through the BDS bill and strengthen ties with Israel in the name of fighting antisemitism. Hannah McKay/Reuters
In May, the government announced nearly 40 new pieces of legislation they planned to pass over the coming year. A change of leadership means not all of them will come to pass. But nestled amidst renters' reform bills and proposals to rip up the Human Rights Act, was a blink-and-you'll-miss-it bit of policy: the boycott, divestment and sanctions (BDS) bill. 
The bill would bar public bodies – like local councils or health trusts – from using public money to boycott or divest from countries that violate human rights. Although it has been trumpeted as tackling "boycotts that undermine community cohesion," the Tories have been clear that they specifically mean boycotts that target Israel. In March 2022, Michael Gove – then minister for housing, communities and local government – declared that "stand[ing] up to the BDS movement", a campaign placing nonviolent pressure on Israel through boycotts, divestment and sanctions in protest against apartheid in Palestine, was one method to "tackle the evil of antisemitism". 
Just a month earlier, his predecessor Robert Jenrick had asserted that: "Successive studies have shown the single best statistical predictor of anti-Jewish hostility is the amount of BDS activity". 
Jews as a 'political football'.
Let's be real: the BDS bill has nothing to do with fighting antisemitism and everything to do with the promoting the interests of the British state. This commitment to criminalise BDS comes at the same time as current foreign secretary – and likely future prime minister –  Liz Truss is pushing for increased economic trade with Israel, particularly in arms and technology industries. In 2021, she made her intentions abundantly clear, penning an article in the Telegraph titled: 'As allies, Britain and Israel can be trade and tech superpowers'. 
Truss' probable premiership also looks to further erase Palestinian land rights; in a recent letter to Conservative Friends of Israel, she promised to follow Donald Trump in considering moving the British embassy in Israel from Tel Aviv to Jerusalem, and pledged her commitment to passing the BDS bill. Most recently, Truss used a stump speech at a Manchester synagogue to slam "woke civil service culture that strays into antisemitism," while simultaneously proclaiming "Jewish values" to be "setting up your own business". Jewish News later reported that Truss's widely derided accusations of antisemitism (made while amplifying antisemitic tropes) within a "woke" civil service were directly referencing councils who participate in the BDS movement. In response, Truss was accused of using Jews as a "political football" by the leftwing Jewish group Na'amod. 
It's bang on. Truss' comments, and the BDS bill, make up one of the oldest tricks in the book: politicians using a scapegoat – in this case, Jews – as an excuse to pursue draconian policies, like limiting the ability of public bodies to impose sanctions on foreign countries (conversely, sanctions have been encouraged when it comes to the likes of Russia). The bill has secondary political benefits too: Conservative politicians can use the legislation as part of their catch all response to combatting antisemitism – conflating political opposition to Israeli apartheid with hate against all Jewish people – and further demonstrate to Israel their eagerness to build an alliance. 
A pseudo safe space for Jews.
Justifying the introduction of this legislation as part of protecting 'community cohesion' maps neatly onto the cycle of antisemitism outlined by US leftist thinker April Rosenblum, in her 2007 pamphlet The Past Didn't Go Anywhere. 
As part of this cycle, Jews are given a conditional and temporary sense of safety by the ruling class and the right. In exchange, Jews act as useful 'alibis' for certain policies – such as legislation designed to protect the state of Israel from BDS campaigns – and consequently become the focus of public ire. 
This fuels antisemitism; Jews are seen by other marginalised groups as either receiving 'special treatment' from those in power, or as secret arbiters pulling strings 'behind the scenes' of national political priorities. Where other forms of racism or bigotry might be based in bogus race science, antisemitism is fuelled by conspiratorial myths about Jews as a demographic wielding secret power and wealth. 
As a result, using the 'wellbeing' of the Jewish community as justification for authoritarian policies that actively discriminate or target marginalised groups like Palestinians only reinforces the antisemitic idea that Jews are responsible for societal woes, rather than the government. 
The right has no meaningful interest in Jewish safety. Current culture wars in Britain invoke the constant spectre of 'cultural marxists' – an established antisemitic dog whistle. Tory politicians align themselves with the likes of Hungarian prime minister Viktor Orbán who – despite campaigning that amplifies George Soros conspiracy theories and Nazi ideology – has signed the definition of antisemitism penned by the International Holocaust Remembrance Alliance. These actions are a nod to pseudo-care for Jewish safety by the Conservatives, all the while enacting policies that erode our human rights and civil liberties. 
Authoritarianism harms Jews too.
Political discourse over the last five years has successfully presented British Jews as a 'single issue' demographic, reducing their concerns to antisemitism and Israel. A common experience of minoritised or marginalised communities, this is not only morally wrong but, frankly, dangerous. It reinforces Jewish people as a perpetual 'other', as if they are immune to, or disinterested in, issues that plague our society – like the housing crisis, the cost of living, underfunded education and strained healthcare systems. This is particularly pernicious given the historical – and breathtakingly inaccurate – tropes relating to Jews having increased wealth, connection or dual loyalty that will 'shield' them when the going gets tough. As food banks popping up in Jewish communities show, this isn't true.
It is crucial that the left understands how this cycle of antisemitism plays out, and pushes back against it. Jews are just as vulnerable to authoritarian policies as the next minority group. The Tories reaffirm their support for Israel in the name of fighting antisemitism in one instance; in the next, they introduce laws, like the nationality and borders bill, that could strip British Jews of citizenship.
History is littered with examples of how the right is fuelled by white nationalism and antisemitism – most recently exemplified by the aftershocks of Donald Trump's tenure as US president, which saw significant upticks in white nationalist violence against Jews and people of colour. These expressions of racism go hand in hand. Yet in the UK, the political class waxes lyrical about the importance of combatting antisemitism, whilst either ignoring or actively promoting policies that fuel racism and target minorities, such as increased policing. Such tactics serve to divide Jewish people from their natural allies in antiracist and liberatory struggles. 
Right now, the Tories are using a rhetoric that exceptionalises antisemitism while doing nothing to combat its actual causes – or its presence in the UK. This creates misguided impressions of who holds power in British politics; proximity to power does not translate to power itself. Yes, rightwing Jewish organisations like the Board of Deputies advocate for certain policies (such as the BDS bill), but it is ultimately the government pushing this agenda. They don't have to listen to lobbying groups – the same way Truss doesn't have to take economic advice from neoliberal think tanks like the Taxpayers' Alliance. They choose to because it suits their policy agenda. 
The limits of proximity to power are exposed when Jewish communal interests diverge from the government's agenda. The government justifies inaction on Palestine using Jewish security concerns. Yet lobbying efforts by the Jewish community, for example for a more humane refugee policy, have been routinely ignored because they don't align with state foreign policy goals.
The Tories are trying to cultivate Jews as their next 'model minority'. The justification given for the likes of the BDS bill is further fuel on the fire of 'divide and rule'. Inequality – which the Tories have mandated as state policy over the last 12 years – further allows for the sort of conspiracy theories central to antisemitism to thrive. Solidarity in the face of an economic crisis, a shrinking welfare state, and an expanding authoritarian one, has never been more vital. 
It's crucial to understand that antisemitism not only threatens Jews, but forms the basis of attacks against broader political projects and movements. British Jews must see through the opportunistic and threadbare philosemitism that the Conservatives are practising. Otherwise, we will find very quickly that the shelter being offered by the right is not a house made of stone, but one of slurry.
Em Hilton is a Jewish activist and writer.