This Residents Group Just Won a Freeze on 'Obscene' Energy Price Hikes
Campaigners hailed the 'massive' victory.
2 September 2022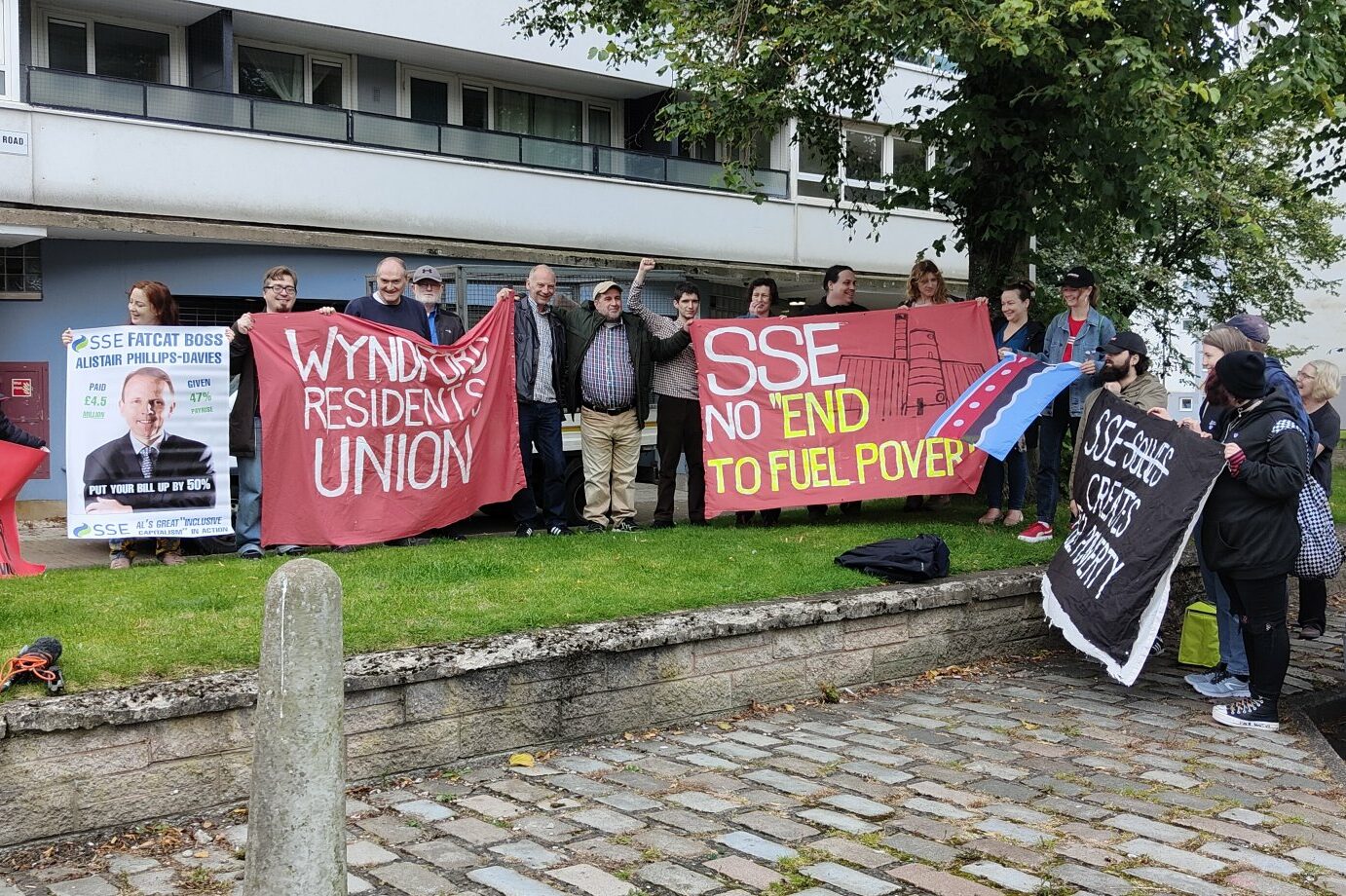 Wyndford Residents Protest. Photo: Twitter
A community group has secured a price freeze for over 10,000 people across the UK after protesting "obscene price hikes" from an energy supplier.
In April, energy supplier SSE raised prices on the Wyndford estate in Glasgow by 50%, plunging residents into fuel poverty. One resident, a cancer patient, told STV News how he was eating mouldy bread because it was all he could afford after being hit with a £4,000 bill.
After four months of protests organised by the Wyndford Residents Union, energy supplier SSE has agreed to freeze prices for Wyndford residents until 2023 – and for around 10,000 customers who get their heat from similar systems.
"Through our pressure, we managed to get them to agree to a price freeze."

Watch as @GlassOniion explains how Wyndford residents won an energy price freeze for their community. #FreezePricesNotPeople pic.twitter.com/F43zztqp0W

— Power to the People Glasgow (@PTTPGlasgow) August 30, 2022
Stephanie, an activist with the Wyndford Residents Union, said that the "obscene price hikes" were caused by "rampant profiteering from the wealthy elite at the top of society and the working class in communities like this are being asked to foot the bill for it.
"What we're saying is that we won't pay for this crisis and we won't stand for this level of profiteering any longer."
Following a number of protests both at the scheme's power station and at SSE headquarters, she said, the energy provider agreed to a meeting, which was supposed to be in person but SSE "chickened out" and held the meeting on Microsoft Teams instead.
"Through our pressure, we managed to get them to agree to a price freeze, so our bills in this area won't go up again, and they've pledged financial support to 100% of the people supplied by this heating system in the scheme, but it's not enough."
The campaigners have pledged to fight on. Wyndford Residents Union said on Twitter: "Important to bear in mind too that we are still a scheme in 100% fuel poverty where most households will not have any hope of paying their current bills. We will fight till the April rise is cancelled."
Important to bear in mind too that we are still a scheme in 100% fuel poverty where most households will not have any hope of paying their *current* bills. We will fight till the *April* rise is cancelled. https://t.co/bho5I8AIOe

— Wyndford Residents Union (@WyndfordU) August 31, 2022
The protests included a "Hug Yer Dug Day" of protest, after Ovo Energy, which owns SSE, apologised after a blog was sent to SSE customers advising them to have a "cuddle with your pets" to stay warm.
Hot water and electricity for the estate is provided by a district heating system which was installed in 2011 to reduce fuel poverty and increase energy efficiency. SSE has 18 of these "heat networks" serving 10,000 customers across the UK including two hospitals. SSE says the networks are, "part of our commitments around low carbon, affordable heat."
SSE said: "SSE has frozen bills for all its heat networks customers until May 2023. This means our customers will be shielded from the 80% rise UK domestic energy bill payers face from October 1st – as announced by Ofgem last week.
"We would encourage anyone in Wyndford who needs additional help to get in touch with us directly so that we can discuss ways to support them."
Coll McCail, from Power To The People, a Glasgow campaign to freeze energy prices, said: "The victory of Wynford residents over SSE is massive. It demonstrates the power of working-class communities when they organise together and build collective power.
"As we go forward with our campaign for a national energy price freeze, their victory serves as an inspiration, a reminder that diligent community organising can beat even the biggest billionaire monopolies. All power to the Wynford!"
Labour MSP Paul Sweeney said: "District heat schemes like Wyndford's should be in municipal or community ownership, with any surplus returned to the community in lower bills or in projects for the common good, not SSE shareholders."
SSE's most recent accounts show that the company made over £1.5bn in profit in 2021. SSE boss Alistair Phillips-Davies, 54, received a total pay package of £4.5million last year – an increase of 47% – as soaring energy prices drove up the group's profits. When Labour proposed nationalising energy companies in 2019, SSE quietly transferred its ownership to a Swiss holding company.
Simon Childs is a commissioning editor and reporter for Novara Media.