Daily Mirror Journalists Striking Over Low Pay Were Offered Advice on 'Side Hustles' At Publishing Giant
Reporters have had to choose between debt and bar shifts.
23 August 2022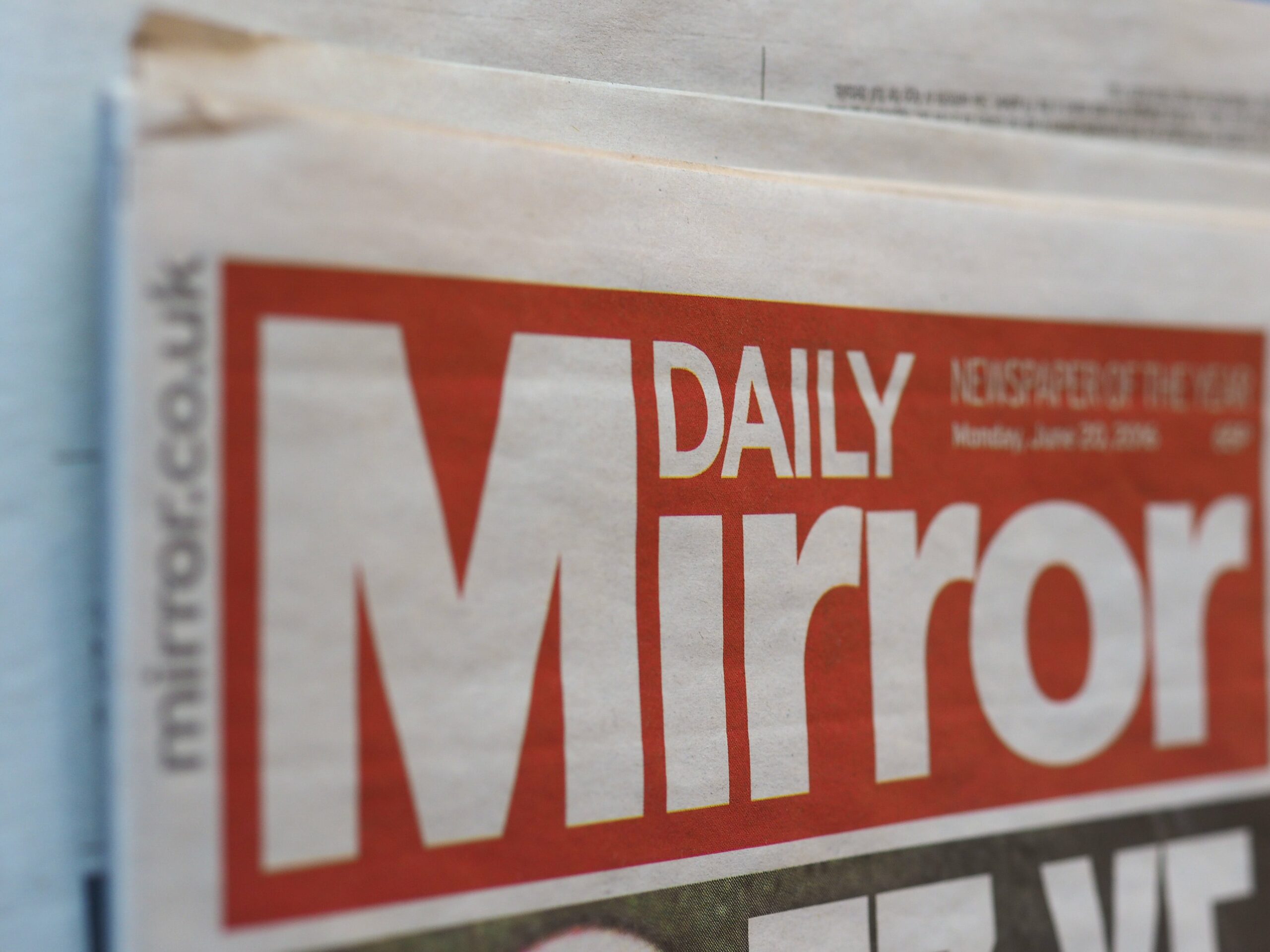 Journalists across Reach PLC's national and regional titles will begin a month of strike action on 26 August. Adobe Stock
Ahead of strike action, journalists at Reach PLC, Britain's biggest regional publisher, say low pay has forced many into debt – while chief executive Jim Mullen banked £4m last year.
Journalists at the likes of the Daily Mirror and Daily Express allege colleagues have been pushed into bar work as a result of low pay, as over 1,000 editorial staffers prepare for national strike action on Friday against parent company Reach.
Speaking to Novara Media, journalists said the company's continued failure to match pay offers to inflation had resulted in dozens of Reach staffers acquiring second jobs, ranging from shifts in hospitality to selling products on Etsy, an e-commerce craft site.
Walkouts on 26 August mark the beginning of a month of industrial action by Reach journalists, after a pay rise of 3% – a minimum of just £750 a year – was rejected by National Union of Journalists (NUJ) members who are requesting an 8.5% rise. In March it was revealed Reach's chief executive Jim Mullen took home a £4m pay package in 2021 – equal to that of 182 of his entry-level staff.
Three more days of strikes will follow on 31 August and 14 and 15 September, with a 'work to rule' instruction (where staff are encouraged to work only their contracted hours and duties) in place from 1 to 13 September. 
Side hustles. 
Cassie*, a Daily Mirror journalist, told Novara Media that Reach's refusal to increase pay in line with the rising cost of living had pushed workers into debt and second jobs.
"I've heard about people taking on bar shifts; people say they're always in their overdrafts and struggling," she says. "For younger journalists on the £22k [London starting salary], trying to manage, a lot of them are using credit cards. It's become unsustainable. They're getting into debt just to do their job". 
Messages seen by Novara Media list second jobs taken on by Reach staffers, including photography, academic teaching and selling products via Etsy. 
Freelance writing is prohibited by editorial contracts without "a lot of permission", says Cassie, blocking an obvious avenue for making up shortfalls in pay. 
After staff accepted a 1% pay rise in 2021, Reach – the biggest regional publisher in the UK – ran a company-wide skill session titled 'How to Side Hustle', which promised advice from "super, multitasking colleagues who manage to do their day jobs at Reach whilst also running successful side hustles". Reach have since reached out to Novara Media to clarify this event was "run by a colleague-led gender equality network" and not Reach management at a corporate level. 
"It went down like a lead balloon," says Cassie, of the initiative. Reach, she adds, has also "passed a lot of [its] overheads" onto journalists via newsroom closures. 
In 2021, Reach shuttered all but 15 of its newsrooms, telling the majority of its journalists they would be permanently working from home. The move was not accompanied by any boost in pay packets to reflect increased costs of energy bills, food and so on, says Cassie. 
"They've never offered any constructive help with that," she notes. "The regionals are a lot worse off; at least [London-based] journalists can go into the office two or three times a week to use electricity etc. But for regionals, there's no office for them in many areas. People are really frustrated". 
While Reach is not responsible for the editorial lines of its titles, Cassie says Mirror staff have also found its cost of living coverage "hypocritical", given frequent coverage of "fat cat bosses" and the impact of the economic crisis on workers. 
"I've been writing something about [the cost of living crisis] and been like, 'this is ridiculous, I'm literally about to go on strike because of pay'," she says, wryly. 
In addition, she alleges some editorial managers at the Mirror have pressed staff on whether they will be striking or not (a tactic to minimise its impact by shipping in the requisite number of temporary workers), and grumbled about "disruption". 
"It is quite weird," Cassie says. "The Mirror's line is that 'we always support strikers'. We had Sharon Graham from Unite write for us recently on why you should join a union."
'They're incentivised to screw us'. 
At other Reach titles, similar discussions are taking place. James*, a Daily Express staffer, acknowledges that the public will probably have little sympathy for journalists striking at publications that take an explicitly anti-union stance, but says that Express reporters are "like any other group of workers". 
"[We] just want a fair pay increase," he says. "Reach PLC is the worst possible case of capitalism in the 21st century. You have a company that pretends to be reasonable and sympathetic but is focused entirely on two groups of stakeholders: shareholders and pensioners. 
"The workforce is [considered only in terms] of reducing labour costs as much as possible. The chief executive doubled his basic salary package, paid on the fact that the company had achieved a record operating margin. They're incentivised to screw us all the time." 
Striking is a "last resort", James says, but he believes that Reach's unwillingness to budge on their position has energised industrial organising at the company. 
"The NUJ has taken on more than 200 new members from Reach in the last month or so," he claims. "This dispute has galvanised staff, particularly younger digital reporters. Many of the younger journalists just didn't understand what trade unions did.
"[With] Mick Lynch, the RMT and all the publicity surrounding that, and the cost of living crisis, now they get what trade unions are about. People are angry and insulted by the 3% pay offer." 
Furthermore, balloting members – which resulted in a 79% 'yes' vote on strike action on a 70% turnout – has made the NUJ presence at Reach much stronger, says James. 
"I think union reps have found it difficult at times to keep track of who's a member and who isn't," he says. "But this whole exercise has not only allowed the union to grow in numbers, it also got better organised and up to date as a result". 
In response to a request for comment from Novara Media, Reach PLC issued the following statement: 
"We greatly value our journalists and are disappointed that, despite our best efforts during the negotiation process and successful agreements with Unite and the BAJ, we have been unable to reach an agreement with the NUJ. 
"Whilst this is not the outcome we would have wished for, we remain focused on protecting the interests of all our colleagues, ensuring the group has a sustainable future in the face of an uncertain economic backdrop.
"We have contingency plans in place to keep disruption to our titles to a minimum and are working to support our journalists who choose not to take action."
*Names have been changed
This piece was updated on 24 August 2022, to reflect further comment provided by Reach PLC concerning an optional event offering staff advice on 'How to Side Hustle'. 
Moya Lothian-McLean is a contributing editor at Novara Media.