Why Aren't Low Paid Supermarket Workers Joining Hot Strike Summer?
Workers are being held back by cosy deals and complacent union leadership.
18 August 2022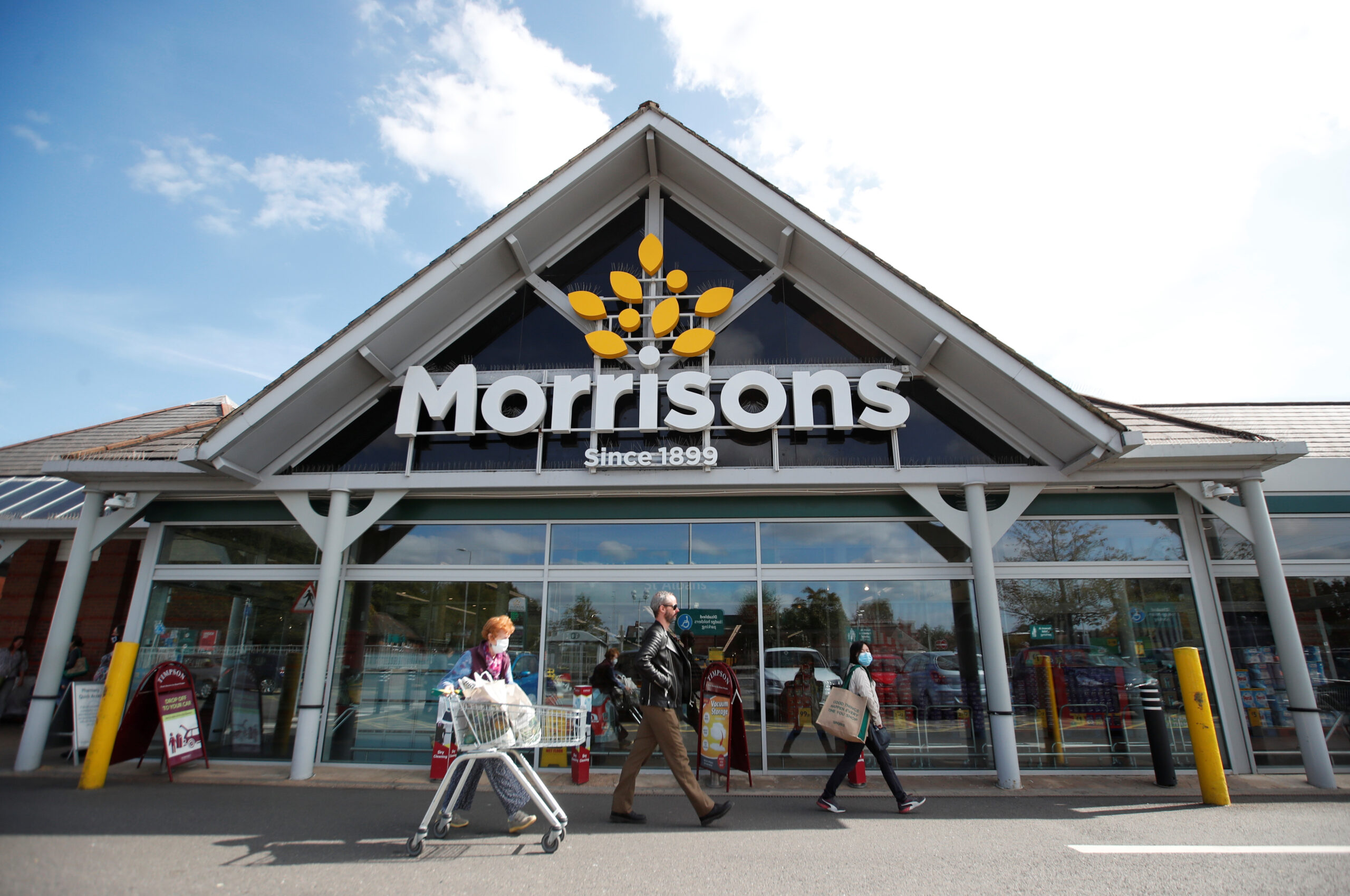 A branch of Morrisons. Peter Cziborra/Reuters
Industrial action is at its highest level in the last five years. Much of the activity is concentrated among those hailed as key workers during recent Covid-19 lockdowns. From train drivers to airport check-in staff and refuse collectors, workers and their unions are rejecting pay deals that would leave them on falling wages amidst double-digit inflation.
Supermarkets stayed open throughout lockdowns, operating in difficult conditions with social distancing and shortages. A host of their workers were honoured by the Queen in 2020 for their efforts in the pandemic, but they are still struggling on low pay.
For staff who spend their shifts putting security tags on baby formula and scanning Lurpak at more than £7, the reality of the cost of living scandal is something they're confronted with daily.
But despite this, so far there's been little sign they will be able to join the 'hot strike summer' other key workers are partaking in. This isn't due to a lack of desire. Supermarket staff have told Novara Media how they want to take the fight to low paid employers – and they're frustrated with union leadership that appears happy with compromise.
lurpak are now accepting 3-month plans on klarna, making the payments spreadable pic.twitter.com/w7pfXbvHD6

— Hoy (@mr_hoy94) July 4, 2022
Where they are unionised, supermarket staff are mostly represented by Usdaw. The union represents 360,000 workers, most of them in the supermarket sector.
In June, Morrisons proudly announced that it had increased its workers' pay to at least £10.20 per hour. This is "a minimum 2% increase on their base rate", a press release boasted. That month, inflation hit 9.4%, making Morrisons' new deal a dramatic real-terms pay cut for many workers.
The announcement was made with the endorsement of Usdaw, the recognised trade union at Morrisons, but before its members had actually been consulted. Quoted in the supermarket's press release, Joanne McGuinness, Usdaw National Officer, said: "Usdaw has negotiated an established rate […] which is the highest basic pay rate in the supermarket sector. Our members in Morrisons will now be balloted on the company's offer."
For Charlie*, who works on the food counters and has been at Morrisons for nearly 17 years, the offer was a "slap in the face".
Later that month, having already effectively endorsed the deal, Usdaw put it to its members in a ballot. Members rejected the deal. Usdaw members then heard nothing for weeks. On 10 August, members heard that the pay negotiations had ended without an agreement, and will now be going to conciliation service Acas.
Back in 2019, Morrisons members rejected a 30p increase. The union opted for arbitration through the Acas, who ended up endorsing the original pay offer. Charlie says he "won't be surprised if the same thing happens again."
Screenshots shown to Novara Media from a private Morrisons colleague Facebook group reveal workers despairing at Usdaw, calling it "shameful," an "embarrassment of a union", and "shocking". The posts display members saying the union had "shafted" its own members, with one worker asking: "How on earth has this been allowed to happen?"
In the group, workers repeatedly ask why the union hasn't made an attempt to build a public campaign around pay, to put pressure on Morrisons during negotiations. One worker says: "There are people striking for more than we will ever be offered."
With the cost of living crisis spiralling out of control, supermarket workers told Novara Media they are keen to see more militancy, but concerned that their union might not rise to the challenge.
At Tesco, Usdaw members face particular hurdles to standing up for themselves. Since 1998, Usdaw and Tesco have operated under a "partnership agreement". According to Tesco's website, the voluntary agreement sets out how the two parties, "work together, engage, listen and respond to colleagues, improve terms and conditions, and solve problems together".
While it's normal for trade unions to sign recognition agreements with employers full of fluffy language about working together, the Usdaw-Tesco partnership agreement is something different.
The deal was one of a number of partnership agreements signed during the New Labour years, when Tony Blair encouraged unions to swap their "us and them" mentality for one of cooperation. Speaking at the 1999 Trade Union Congress conference, he told the crowd: "Today, management and labour have a mutual interest in a company's success."
Unions were keen on partnership deals after years of government hostility that had weakened them. Tesco's deal with Usdaw was heralded as an example of this bold new idea. "Partnership arrangements may now be the only way that the shop floor can get the ear of management, but they can provide benefits for workers and for unions," wrote a Guardian reporter at the time. But, the correspondent noted: "Some observers wonder if partnerships will seem like such a good idea if the economy turns stormy again."
If you think Lurpak is bad – the local Aldi and Coop have started security tagging food. There was a GPS protected tag on a pack of lamb chops as well… #ThisMorning #CostOfLivingCrisis pic.twitter.com/ajUSNsZIeE

— Tam (@Celeste_Tam42) July 5, 2022
The agreement means workers give up the right to vote on the annual pay deal, with voting power transferred to "staff forums", which workers allege are tightly controlled by management. The economy has turned stormy again and Usdaw's efforts to secure better pay for workers are timid. Non-unionised supermarkets like Aldi and Lidl pay better than those that are represented by Usdaw.
In April, Usdaw celebrated having secured a new minimum pay rate of at least £10.10 per hour for Tesco shop workers, calling it a "major step forward" and a "decent pay award […] a boost and testament to the value of employers working positively with trade unions." But the pay increase has quickly been outstripped by double-digit inflation.
Simon*, a fulfilment shift leader at Tesco and Usdaw member, says this 1998 agreement is used to "to quash any mobility within the workforce."
"I feel that being part of Usdaw is particularly detrimental to Tesco workers", he says.
Usdaw's recognition agreement with Morissons does not sign away members' voting rights, but union activists are still frustrated.
Stewart*, a team leader at Morrisons, says the ballot in June should have prompted Usdaw to start an offensive pay campaign. "Supermarket workers want to do something," he says.
"The union can't even be bothered to update their members on pay negotiations," Stewart continues. "With no organisation, no strategy, and no plan, there's nothing for members to get their teeth struck into. Their anger dissipates and becomes acceptance and sadness."
Ryan Aldred, general branch secretary for Usdaw's Plymouth branch, says the mood among retail workers is more militant than the union's leadership thinks.
"I think a ballot [for a strike] would surprise the leadership," he says.
Aldred rejects the idea that retail workers are too hard to organise. "You need to ask the membership, not assume. The mood is changing, and it's changing quickly."
Due to the high rate of part-time or younger workers, the fragmented nature of the workforce, or the endemic low pay, it's often assumed that supermarket workers won't or can't strike. But industrial action is not unheard of in the sector: In 2021, 100 Lidl stores across Belgium were closed down in strikes over excessive workloads. The CWU's recent strike against the BT Group involved call centre workers – who were previously thought of by union organisers as "unreachable".
Peter says, "while a strike would hit me financially, I'm being hit financially right now."
Where the partnership agreement is not in place, Tesco workers have managed to strike. In 2018, Usdaw workers at Tesco's distribution centre in Dagenham staged a 24 hour strike, demanding a 15 per cent pay increase. The Dagenham distribution centre operates outside of the Usdaw-Tesco partnership agreement, making it a "standalone site".
Not only are workers frustrated by low pay, but also by crap conditions. Stewart says that the unions' failure to secure minimum 16-hour contracts will mean that staff turnover will still be high, in turn meaning the union will be irrelevant to workers. "Staff think: why bother being involved in the union if I'm in under two days a week?"
Defenders of Usdaw can point to the union's action, alongside Thompsons Solicitors, representing 42 members from the Tesco Daventry and Litchfield Distribution Centres in a court battle over fire and rehire.
But for supermarket workers, years of declining wages are becoming impossible to bear. "Supermarket workers can't afford the food they're putting on their shelves," says Stewart.
Peter, who works for Tesco in the merchandising team and is an Usdaw member, says he has colleagues using food banks. At the same time, the supermarket advertises that it tops up customer food donations with a financial donation. "They're forcing us to use food banks, while using food banks to look good," he says.
Now, in a tight labour market, where job vacancies are plentiful, workers are finding themselves in economic conditions favourable to militancy. Union leaders who habitually respond to declining pay and conditions with a well-crafted press release or round of concessionary collective bargaining are finding themselves at odds with the rank and file. "People are looking out at Mick Lynch and they're seeing a real passion," says Stewart.
Novara Media contacted Usdaw for a comment on this story, but didn't get a response.
* Names have been changed to protect workers' identities.
Polly Smythe is Novara Media's labour movement correspondent.