'People Have No Option': Why We Won't Pay Our Energy Bills
The Don't Pay UK campaign is gathering steam.
16 August 2022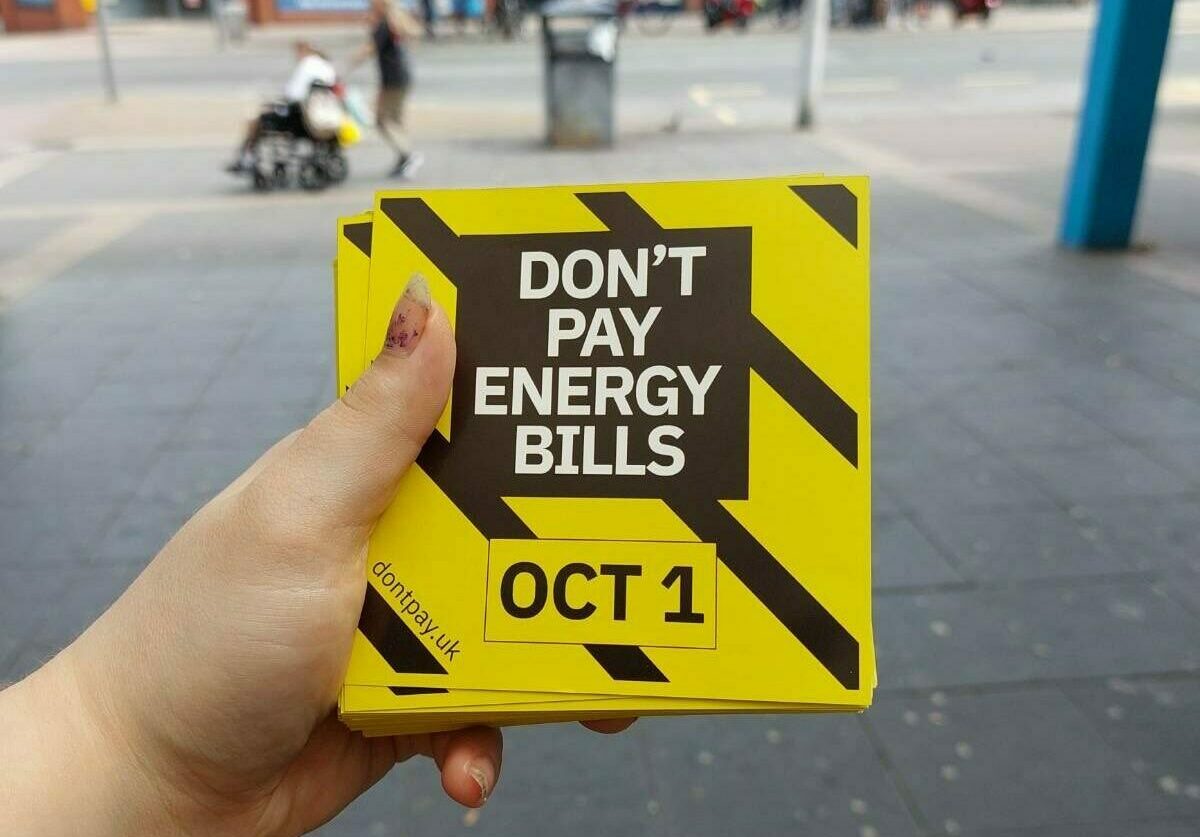 Over 100,000 people have already pledged to cancel their direct debits. Photo: Don't Pay UK Twitter
With average energy bills projected to rise to over £3,500 in October and the cost of living crisis in full swing – whilst energy companies report profits in the billions – Don't Pay UK is gaining momentum nationwide.
Launched in June, the campaign is demanding that the government scrap energy price rises by 1 October. If it doesn't, those who have pledged to strike with Don't Pay UK won't pay their energy bills – provided the campaign's target of one million pledges has been reached.
Over 100,000 people have already pledged to strike, and over 30,000 have signed up as local campaign activists.
Novara Media spoke to three Don't Pay UK supporters about why they've signed up and why they think the cost of living crisis is really class warfare.
Tom Shaw, NHS programme coordinator, Bath, Somerset.
I first heard about the Don't Pay campaign a couple of weeks ago when I saw it trending on Twitter. When I saw the campaign was gaining momentum and found myself agreeing with the cause, I signed up because like many others, I'm concerned about the cost of living crisis and how bad it will have to get before this government takes any action. I've ordered some leaflets, which I plan to deliver in my neighbourhood.
Personally, whilst I work in a low paid role, I'm fortunate in that I can afford my energy bills for now. However, should they rise to the levels predicted in October and January, that could change, so I think it's wise to try and effect change before I'm put in the situation that many households are already in, whilst lending support to their current plight.
Politically, my views are to the left; I believe in creating a fairer society and I don't think it's moral or right that energy companies are making record profits whilst people are facing choices over having to eat or heat their homes.
I've never taken part in any political campaigns before. I feel what's different about the Don't Pay campaign is that it isn't a [so-called] political issue – like Brexit, for example. It's not polarising and everyone is personally affected by the energy bills rising to some degree, which makes it easier for people to lend support.
I've spoken to my friends and tried to convince them to join the campaign. It's a bit of a mixed reaction; most support the sentiment and seem willing to follow through, but there are a couple who are too worried about the consequences of not paying their energy bills. Of course I'm worried, but there are people who won't be able to pay regardless, who will be facing the same consequences. I'm hoping it won't come to that though, if enough people join the campaign.
To me, success looks like Ofgem doing its job properly and protecting consumers from profiteering energy companies. Energy caps shouldn't be raised without equivalent rises in wages to ensure they're affordable.
I think the Don't Pay campaign is just a small part of a wider crisis. Along with energy, fuel and food prices are rising, as is housing and rental prices. It's all unsustainable without wage increases. The UK is set to enter another recession; the government isn't providing enough support to help people, and I think the country is heading towards a crisis point where a repeat of the poll tax strikes could become a reality. The Don't Pay campaign could light that fire. The only real power most of us have as individuals is power in numbers.
Lee Robertson, local authority welfare support worker, Fife, Scotland.
I wanted to contribute to a quick growth in supporter numbers [of the Don't Pay campaign], to provide confidence to those who are unsure about committing. Rapidly rising supporter numbers may fire a warning shot that this protest is to be taken seriously, and force the government to act.
As a working class person, my income and my family's wellbeing have become so obviously vulnerable to decisions that put profit before people. In my job, I work with people experiencing poverty, who are labelled as dependent. Poverty and dependency are created by an unfair system, and yet those with the least power and resources are told to take the most personal responsibility. The cost of greed crisis has the potential to bring groups of working class people together more than any other event in my lifetime, to ask questions such as: Who is really dependent upon whom? And how is dependency created, and by whom?
I've got no previous experience of political campaigning. Don't Pay is about a number of crises intersecting. Any post-war social contract which might have existed has now been dismantled around us by the elite, who convinced the masses to look the other way and numb ourselves with consumerism and consumption. The aim now is for authentic wellbeing: society does exist, and we are going to join together to demonstrate our collective strength – by choosing not to pay without shame. From speaking to those around me, I believe there's an appetite for this campaign and that it could be a source of collective hope.
Don't Pay is urgent in the context of the cost of living crisis. The profits and bonuses the rich receive are grotesque and indefensible. The cost of living crisis is class warfare, pure and simple. We've spent too long being exploited. We need systemic change now, and the working classes need to be at the forefront of decision-making.
Alasdair McPherson, construction worker and independent local councillor, Stirling, Scotland.
Back in May, I wrote to a newspaper here in Scotland saying there should be a "pay what you can" campaign on energy bills. Then, about six weeks ago, I heard about Don't Pay, and signed up a few weeks later. The cost of living crisis is going to have a massive impact on my family and the people I represent as a local councillor. The way I see it, people are going to stop their direct debits anyway if the energy price hike happens – because they're going to bounce, that's the bottom line.
I've been a councillor for 15 years, and a lot of people contact me seeking help on how to afford rising energy bills. Awareness is growing about the campaign, and people are saying: "Well, we're going to have to stop our direct debit anyway!" I think Don't Pay's target of one million strikers will be met organically, because if the prediction is correct – that energy bills will go up by £4,000 – then people will just have no option to stop their direct debits.
I'm 60 years old; I'm a veteran of a number of campaigns. I was involved in civil disobedience around the poll tax, the bedroom tax, universal credit and housing stock transfers. What Don't Pay is doing is very similar to what happened with the poll tax.
I look with disgust at the Tory leadership campaign. In Liz Truss, we're going to get Thatcher mark two – and the Don't Pay campaign is the poll tax campaign mark two. We need to force the government to take drastic action on the cost of living crisis. To be quite honest, it's class warfare now.
Sophie K Rosa is a freelance journalist and the author of Radical Intimacy.