A Domestic Violence Expert Warned Keir Starmer That Labour Was Complicit in Apsana Begum's 'Abuse'. He Did Nothing
The expert said the trigger process was an 'extension of the abuse'.
17 August 2022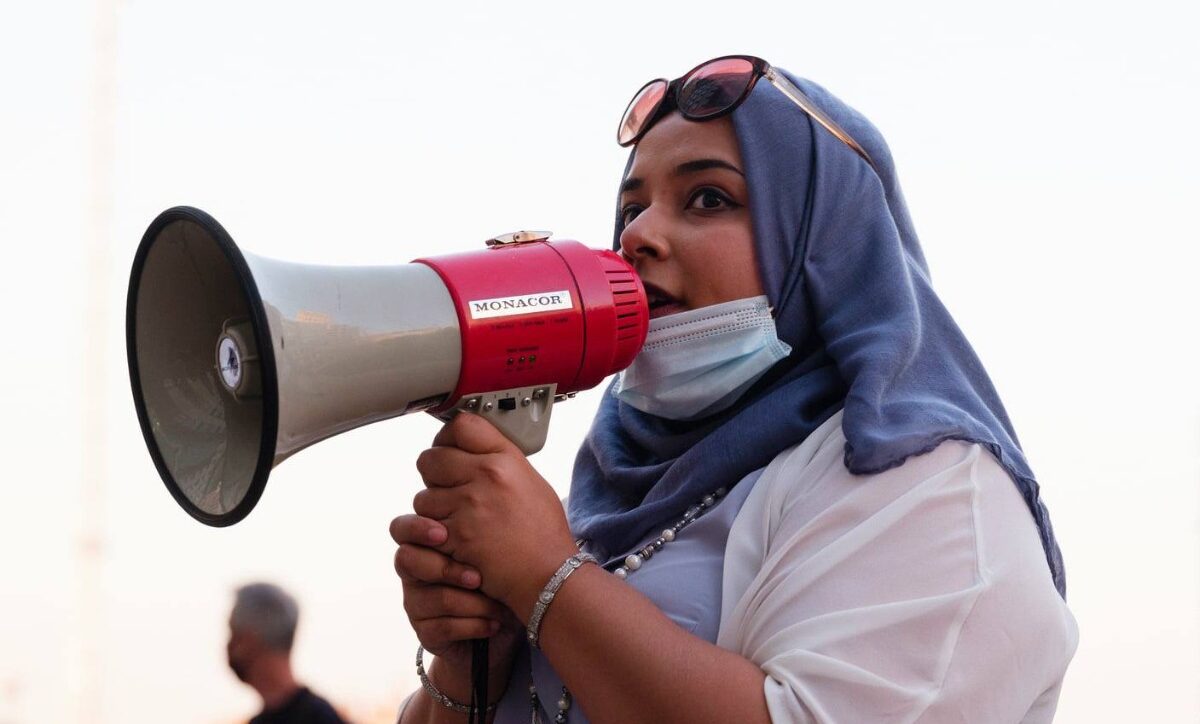 Apsana Begum MP speaks at a renters' rights protest in her constituency, September 2020. Photo: Harry Mitchell/Somerford Grove Renters
On 12 June, Apsana Begum broke. A self-described survivor of domestic violence, her mental and physical health ravaged by what she called "a sustained campaign of misogynistic abuse and harassment" culminating in a trigger ballot process overseen by friends of her ex-husband, the MP for Poplar and Limehouse was admitted to A&E and signed off work the next day.
Four days later, Keir Starmer and David Evans received an email that would stop most of us dead in our tracks.
Seen exclusively by Novara Media, the email was from an independent domestic violence advocate (IDVA) working with Refuge (the charity maintains strict confidentiality with its clients; details of the email were shared by Begum's office with her permission). The email's subject marked it clearly as "urgent".
"I believe what we are seeing in this current trigger process is a further extension of the abuse that she has already endured," the IDVA wrote.
Her email solicited a pro forma response from Labour's safeguarding team and none at all from the party leader, who permitted the trigger process to continue for a further 13 days to its completion on 30 June.
According to Begum's supporters, the leadership's decision to continue Begum's trigger process amounts to something more active than a dereliction of duty. "I think they've been facilitating the abuse," says Tim*, a Momentum member in Begum's CLP.
The reason, says Mish Rahman, who sits on Labour's national executive committee, is clear: Begum is a leftwing MP in a safe seat and "they" – the Labour leadership – are "bloody ruthless".
A fighter enters parliament.
A 29-year-old Begum entered parliament in December 2019, the first hijabi woman in a house governed by a man who once described niqabi women as "letterboxes" and a party ruled by a man who would helm the most thoroughgoing leftwing purge the Labour party has ever seen, including indefinitely suspending his predecessor.
Undaunted by this hostile environment, Begum's maiden speech, made during a debate on International Women's Day, situated her firmly within a tradition of working-class socialism and militant anti-fascism with which London's East End has long been synonymous. "Eastenders are proud people," she said, quoting her predecessor Mildred Gordon. "They are fighters."
Begum certainly is. In fact, rarely has one person fought so many battles on so many fronts. She has fought a national party dead-set on eliminating the last vestiges of socialism, demanding Keir Starmer restore the whip to Jeremy Corbyn and defying orders to abstain on the Tory license to kill bill. She has fought a constituency Labour party (CLP) and local authority controlled by rightwingers – many of whom are friends with her ex-husband – to become the borough's best-known socialist, campaigning for trade unions and private renters where the national party would not. And she has fought her ex-husband to become chair of the all-party parliamentary group on domestic abuse.
"I will fight with all my breath and energy to carry on the legacy of those who have gone before me," Begum said in her maiden speech. She's spent two and a half years fulfilling that pledge – and now, her mind and body are giving out.
'An extension of abuse'.
At the end of May Begum's local party began a trigger ballot process, in which the CLP votes on whether to reselect the sitting MP or put them up for a competitive selection process. It's a stressful process but one all Labour MPs undergo between general elections – except, that is, those who are vulnerable.
In 2019, Jeremy Corbyn personally intervened to exempt Rachel Reeves' sister Ellie from a trigger ballot – threatened by one local member over Reeves' opposition to leftwing MP Chris Williamson's readmission to the party – on the grounds that she was 22 weeks pregnant. Begum was not only unwell but, according to the IDVA, unsafe – and as a direct result of the trigger ballot process.
Instigated and overseen by friends of Begum's ex-husband, the trigger ballot has been subject to dozens of complaints by local Labour members, who believe the process is being weaponised to attack their MP. "The party is eating her alive," says Michael*, one local member.
In a statement to Novara Media, Refuge CEO Ruth Davison confirmed it was aware that Begum is a survivor of domestic abuse and reiterated that post-separation abuse is a recognised form of domestic abuse.
The IDVA stressed that survivors are the experts on their own abuse and in order to safeguard Begum, the leadership must listen to her. Instead, she wrote, Begum's concerns about her post-separation abuse were "not being listened to".
Solidarity with @ApsanaBegumMP. All parties need to ensure that survivors of domestic abuse are not exposed to further harrassment in their roles, and understand the impact that ongoing abuse can have. Violence against women must always be taken seriously.

— Women's Aid (@womensaid) June 20, 2022
A wall of silence.
It wasn't only Begum and her IDVA who were being ignored. In emails shared exclusively with Novara Media, former shadow chancellor John McDonnell wrote to Starmer and Evans pleading with them to suspend the trigger ballot process.
"Several serious complaints have been brought to my attention concerning allegations of an organised campaign of harassment and threatening behaviour involving sexism and misogyny to influence the process and undermine Apsana's position," wrote McDonnell in an email dated 16 June, asking for "urgent intervention" from the leadership. The trigger process would be allowed to continue for a further 14 days.
Over 30 current and former Labour MPs have publicly supported Begum, most of them on the party left. In private, however, individuals from across the PLP – including Stella Creasy and Jess Phillips, both vocal critics of Jeremy Corbyn and prominent advocates of women's rights, as well as Starmer's former shadow chancellor and soft-leftist Anneliese Dodds – have begged Starmer and Evans to intervene. None have succeeded.
Amazing how you want to use my friend as a tool in some nasty fight. Apsana is my friend she knows she has my support. That's between me and her though.

— Jess Phillips MP (@jessphillips) July 2, 2022
Three days after the trigger process concluded, McDonnell emailed the leadership again. "I believe that there has been a failure by the Party to fulfil its duty of care towards Apsana," he wrote. "Even when she was signed off sick by her doctor, Party officers still drove the trigger process through."
Neither Starmer nor Evans responded to Novara Media's requests for comment.
Begum will now face a selection contest within her constituency of Poplar and Limehouse once she's well enough to return to work. Her supporters find it hard to imagine she ever will be.
The shadow of abuse.
It's the summer of 2019 and Apsana Begum is terrified. It isn't because she's about to give a speech at the local Momentum hustings. It's because Ehtasham Haque is in the audience.
Haque and Begum met in 2011 in the office of Tower Hamlets mayor Lutfur Rahman. She was 21 and fresh out of university; he was 28 and divorced from his second wife, something that raised eyebrows among her family. Begum, whose father – himself a prominent local activist and former civic mayor – was terminally ill, found an escape in the relationship. When the pair eloped, the Begums disowned Apsana (they've since reconciled).
Two years later, Begum was sleeping in the living room of their east London home, the sofa pushed against the door so that Haque couldn't enter, as she described to the Guardian. One day, her husband left London for an appointment and Begum fled. She would later state in court that Haque had abused and coercively controlled her, something Haque has consistently denied ("I am innocent and the allegations made against me have no basis," he told LabourList last year). What nobody denies is that ever since Begum became involved in Labour politics, Haque seemed to keep appearing wherever she was.
Tim first met Begum at a 2016 Momentum picnic; he remembers her as friendly, impressive and cautiously interested in leftwing organising. As Begum rose through the ranks of the local party, he wasn't surprised that she – a young hijabi anti-imperialist in a notoriously male-dominated, rightwing CLP – faced pushback. But there seemed to be one person who had it in for her.
In 2018, Tim attended a Momentum meeting Begum was chairing. So did Haque, who according to a number of those present began interrupting Begum aggressively and throwing out wild accusations, including that men at the meeting were manipulating his ex-wife. Begum kept her cool. Haque was asked to leave and not to attend Momentum meetings until he'd completed a disciplinary process. He left, but refused to cooperate with any process.
When Haque turned up at the hustings the following year, he was shown the door. He refused to leave. Mary Partington – now Begum's parliamentary researcher, but who back then was informally supporting her campaign – was one of a handful of people who knew who Haque was (Begum was reluctant to tell anyone else, fearing they wouldn't believe her). She remembers rushing backstage to warn Begum. "Just look at me, ignore him," she told her. Begum did just that, giving no outward indication of her inner turmoil. The crowd loved her.
Yet if Begum was uncowed, so was Haque. According to Partington, he proceeded to turn up at her election campaign launch, standing at the back and laughing as she spoke. Things soon escalated into what those close to Begum describe as a campaign of "honour-based harassment", including threats from Haque to leak pictures of Begum without her headscarf and to share publicly the fact that she had had an abortion during the early stages of their relationship. Haque would later receive a formal police warning for harassing Begum.
Haque did not respond to Novara Media's requests for comment. Last year, he told LabourList: "I am innocent and the allegations made against me have no basis. I look forward to any investigation or legal process to enable me to clear my name."
You might think the story would have ended with the general election: Haque's campaign had failed, Begum's conclusively succeed. But Haque was just getting started.
The court case.
Haque – who was suspended from the Labour party in 2021 following Begum's complaints (his suspension was reversed that September, reportedly under pressure from London region, only to be swiftly reinforced after prompting outrage among women within the PLP) – retains considerable influence within Tower Hamlets Labour party, thanks to his close ties to those in its upper echelons.
Besides being well-connected within Begum's CLP, Haque is a friend of John Biggs, Labour mayor of Tower Hamlets between 2015 and 2022 (the pair were pictured sitting together at a gathering in April). It was during Biggs' term that his council decided to prosecute Begum for housing fraud following a complaint by Haque's brother-in-law Syed Nahid Uddin.
Begum's team notified the council of their belief that the case was (as Begum later described it) "driven by malicious intent" on the part of her ex-husband and his associates. The council didn't deny it – in fact when cross-examining Begum at trial, Tower Hamlets' lawyers suggested Begum's abuse was one of the reasons she may have withheld information from the council – but argued it had no bearing on the case.
"Nobody, absolutely nobody, involved in pursuing this trial seems to have found it remotely odd that the complaint was made by my ex-husband's brother-in-law, submitted after I was selected to be Labour's parliamentary candidate and coincided with the day when the nomination papers had to be formally submitted, or that the people who were opposed to me being selected as the candidate, including my ex-husband himself, being in positions of political oversight" Begum would go on to say during in a parliamentary debate on lawfare.
The council was dogged in its pursuit of her: an FOI revealed that the council had spent almost £90,000 on the case, £24,000 more than it alleged Begum had defrauded.
"Apsana told me she was the victim of domestic abuse, honour-based abuse and coercive controlling behaviour," tweeted Nazir Afzal, the former regional chief prosecutor. "The local authority were told this and still continued with their prosecution. A waste of public money."
In a statement to the Guardian, a spokesperson for Tower Hamlets Council said: "After reviewing the evidence with the benefit of independent legal advice, it was found to be strong enough to bring the matter to court where it was agreed there was a case to answer."
In July last year, Snaresbrook Crown Court acquitted Begum of all charges. Present at the hearing was Amy Fode, director of the Labour party's London region. The party's regional office is known to be solidly rightwing – and, according to Partington, works "hand in glove with local rightwingers" in Poplar & Limehouse.
According to multiple people in attendance that day, Fode (who did not respond to Novara Media's request for comment) was visibly crushed when the verdict was announced. Begum had cleared another hurdle her opponents had set up for her. It wouldn't be the last.
The trigger ballot.
From voter fraud to bribery and intimidation, Begum's trigger ballot process has been mired in claims of misconduct. Over 50 local members complained to the regional party which, when pressed by Begum's team, first claimed that it had not received any complaints, then that it had received only a handful.
Whitechapel members who couldn't get online or some shady thing going on the background? Why is @HelalUAbbas doing there? pic.twitter.com/gh9xKYw9kF

— Ikbal (@CidIkbal) June 21, 2022
The leader's office, meanwhile, insisted it had not received the sick note Begum's office had submitted on 13 June 2022, allowing over half of the trigger ballot meetings to continue in her absence.
Partington describes the Labour party's behaviour as a form of "institutional gaslighting".
The party did not entirely ignore the complaints, however, providing observers to some meetings in response to them: among them were Mohammad Sultan Hayder, CLP treasurer and a close associate of Haque's, and Anwar Punekar, chair of Blackwall and Cubitt Town branch, and who once revealed Begum's home address to his entire branch when he circulated a letter by former ward councillor David Chesterton that claimed Begum had gotten off at trial on a technicality.
The choice of observers seemed designed to terrorise Begum. Then again, it was hard to avoid Haque's associates within the CLP, whose leadership makes no secret of its association with Haque. In fact, a few days after the trigger ballot process ended, a group of senior CLP figures – including chair Chris Worrall, vice-chair Adam Allnutt and Hayder – were pictured at Worrall's wedding in Gdansk, smiling alongside Haque.
A Corbyn problem?
"The Forde report," said a Labour spokesperson shortly after its publication last month, "details a party that was out of control. Keir Starmer is now in control and has made real progress in ridding the party of the destructive factionalism and unacceptable culture that did so much damage." One wonders how this statement must have sounded to Apsana Begum.
At the time the report was published, Britain's first and only hijabi MP was, and still is, signed off sick, the culmination of years of abuse in which many believe the party has been complicit.
For despite knowing that Begum's allegedly abusive ex-husband remains influential in the local Labour party; despite watching Begum be dragged through the courts by a council ruled by his friends; despite receiving dozens of complaints about a trigger process, half of which occurred after Begum had been driven to breaking point, the party leadership allowed the trigger process – described by the IDVA as an extension of Begum's domestic abuse – to continue to completion.
Apsana is trailblazer: The first hijabi MP, she's a courageous advocate for the oppressed.

But she's faced a vile campaign of misogynistic abuse & now reports of appalling behaviour in her trigger ballot.

Labour must show it won't tolerate Muslim women being treated like that. pic.twitter.com/yHDFXDD4C7

— Zarah Sultana MP (@zarahsultana) June 17, 2022
John McDonnell is appalled that the Labour leadership would allow Begum's situation to be used as a factional weapon. "No matter what political differences there may be, the party owes a duty of care to its members and you would want to make sure people are looked after," he tells Novara Media. "It's a combination of ruthlessness and a basic lack of care and decency. You wouldn't treat people like this, would you?"
*Names have been changed.
Rivkah Brown is a commissioning editor and reporter at Novara Media.