Why Should Chris Kaba's Death Matter Less Than the Queen's?
I think we all know why.
13 September 2022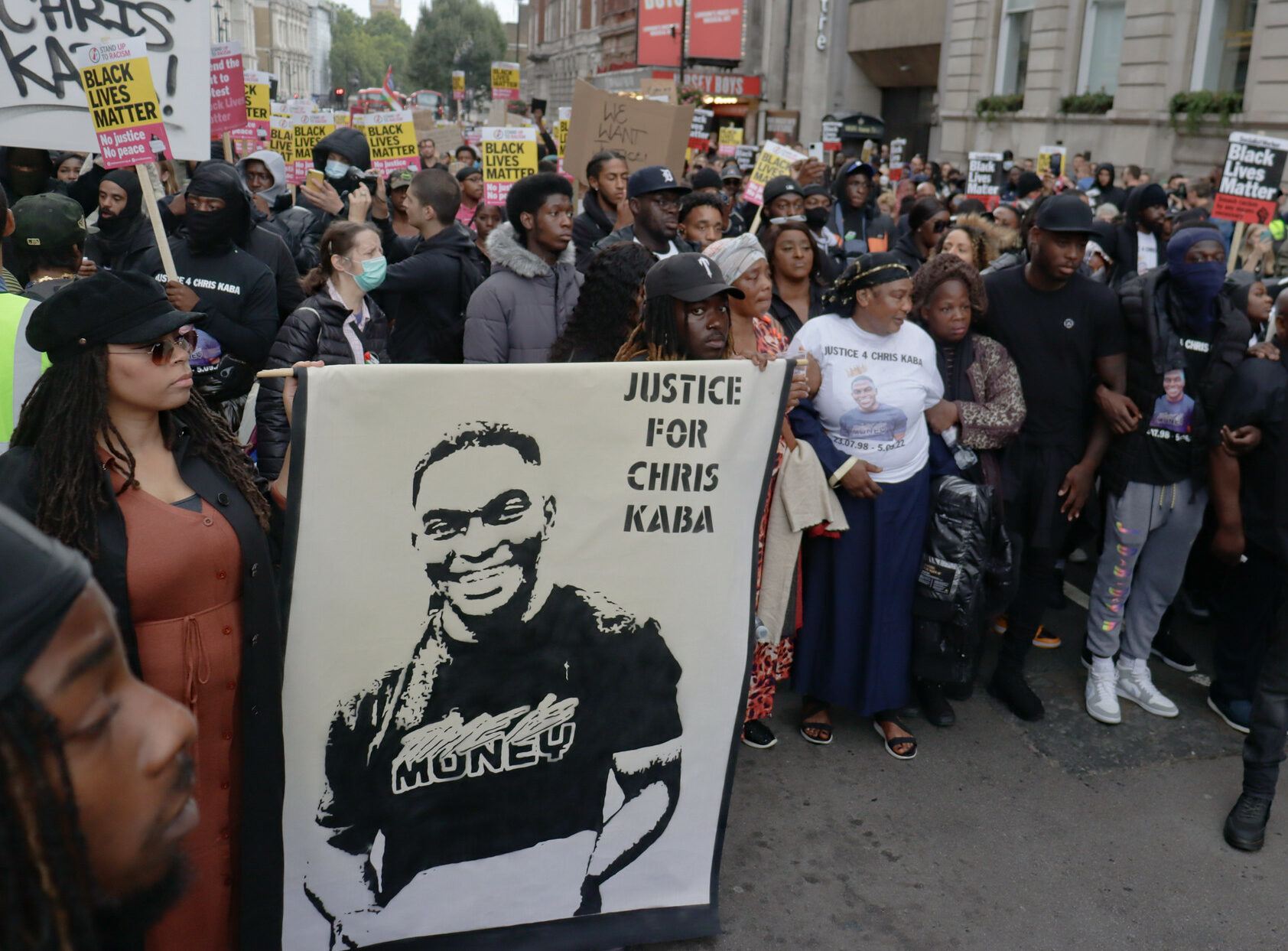 Protesters against the police killing of Chris Kaba march on New Scotland Yard, September 2022. Photo: Steve Eason/Flickr
Since the death of Queen Elizabeth II last Thursday, it feels as though life in the nation has almost come to a standstill. The news coverage is so saturated that almost nothing else can get through; with the additional bank holiday to mark the day of the funeral, the nation will grind to a halt. Whilst it is tempting to say that despite collective mourning life goes on, it doesn't for Chris Kaba, the 24-year-old Black man shot dead by the Metropolitan police last Monday while unarmed.
So overwhelming has been the news coverage of the Queen's death that Sky News anchor Sarah-Jane Mee identified the thousands of marchers protesting Kaba's death on Saturday as mourning the wrong person: "They'll work their way up the Mall, very slowly," she said, "talking about […] their memories of the Queen, their good wishes for the new King." I cannot think of a group of protestors less likely to be sharing teary-eyed reminiscences about the monarch.
Anyone who understands racism in Britain enough to take to the streets is likely aware of how the royal family has come to symbolise the white supremacy that lay at the heart of Britain's imperial project. Just look at the crown itself, encrusted with loot stolen from across the empire. Like millions in this country, including Kaba, I come from a colony whose subjects were taught to adore the Mother Country and its figurehead, the Queen. But the problem is, the Queen is more than just a symbolic link to empire.
As the head of state not only of Britain but of 15 former colonies (though many are considering becoming republics), the Queen stood for the racism that is as British as a cup of tea. The fascists who made my parents' lives a misery pledged themselves to the Queen and country for a reason. So do the police, whose reputation in many Black communities is just as bad as the skinheads' once was.
The death of George Floyd sparked calls for reforms across the world. It also revealed a tendency among those in power to view American racism as exceptional. Yet the killing of Kaba cannot be separated from the racism of our own criminal justice system. Black people are more likely to be stopped and searched, arrested, charged and imprisoned than their non-Black counterparts. They are more likely to die after police contact, often in suspicious circumstances. Black people are even more overrepresented in British prisons than African-Americans are in US prisons: more than half of all boys in young offenders' institutions in England and Wales are from a racialised minority. It is also not by accident that when Black people are disproportionately incarcerated, it is at Her Majesty's pleasure. The monarch doesn't just symbolically represent the ills of society; they enforce them.
Whilst the Queen may have been a popular global figure, her death heralds no major shift in British society. You may have gotten used to the image of Queen Elizabeth during her long reign, but she wasn't your nan. In practical terms she has already been replaced by King Charles and the country will carry on without her, besides the minor inconvenience of having to remember it is now God save the King. The death of Kaba, however, should reverberate around the country. The fact the police continue killing unarmed Black people even after the Black Lives Matter uprising of summer 2020 is a startling reminder of racism's tenacity in Britain.
If all of this feels like déjà vu, that's because it is. We saw almost exactly the same story as Kaba's death play out in 2011 when the police killed Mark Duggan. We also saw an unscrupulous media paint the unarmed victim as deserving of execution because of his alleged crimes. It shouldn't need saying, but no one, absolutely no one, deserves to be gunned down like an animal. The fact the police have this power should terrify us; that it is disproportionately enforced on Black citizens should shame the nation.
After Duggan's killing the nation erupted in rebellions that lasted for days. We were promised that lessons were learnt and changes made, but more than a decade later, we see the long history of police violence repeating. Yesterday the officer responsible was suspended, although only after mass protests and high-profile calls for action by MPs like Bell Ribeiro-Addy and Diane Abbott. The Independent Office for Police Conduct opened a homicide inquiry, but was also keen to stress that "the launch of a criminal investigation does not mean that criminal charges will necessarily follow'. Given how few police officers have been successfully prosecuted for deaths they were responsible for, the odds are not good.
Even if the officer is brought to court, even found guilty, the killing of Kaba raises problems bigger than his single case. Dalian Atkinson, Sarah Reed, Kingsley Burrell and Mzee Mohammed are just some of the lives lost to police in recent years. If there is no serious overhaul of the force and its practices, it will not be too long until we see another Kaba. Do not let the Queen's death let those in power forget that.
Kehinde Andrews is a professor of Black studies at Birmingham City University.