Animal Rebellion Activists on Why They're Emptying Supermarkets of Milk to Save the Climate
'Farming is one of the single biggest contributors to the climate crisis.'
14 September 2022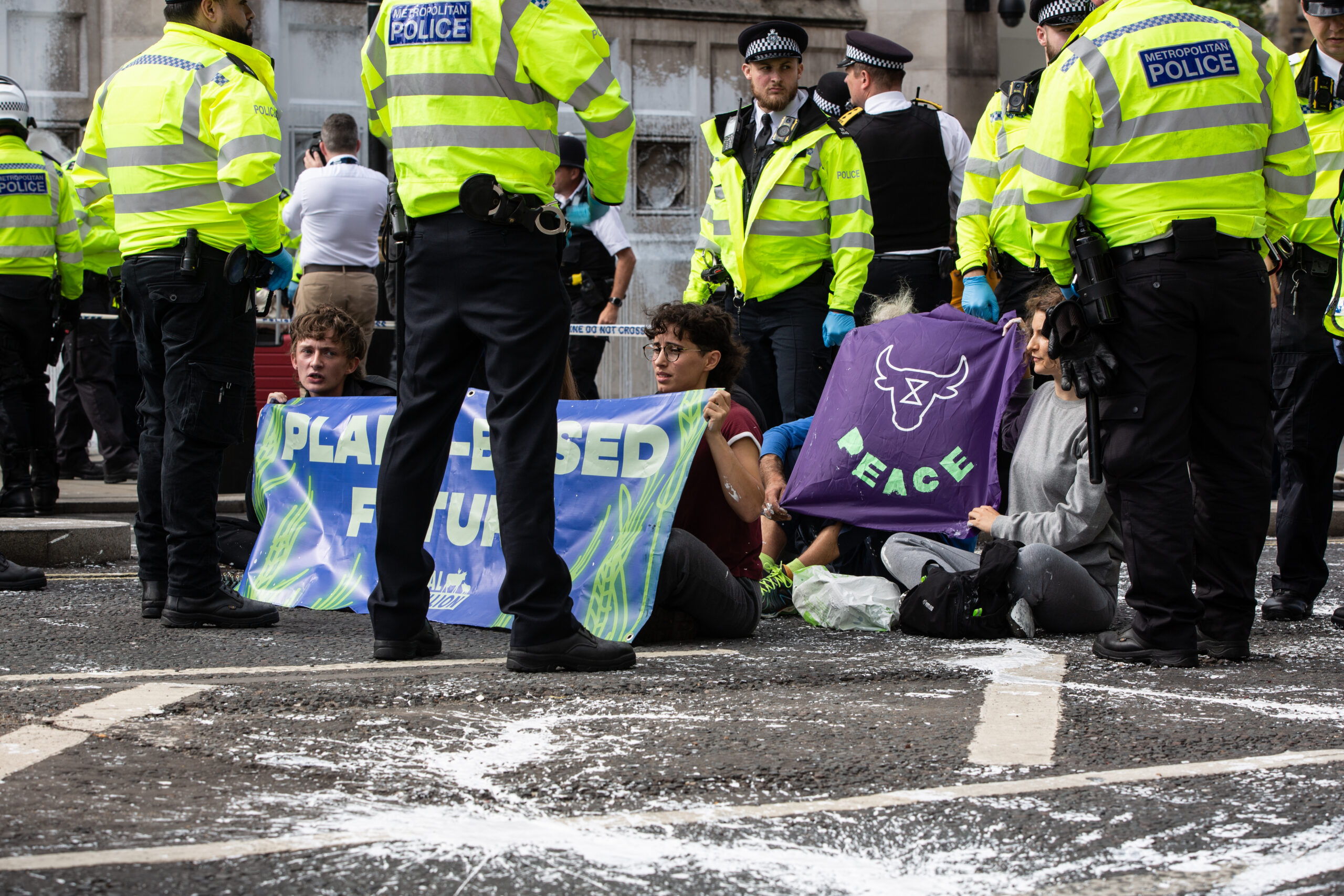 Members of animal rebellion are surrounded by police at a protest in London. Photo: Animal Rebellion
On a Sunday night in early September, 15 activists defied a high court injunction to break into Britain's largest milk factory. The group climbed on to milk tanks and invaded loading bays at the Arla Foods site in Aylesbury, which processes 10% of the country's milk supply, temporarily stopping production. A few hours later, other protesters from animal and climate justice group Animal Rebellion stormed three facilities run by dairy brand Müller in Worcestershire, Gloucestershire and Somerset.
The Extinction Rebellion splinter group is now mid-way through its 'plant-based future' campaign, two weeks of direct action designed to disrupt UK dairy supplies. It claims to have emptied supermarket shelves of milk in some parts of the country, as hundreds of activists use civil disobedience to demand the government take action on the climate crisis by supporting a just transition away from animal agriculture.
In addition to targetting milk factories, activists have mounted and glued themselves to delivery trucks, drilled into tyres and filled milk hoses with expanding foam. Last week four Animal Rebellion activists sprayed white paint on Big Ben, just before Liz Truss entered parliament for her first prime minister's questions.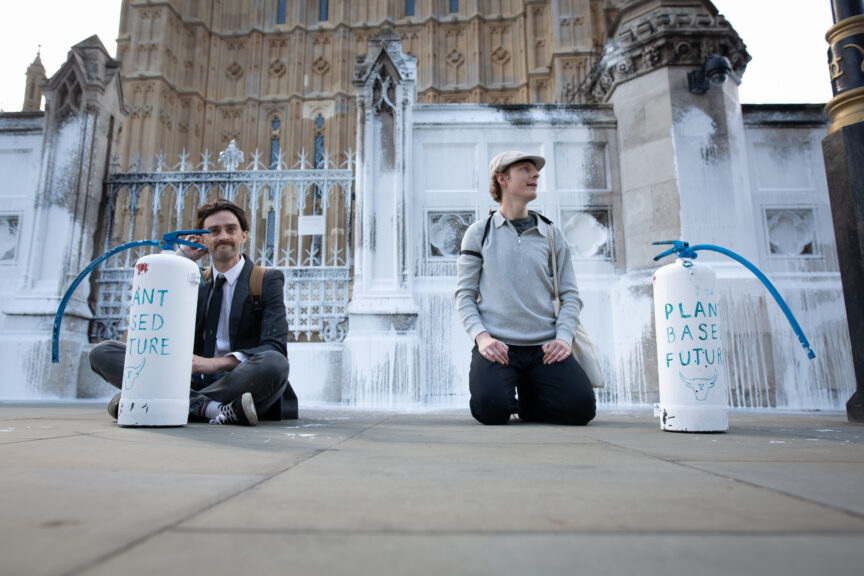 The government must support "farmers and fishing communities to move away from animal farming and fishing as part of an urgent and immediate transition to a plant-based food system," the group says, and commit "to rewild the freed-up land and ocean as part of a broader programme of wildlife restoration and carbon drawdown."
Novara Media asked three Animal Rebellion activists why they see direct action as their only option. 
Claudia Penna Rojas, 24, stage manager, London.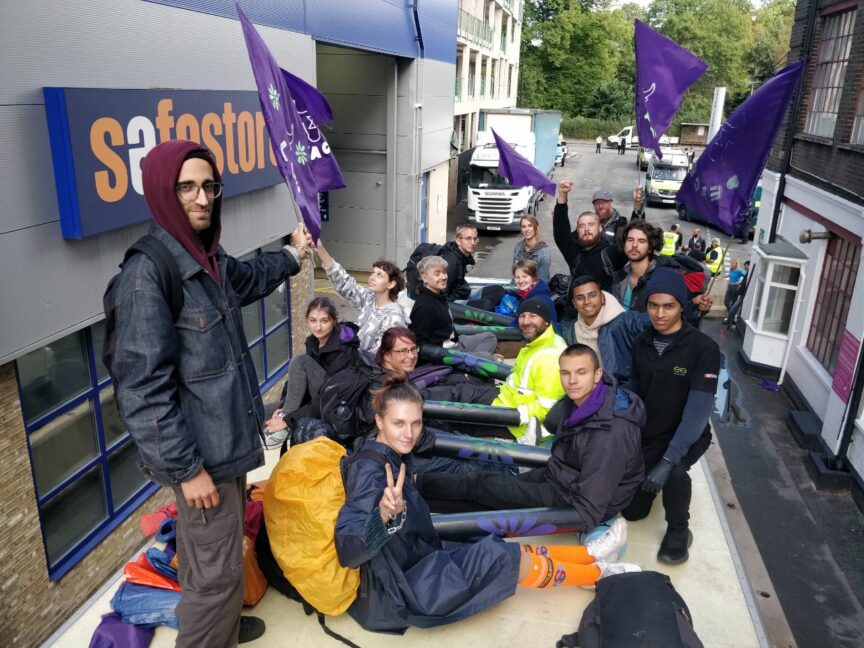 I became involved in Animal Rebellion two years ago. I was looking around at everything that is going on with the climate crisis and I knew individual action was not enough. In the wider environmental movement, I saw groups like Extinction Rebellion achieving wonderful things, but I felt constant frustration that animal agriculture and the fishing industry were never addressed. In fact, I noticed a general reluctance to even speak about the food system's role in the climate crisis. But we can't hope to solve the biggest crisis that humanity has ever faced if we refuse to address one of the biggest single contributors. 
Animal Rebellion's September campaign is unlike anything we have ever done. We have caused shortages of milk across the country. We have forced necessary conversations. We have gained mass media attention. But our actions are in no way against farmers; what we are calling for is an immediate transition to a plant-based food system, as an attempt to halt and alleviate the worst impacts of the climate crisis. We want the government to support farmers through this transition, which is necessary for some kind of habitable future.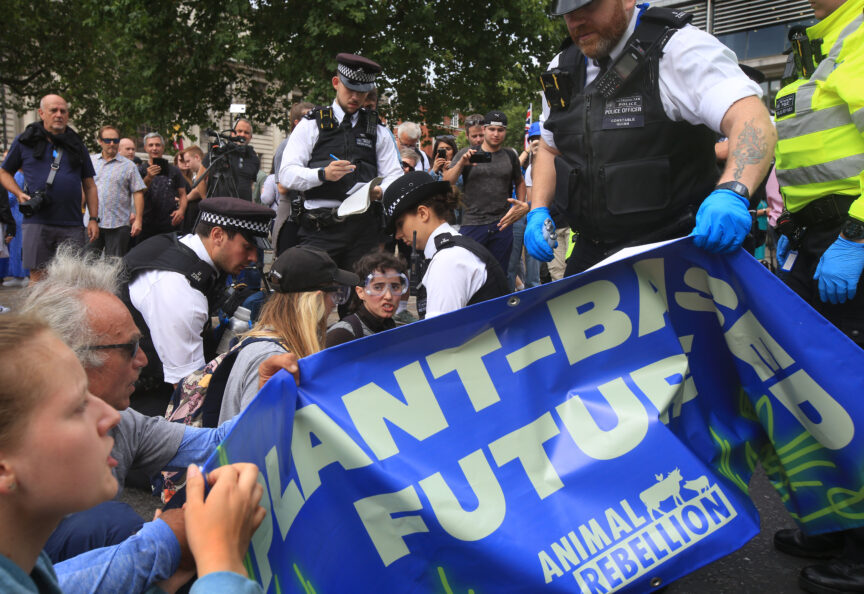 The responses of the police and industry have been as expected. Corporations have paid for injunctions to "protect" themselves, which highlights how corrupt our legal system is – not protecting people, but profit. I think the fact that, despite these injunctions, hundreds of people have still taken action shows how urgent this fight for a plant-based future is.
The police's response to our protests has been disproportionate and violent: unnecessarily tackling people, kicking people, denying people sign language interpreters, and doing illegal strip searches. They are doing this because protest works; they want to intimidate us, but we will continue until our demands are met. 
While our target has been the dairy industry, this is not solely about the dairy industry. Dairy is just the start: what we are demanding is a full transition to a plant-based food system. We cannot successfully target the climate crisis without tackling the problems caused by the animal agriculture and fishing industries. The climate movement itself neglects this fact, and we are seeking to rectify that. I hope that in ten years the dairy industry will not exist because there is no future with animal agriculture.
Nathan McGovern, 23, student, Coventry.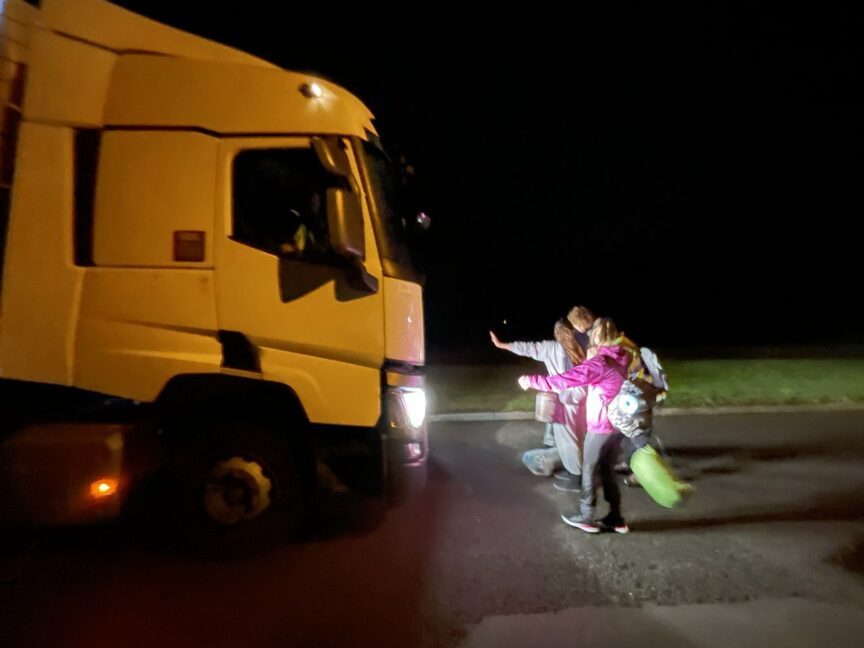 I've been vegan for two years – at first, I was very optimistic about the personal changes I was making, but I realised being vegan isn't enough when the world is falling apart. I decided to join Animal Rebellion because it's a system change based movement, bringing together social, animal and climate justice. I first went to an Animal Rebellion event last year, after which we did a sit-in in McDonald's in Leicester Square. That was the first bit of activism I ever did, and I got arrested. It radicalised me and pushed me to understand the history of how civil disobedience creates change.
For this series of actions around the dairy industry, I've been involved with the press side of things. The dairy industry itself has responded to our campaign with its usual greenwashing and humane-washing nonsense.
The police response has been quite aggressive and reckless: there's footage of them ripping people's hands off the vehicles they're glued to. They've encouraged truck drivers to drive with protestors on top of vehicles. The police have shown more loyalty to this corrupt government than to the people they're supposedly there to protect.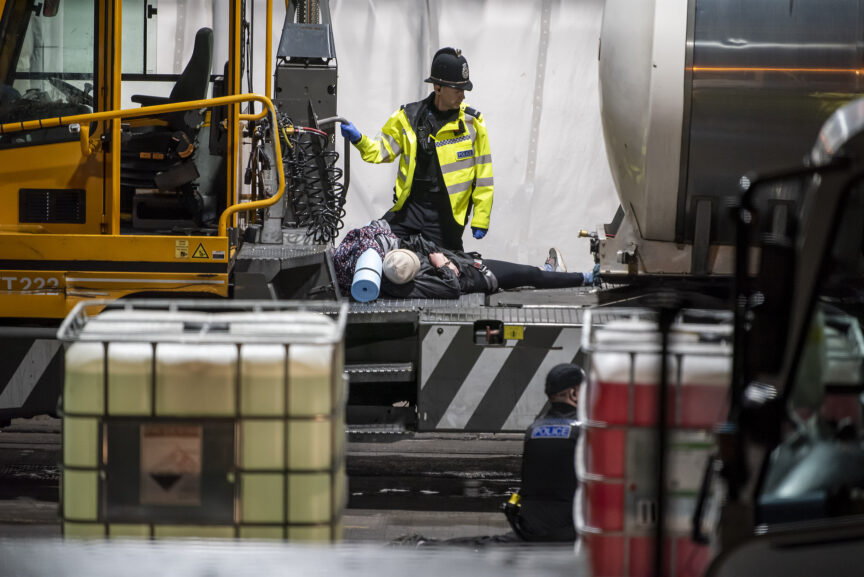 This campaign isn't about dairy as such, but about creating disruption that leads to conversations. I believe environmental issues are inherently political because the root cause of the climate crisis is this capitalist idea of infinite exploitation of a finite planet, and the idea that anything can be reduced to a commodity. We can't carry on in a world like that. We need to accept that we are part of nature and that all life is so intimately valuable – whether it's a tree, a fox, a squirrel or a human, regardless of race, religion or disability. 
To counter the climate crisis, we need to reconsider our world built on capitalism, inequality, exploitation and colonialism. To me, to be an environmentalist is to be anti-racist, consciously decolonial and anti-capitalist. I have been subject to police mistreatment in the past: I've had the police rip me off when I've been glued on in an action; I've had police refuse to bring me food or water or clothes or towels when I've been in cells. The police are gatekeepers for this oppressive, capitalist, colonial system that we live in – therefore they cannot fail to be corrupt. In the beautiful, loving world we want to create we wouldn't need police. 
Steve, 40, photographer, Essex.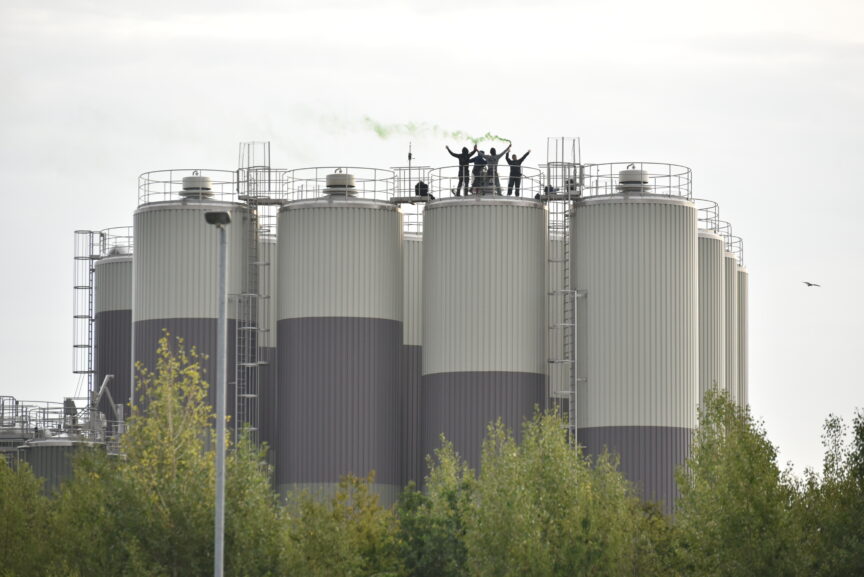 I became very concerned with the climate crisis after learning the truth about the immense damage animal farming and fishing cause to our land, rainforests, atmosphere and oceans. It ignited a passion in me, to make others aware of the broken food system that is supported by our government. I could no longer sit by and watch my daughter's future slip through my fingers. We are starting to see food shortages across the world caused by the climate emergency and I don't want her or anyone's loved ones to worry about where their next meal will come from, or have to shelter from extreme weather events.
I became involved in Animal Rebellion's campaign because I believe dairy is one of the biggest evils towards animals, our planet, and every person in the world. When I heard about the Animal Rebellion campaign, it answered a lot of my questions about how I could make a difference for my future, for my daughter's future, for everybody's future. So many people suffer from climate anxiety; to be able to do something about it is so empowering.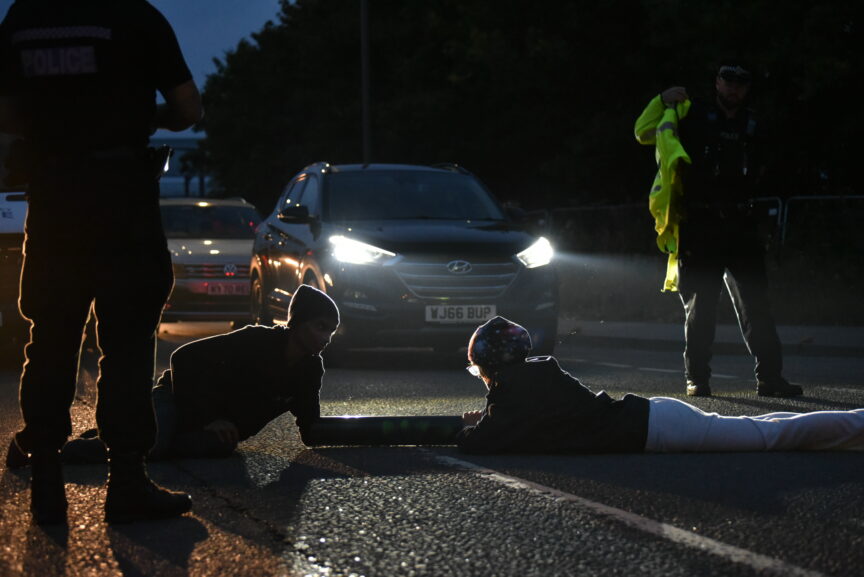 I took part in the first action on Arla's Aylesbury site. A group of us climbed peacefully on to tankers and silos on site. The climb on to the silo was scary, but my fear for the future has driven me to step outside my comfort zone. I was also involved in stopping the supply at the Freshways dairy in Acton, where we climbed on to a truck. The action was long, in adverse weather conditions – but that level of discomfort is nothing compared to that which will be experienced if the climate emergency continues to worsen. Every activist is passionate, committed, and willing to make the sacrifice of not only potential arrest and persecution, but of their own health and wellbeing.
Although our actions caused a lot of disruption, we acted peacefully in the face of confrontation and communicated the urgent need for a plant-based food system to our brave emergency workers and the dairy workers. Many concerned members of the public were supportive and asked questions. The police have been very courteous and understanding whenever I have engaged them in conversation – at the end of the day we're also fighting for their future, and I feel they probably see that.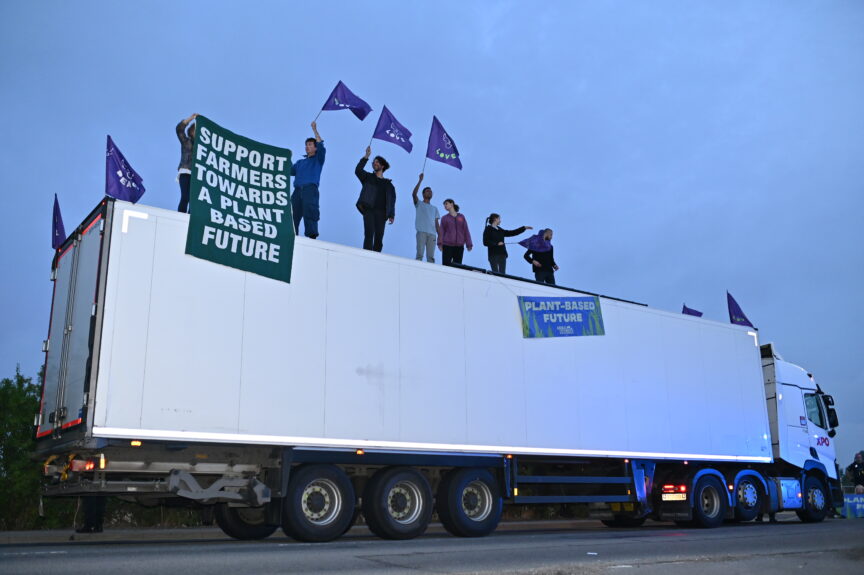 I want my daughter and everyone's loved ones to grow up in green, British beautiful countryside – and we can create this by asking our governments to support our farmers and fishing communities to move towards a plant-based food system and rewild this freed-up land, allowing us to restore all our natural forests, the animals that live in them, all the ecosystems, and even draw down these harmful greenhouse gases. We know that one-third of Brits have made the change to plant-based milk and a campaign like this highlights the urgency of change needed to give us all a future. 
Sophie K Rosa is a freelance journalist and the author of Radical Intimacy.