Why Are British Pundits Suddenly So Obsessed with the New York Times?
One writer accused the NYT of 'a jihad against Queen Elizabeth'.
20 September 2022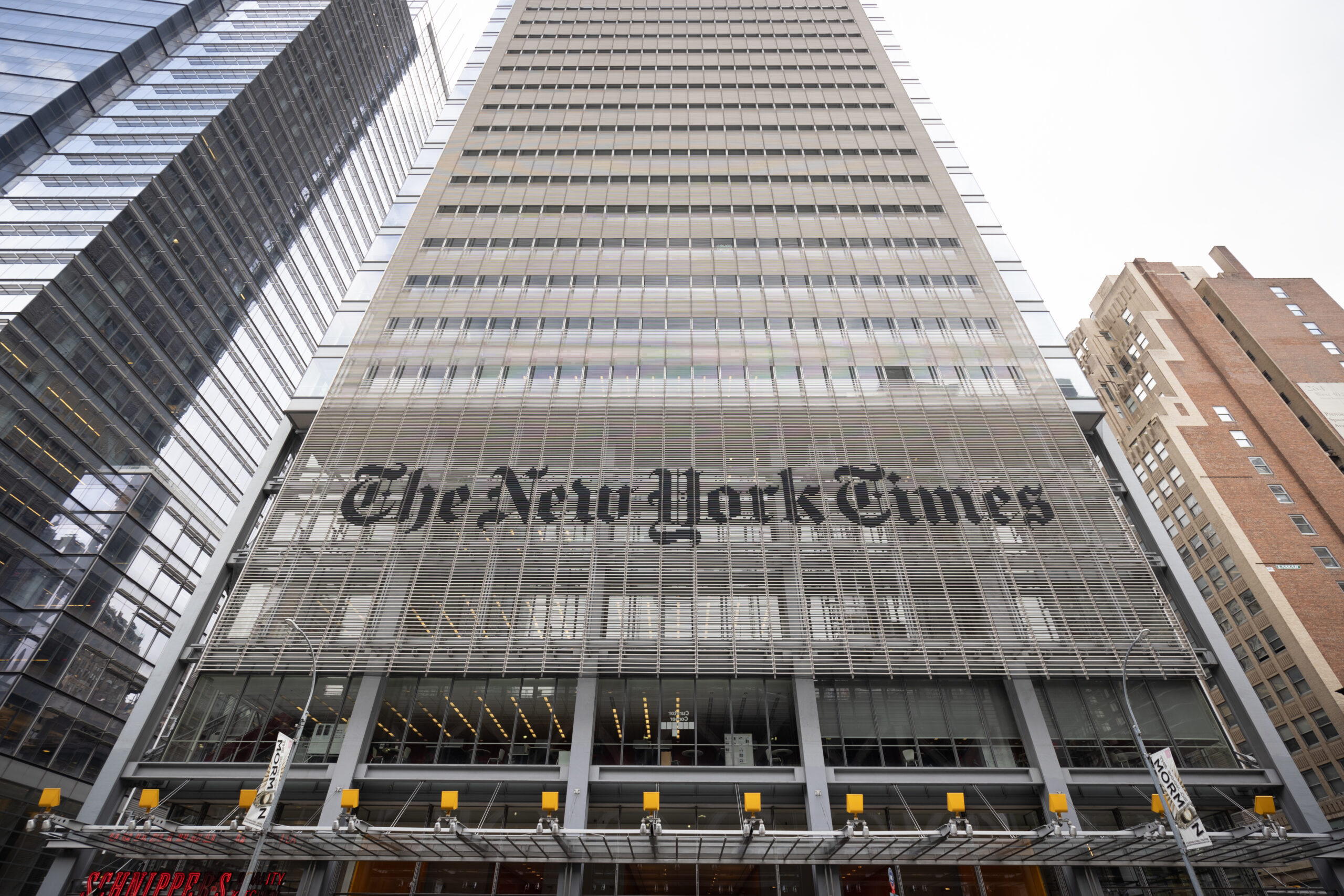 'When the most influential paper, in the world's most powerful country, no longer thinks we're special, that predictably gives rise to hysteria.' Photo: Adobe Stock
The New York Times has long been a byword for excellence in global journalism. With more than 130 Pulitzer Prize winners it is arguably the most accomplished English-speaking newspaper. It is also a commercial powerhouse with 10 million paying subscribers, and plans for 15 million before the end of this decade. And a paywall hasn't come at the cost of reach, with the NYT the fourth most read English news source on the internet – behind only the BBC, MSN and CNN.
Yet in recent months a growing number of British pundits have been outraged by its coverage this side of the Atlantic. The newspaper's crime? Publishing articles and arguments they disagree with. 
Glimpses of hostility first became evident during the Brexit years, when the NYT was sceptical of any benefits to leaving the EU. But this only lapsed into visceral loathing at the start of this year, after  "The Trojan Horse Affair" was released. The eight-part podcast series examined the alleged conspiracy of the same name that rocked schools in the West Midlands in 2014, all on the basis of a single letter that, it increasingly seems, may have been faked. Response pieces were published in the Observer, Times and Spectator, with none addressing the small matter of whether the note was indeed a forgery. Instead, the subtext that united pundits from Melanie Philips to Sonia Sodha, was that a non-British outlet had conducted a major investigation in the UK – and its conclusions wildly diverged from the domestic media consensus.
Your journalists are a global embarrassment just FYI

— Calgie (@christiancalgie) September 14, 2022
Yet all this is nothing in comparison to the punditry's reaction to the NYT's coverage of the death of Queen Elizabeth. "Why the world's worst newspaper hates Britain so much" wrote conservative blog, Reaction. "Your journalists are a global embarrassment" raged Guido Fawkes factotum, Christian Calgie. "Are there no depths to which New York Times won't stoop in its anti-British propaganda?" garbled Andrew Neil. Elsewhere the Spectator and Telegraph accused the paper of 'anglophobia' while Douglas Murray, writing for the New York Post (as well as the Telegraph), asserted that the New York Times is "on a 'jihad' against the UK and Queen Elizabeth". 
What could possibly explain such hyperbole? Yes, the New York Times had a different slant on Brexit to most of the British press, as it does with many other issues, but that's hardly a surprise given it is a liberal newspaper in the most liberal city of a country founded as a revolutionary republic. On the question of monarchy, its tone clearly won't be deference by default – we've known that much since 1776.
Yet this is lost on the frothing denizens of SW1, whose growing enmity can be explained by two things above all else. The first is gatekeeping. The New York Times, as with several other US outlets, often provides a platform to peripheral voices in the British media. So when it publishes someone like Kojo Koram, it is met with a derisory 'who?' from conservative opinion-makers. As Murray writes of the paper, "There is no writer so obscure that they cannot be drafted in so long as they are going to bash Britain." Elsewhere Times columnist Robert Colville tweeted how Koram was part of a "weird coterie of left-wing intellectuals and academics who have absolutely no profile over here yet walk into the NYT because they're happy to say the word 'imperialism' again and again." Saying Birkbeck professor Koram has no profile is nonsense of course. He is a rising academic star, who has written a book and been nominated for the Orwell Prize. But that isn't the point. Koram isn't a part of the London media set – you wouldn't see him at the Spectator summer jamboree – and he wasn't born into a blue-blood family like Colville. As a result, Koram being published on a major global platform (enjoying a far larger audience than Colville) while arguing against the established platitudes of Britain's establishment borders on the offensive. Simply put, he doesn't have the right credentials to enjoy such influence.
With predictable churlishness, Murray went a step further, writing that the NYT's editorial choices are "partly driven by the paper's decision to recruit otherwise unemployable hard-Left journalists from Britain." But given the paper's financial acumen (it is in better shape than any publication Murray writes for) the charge of it being a job-creation scheme for marginal radicals doesn't add up. Moya Lothian-McLean, my colleague at Novara Media, is regularly published by the Guardian, as well as appearing on broadcast media, yet she received similar treatment from Neil in the Daily Mail. His piece also attacked historian David Edgerton – a fellow at the British Academy – underscoring how this vendetta is not about credentials or talent, but simply that the most successful newspaper in the English-speaking world is providing a platform to people that Murray and Neil disagree with. For a conservative caste immersed in privilege, and who have enjoyed complete asymmetry in the media for decades, that is an affront.
The second aspect, more painful for any loyal servant of the British establishment, is that the NYT increasingly covers the UK as if it were just another country. Part of the bargain with Atlanticist politics – a central commitment for Britain's political and media elite, especially on the right – is that the US intelligentsia not only never mock their British counterparts but actively revere them. As Harold Macmillan put it in the aftermath of the Second World War, "We […] are Greeks in this American empire". This quote encapsulates how a sense of cultural superiority offered a palliative for rapid economic and military subordination.  Britain may have lost its empire, wealth and status, but Atlanticism meant Britain would be uniquely treated by the world's only hyper-power. No longer it seems.
Perhaps more than with any other national identity – certainly more than English, Welsh or Scottish – the essence of Britishness is how we are perceived by others. The pageantry is partly for a domestic audience, of course, but it's also a projection to the rest of the world that we remain a front-rank nation. When the most influential paper in the world's most powerful country no longer thinks we're special, that predictably gives rise to a psychological break which increasingly resembles hysteria. Given the cold facts of the 21st century, it is liable to only get worse. 
Aaron Bastani is a Novara Media contributing editor and co-founder.