'We Can Change Things, It's Time': With Days to Go, Lula Could Clinch a First-Round Win in Brazil
But Bolsonaro won't go quietly.
30 September 2022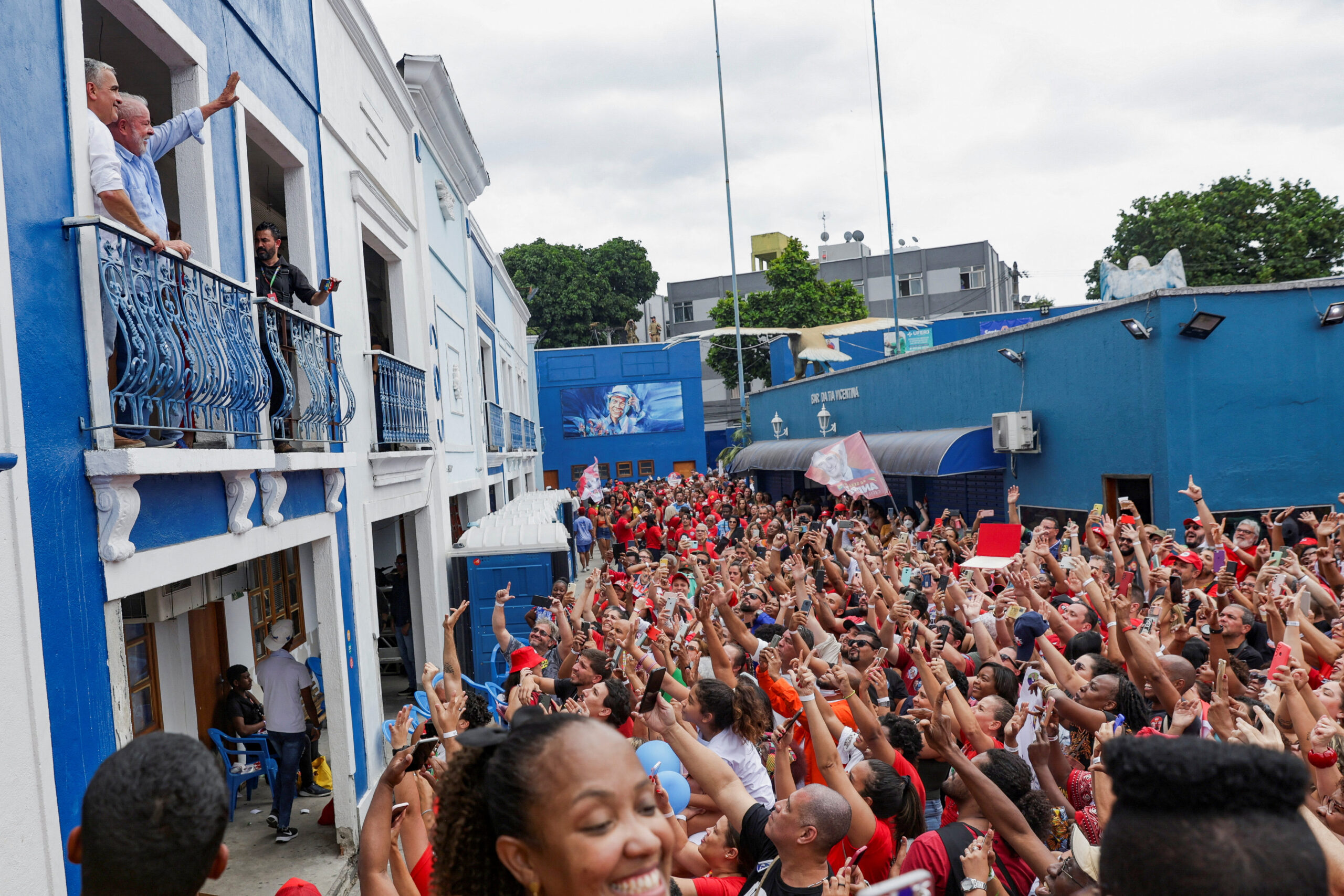 Luiz Inacio Lula da Silva attends a campaign rally in Portela Samba School in Rio de Janeiro, Brazil, 25 September, 2022. Photo: Reuters/Ricardo Moraes
Nine days before this weekend's election, Brazilian leftist firebrand Luiz Inácio Lula da Silva posted a picture of himself on social media. Smiling from ear to ear, both his hands stretched out to the camera, the former president reminded voters that the final countdown is on. It's a meme-worthy image, with the joke lying in the fact that Lula, a former metalworker, has a missing finger following a work accident aged 19. "Nine days to go," he wrote on Twitter. 
It's a funny joke, but it is also exemplary of what Lula means to the Brazilian voter – to the ones who love him and the ones who don't. He is the offspring of the country's harshest poverty, a man who was imprisoned by the dictatorship for leading a series of mass strikes, and the first and only working-class person to ever reach the presidency. This is perhaps the most important because Brazil is, and has always been, a profoundly divided nation, especially on gender, race and class lines. In this respect, Lula's election in 2003 and his candidacy in 2022 are much alike: they serve as examples of democracy, the great leveller, in action. 
Faltam 9 dias para votar 13!

📸: @ricardostuckert pic.twitter.com/rMPTBglV09

— Lula 13 (@LulaOficial) September 23, 2022
On Sunday, 2 October, half of the Brazilian population will take to the polls. That's an extraordinary 156,454,011 people who must, by law, cast their ballot. They have a choice of 11 candidates, ranging from a Christian democrat, a rightwing libertarian and a histrionic centre-right leader; to two Trotskyist parties, a Marxist-Leninist option, and Ciro Gomes, Brazil's favourite social democratic Candide. Ultimately, however, only two men matter: Lula and Jair Messias Bolsonaro, the incumbent. 
Life or death.
Novelist Clara Drummond moved to Lisbon when Bolsonaro got elected. "I came in a privileged position," she tells me as we sit down in her little flat in the Portuguese capital ahead of my departure to São Paulo. There's a pause where her four-year indignation remains very much alive. "I wasn't going to stay there," she adds. Clara's novels often focus on ridiculing the children of the Brazilian elite. A generation caught between wokeness, complacency, Instagram and Prozac. As a leftist woman her books could easily get her into trouble under Bolsonarismo. After all, this is a president with a track record of threatening women, encouraging misogynist trolls, and publicly criticising the Brazilian 1964-1985 military dictatorship for "torturing rather than killing."
"People on the left joke that you can accuse Bolsonaro of everything, except false promises," Clara says. "He kept his electoral pledges, which were (in sum) death." She means it literally. Bolsonaro's 2018 presidential campaign was underpinned by slogans about "gunning down" leftists and Black people. In 2022 he went as far as saying that his "speciality is killing".
Indeed, under the Bolsonaro administration, nearly 700,000 people died from Covid-19, while the president heralded the palliative qualities of a malaria medicine, medically proven to have no impact whatsoever on the virus. Under his watchful eye, thousands of civilians – including hundreds of children – died in the favelas at the hands of military police. In response, Bolsonaro has commended police operations and argued that he cannot mourn every single death in the country. 
Brazil has also become poorer and more desperate under Bolsonaro's reign, with average incomes going from 2,823 BRL (£469) in 2019 to 2,613 BRL (£434) earlier this year. For the 1.5 million destitute households on the waiting list, the situation is now desperate, as the Bolsa Família benefits programme got mercilessly slashed despite growing inflation pushing ever more people into the poverty line. As I ride the São Paulo underground I hear a young woman talking to her son about the elections. The boy asks why she's voting Lula. In a voice barely audible over the train screeches she tells him how "under Lula we could buy six cartons of milk, now we can only buy one." 
In stark contradiction to Bolsonaro's "death drive", Lula stands as a celebrant of life. Lula's campaign team seem to have grasped this when they devised the viral promotional Vira Voto (Change the Vote) videos. In them, Brazilian celebrities are seen frowning while doing Bolsonaro's beloved finger pistol sign, then smiling as they rotate the gesture upwards to form the letter "L" – for Lula, of course. In the background a samba plays animatedly, the lyrics talking about "courage, resistance and hope."
The message seems to be seeping through: a poll conducted by Quaest over the last week showed Lula winning with 51% of the vote. The same study had Bolsonaro lagging behind at 36%. If such a result were to manifest itself on Sunday evening, Lula would win in the first round. But first-round victories are rare in Brazil. In the last thirty years, only Fernando Henriques Cardoso was able to pull this off in 1994 and then again in 1998. 
Winning on the first round, however, is the "best chance" Lula has of staving off any potential violence from the Bolsonarist movement upon a left victory. "Our main effort as the left is to isolate Bolsonaro," says activist and federal deputy candidate Guilherme Boulos. He is the leader of the MTST and a member of the socialist party PSOL, but he is throwing his weight behind Lula. On Sunday, Brazilians will not only vote for their next president but also for 513 federal representatives and 25 senators. Bolsonaro's claims that the left will rig the vote are bound to have less rank and file support if he also tries to question the election of right and centre-right politicians currently campaigning for the president. 
But neither a first-round victory for Lula, nor Bolsonaro's acceptance of the result can be guaranteed. In front of São Paulo's Cásper Líbero college, hundreds of students gathered on Thursday afternoon. At the bottom of the steps that lead into the building, Boulos and his state representative, joint-runner Ediane Maria do Nascimento have set up a stall. Some of the young people have joined a crowd asking Boulos and Ediane for selfies, but a few stay behind, watching morosely from the steps. "I hope it all goes well," says 21-year-old Isabel as I ask her if she's excited for Sunday's elections. "I'll do my bit. But I am fearful." The atmosphere is too heavy, she argues. "I don't think either way things will be great, but all I want is that it stops being this awful." It's a sentiment even her Lula-supporting colleagues share. "I'm excited and scared," says Mira, 21, as she queues to take a picture with Boulos and Ediane. Her friend Beatriz, 19, quips: "But with the hope that we can change things, it's time." 
Joana Ramiro is a journalist, writer, broadcaster and political commentator.