Abortions Are Legal in Northern Ireland, but That Doesn't Make Them Easy to Access
Activists still plug the gaps.
21 October 2022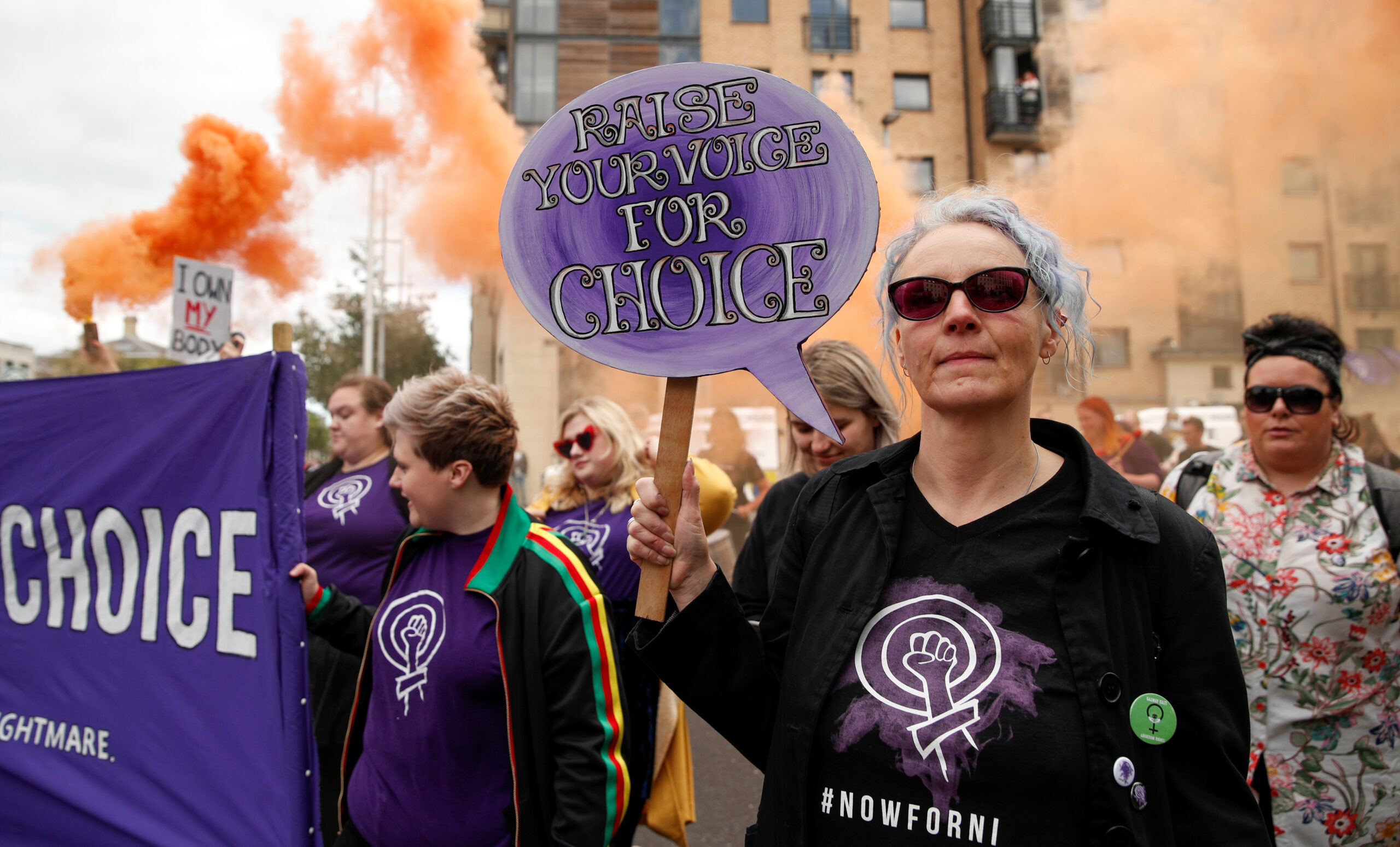 Pro-choice demonstrators take part in a march in Belfast, Northern Ireland, September 2019. Reuters/John Sibley
Three years ago today abortion was decriminalised in Northern Ireland. Prior to this, the six counties were infamous for having one of the most restrictive legal frameworks for abortion in Europe, with terminations only permitted in circumstances where the pregnant person's life was endangered. Following years of failed attempts to get legislation allowing for local access to abortion in Northern Ireland passed through Stormont – met with repeated vetoes by the Democratic Unionist Party (DUP) – it was via Westminster that decriminalisation finally made it across the finish line. 
In October 2019, following almost three years of political stalemate in the devolved government, politicians in Westminster were compelled to step in and deliver crucial legislation on issues such as equal marriage and abortion access. Labour MP Stella Creasy introduced an amendment to legalise abortion in early 2019, which came into effect in March 2020.
But although Westminster provided the final legal push, it came after decades of pro-choice grassroots activism and campaigning within Northern Ireland itself. In a place where party politics is often singularly divisive and stagnant, organising around abortion rights over the years has been remarkably cross-community and inclusive. 
Grassroots groups provided urgent services.
Since 1967, when the Abortion Act first legalised abortion in certain circumstances in Britain, activists across Northern Ireland have been campaigning tirelessly for abortion access that is free, safe, legal and local. Action became more consistent and organised in the mid-1990s, with the creation of the grassroots campaign group Alliance for Choice, comprised of people from Catholic and Protestant, nationalist and unionist backgrounds, with branches set up in both Belfast and Derry
Before abortion was accessible in any legal way in Northern Ireland, it was these grassroots groups that provided people with these urgent services; offering information and education, organising travel to Britain to access clinics or, later, at-home abortion pills. It was these organisations, alongside certain local politicians, and charities such as Amnesty International, who ensured that the issue of abortion rights in Northern Ireland never left the national conversation, and who pushed for compassionate and dignified legislation. 
Since March 2020 Northern Ireland has technically been the only part of the UK where abortion is entirely decriminalised, with abortion services available, in theory, until 10 weeks gestation. In practice, however, there are still many gaps in this access. Thanks to complications in the health service due to the Covid-19 pandemic, political inaction, and continued social and cultural stigma around the issue, the fight for access is far from over. According to Dr Laura McLaughlin, co-chair of Doctors for Choice NI, the abortion services currently available "are maintained by a small number of dedicated staff and face the constant threat of collapse". In June 2022, the Northern Ireland abortion and contraception task group's annual review found significant obstacles to abortion access, concluding that the limited services currently available were inadequate: only covering abortion up to 10 weeks gestation, with no access to telemedicine and at constant risk of disruption.
Plugging the gaps.
Some of the most noticeable gaps in access to abortion services are geographical. Currently, the department for health has yet to commission any nationwide abortion services, leaving it to individual health trusts to organise and fund their own services. In April 2021 this lack of support led to the Western Trust, which serves more than 300,000 people in Derry, Fermanagh and Tyrone, entirely suspending its abortion services. Following campaigning from healthcare providers, and campaign groups such as Doctors for Choice NI and Alliance for Choice Derry, the trust resolved staffing issues and these services were finally reinstated in early October 2022. 
During these months without official services, it was activist groups such as Alliance for Choice, Doctors for Choice, and international organisations such as Women Help Women who provided support and signposting to people needing to access abortion services. Their options during this time were much as before the ban, limited to travelling to Britain or over the border to the republic, or self-administering abortion pills accessed through the internet. 
Telemedicine services provided during this time were particularly valuable "for the most marginalised in society, including disabled people, people living in rural areas and those in coercive relationships," a statement from Alliance for Choice Derry expressed afterwards. But with a continued dearth of effective political support or any kind of nationwide funding, telemedicine is still not available en masse. Abortion services across the six counties are piecemeal and patchwork sewed together by activists and healthcare providers who attempt to provide compassionate and consistent support. 
Only up to 10 weeks.
Another key gap in access to abortion services in Northern Ireland is the issue of late-term abortions, a more uncommon but nevertheless crucial aspect. Under the current access to abortion services in Northern Ireland, the only form of abortion care available is Early Medical Abortion (EMA) until 10 weeks, despite the law allowing for EMA on request until 12 weeks. Past this point, pregnant people in Northern Ireland can access NHS-funded abortion care in England. 
Despite this service being provided free of charge by a variety of providers, and additional support being offered by Alliance for Choice and Abortion Support Network, there are still significant obstacles. Travelling to access abortion is not a viable option for many, including some of the most vulnerable, such as refugees and asylum seekers, the Traveller community, or people in emergency accommodation. "It is simply unacceptable that women have to travel to Britain to have an abortion more than two years after the regulations in Northern Ireland were issued," says Dr Edward Morris of the Royal College of Obstetricians and Gynaecologists. 
Average costs for someone travelling to have an abortion clock up to around €450 (£384). For many people with unstable work contracts, child care or other caring responsibilities, disabled people, or those in violent or unsafe home environments, travelling any distance to access these services is often out of the question. 
Even in areas of Northern Ireland with abortion services present, actually accessing them is often complicated. The lack of official information about the services means that many pregnant people in crisis still turn to activist groups such as Alliance for Choice for support and information. Unfortunately, this also allows for anti-abortion organisations to spread disinformation and attempt to prevent access. Bogus abortion clinics such as Stanton Healthcare in Belfast and Advocate Women's Centre in Derry appear to take advantage of the lack of knowledge surrounding abortion access in NI to spread disinformation and discourage pregnant people from accessing abortions. 
Additionally, anti-abortion groups picket outside clinics where abortion services are provided, harassing those entering often with graphic images and religious messaging. A bill which would create 100m "buffer zones" around abortion clinics was passed in Stormont in March of this year but is currently being challenged in the UK Supreme Court. In the interim of these zones being created, activist groups have once again taken on the brunt of the work. Organisations such as Supporting Women Newry, have gone head-to-head with the religious anti-abortion groups who protest weekly outside Daisy Hill Hospital in Newry, and escort people safely into their abortion clinic. 
Patchwork services.
Even with some abortion services available across Northern Ireland, without a holistic framework of reproductive healthcare and public health information, people continue to slip through these gaps in abortion access. Currently, despite EMA services being theoretically available across all health and social care trusts in the six counties, there remain no public health campaigns to make people aware of what they can access, and where.
Furthermore, there is no public information counteracting the misinformation spread by anti-abortion clinics, no telemedicine available for those who cannot access abortion clinics in person, no buffer zones around these clinics, a nine-month waiting time for post-abortion counselling, and thanks to a lack of funding, no central access point that people visit to schedule appointments at their local clinic since October 2021. Despite Sinn Féin, a party with a commitment to commissioning abortion services in Northern Ireland, winning the most seats in the last Stormont election, a devolved government is yet to be agreed on, and a second general election may be on the horizon before these issues are resolved. 
In the meantime, the political turmoil in Westminster means constant turnover when it comes to the Northern Ireland secretary. Promises from previous ministers to implement abortion services if the devolved government fails to act fall by the wayside, with a new face in the job seemingly every week. While the establishment flounders, it falls to activists, campaign groups and individual healthcare providers to address these shortcomings, and attempt to provide a dignified service in the face of overwhelming political apathy.
Ellen McVeigh is a freelance journalist and charity worker currently based in Belfast.