Are Rent Controls Coming to the UK?
Sure looks that way.
26 October 2022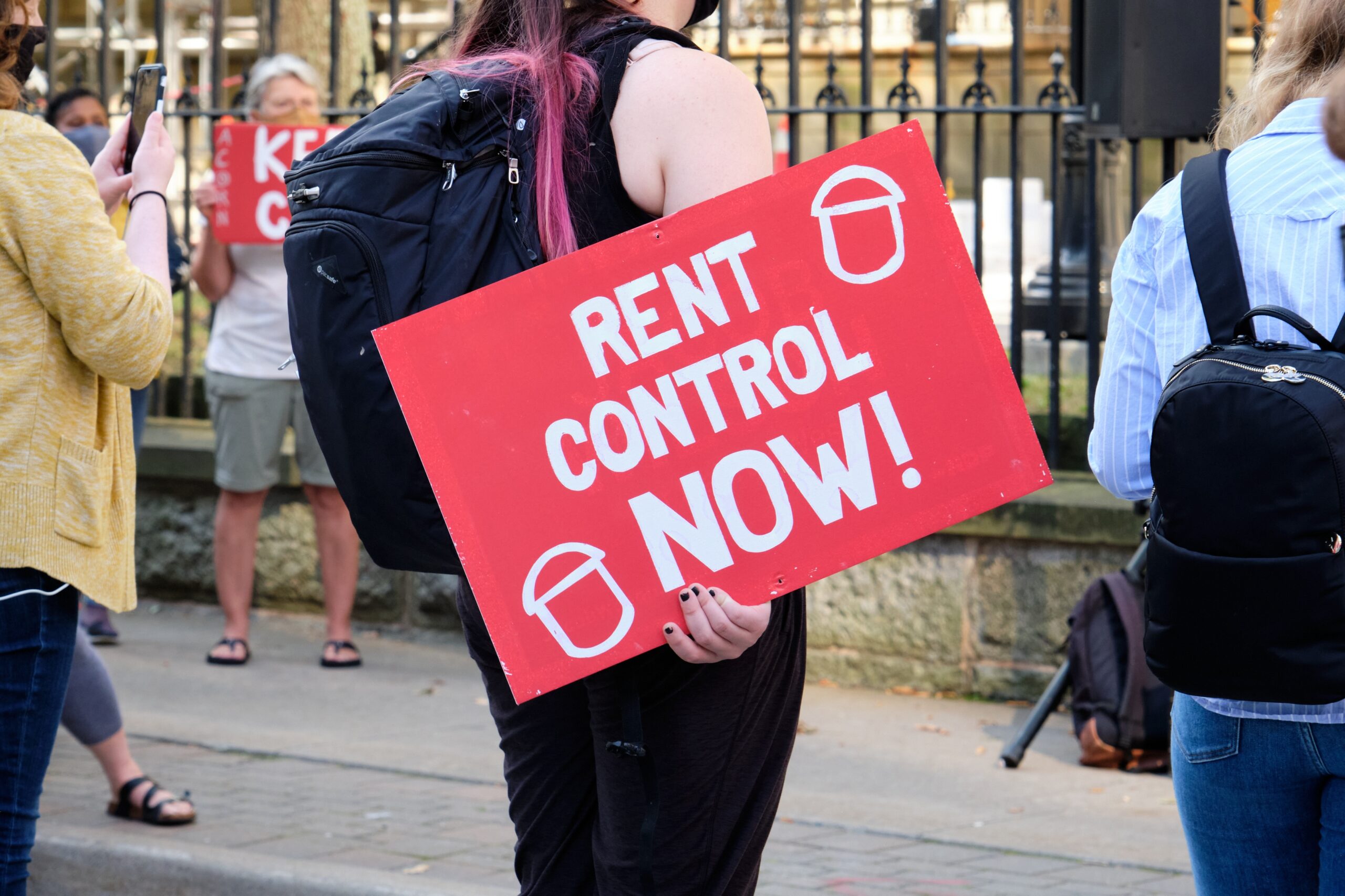 A rally demanding rent controls in Halifax, Canada, September 2021. Photo: Wandering Views/Shutterstock
Among the more predictable cost-of-living measures announced by Scottish first minister Nicola Sturgeon in September – increasing child benefits, extending free school meals, freezing ScotRail fares – was one that took many by surprise: a seven-month freeze on both social and private rents across the country.
The freeze went against the decidedly anti-renter direction pursued by then-prime minister Liz Truss, who recently shelved the Tories' 2019 manifesto pledge to scrap section 21 or "no-fault" evictions in England and Wales (though she later appeared to U-turn).
Sturgeon also broke with the received wisdom of the UK housing market and the national economy that teeters atop it: that housing is a market commodity, not a social good, and that landlords' rents must be protected from the meddling hand of the state. With her announcement, Sturgeon became the first British politician to control private rents since the 1980s (Stormont came within a hair's breadth of a 10% blanket rent cut earlier this year, only for Sinn Fein to get cold feet).
Nor is she likely to be the last. From London to Bristol, the Scottish parliament to the Welsh Senedd, politicians across the UK are weighing drastic action to reign in Britain's runaway housing market – meaning that rent controls, a measure long considered unrealistic, could soon become a reality.
A historic comeback.
For most of the 20th century, rent control was a fact of life in Britain. 1.1m homes were damaged or destroyed during the Blitz, producing an acute housing shortage on which landlords sought to capitalise.
In Glasgow, which saw an influx of residents during the war due to its large munitions industry, 20,000 people went on rent strike against profiteering landlords, forcing the ruling Liberal party to control rents nationally.
These controls were incrementally eroded over the following decades until 1988 when Margaret Thatcher scrapped them. Given that the average age of a UK renter is 47, few today can remember a time when Britain had rent controls. This has contributed to a situation in which rent controls – the norm in many wealthy European countries including France, Sweden, Germany, Spain and the Netherlands – have come to be seen by many in the UK as hopelessly idealistic.
Still, in recent years, even Conservatives have begun to recognise the game is rigged against renters. It was then prime minister Theresa May who in 2019 pledged to scrap no-fault evictions; Michael Gove who in August published a white paper entitled 'A fairer private rented sector'.
Gove's paper lists various measures – sometimes called "non-price regulations" – that the Conservatives have introduced to curb the excesses of the housing market without hitting landlords' (as in, their own) rents – among them licensing house-shares, regulating letting agents and logging bad landlords. In Scotland, a new indefinite tenancy came into force in 2017, offering renters stability if not affordability. The mayor of London has introduced a rogue landlord checker and "report a rogue" tool. Yet with one million families in the UK paying rent they cannot afford, there is a growing popular consensus for more drastic action.
Amy Cullum is the policy officer for the tenants' union Acorn. "Landlords can't be expected to regulate themselves anymore," she says. "We've had a decade of rents going up and up and up because they [landlords] are mainly business people; their priority is to make as much profit as they can."
"There are some good landlords that will choose not to do that at a time of crisis," Cullum adds, "but that shouldn't be up to the goodwill of the landlord – it should be regulated."
The public is with Cullum. According to polling conducted by Ipsos in May, 72% of people in the UK support rent controls, up from 64% in 2019. One obvious reason for this uptick, says Gordon Maloney, an activist with the Scottish tenant's union Living Rent, is the growth in the constituency of private renters, which almost doubled between 1991 (13.9%) and 2018 (26.6%).
"The enormous increase in the PRS has meant that far more people are stuck renting than was the case when rent controls were scrapped in the 80s," he says. "That means not just more people, but more politically salient demographics too. It's getting harder and harder for politicians to ignore."
If Conservative politicians are intent on ignoring the public – including 59% of their own voters – others are not.
Ken Gibb is a professor of housing economics at the University of Glasgow and an advisor to the Scottish government on housing. He says that whatever "hesitation" to control rents he has encountered in Westminster "doesn't seem to exist in Scotland or Wales at all" (Plaid Cymru leader Adam Price has hinted that rent controls will feature in his renting white paper, due later this year). Whatever the mood in our parliament of landlords, says Maloney, the return of rent controls is "pretty much inevitable".
All mouth and no trousers.
Politicians have made positive noises about rent controls for some time now, though with little action. The proposal was a centrepiece of Labour's 2019 election manifesto. That same year, mayor of London Sadiq Khan published his report 'Reforming Private Renting', setting out a detailed blueprint for rent controls in the capital.
Under Starmer, Labour has abandoned calls for rent controls, even actively opposed them: during the pandemic, shadow housing secretary Thangam Debonnaire said a rent freeze would be "un-Labour". Khan, meanwhile, has watered down his demand, calling for a temporary cost-of-living rent freeze similar to Sturgeon's – though in a statement to Novara Media, Khan said "rent controls are absolutely still on my agenda."
Meanwhile in Bristol, Labour mayor Marvin Rees was reelected last May with a pledge – pushed by Acorn – to seek devolved powers from Westminster to control rents. In March, Rees set the wheels in motion to fulfil that pledge by co-hosting a renting summit with Acorn and the housing charity Shelter – however little has materialised since, leaving campaigners concerned that the mayor – whose housing lead, councillor Tom Renhard, formerly chaired Acorn's board of directors – may have lost interest.
Sturgeon, however, is more tightly bound to the policy. In this year's Holyrood elections, her Scottish National party (SNP) committed to introducing rent controls by the end of the current parliament in 2026. Yet the timing of Sturgeon's promised intervention could make or break it.
Hashing out the details.
There is evidence to suggest that rent controls can do more harm than good if enacted in isolation. In San Francisco, researchers have found that controlling rents in some properties has pushed them up in others. In Scotland, meanwhile, housing campaigners fear that temporary rent controls could have a boomerang effect if unaccompanied by longer-term restrictions.
Meg Bishop is a spokesperson for Living Rent. She says that "unless the SNP introduces rent controls before the freeze lifts, landlords will hike rents to account for the losses they've incurred during the freeze, as well as to preempt future rent controls by warping the market rate."
It's for this reason that while in the immediate term, Acorn and the London Renters Union are planning to demand a rent freeze like Scotland's, both unions stress that this demand will be used as a springboard for another. As Cullum puts it: "Rent freeze now, rent controls next."
Then there are the longer-term challenges that rent controls can pose. Landlords have long warned that rent controls will force them to leave the sector – a troubling prospect in a country whose social housing stock was eviscerated by the right to buy. "Of course [landlords] are going to say that," says Gibb, "but there is some truth in it, because there isn't the capacity to deliver more social housing quickly."
Maloney is more optimistic. He notes that the housing market "is not like a factory that can cut jobs – landlords can leave the sector, but the house is still there."
"Either they sell to another landlord, which has no impact on supply," he adds, "or they sell to a first-time buyer, helping people out of the private rented sector."
Another possibility, says Maloney, is that "if landlords are selling en masse, there's an opportunity for councils to take them back into public ownership, undoing the damage of Right to Buy without having to start building from scratch."
This is not unprecedented: in Glasgow, the council recently bought seven flats in a tenement block from a private landlord and is now letting them at social rents.
Others warn that rent controls could disincentivise landlords from maintaining their properties, worsening renters' already extremely poor living conditions. Living Rent's suggested workaround is a points-based system that keeps rents low while rewarding landlords who maintain their properties.
Another make-or-break detail to any future rent controls is the economic index to which they are pegged. One proposed in many academic studies is the Consumer Price Index (CPI). Yet with CPI currently at over 10%, its highest in 40 years, CPI-pegged rent controls would do little to improve affordability.
Instead, both Acorn and Living Rent are advocating for indexes based on measures such as average incomes (which the Netherlands uses) or council tax band (which circumvents the issue of areas, such as the London borough of Kensington and Chelsea, where average incomes are skewed by a handful of super-rich residents).
Important as the details are, Cullum is wary of disagreements derailing the campaign. "I would rather we had some form of rent controls now […] and then fine-tune it."
Maloney thinks it's essential to demand more than the bare minimum. He says that some models of rent controls are "timid, designed just to address the very worst excesses in the sector. The challenge for tenants now is not just to win the argument for rent controls, which we are winning already," says Maloney, "but to win the argument for our vision of rent controls."
Rivkah Brown is a commissioning editor and reporter at Novara Media.