Police Advised a Tenant Facing Illegal Eviction to 'Speak to Uber Eats' for Help
Officers still think illegal eviction is a 'civil matter'.
25 October 2022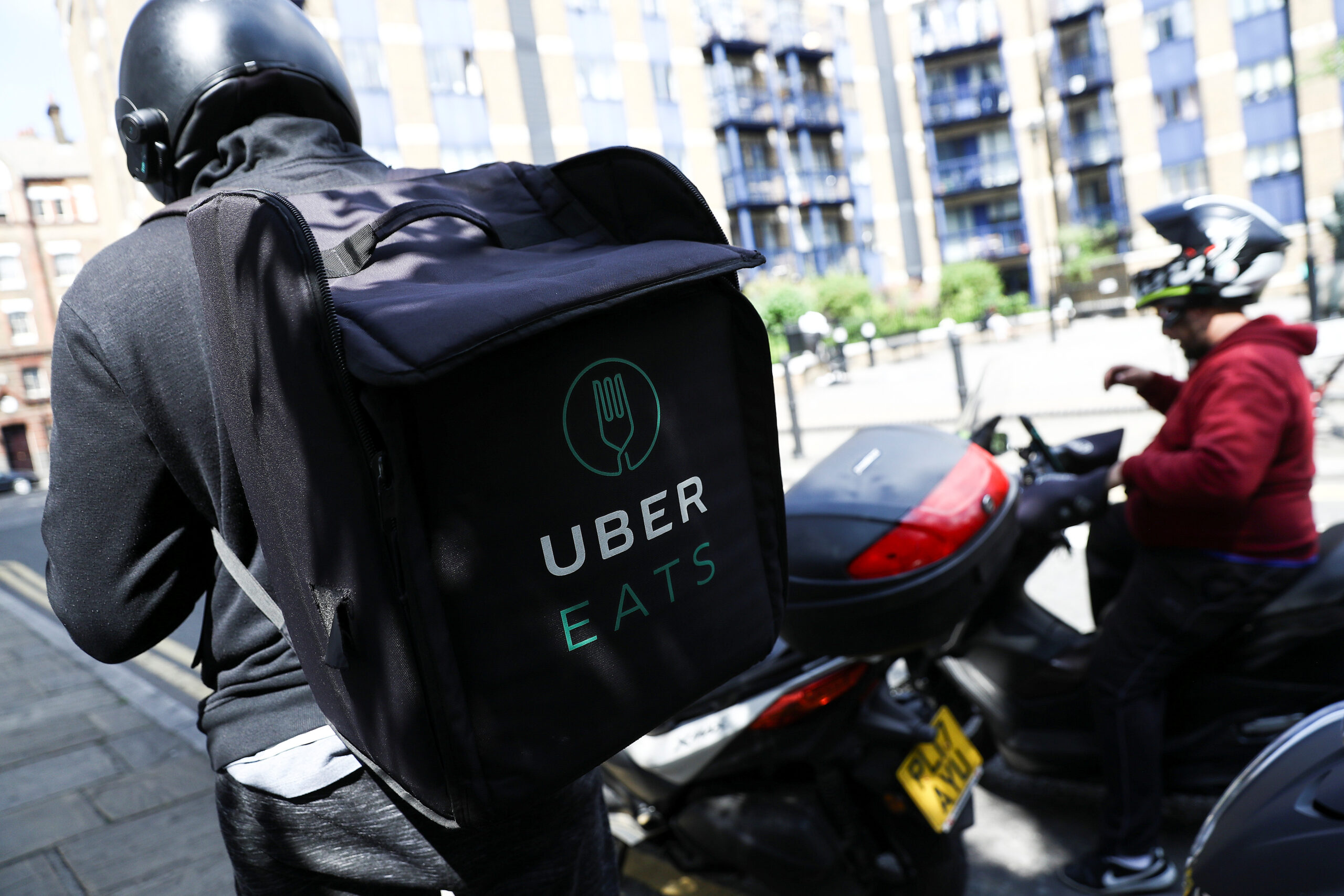 An Uber Eats rider. REUTERS/Simon Dawson
Police told a tenant threatened with an illegal eviction that he should try calling Uber Eats for help, Novara Media can reveal.
The bizarre advice was given to the tenant in Wandsworth, south London, who emailed the Metropolitan police for help via his charity case workers after being repeatedly harassed by his rogue landlord and his property managers. The landlord and his property managers threatened to change the locks and said they had offered the property to new tenants, despite never filing for the Section 21 notice needed for an eviction to be legal.
Despite the Met having a legal responsibility to intervene in his case, they wrongly claimed the issue was a "civil" matter and advised contacting the food delivery platform, in what caseworkers have called a copy and pasted statement that "clearly relates to another case" and an indication of a wider culture among the capital's police of ignoring the victims of illegal evictions.
If the eviction had gone through, the tenant, an asylum seeker who also struggles with anxiety and depression, would have been made homeless as he didn't qualify for emergency housing by the local council and was deemed lower priority.
A spokesperson for the Met said they could not explain why the food delivery company was mentioned. Novara Media has seen copies of the email exchanges and can confirm that the company was never mentioned at any point before a Met officer brought it up.
An illegal eviction is when a tenant is removed from their home by a landlord without them legally filing for an eviction notice. Some illegal evictions simply involve changing the locks, while on other occasions tenants are violently assaulted when they don't comply with illegal evictions. Sometimes tenants' possessions are even stolen by landlords.
The police have a legal responsibility to intervene in the cases of any illegal evictions, as well as in cases of repeated harassment and threats of illegal eviction by landlords.
In this case, the landlord tried to forcefully remove a tenant from their flat in the borough of Wandsworth, within view of the constituency office for the local Labour MP. The landlord had not fulfilled basic safety checks or got a proper licence to rent out the property – a legal requirement.
After a Safer Renting caseworker reached out to the Metropolitan Police digitally about the case, an officer responded over email – seen by Novara Media – saying: "Thank you for contacting The Metropolitan Police Service. Unfortunately, this is a civil matter and as such, not something that can be investigated by the police. You may wish to seek legal assistance from a solicitor or advice from a relevant organisation such as the Citizens Advice Bureau. I would also advise you to speak to Uber Eats to resolve this matter."
After subsequently calling the police about the case, the tenant was encouraged to go down to the local police station to report his case, only to be told again by an officer that it was a "civil matter" and they would not help.
Hannah Al-Qaryooti, a caseworker for housing charity Safer Renting said: "This is absolutely part of a wider culture. Every time we submit something to the police about illegal eviction or landlord harassment, we have to try to convince them what the law actually is. We're advising clients to call the police while knowing that the police are going to turn up and do nothing."
Novara Media understands that only after the tenant spoke to the officer's manager and brought a letter confirming the police's responsibility to act in cases of illegal eviction did duty officers take his statement.
While an investigation has been opened into the case, a recent release seen by Novara Media confirms that police initially concluded that the case was a "civil matter". The Met stressed that the case remained open – though little seems to have changed in the case's status since its opening.
Al-Qaryooti said that the landlord believes that he can act with impunity from the police.
"We've told the landlord the tenant will call the police if he tries to change the lock or anything and he just laughed at me. He was like, 'the police have been here and they agree with me'," she said.
"It's holding our cases back, because the threat of the police should really scare them into not harassing or illegally evicting someone, but it just does nothing."
If the rules were enforced, they would provide at least some obstacles to the eviction, Al-Qaryooti said. "The landlord would need to get a licence for a property that will cost a grand, need to get people in for gas safety and to monitor energy performance [if he wanted to do a legal eviction]," she said. "Why would he pay for that for one tenant when he could just harass him out? For these sorts of landlords [following the law] is seen as too much effort."
"My client is just constantly sitting in his room. He's really depressed, he's not working, and just fearful of their landlord."
A Met spokesperson said: "On 24 May police received a report of an alleged illegal eviction and harassment of a tenant of an address in Wandsworth. There have been no arrests. Enquiries continue."
The news comes after Novara Media revealed that the Met investigated just 22 illegal evictions out of thousands in 2020 in what was labelled a "scandal" by tenants' rights group Generation Rent. Novara Media also revealed that nearly half of local councils in the capital, which are also obliged to offer support to victims, either don't employ anyone to protect renters from illegal eviction or refuse to disclose if they do.
Andrew Kersley is a journalist.