London Councils Are Leaving Renters Without Protection From Illegal Eviction
Landlords know they can get away with breaking the law.
22 August 2022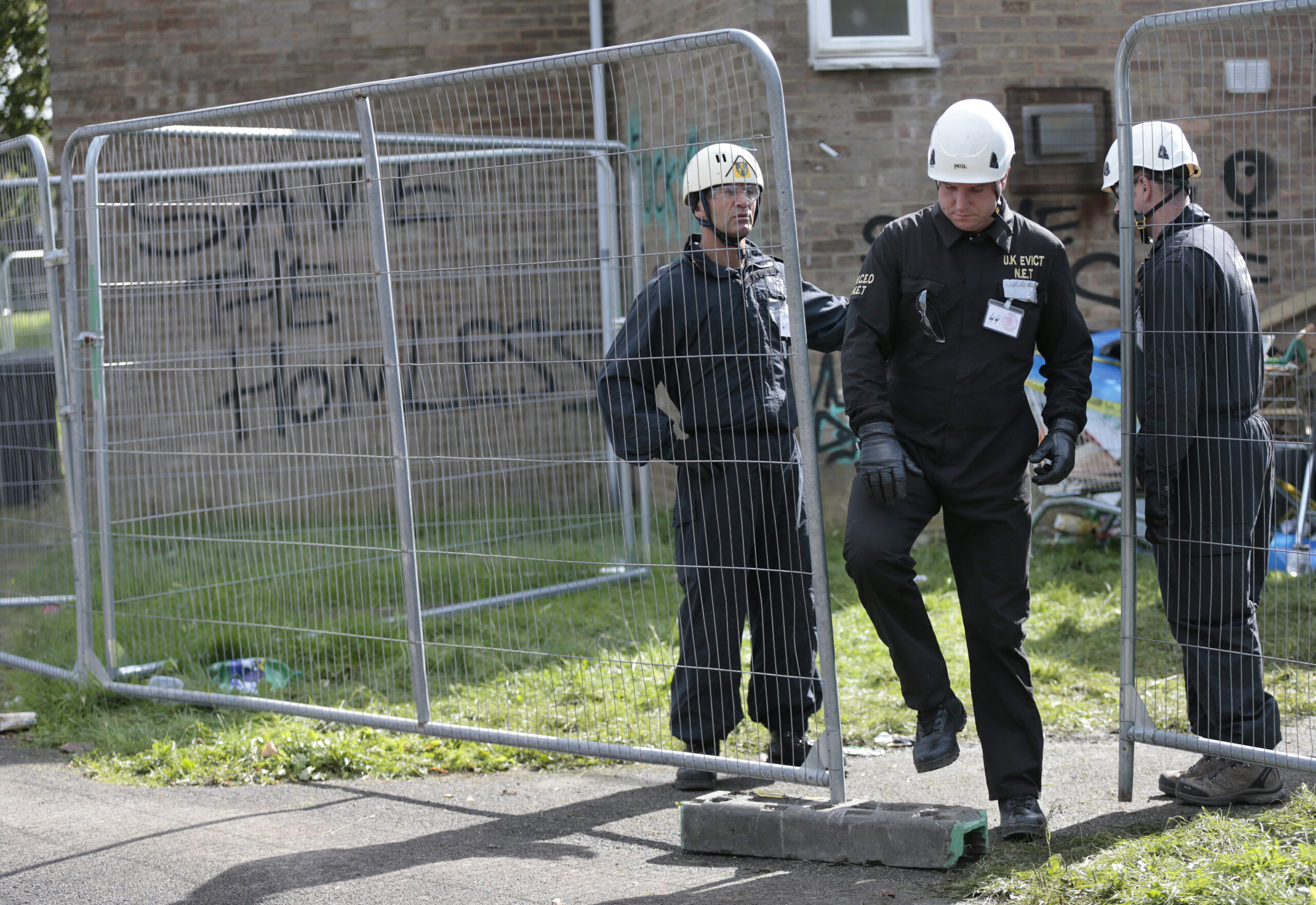 Bailiffs at work. REUTERS/Suzanne Plunkett
Nearly half of London councils either don't employ anyone to protect renters from illegal eviction – or won't confirm that they do.
An investigation by Novara Media can reveal that one in seven private renters in London has no specific council protection from illegal eviction at all, while almost half live in councils which were unable to confirm what protection they offer when asked.
Novara Media asked all 32 London Boroughs if they had at least a single staff member specialising in a role surrounding illegal evictions. Just 18 confirmed that they had. The remaining 14 councils either do not employ anyone in this role, or did not respond.
Novara Media found that six boroughs, accounting for 116,400 private renting households – 13.2% of the capital's total – don't employ a single officer specifically tasked with handling cases of illegal eviction.
The news comes after Novara Media revealed that the Metropolitan Police investigated just 22 cases of illegal eviction out of thousands in 2020. Housing charity caseworkers said police officers were often more likely to side with a landlord committing an illegal eviction than to follow their responsibility to intervene on behalf of the tenant. Taken together, these revelations mean that many Londoners have no protection from illegal evictions from the state.
A report from the housing charity Safer Renting found that 6,930 illegal evictions took place across the country in 2020, while just 12 landlords were convicted for illegally evicting tenants nationwide. In 2021 there were 7,778 illegal evictions, a 12% rise.
An illegal eviction is when a tenant is removed from their home by a landlord without them legally filing for an eviction notice. Some illegal evictions simply involve changing the locks, while on other occasions tenants are violently assaulted when they don't comply with illegal evictions. Sometimes tenants' possessions are even stolen by landlords.
The ultimate responsibility to pursue and convict landlords committing illegal evictions lies with councils, usually handled by a tenancy relations officer (TRO).
Novara Media reached out to every London council individually both over the phone and over email on multiple occasions to enquire about whether they employed any TROs or differently named but similar roles that would give protections to residents facing illegal evictions.
Bexley, Hillingdon and Ealing councils all told Novara Media that they did not employ any tenancy relation officers or any kind of equivalent staff with the same responsibilities.
Bromley council said it had no specific officers that handled the issue, but problems could be picked up by the other council staff on an ad hoc basis. In December 2020, a kidney transplant patient was previously left homeless and sleeping on the street in Bromley for six nights after the council failed to give him interim accommodation or look into his illegal eviction.
The Local Government Ombudsman (LGO) ordered the council to pay the man £250 in compensation in 2020. The LGO also found that there was no procedure for considering prosecutions to private landlords and recommended setting one up.
A council spokesperson said that the council had "not made any changes to staff" but new procedures had been reviewed and were "fully in place" to stop similar cases.
Richmond council also said problems could be picked up by council staff on an ad hoc basis.
Other councils simply wouldn't say whether they are protecting tenants.
Kingston council did not respond to multiple requests for comment from Novara Media. Charity case workers who have worked in the area say the council have told them they don't have any staff that handle illegal evictions.
Brent, Croydon, Haringey, Harrow, Havering, Redbridge, Sutton and Tower Hamlets all refused or were unable to respond to repeated requests to divulge the nature of their services. Many contain little to no information on their websites about what private tenants can expect from the council in the event of an illegal eviction. That adds another 230,000 of the city's 878,600 private renting households whose legal protections are uncertain.
Overall, Novara Media can only verify that just over half of private renters in the capital have any protections from their council if a landlord violently and illegally evicts them.
Hannah Al-Qaryooti, a caseworker for housing charity Safer Renting says: "This is why Safer Renting was set up. Because tenancy relation officers were being made redundant and councils weren't hiring new ones."
"The powers to resolve this are there but they are just not used. That's what I find frustrating. We don't need new laws or anything, there's just not a duty for anyone to enforce them," Al-Qaryooti says.
"As with everything there's just such a lack of funding."
Those Novara Media spoke to suggested much of the reason why these services had not been protected was due to the impact of austerity. Dr Julie Rugg from the Centre for Housing Policy at York University, says they are "part of the government services that really didn't survive" the cuts to council budgets.
Budget cuts from the central government have seen council spending drop by 23% since 2010 according to the IFS. And because funding for tenancy reaction officers or wider illegal eviction support isn't ring-fenced, unlike many other housing roles, many councils chose to cut back their support for tenants who face illegal evictions.
Safer Renting director Roz Spencer said that cuts to council budgets, lack of ring fencing for TRO jobs, lacking regulation of landlords and the sharp increase in private renters in London had created a "clusterfuck".
"Because landlords, as part of their business model, just ignore the regulatory framework because they are confident no one's going to catch them," she said.
"You've got all the ingredients for things going horribly wrong. If you wanted to design a system that was set up to fail, you couldn't really do better than what we've got now."
Andrew Kersley is a journalist.