The Met Investigated Just 22 Illegal Evictions Out of Thousands in 2020
"Nine times out of ten they will say it's not any of their business".
18 July 2022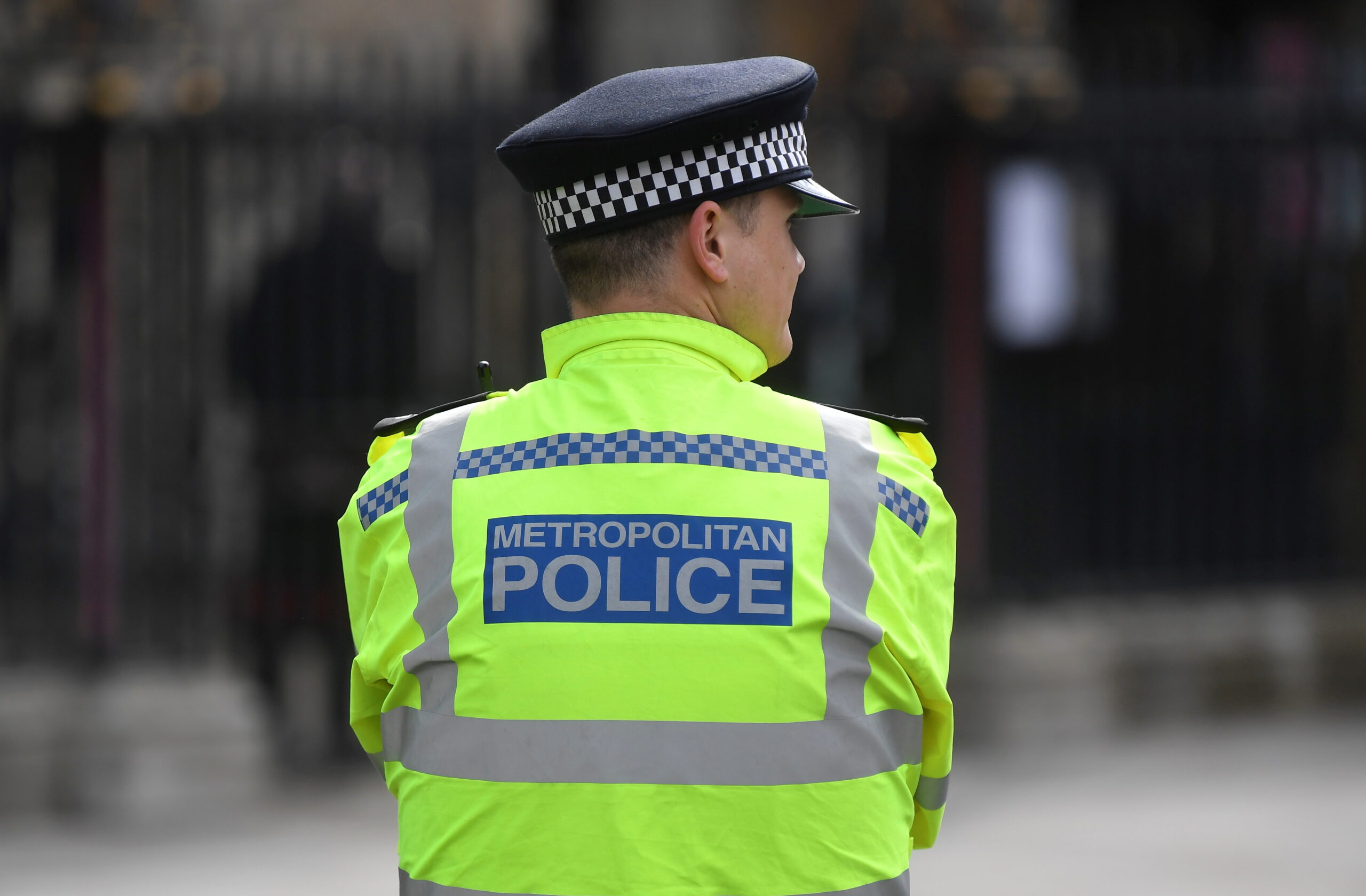 Intelligence sharing without the consent or knowledge of individuals impacted has been further expanded under the 2022 Police, Crime, Sentencing and Courts Act. Toby Melville/Reuters
The Metropolitan police investigated just 22 illegal evictions in 2020 even as cases soared across the capital, Novara Media can reveal, as charities warn that the police are systemically failing to protect tenants' rights.
An FOI disclosure from the Met exclusively seen by Novara Media details all the cases logged in 2019, 2020 and the early months of 2021. The disclosure shows that the force logged just 22 cases of illegal eviction and 19 cases of landlords harassing tenants in 2020. It logged just seven illegal evictions and 11 cases of harassment for the first four months of 2021.
Whether any of these cases ended in a conviction or any further action being taken is unclear. When Novara Media asked the Met to clarify on the outcome of the cases logged, a spokesperson said they couldn't comment on the data without knowing the specifics of individual cases. Only one case from the years 2019, 2020 and early 2021 was transferred to an "external agency" – likely a local council – who could take further action.
An illegal eviction is when a tenant is removed from their home by a landlord without them legally filing for an eviction notice. While some illegal evictions simply involve changing the locks, others can be violent. Sometimes tenants' possessions are even stolen by landlords.
Prosecuting rogue landlords who illegally evict tenants is the responsibility of local councils, but the police have a legal responsibility under the 1977 Protection from Eviction Act to intervene during an illegal eviction and keep the tenant in the home. Housing charities say the police rarely follow through on that duty.
A report from the housing charity Safer Renting found that 6,930 illegal evictions took place across the country in 2020. In 2021 the figure rose by 12% to 7,778 illegal evictions.
The report stressed that the real number of illegal evictions each year was likely to be much higher than that, as the data only covers tenants who were prepared to approach charities or local councils for help. Hundreds of victims of illegal evictions end up homeless.
While Safer Renting's data is not conclusive with regard to where illegal evictions have taken place, it is likely thousands took place in London in 2020. Just one charity, Citizens Advice, logged 880 cases of successful or threatened illegal evictions or harassment from landlords in London that year with the Met. All of the cases the force dealt with amount to just 4.7% of that number.
Conviction rates for illegal evictions have been low for some time. In 2020, just 12 landlords were convicted for illegally evicting tenants nationwide. In 2018/2019, 35 of the 43 policing areas in England in Wales recorded no convictions for illegal eviction, including cities like Manchester and Cardiff that have some of the highest renting populations outside of London.
One charity staffer, speaking anonymously to avoid creating a difficult working relationship with the police, told Novara Media that the police don't even act on arrest warrants for landlords who illegally evict their tenants because they don't "see the issue as serious enough".
"The issue is that the police believe it is a civil matter not a criminal matter," says John-Luke Bolton, a caseworker for housing charity Safer Renting. "Nine times out of ten, when we report illegal evictions, they will say it's not any of their business."
Bolton says a recent case he handled saw one police officer tell a tenant: "If you don't have a contract I'll fucking throw you out myself", and watched as the landlord who hadn't filed an eviction notice replaced the locks on property while the tenant was still inside, making it impossible for them to leave without leaving their possessions behind.
In another case reported by Safer Renting, a tenant looked on as a landlord stole his watch and personal documents. When a nearby police patrol attended the property, the tenant was threatened with arrest for questioning why one officer just watched as the landlord took the victim's possessions and documents.
"It's not surprising to hear that the Met only logged 22 cases of illegal evictions in 2020, and that neither they nor councils took any further action in these incidents," said Anny Cullum, policy and research officer at Acorn. "On a number of occasions in recent years, Acorn members facing illegal eviction have turned to the police for help, only for the police to turn up and side with the person breaking the law – the landlord.
"In our experience, most police officers seem completely unaware of their powers or their duties to intervene with regards to illegal evictions, and are still more likely to come down on the side of landlords rather than those being illegally evicted."
"For 45 years renters have had the right not to be evicted without due process, yet landlords are able to change the locks, harass tenants, and physically force them out of their homes with impunity," said Dan Wilson Craw, the deputy director of advocacy group Generation Rent. "Part of the problem is austerity, which has seen council tenancy relations teams cut or scrapped entirely, but the fact that police officers frequently take the landlord's side and help them commit criminal offences is a scandal."
"Treating incidents as civil matters also means the police often don't record them properly, so it's hard to understand the full scale of the problem. It's shocking to see the enormous disparity between the Met's figures and the total estimate."
A Met spokesperson said: "Police action is to remain impartial and only intervene where a criminal offence occurs or to prevent a breach of the peace. Should an offence be alleged under the Protection from Eviction Act the role of the officer attending is to compile a report for the local authority."
Andrew Kersley is a journalist.