An Eviction Crisis Looms. Can Renters Resist It?
Nearly half a million renting households are at risk of eviction.
1 July 2021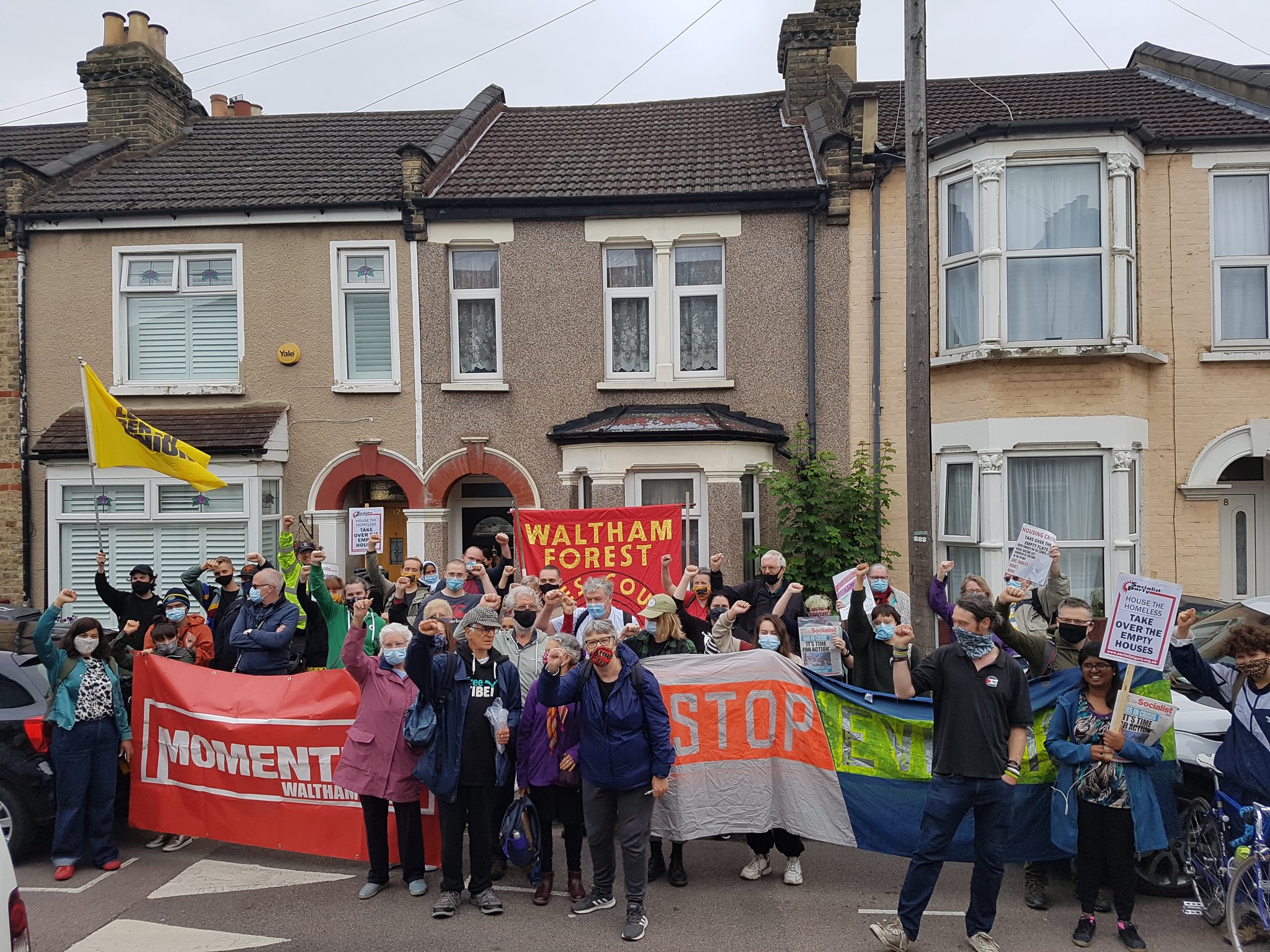 (London Renters' Union)
In Walthamstow, north London, the end of the eviction ban became a reality for Nadia and her three young children last week. Served with a section 21 (no-fault eviction notice) in late 2019, the family had avoided eviction during the pandemic. On 14 June, Nadia received a possession notice, giving her two weeks to leave the property. Her neighbours jumped to her defence.
On Tuesday, between 70 and 80 people crowded one street in Waltham Forest, blocking the locksmith and letting agent's path. Organisers from London Renters' Union advised the family on what to do.
"They told me to get inside the house, lock the house, close the door, and don't come out," Nadia told Novara Media.
To the delight of the crowd, the agent abandoned the operation. Until the next notice is issued, the family can stay. But the uncertainty has taken its toll.
"My daughter [aged 10] has taken it terribly. She's very upset. She was literally crying last week at school when I told her we'd be evicted and I didn't know where we'd be going," Nadia said.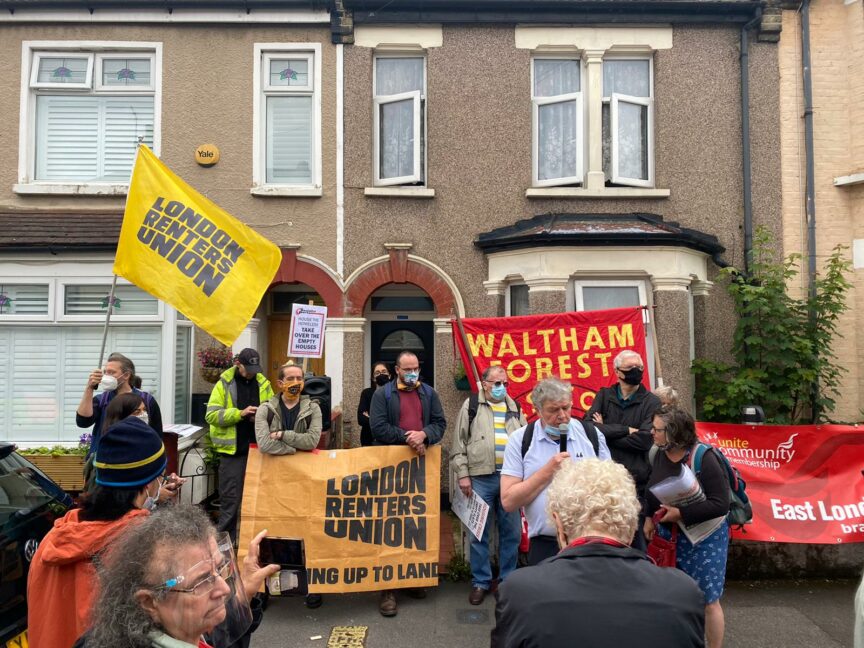 As Covid-19 swept across the country in March 2020, the government bowed to pressure to protect private renters who had lost income due to the pandemic, extending notice periods and suspending eviction hearings in English and Welsh courts. Although hearings resumed in September, when the rules were changed to make it easier for landlords to issue eviction notices, bailiffs were told not to enforce eviction orders.
However, on 31st May 2021 – despite a worrying rise in Covid-19 cases, with the more virulent Delta variant making up 95% of new infections – the government lifted the ban in England. A day later, eviction notice periods were reduced from six to four months.
On the day the eviction ban ended, it was estimated that around 400,000 renting households – 5% of renters – were at risk of eviction. The situation is expected to worsen over the coming months. According to the Joseph Rowntree Foundation, around half a million households are worried about being evicted in the next three months. 
This morning we resist the eviction of our neighbour. She is a single mum of 3 who has always lived in Walthamstow. @wfcouncil haven't told her where she will be moved, apart from it will not be in London. It's a disgrace. We demand she is rehoused in her community, our community pic.twitter.com/1g6bt1ALfk

— Sophie K Rosa (@sophiekrosa) June 29, 2021
While the scale of last week's eviction resistance in north London was unprecedented, the family's situation is far from unique. The Joseph Rowntree Foundation predicts half of the expected evictions will be families with children. According to one committee member of a local Acorn branch, the union is seeing more single mothers facing eviction than in previous years.
Zoe, 46, certainly believes this to be true; her landlord is selling up to buy her "dream house", making Zoe one of three single mums on her street in Brighton who could soon lose their homes.
"People think 'evicted' is what happens to bad people when they're bad tenants," she told Novara Media. "It's always on the telly, isn't it? The police banging doors down and chucking out 'bad' people. 'Oh, they should be on the street!' … It's not like that, it's real human beings."
Realising that all similar properties in the area are either out of her price range or include requirements she can't meet – such as a working guarantor who earns at least £36,000 – Zoe is considering moving in with her parents.
"I mean, they're lovely. But I'm 46. I'm a grown adult, I've brought up a child. I've paid my rent on time, forever. Having to beg people to give you a house, it's really infantilising, really humiliating."
It is becoming clear to people like Zoe that the end of the eviction ban is exacerbating a wider issue. The private rental sector in the UK is notoriously deregulated and inflated.
🚨 Eviction resistance update 🚨

The bailiffs have now left! We are still out defending a family of four in Walthamstow from eviction by a private landlord. Waltham Forest Council has failed to provide accommodation and threatens to move the family out of London.

THREAD (1/10) pic.twitter.com/0ipz5AusSW

— London Renters Union (@LDNRentersUnion) June 29, 2021
While rental prices in London have fallen during the pandemic, as the shift to home offices has precipitated a worker exodus, other parts of the country are experiencing major rent increases. According to Rightmove, London is the only region where asking rents are lower than five years ago, while available rental stock outside the capital is down by 54%.
This makes it harder for evicted tenants to stay in the area where they have built their lives. Faced with the option of travelling far for expensive, poor-quality housing, Maria, 59, is considering leaving the country she has called her home since 1998 to return to her birthplace, Italy. 
"I'm in a situation now where I'm in [such] a constant state of anxiety that I'm planning to retire sooner rather than later and move back to my country to live with my sister for the time being."
Having lived in the same place for 15 years, Maria was issued with a 14.5% rent increase by the letting agent which took over the management of her flat. She negotiated it down to 7.5%, but she believes her opposition provoked an eviction notice.
"Somehow I feared to get rid of me they'd try with section 21. I think they wanted to find someone to charge more [rent]."
Section 21 notices allow landlords to evict tenants for no particular reason. Known as "no fault" evictions, section 21 is a point of contention. Prior to the pandemic, the government pledged to scrap the controversial practice.
Yet, no bill has been passed and notices are still being issued. According to a Survation survey in April, 694,000 private renters across England had received a section 21 notice from their landlord since March 2020. 
Those who have been issued with a section 21 describe the anxiety and uncertainty of a "no-fault" eviction.
"Your house is your foundation, your stability," said Zoe. "We haven't had that for 18 months and that's been really hard."
The Government has announced it will extend the commercial eviction ban to 2022.

Meanwhile, at the start of this month, they ended the tenant eviction ban.

With hundreds of thousands in arrears, why have they refused to give people the same level of protection as businesses?

— Bell Ribeiro-Addy MP (@BellRibeiroAddy) June 16, 2021
The lack of adequate and available social housing is another major contributor to the eviction crisis. Despite being in touch with the local council about their impending eviction since 2019, Nadia claims Waltham Forest have yet to find her suitable permanent accommodation.
On the day of the eviction resistance, Waltham Forest council offered the family temporary accommodation: one room in an eight-bed shared house in Essex.
The family are already sharing two bedrooms between four in their rented house. "My eldest boy and girl sleep in one room," said Nadia. "But they're getting bigger now."
The poor state of the house has made the situation worse: "The carpet is coming off. There's a big crack on the wall … My son is eight years old, he gots really bad eczema, he's got health issues as well which have got worse."
Nadia appealed the council's offer of one bedroom in a shared house, citing worries about her children's safety. On Thursday she received a letter from Waltham Forest giving her 24 hours to accept. 
"There is no information to satisfy us that there would be a significant disruption which would be caused by the location of the accommodation to the wellbeing of your family," the letter reads. "The Assessment and Options Unit would not have any further duty to provide you with housing should you not accept this accommodation."
Despite the projected scale of the eviction crisis among private renters, last month the government announced an extension to the commercial eviction ban to 2022. The private renters who spoke to Novara Media say they feel abandoned.
"People seem to think, why should you get a choice?" said Zoe. "You're poor, you're on universal credit, why should you get luxury? But I don't want luxury, I want a nice place for me and my son to live. Everyone else should have a nice place to live."
Eloise Barry is a freelance journalist who has written for Vice, The Guardian and The Independent.