York Students on Rent Strike Celebrate After Debt Collectors Called Off
A u-turn from the university has led to hope of future victory.
2 November 2022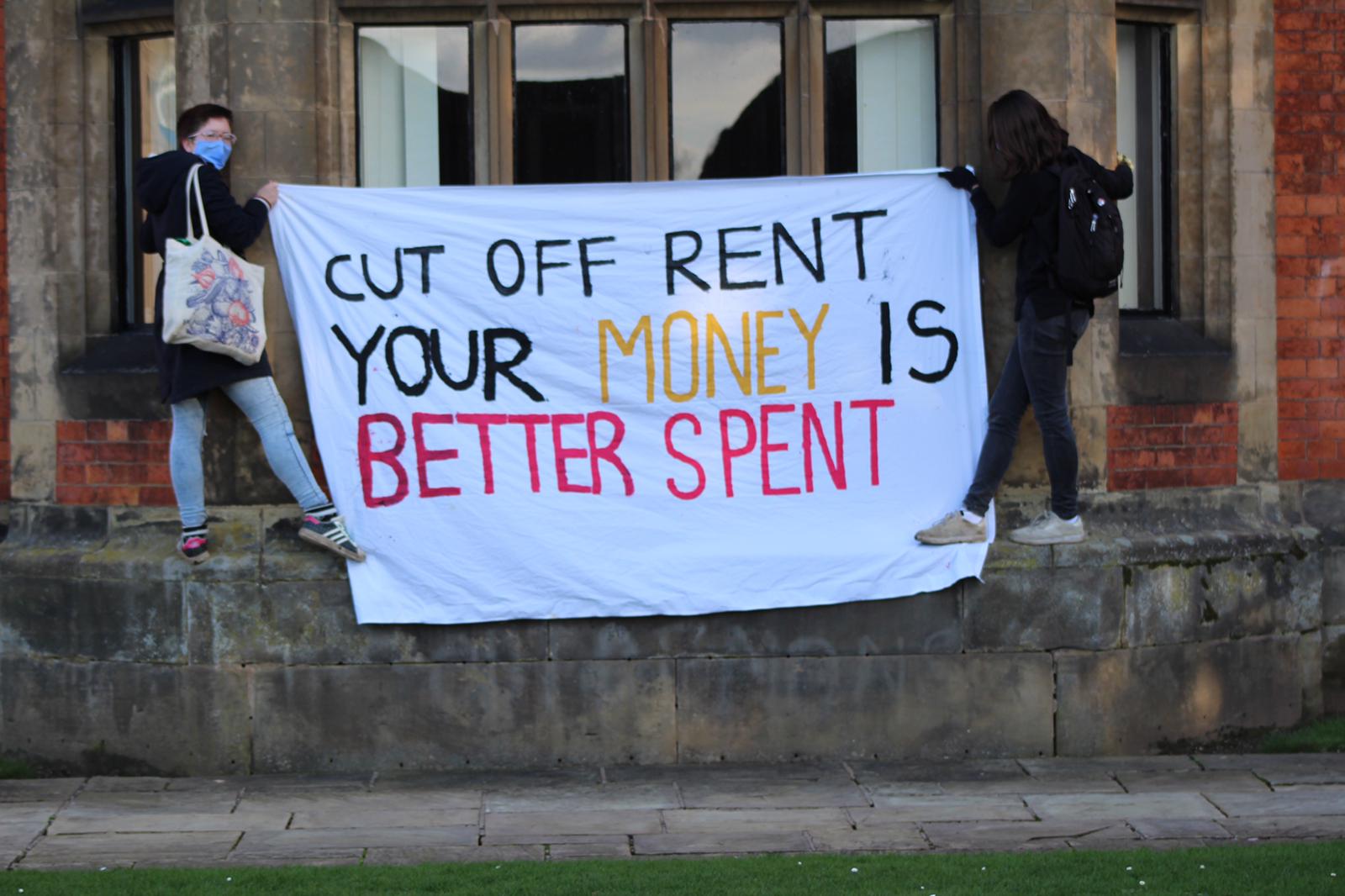 Students at York have been on rent strike since January 2021. York Students Solidarity Network/Twitter
Students on rent strike at the University of York are celebrating a partial victory after university officials called off third party debt collectors and offered the potential for debt waivers for those taking part in the action. 
The move comes after campaigners say strikers were threatened with legal action – accompanied by the warning that it could lead to deportation for international students – in order to break the strike. 
Last week, striking students began receiving correspondence from debt collection company ACT Credit Management – which boasts collecting student debt for "more than 100 higher education establishments" – informing those on student visas that they had seven days to arrange a payment plan for any outstanding balance, or legal action would begin. Home students were also notified of outstanding debt – but without a given deadline to pay up. 
But following a "heated" meeting between members of strike organising group, the York Student Solidarity Network (YSSN) and university representatives, the university has seemingly backed down. 
In an email sent by the student union – and seen by Novara Media – strikers were informed that the debt collection agency had been called off for "six months" and that individual students who could prove their debt was causing them "exceptional personal difficulties" could have their debt written off. The university is still refusing to work with strikers on a collective basis. 
Strike busting. 
York's rent strike began in January 2021 as part of a wave of action at 55 universities across the UK, in protest at poor student support and general substandard conditions, including distance learning, mass Covid-19 outbreaks in halls of residence and accusations of profiteering in the form of additional fees charged to students isolating. 
Some 50 students went on strike, demanding a 40% percent deduction on their rent for the first academic year, the cost of which averaged between £5,200 and £6,800 for 40 weeks. But while some universities reached a settlement – students at the University of Manchester won a 30% percent rent cut for the first half of the academic year – officials at York refused to engage with the YSSN. 
In emails initially sent by the university's finance department when the strike began, students were informed they had missed a payment and directed to a university webpage about fees and funding. After officials were informed a strike was taking place, students were told that failure to pay rent would result in legal proceedings – and jeopardise the presence of international students in the UK.
Further emails sent to strikers by York's Finances Shared Services office between August 2021 and October 2022 repeated the warning that a continued refusal to pay their outstanding balance – then the equivalent of six months' rent – would have consequences. 
"If you do not contact us, we will have no option but to pass your account to an external agency for further action," the message read.
"Regrettably, this could ultimately lead to legal proceedings that may affect the immigration status for international students or the ability to obtain credit for UK students."
The threat was a core tactic employed by university officials to "strongarm" students into folding, says Stella*, 23, a key organiser for YSSN. Further letters and emails followed. During this period, the number of those on strike dwindled from around 50 to 39, although YSSN admits it did not keep track of the exact totals of students taking part in the action. 
At the time of writing, YSSN believes at least 11 students remain on strike – although the university claims the total is seven and neither party has provided evidence to back up their figures. 
One of those still definitely on strike is international student Jazaa*, 23, who received an email from ACT Credit Management last week. The company informed her she had a week to finalise a payment plan for the £4,526.40 of rent the university is seeking, otherwise legal action would be taken. 
Jazaa says she joined the strike in January 2021, during her first year at York, unhappy with perceived neglect of student wellbeing. 
"There were a lot of things that the university did or didn't do during Covid-19 that showed that they didn't have students' health and safety in mind," she says, referencing the policy that instructed isolating students that, in the case of a fire, they should wait behind while non-isolating students were evacuated. 
Student services were cut, Jazaa recalls, and the quality of teaching was "just not the same". After her first year spent in accommodation provided by the university, she moved into privately rented housing in the city, but still refuses to pay for her time in halls of residence. 
After the involvement of an external agency however, Jazaa was considering conceding defeat. "After receiving a letter from a debt collector, I [wanted] to give up," she tells Novara Media. "I don't really want to risk my visa getting cancelled."
Yasmin*, a home student at York, also started receiving emails demanding payment of her £1737.39 rent on 16 February 2021, six weeks after she joined the strike. The 20-year-old also refused to pay her third instalment, with her debt now totalling £3,534.69. Overcrowded conditions had pushed her to take part in the strike.
"The conditions we had to live in were just insane," Yasmin says. One flat of 13 students was forced to share a single kitchen, bathroom, hob, microwave and two fridges. If it wasn't for Covid-19 measures, they would have also had access to another kitchen, with double the appliances, shared with nine other students. Only after sustained efforts were Yasmin and her flatmates provided with another fridge, toaster and kettle, seven months after moving in.
A flat outbreak of Covid-19 in the first few weeks of term made matters worse; residents were forced to isolate inside, with no access to any outdoor space and no official university support in place. Despite promises of help from York, Yasmin says that all they got was a "wellbeing parcel that [consisted of] colouring books and a box of Pringles."
"Everyone" in the flat suffered with their mental health, she adds. 
Yasmin responded to York University's demands for rent payment with a template provided by YSSN, which included the request to negotiate collectively. Her reply was ignored. Since first being contacted by the university, Yasmin has received 10 further emails over the course of two years. In August 2022, she also received a letter from ACT Credit Management – but without the seven day deadline for payment issued to Jazaa. Yasmin believes this is because her immigration status is not at risk.  
Fresh negotiations. 
YSSN organisers deemed the week-long payment deadline given to strikers an "escalation", and akin to threatening students with deportation. The furore led to the first meeting between YSSN members and university officials since 2020, taking place on 21 October, with York's executive body represented by academic registrar Wayne Campbell and financial director Jeremy Lindley. 
YSSN alleges Lindley initially told those present that while the university would never "personally" threaten a student with deportation, if legal proceedings went ahead the decision would lie in the hands of the Home Office. 
The university also informed YSSN that strikers owe a total outstanding debt of £17,200 – a figure campaign organisers have scorned as "absolutely nothing" to the university. "That is less money than university executives will have received in a pay rise this year," says Stella. Last year, York's vice chancellor was paid over £280,000, and the university's total institutional income was £414m in 2020-2021.
Stella also alleges Campbell told YSSN members that although the university could "choose" to waive outstanding debt, they weren't going to because it would be "unfair against students who experience mental distress but pay their rent anyway". 
"The academic registrar said it was a matter of equity, that all students were treated the same," she adds. They also refused further demands to negotiate collectively to give all students – not just those striking – a 40% reduction on their rent for the academic year 2020. In the wake of failed negotiations, YSSN announced another rent strike – a solidarity strike – from 31 October.
A new deal.
On the day the strike was scheduled to begin, the university came back with an apparent deal offer.
York's student union contacted YSSN members on 31 October, informing them that ACT Credit Management had been "called off" for the next six months. Furthermore, the university had taken tentative steps to waiving the debt – although caveats accompanied the concessions. 
"Whilst the entire debt of those who engaged with the rent strike won't be written off in one go, if any individuals can present any circumstances to the uni as to why the debt may be causing them exceptional personal difficulties, then it could be written off for that individual," strike organisers were told. 
A letter from Campbell, attached to the body of the email, stated: "We will work with individuals to agree personal payment plans, based on personal circumstances, or outline hardship funding support that may be available.
"If you cannot pay your overdue debt, then you must contact us as soon as possible."
The letter did not, however, promise to disengage the services of external debt collectors completely, nor agree that students would wholesale have their debt written off. 
In a statement responding to the deal, YSSN said: "This result vindicates the strikers who have been relentlessly harassed by phone call [Novara Media could not find evidence of phone contact made with strikers], letter, and email for years over a debt that they should never have been made to pay. 
"It also shows the strength of collective action, and we have not ruled out calling a rent strike in January with other universities in protest at the lack of meaningful action from both [University of York] and the government to address the cost of living crisis."
Posting on social media, YSSN also pledged to "keep the pressure on to ensure all the rent strikers have their debt cancelled."
Jazaa and Yasmin are optimistic. "I think [this] shows that even the university itself knows they're in the wrong, and the YSSN speaking out more and more about it has shown them in a bad light to people who didn't know about it, which is why they backed down," says Jazaa.
She says she's hopeful that the debt will be "wiped off completely". 
Yasmin agrees: "The fact that the university has backed down proves that the students on strike were right. Collective action works and the university cannot get away with threatening its own students."
In response to the allegations raised of threatening students with deportation, a University of York spokesperson issued the following statement to Novara Media: 
"We are a community built on the values of respect and fairness, and for that reason we can't ask the thousands of students living with us to pay rent, while waiving fees for a few without appropriate justification.  
"The university strongly rejects the suggestion that any student has been threatened with deportation. 
"We are directly supporting students who have been in touch with us on this issue, and urge any other students to contact us so we can support them with personal payment plans or hardship funding based on their personal circumstances. We need to work together to resolve this issue, but we have also agreed with the external agency collecting debts to temporarily suspend action to give students time to contact us to get this support.
"With the best interests of our students in mind, we would advise and forewarn any striking students that not paying rent could regrettably have consequences for their immigration status and/or credit history that are outside of the university's control."
*Names have been changed to protect anonymity.
Ella Glove is a reporter and features journalist based in Manchester.