We Went to Manston Asylum Centre – This Is a Politically Manufactured Crisis
Manston is the culmination of years of scapegoating refugees.
4 November 2022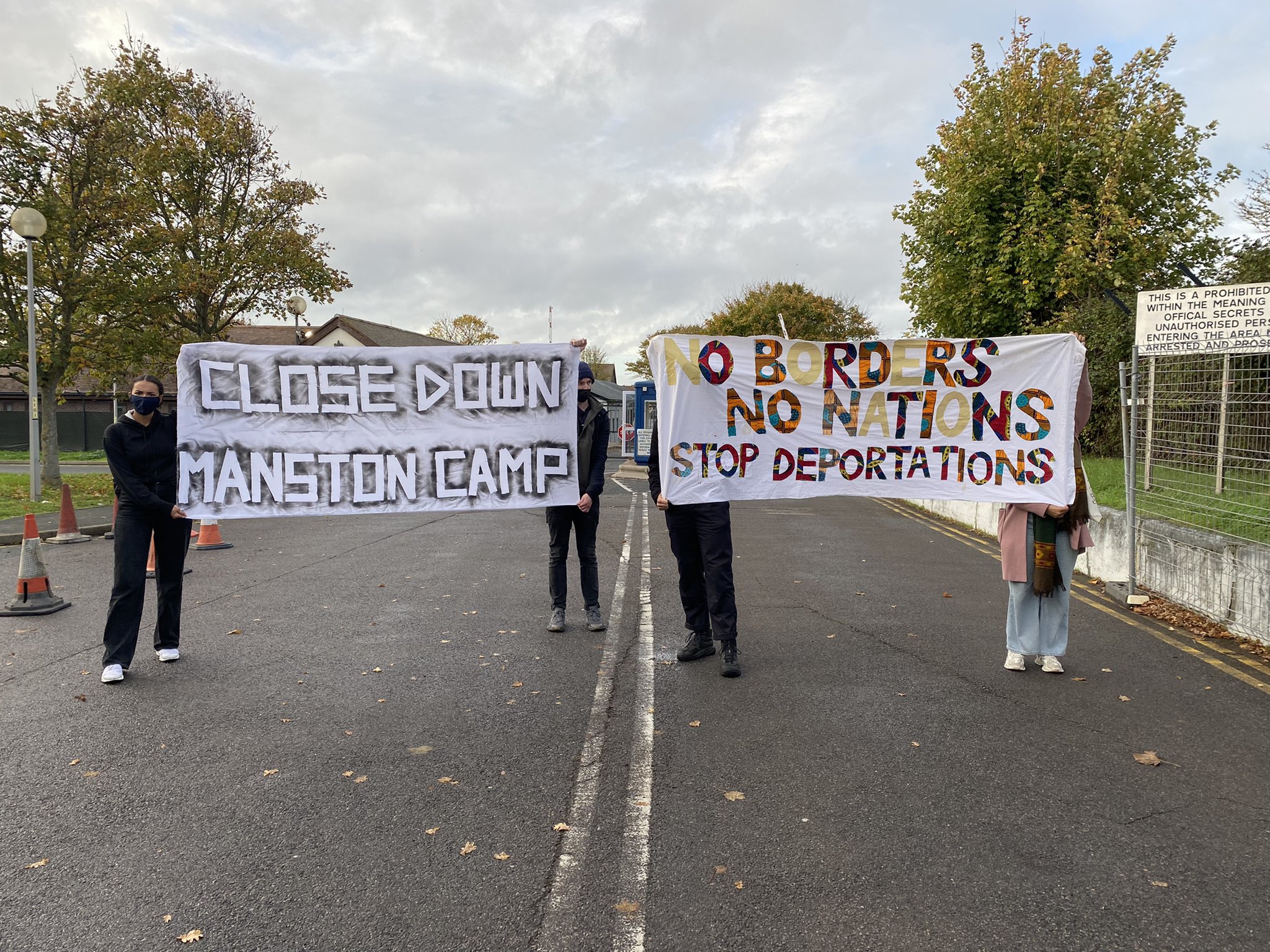 Manston has shone a spotlight on the dehumanising conditions refugees in Britain are forced to endure. SOAS Detainee Support/Twitter
Last Sunday, SOAS Detainee Support (SDS) and other activist groups made a trip to Manston asylum centre, a facility in Kent, England at the centre of a political scandal. Supposedly a 'short term holding facility' designed for 1,000 people, Manston has made the news for conditions likened to a "prison camp". Up to 4,000 people are currently crammed inside and subject to horrendous treatment, with cases of diphtheria and scabies reported, as those detained are forced to sleep on the floor and on chairs due to chronic overcrowding. 
When SDS arrived at the site, we were met by camp inmates, who shouted to us across barbed wire that they were from Syria, Afghanistan, Iran and Iraq. They had been denied phones and access to legal advice. Some of them were sick.
It's not just the appalling conditions there, or illness that the people held inside have to worry about. Hours before our visit to Manston, a man had firebombed another asylum centre just a few miles away in Dover, before killing himself. The suspect was a far right extremist whose self-declared mission was to "end illegal immigration into this country". In the House of Commons the following day, home secretary Suella Braverman doubled down on the same inflammatory rhetoric that inspired the bomber's racist vigilantism, saying the UK is facing an "invasion" – a direct echo of the language of the far right.
The light shed on the mistreatment at Manston and the recent far right attack have led to an outpouring of solidarity and rage from many. Certain politicians, though, are choosing this moment to ramp up their hateful rhetoric. Dover MP Natalie Elphicke, for example, has continued to blame newly arrived migrants for creating "tensions" in her constituency. Another Tory MP falsely claimed that people are crossing the Channel "for no reason", before naming a local hotel for asylum seekers, leaving residents vulnerable to attacks.
This violent and exclusionary rhetoric is matched by cruel and draconian policy announcements from this government. Braverman – reappointed despite a national security scandal – is pushing for a 'ban' on people crossing the English Channel to seek safety here – a plan which would almost certainly breach the Refugee Convention – and looks determined to make her "dream" of sending refugees to Rwanda come true with the backing of new prime minister, Rishi Sunak. Meanwhile, Sunak has also floated the idea of using disused ships to house people seeking safety. 
We shouldn't be surprised Sunak is happy to use the humanitarian crisis his government created for political gain. It's a tried-and-tested tactic – the UK's leading parties and their press allies have been whipping up hatred towards migrants to score headlines and votes for decades. In 2002, New Labour home secretary David Blunkett declared that the UK was being "swamped by asylum seekers", and suggested separate schools for asylum-seeking children. Seven years ago, David Cameron described people fleeing war at the height of the Syrian refugee exodus as a "swarm". He then closed the Dubs scheme, which promised safe passage to  unaccompanied refugee children stranded in Europe, after Britain took in just one sixth of the numbers promised.
More recently, we've seen Priti Patel push through draconian new anti-refugee laws in the form of the Nationality and Borders Act; slash the number of places on the Afghanistan resettlement scheme, and establish squalid mass asylum camps like Manston and Napier Barracks. As the government's own briefings have warned, closing down safe asylum routes has only pushed more people into taking treacherous journeys here, damaged people's mental health, and created a growing asylum backlog. 
While people seeking safety here wait in limbo, the government denies them the right to work or re-unite with family members. These policies benefit absolutely no-one, except huge outsourcing companies like Serco and Mitie, who are lining their pockets with asylum accommodation money from the government.
This government could dramatically improve the lives of people seeking safety here within weeks if it wanted to, although long-term policy change is needed to revolutionise the UK's broken and inhumane immigration system. In the immediate sense, it could open safe routes to asylum here, as it did with Ukrainian refugees – who were able to apply for visas to the UK online. This would prevent people fleeing war and violence from having to take treacherous journeys here. It could also ensure that people seeking protection here were housed in safe, warm, and suitable accommodation, instead of cramming people into squalid camps – or unsafe shared accommodation – to score political points. And it could give people in our asylum system the right to work, allowing people to use their skills and talents here and settle into our communities.  
We know the solutions to this government-created crisis, but our politicians refuse to listen. The reason why is clear. As its policies push more and more families into poverty, this government is increasingly keen to point the finger at refugees for a mess they themselves created. We know it was Liz Truss and Kwasi Kwarteng's budget that created a £50bn black hole in our public finances, and that Sunak and Hunt are refusing to cap bankers' bonuses while everyday families struggle to put food on the table. We know we need more funding for the NHS, free school meals, and higher taxes on the wealthy. We know fair and compassionate asylum policies would benefit everyone, but this government is eager to scapegoat the people that have the least.  
We are at a critical moment in Britain's political trajectory, and it's time for those of us who believe in equality and justice to join the fightback.  Over the past year, a spiralling cost of living emergency has been met with more strike action, organising, and protests by ordinary people, led by workers like Mick Lynch, who continually stress the interconnectedness of these struggles. The left must live by that principle and defend those crossing the Channel from attacks by media and politicians. Those pushed to make treacherous journeys across the Channel are, after all, part of a multiracial and international working population. 
Grassroots resistance is already working. Since last Sunday, Braverman has been under fire for her decisions on Manston, and Home Office officials are reportedly planning to move thousands of people out of there and into alternative accommodation. SDS has called a solidarity demo at Manston on Sunday 6 November which we encourage as many people as possible to join. 
And there are many other ways to join the fight against the racist border regime: support the resistance against deportation flights, join local anti-raids groups to build community power against immigration raids, and continue to show up in neighbourhoods, and on the streets for people seeking safety and home here . Together, we can show that solidarity and care wins out over hatred and division. 
Joseph Maggs is a coordinator with SOAS Detainee Support.
Nadia Hasan is communications officer at the Joint Council for the Welfare of Immigrants.