Armchair Strategists, the Climate Movement Needs You
Activists sometimes get things wrong, but this shouldn't be an end-point for support.
24 October 2022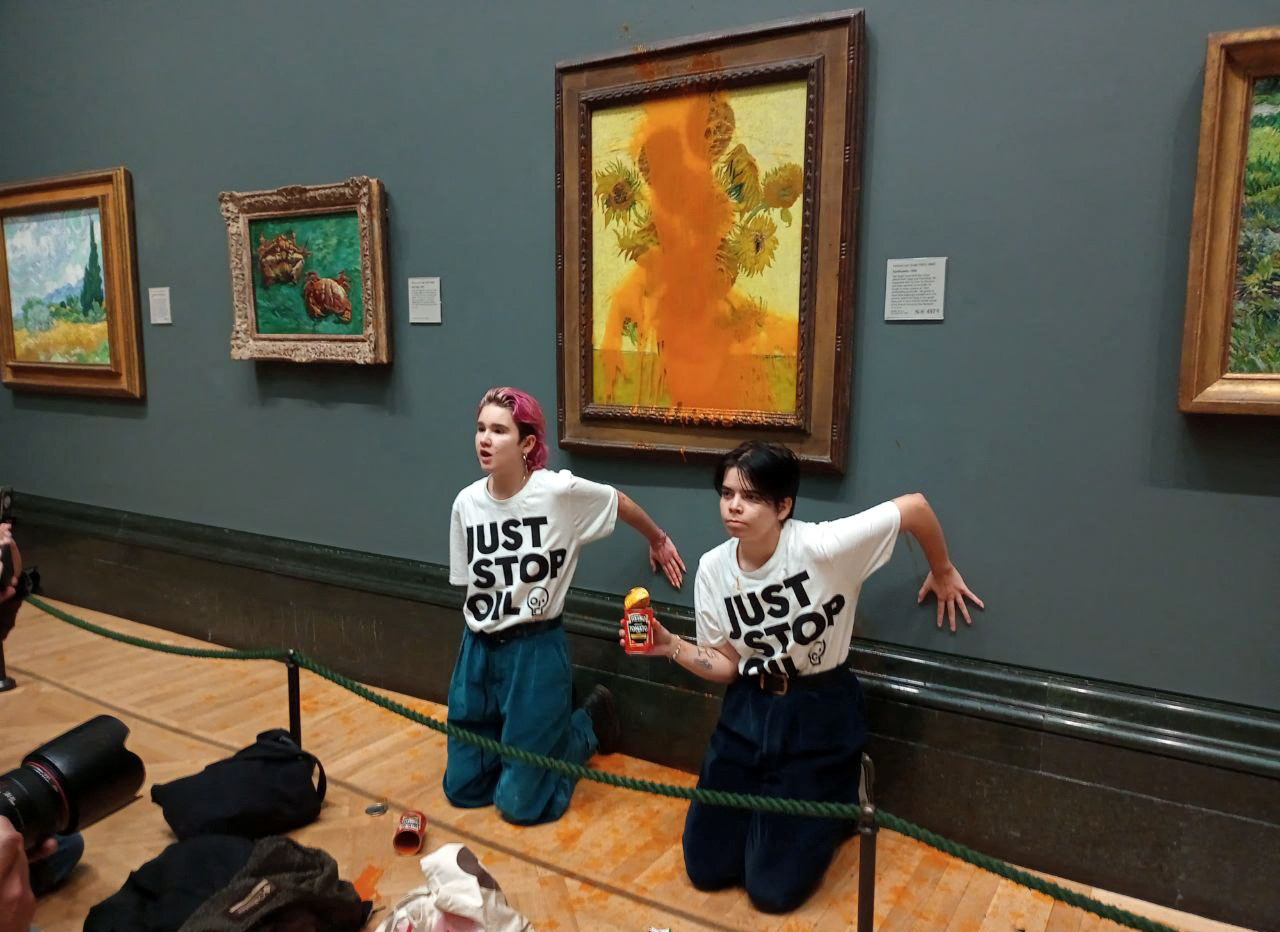 Just Stop Oil activists glued their hands to the wall after throwing tomato soup at Van Gogh's Sunflowers, London, October 2022. Photo: Just Stop Oil
Scientists have warned "it's now or never" to stave off climate disaster, with the next three years crucial to mitigating the worst effects of human-induced global warming. The situation has already turned catastrophic in many parts of the world: Floods in Pakistan, Bangladesh, Nigeria and South Sudan destroyed millions of homes this year; Europe experienced a historic drought; Hurricane Ian caused widespread damage in Cuba and parts of southern America; heat records were broken and wildfires raged. Habitats have been wrecked and species lost forever. Thousands of people are already dead. 
As the crisis intensifies, we will undoubtedly witness a deluge of direct actions – some will be effective, others attention-grabbing but ultimately short-sighted or simply bizarre. Such is the nature of a genuinely broad-based movement, addressing a problem that is unimaginably big and unspeakably frightening. 
🥫 JUST STOP OIL SUPPORTERS CHOOSE LIFE OVER ART 🥫

🎨 Human creativity and brilliance is on show in this gallery, yet our heritage is being destroyed by our Government's failure to act on the climate and cost of living crisis.#VanGogh #FreeLouis #FreeJosh #CivilResistance pic.twitter.com/gXXGLsi0ej

— Just Stop Oil ⚖️💀🛢 (@JustStop_Oil) October 14, 2022
In the UK, climate protesters are risking their lives to move the dial on climate action. In the past week alone, Just Stop Oil – a coalition of groups working together to pressure the UK government to commit to ending all new licences for the exploration, development and production of fossil fuels – has organised several headline-grabbing stunts. Some of the most notable included throwing tomato soup at Van Gogh's Sunflowers and ascending the Dartford Crossing in Kent, while bread-and-butter actions like die-ins, road-blocks and spray painting buildings also increased in frequency. 
News from the bridge …

Our corrupt politics is causing this disruption, it will end when Gov #EndNewOilandGas

Donate https://t.co/HBHsudE9Sn#QEIIBridge #FreeLouis #FreeJosh #SoupAndSunflowers pic.twitter.com/ibRVY3Jnst

— Just Stop Oil ⚖️💀🛢 (@JustStop_Oil) October 18, 2022
As expected, these actions have provoked a response – including from people who claim to support the climate movement but dismiss the disruptive actions as a step too far. These people are quick to question how specific actions relate to broader climate issues; 'is agitating the general public really going to win them over?' they ask. Instead of stopping all traffic on a major motorway for 36 hours, they argue that more passive forms of protest may be more popular, more appropriate and thus more effective.  
These armchair strategists would be surprised to learn, however, that in most cases the people and groups organising high-risk, controversial direct actions now, have already tried the approaches they suggest. They are oblivious precisely because these tactics didn't work: they failed to have an impact or to capture the attention of the public. Armchair strategists are oblivious, too, because they haven't ever been directly involved in the climate movement themselves, beyond shouting from the sidelines and jumping to withdraw their (empty, conditional) support when they find someone else's action distasteful.
I don't get why you're protesting at _______. Why don't you go protest at the oil companies / Parliament / banks / media corporations / _______?

Here's a dozen we made earlier. A small selection from the past 4 years.

🧵

— Robert Painter (@painter_rob) October 15, 2022
My question is: Why have those who claim to care but wither at the sight of direct action not yet joined the climate movement? Surely, being unhappy with the status quo should impel them to participate in seeking solutions, instead of bemoaning the attempts of others. 
Few are arrogant enough to think that there is only one way to save the planet from an approaching apocalypse. It really is a case of throwing everything at the wall to see what sticks. Widening participation could lead to more effective strategies.
Suppose some of these social media commentators are genuinely interested in fighting the climate crisis, then the floor is theirs: whether by joining an existing group or creating their own, they should bring what they have to offer to the table.
Criticism of protest strategy is a healthy part of democratic movement building and is crucial for the evolution of social justice causes. Recently, Extinction Rebellion (XR) splinter group Animal Rebellion poured out litres of milk in expensive shops like Waitrose, Fortnum and Mason and Selfridges as part of its 'vegan occupation'. I found this action jarring, mainly because I worried that it unintentionally communicated the exact opposite of what the group probably aimed to do – it produced food waste in the middle of a cost-of-living crisis. When I discussed this with friends involved in climate campaigning, they came to similar conclusions. However, not one of us considered rescinding support for XR or the wider climate movement – we were simply having a conversation about effective strategy (and we are also open to being wrong). 
this slaps as an action but the messaging is just all over the place. pic.twitter.com/lnlkqB5GtM

— Ben Smoke (@bencsmoke) October 14, 2022
The horizontal structure of climate groups means that some branches of, say, XR, will carry out a direct action if it meets a baseline of support, despite concerns from other parts of the group. This is precisely what happened in the case of the infamous Canning Town action in 2019, when activists scaled the tube to stop it, inadvertently targeting mostly working-class people travelling to work in the early morning hours. While some members of XR stood by the action, others condemned it. Three years on, many, including those involved, have changed their mind about whether it was a helpful act of protest. 
What should we take from this? Well, activists get things wrong sometimes – but surely, in a movement that looks to evolve, missteps should be valuable lessons rather than an end-point for support. Maybe for some, they can even be a starting point.
What one person sees as a good strategy, may feel like a series of disastrous decisions to someone else. It's worth speaking up if you disagree. But ultimately, these discussions are more useful and effective in the planning room – not buried in the depths of social media.
Diyora Shadijanova is a multimedia journalist and an editor at gal-dem magazine.