Charles Isn't the 'Climate King'
Don't be fooled by the wine-fuelled Aston Martin.
19 September 2022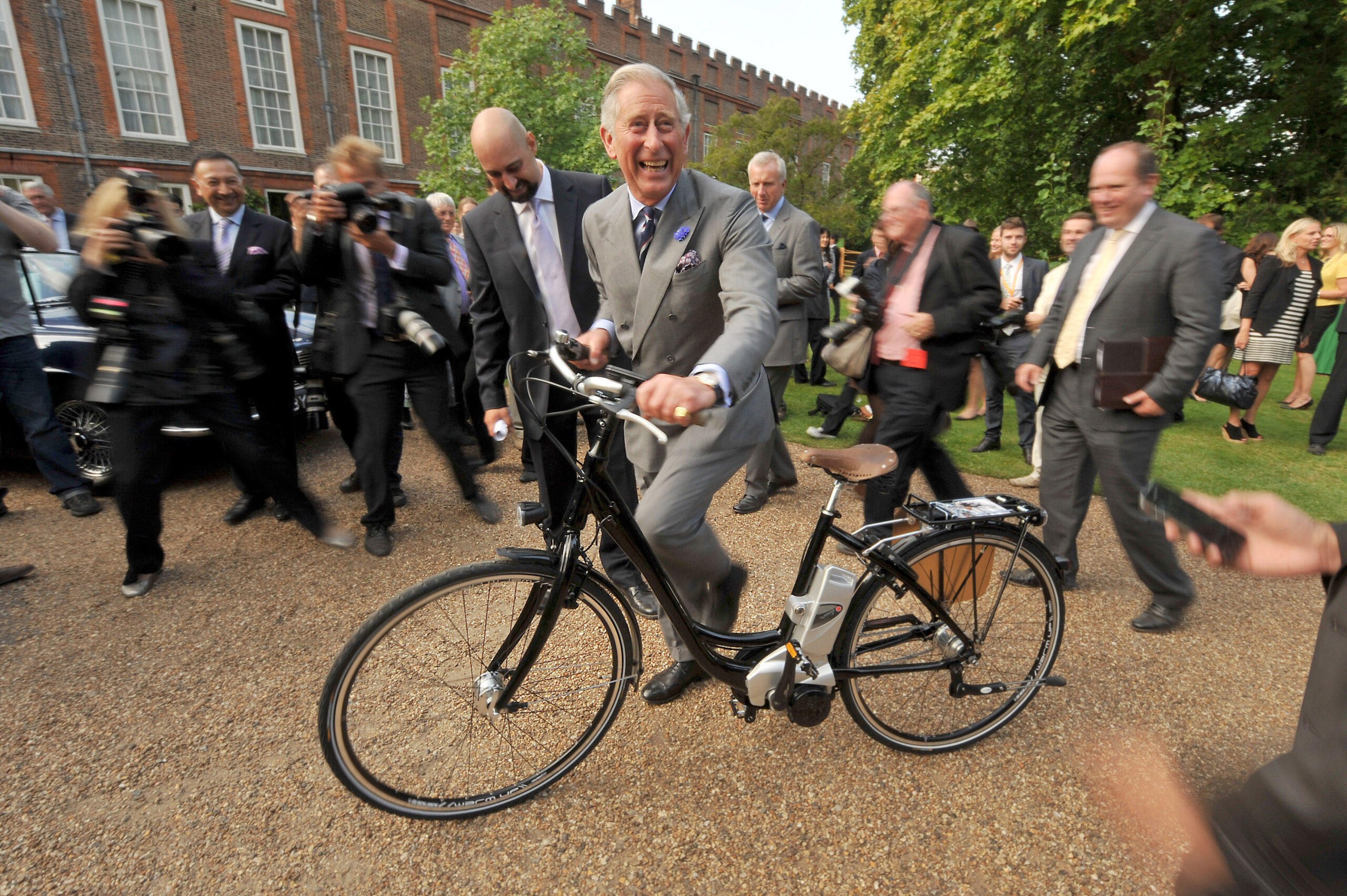 Charles rides an electric bike at Clarence House, London, July 2011. Ben Stansall/Reuters
Charles Philip Arthur George Mountbatten-Windsor is famous for lots of things. His marriage to and divorce from Diana Spencer. His worryingly sausage-like fingers. Tampongate. 
He's equally well-known for being an outspoken environmental advocate. In 1970, the then-Prince of Wales made his first major speech on the topic in which he warned of the impact of pollution on the natural world. Since then, Charles has spent more than half a century setting up sustainability-based charities and initiatives, writing "black spider" letters to government ministers, and even delivered the opening address at Cop26 in Glasgow.
Britain's new king has gone so far as to call for a "revolution" to tackle the environmental crisis. But what kind of revolution does he actually want?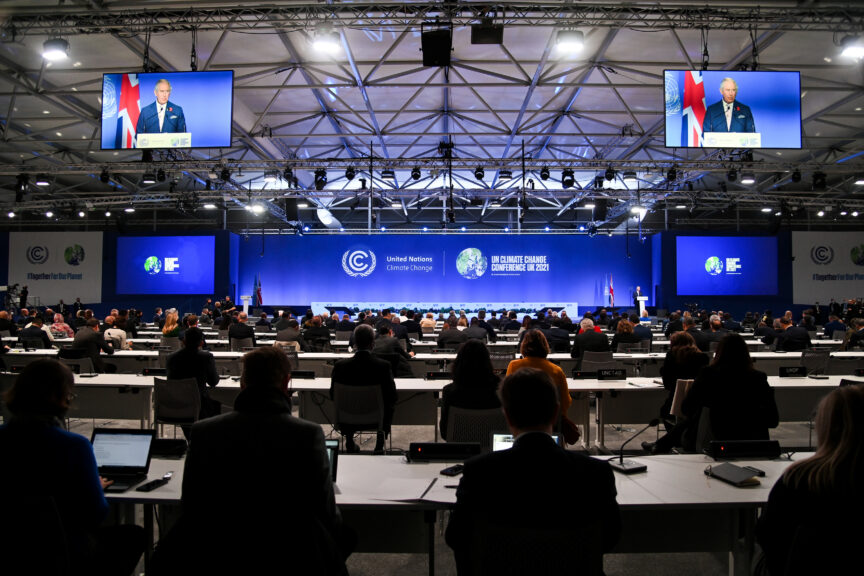 Charles is, in some ways, a classic, old-school environmentalist: he loves the natural world and all its flora and fauna; he hates all that degrades it. More specifically, in his book Harmony: A New Way of Looking at Our World, the king argues that the world once had a "grammar" mirroring nature's "sacred geometry" which has been lost due to industrialisation and modern advancements. For Charles, it's by re-balancing our relationship with nature that harmony can be restored. 
This view has led Charles to campaign on a number of fronts. He's a keen supporter of organic farming, green energy and sustainable living – and, more unusually, classical architecture, alternative medicine and spirituality. But his image as a climate champion is also built on a carefully-crafted reputation for putting his ideas into practice, often in eccentric ways. Between them, his estates boast solar panels, a hydroelectric turbine, a wood-chip boiler and an organic farm – and his vintage Aston Martin runs on leftover wine and cheese.
There are some obvious inconsistencies in the king's climate credentials. He's halted the construction of wind turbines on his estate, once calling them "a horrendous blot on the landscape". He's also pointed fingers at population growth in the Global South and "consumerist society" as the causes of the crisis – a little rich, perhaps, for someone who lives between literal palaces and flies around the world in a private jet.
But the problem isn't just Charles's keenness to blame others for things he himself is guilty of. It's that his enormous wealth was stolen by his ancestors through the very same processes that created the climate crisis.
The fact is that no number of organic farms, solar panels, biomass boilers or booze-fuelled vehicles will ever redress the generations of devastation caused by exploitation and extraction in Britain's colonies. It's because of this looting that people in much of the Global South are now unable to defend themselves from the effects of climate change. And Charles and his family still flaunt this loot today.
Take India, "the jewel in the crown" of the British empire. Britain's involvement in the Indian subcontinent began in 1600 when Elizabeth I granted a royal charter to the East India Company (EIC). Between 1765 and 1938, the EIC and the British Raj drained nearly £9.2tr from the region to fund Britain's industrial revolution, severely restricting its ability to develop. As Shozab Raza explains, this left places such as south Punjab – now part of modern-day Pakistan – deeply vulnerable to flooding. In recent weeks, floods in the country have killed almost 1,500 people and affected around 33 million. Meanwhile, in London, plans are underway for Charles's coronation at which his wife Camilla will wear the Koh-i-Noor diamond – stolen from India by the EIC in the mid-1800s. 
In some sense, Charles knows this history. That's why his brand of environmentalism is what it is. He isn't concerned with the preservation of human life, nor any kind of justice. When push comes to shove, he isn't even bothered about the climate crisis at all.
To see this, we need only look elsewhere. For every high-profile climate conference addressed by the former Prince of Wales, there's been another private meeting to help sell arms to repressive regimes in the Middle East. Since the Arab uprisings of 2011, Charles has held at least 95 meetings with monarchies in the region, promoting £14.5bn worth of UK arms exports. The result of these meetings isn't just the immediate deaths of hundreds of thousands of people, such as in the Saudi-led war in Yemen. It's the deaths of hundreds of thousands more from the huge environmental impact of the UK's military-industrial sector.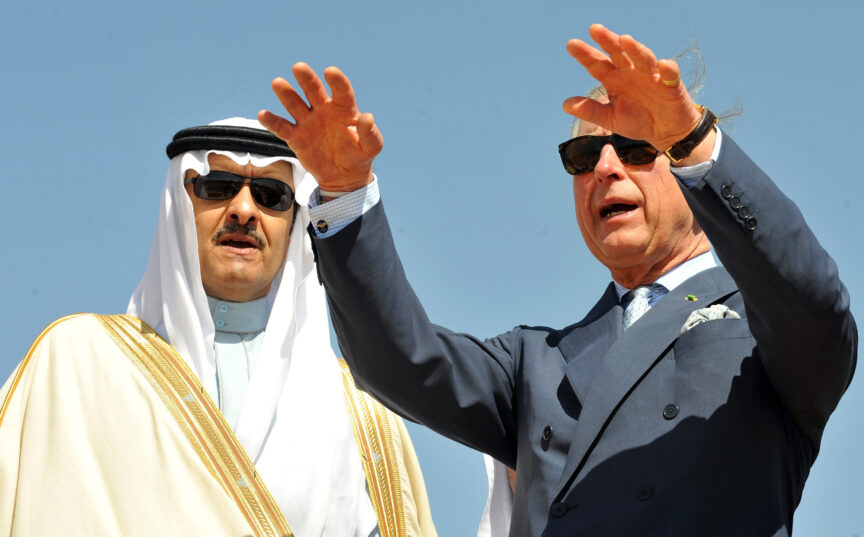 Whether or not Charles keeps up his activism as king is yet to be seen. But even if he does, the revolution he wants isn't the one we need. His environmentalism is limited and reactionary, designed to pose absolutely no threat to his interests. What Charles really wants – indeed, what all monarchs want – is to shore-up social hierarchies and his own historic privilege. He'd just like a veneer of respectability while doing it.
Clare Hymer is a commissioning editor at Novara Media.