'I'll Take My Chances': Londoners Risk Fines, Sewage and Drowning to Swim in Heatwaves
'Kids just want to swim on a fucking hot day, you know?'
27 July 2022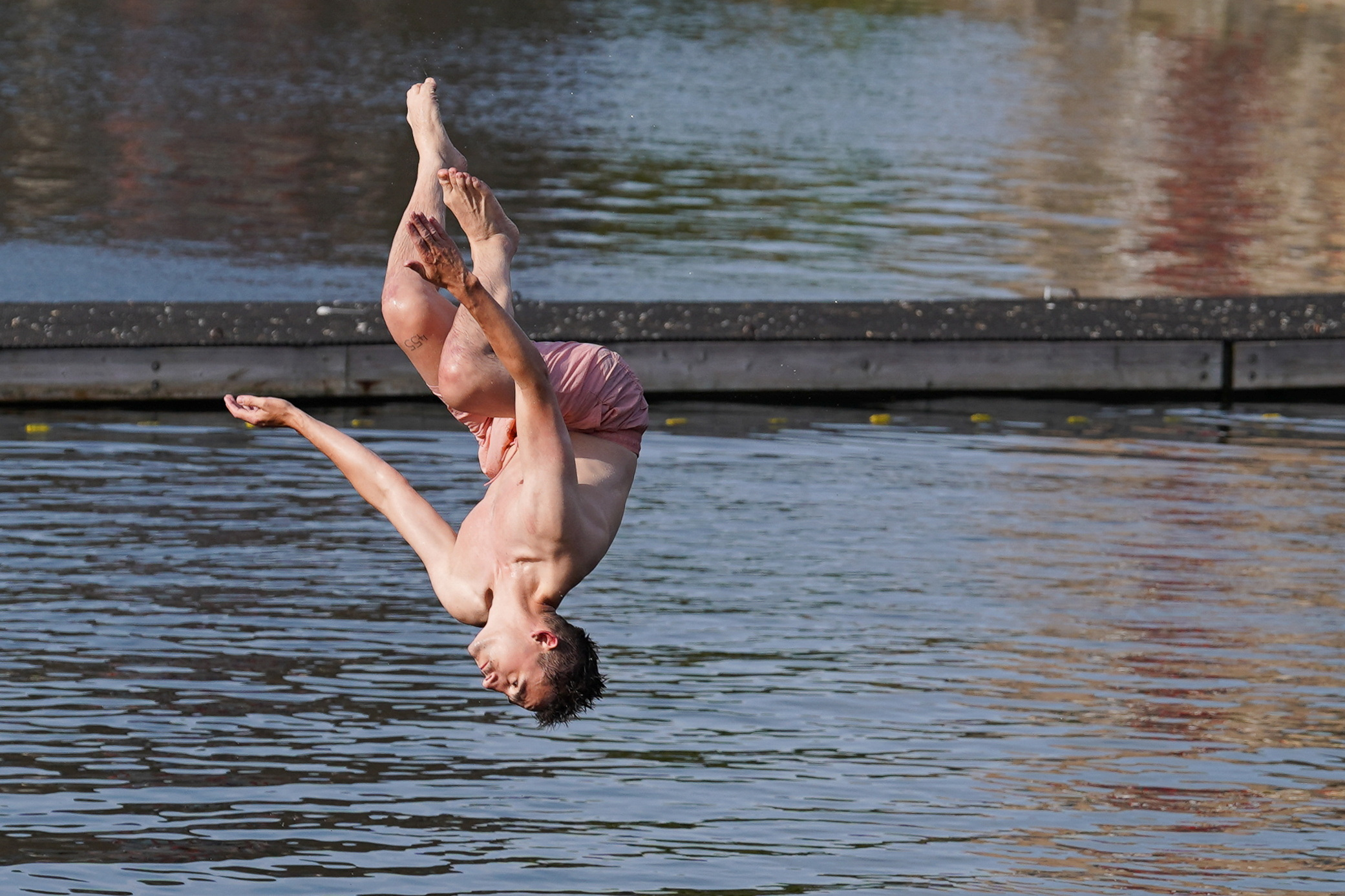 A man jumps into Shadwell Basin, east London, July 2022. Maja Smiejkowska/Reuters
It's late afternoon on Monday 18 July, and at Shadwell Basin, a disused dock in Tower Hamlets, east London, locals are cooling off in the 38C heat. Although it's a weekday, and Londoners have been instructed to avoid all but essential travel following the UK's first ever red warning for extreme temperatures, the area is buzzing: young people drink, BBQ and chuck a football around on the quayside, others swim and float on lilos in the water. 
A bylaw forbids swimming in Shadwell Basin; a small number of people have drowned in recent years. But many Londoners don't feel they have other options. 
"The only other one I'm aware of that's local to someone living in Hackney is the Marshes, and that's one step above swimming in human shit", says Sam, 27, who's at Shadwell Basin with a group of friends. "Train tickets to the coast are extortionate, so that's kind of locked off if you're struggling right now, which lots of people are, obviously […] So I'll take my chances."
Feeling the heat.
When it comes to outdoor swimming, London is the poor relation of other European capitals. While Berlin, for instance, has heaps of outdoor pools and bathing beaches, and some 3,000 lakes in the surrounding area, London has just a handful of options, all of which get overcrowded as soon as temperatures start to rise. On Tuesday 19 July – the UK's hottest day ever – it was almost impossible to book a slot at one of London's lidos; south London's only swimming lake shut entirely.
"It's one of the hottest days ever recorded, and tomorrow is going to be even hotter", Sam complains. "Access to swimming needs to be sorted out, basically."
As Britain continues to get warmer, the problem will only get worse. Recent summers have seen demand for outdoor swimming skyrocket – no doubt partly due to lockdown restrictions, but also due to soaring temperatures. Between May and September 2020, outdoor swimming-related Google searches were up 90% compared to 2019, and venues reported huge demand once they were allowed to open.
For many Londoners, this has meant looking beyond the 'approved' options available to them. Unless you fancy the polluted waters of the River Lea near Hackney Marshes – and some do – that means heading to places like Shadwell Basin.
Swimming is strictly forbidden in Shadwell Basin, and our enforcement officers regularly patrol the area to make sure people aren't ignoring the signs.

⚠️We know it's hot but please don't swim here – it's extremely dangerous and people have died⚠️ pic.twitter.com/DTd1F4zERF

— Tower Hamlets Council (@TowerHamletsNow) June 17, 2022
Anthony, 45, has been swimming at Shadwell Basin for over ten years. Despite drowning deaths and warnings of "dangerous obstacles hidden underwater", he insists that as long as you're sensible, swimming in the basin is "very safe".
"There's a sailing school there, and at the end of sessions they're all encouraged by the teacher to jump in [the water]", he explains. "So if you live in the area, it becomes very obvious that it must be safe to swim there." 
Nonetheless, police officers and Tower Hamlets enforcement officers – THEOs – regularly patrol the area telling "scare stories" about the water being "toxic" and threatening to fine swimmers. Despite these patrols, Anthony doesn't know of anyone ever receiving a fine – and when there are more than "about ten or 20 people" […] "they can't really stop it anyway".
"I've seen groups of kids hanging out there. They're not even swimming, but the police come and hassle them", Anthony recalls. "It's clear to me that I get treated very differently as a white middle-aged man […] There are lots of Eastern Europeans, Brazilians, black and brown kids […] The police come down and give them grief."
For Anthony, the money the council spends on THEOs is a huge waste. "[THEOs] don't prevent danger", he says. "What would would be educating people – employing a lifeguard, or someone who's got experience of swimming in the basin who could explain what is and isn't safe."
London's lost lidos.
It wasn't always this way. In the 1930s, local councils across the country built outdoor pools for working-class communities with the aim of providing open-air recreation for all. At 'peak lido' in 1939, London had 67 public outdoor pools, with the Labour leader of London County Council Herbert Morrison having vowed to create "a city of lidos".
But with the advent of cheap foreign holidays in the 1960s, demand for lidos dropped. This, along with local authorities' new focus on building indoor multi-service leisure centres, led to underinvestment in public outdoor pools. Many were demolished over the next 30 years, and by 2016 London had just 12 left.
Even the ones that do remain, however, aren't cheap. "The lido is, like, £40 a month, and people just can't afford that", says Emily, 28, who's also swimming at Shadwell Basin with friends. At Shadwell, however, "you just rock up and find a spot".
For those who don't like the idea of swimming at unapproved locations, one option is to try and swim at 'approved' swimming spots – but without paying. 
During a heatwave in July 2019, police were called to Brockwell Lido, south-east London, after huge queues and waiting times of up to three hours prompted around 500 people to try storming the lido. In June 2021, the swimming lake at nearby Beckenham Place Park was closed due to "conflict with members of the public" after a large number of people jumped the fence. 
Police have instructed us to close the building for the remainder of today due to safety reasons. There will be no access for any users to all parts of the facility.

We deeply apologise for any inconveniences caused today and appreciate your understanding .

— Brockwell Lido (@Brockwell_Lido) July 25, 2019
Others are staging break-ins more regularly. This summer, Ari*, 29, who's been breaking into the swimming ponds on Hampstead Heath, north London at night since 2018, started taking an informal group of people with him. Organising swims via WhatsApp, the group have been breaking in multiple nights a week to avoid paying compulsory charges introduced in 2020 – and because swimming at night is fun.
"If it's been hot in the day, it's really nice to just cool off in the evening", he explains. "And it should be something for everyone […] I don't see why anyone should be denied that luxury."
Ari is very aware that swimming at night comes with greater risk – and takes precautions to ensure swimmers' safety, such as regular headcounts, and even brings spare towels for those who might need them. So far, they've successfully avoided being caught. 
"The fact that a multi-million pound corporation is charging people to access a body of water that's in public space is a great shame", he says. "Especially as it's historically been accessible for no charge – and prices have gone up during the pandemic." 
Rules and regulations.
Some councils have, in recent years, made attempts to improve London's outdoor swimming provision. The swimming lake at Beckenham Place Park – London's "first purpose-built swimming lake", funded by a £440k grant from the Mayor of London – was, under original plans, to be open "all year round" and have a free section for "shallow paddling". 
This period was short-lived. Just four days after opening in July 2019, the lake was closed due to "higher than expected numbers using it during the heatwave" and after two children almost drowned. When it reopened in late August, a metal fence had been erected around the water to "better regulate the numbers using the lake", and new rules were imposed, including wearing a tow-float and no swimming for under eights.
In the following days, locals took to social media to express disappointment at these changes. Gary, 34, recalls that the fence made the lake look like "a building site", and told Novara Media that in his opinion, PTP Coaching – the company brought in to manage the lake by Lewisham council – "don't run it very well". 
"It's like a fiver [£5.80] to swim, and they put on these weird things like paddleboard yoga classes, which cost like £20", he tells Novara Media. 
For Gary, the fact it's run by a private company means swimming at Beckenham Park Place lake doesn't feel like lake swimming should. "The lake has CCTV […] They just have this really cop mentality to it".
Indeed, temporary closures of the lake have been common – particularly in hot weather when there's high demand for swimming. 
"It's just such a shame", says Gary. "Kids just want to swim on a fucking hot day, you know?"
Elsewhere in the city, communities are taking matters into their own hands. In 2019, a group of people in Hackney and Waltham Forest, north-east London hatched a plan to transform a local industrial site into a community-owned biodiverse park with natural swimming ponds. If successful, at East London Waterworks Park people will be able to "swim all year round in rainwater cleaned by the reed-bed and aquatic plants" in two ponds "the size of two Olympic pools". Crucially, use of the ponds will be free.
Abigail Woodman, a volunteer with East London Waterworks Park, tells Novara Media that a public consultation revealed "a real desire" for more local places people can "be in water" that aren't either "incredibly polluted", like the River Lea, or prohibitively expensive. 
"The nearest outdoor swimming is West Reservoir, which is £11 for a swim, and I couldn't get a swim week last week because the slots were all booked out", Woodman explains. "It's run by Better, and it's supposed to be a kind of community thing. But most of the community is either priced out or just can't get a look in."
"More than 40% of children in Hackney and Waltham Forest are living in poverty. People can't afford £11 to go swimming. And so we think that creating places that are free is really, really important."
The group has some way to go in achieving its vision. Right now, the challenge is crowdfunding for the community to purchase the land – something the group believes is essential to making the park the place they want it to be. But Woodman nonetheless hopes their progress will inspire others to "give these things a go".
"It feels like the right project at the right time", she reflects. "It's speaking to a really deep need that people have for green space – and for blue space."
*Names have been changed to protect anonymity.
Clare Hymer is a commissioning editor at Novara Media.