Britain's Workplaces Aren't Ready for Extreme Heat
And workers shouldn't put up with it.
19 July 2022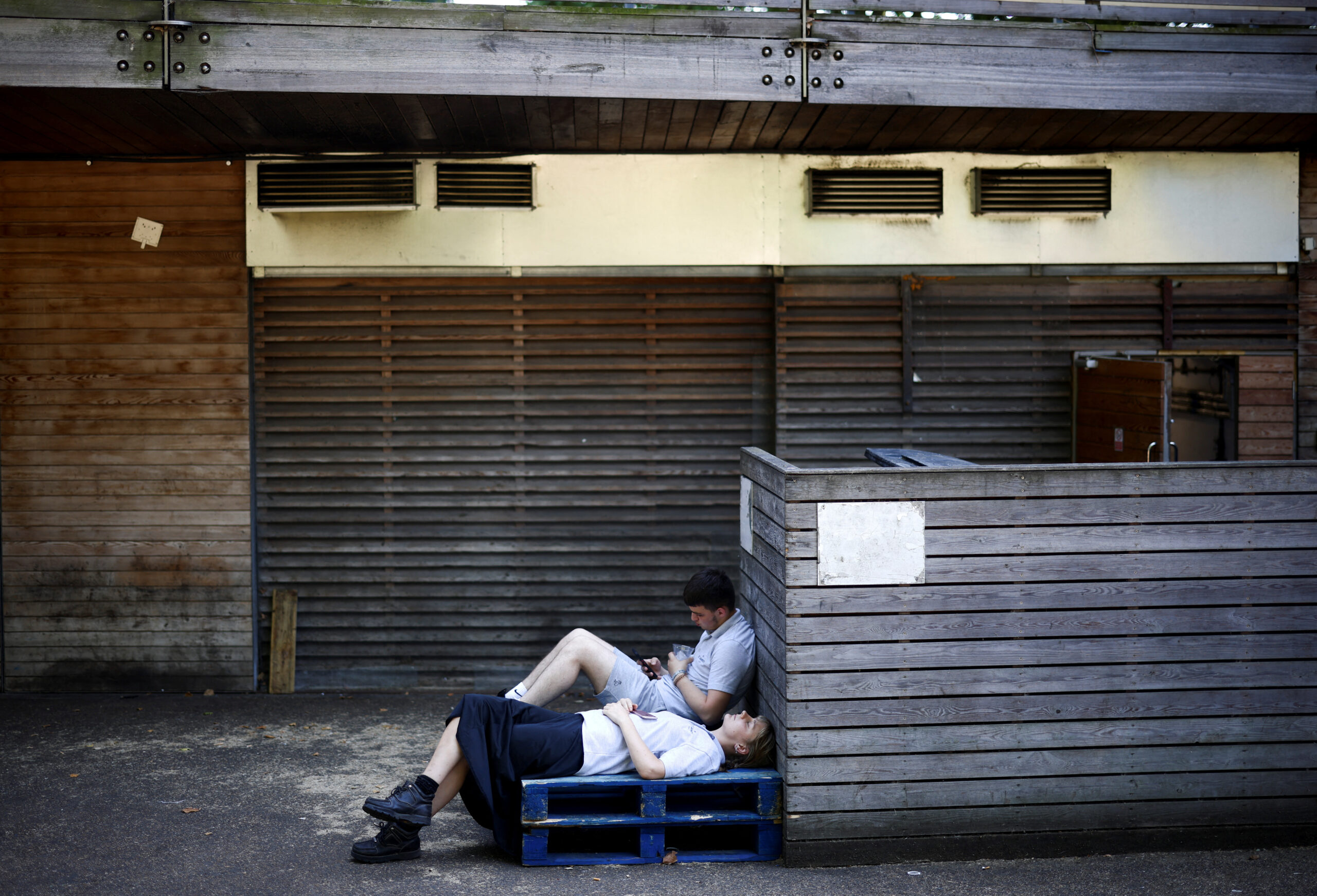 Restaurant workers rest during the heatwave, London, July 2022. Henry Nicholls/Reuters
At the restaurant chain where Tina* worked a seven-hour shift in Monday's 38-degree heat, there was no air-conditioning.
"It was broken for the last heatwave. And the problem with it could easily be fixed," she explains. "Head office only offered help when the guests started complaining. If it's too hot for guests to be sitting down, can you imagine how hot it is as a server rushing around?" The chain purchased fans, but, Tina adds, "business needs always overtake the few rights workers have." The new fans were positioned so that they kept customers, rather than staff, cool.
While the tarmac on Luton airport's runway melted during the Met Office's level-four red weather alert, work for many carried on as normal. As climate change causes extreme weather events to become more intense, last longer, and occur more frequently, simply doing your job can expose you to dangerous levels of heat, putting you at risk of dehydration, heat stroke, and death.
Maximum working temperatures.
Meanwhile, the law does nothing to stop workers toiling in the gruelling heat. Currently it only recommends employers maintain a temperature that is 'reasonable', rather than setting a maximum working temperature. "Restaurants will say on a risk assessment that staff have access to water," Tina tells Novara Media. "But having a running tap in the building doesn't mean a worker has permission to use it."
Heat-related deaths had previously been concentrated in parts of the labour market defined by precarious and informal conditions, such as agriculture and construction, but they're now becoming more common in other sectors. During a heatwave in August 2020, postal workers Philip Bentham and Mark Cremer died on or just after completing their rounds.
The Trades Union Congress is calling for the introduction of a maximum indoor temperature of 30C, or 27C for 'strenuous jobs', while the GMB union has called for a maximum of 25C. Section 44 of the Employment Rights Act 1996 technically grants workers the right to withdraw from a workplace that is unsafe – but it's hard to invoke without advice from a union. In the absence of government and regulatory action, workers are turning up to shifts without protection.
"In hot weather, brewers are still expected to do all their duties," says Charlotte Cook, head brewer at Coalition brewing. "You still have to get into confined spaces, cleaning out mash tuns, kettles, and doing outdoor work." She explains that because much of the work takes place on elevated platforms, brewers can find themselves "working with machinery, chemicals and heat without flexible timings" at around seven degrees hotter than the ground temperature. Cook says that at a previous job, the brewery's accountant had blocked her order of fans for a bottling room that reached temperatures of over 40C.
Ed, who works as a brewer in West Sussex, tells Novara Media: "You're just not going to be able to cool down while you're making beer." Making a porridge of grains, extracting sugar from malted barley, rinsing the grains – it's hot work in high humidity, often done in warehouse units without any form of temperature control. Despite conditions posing a real risk of overheating, if workers slow down, production is hit. "Then you get your boss getting on at you."
When your boss is an algorithm.
As food delivery couriers are classed as self-employed, and not employees, gig-work platforms have taken to framing the decision to work as an independent choice that they facilitate. Courier company Ryde's 'Here Comes The Sun' email includes "top tips for staying cool", such as the ground-breaking news that "water is your friend". On Monday, Just Eat closed a delivery hub in London South between 2pm and 7pm without offering any compensation to drivers. For Deliveroo, if riders "choose to ride during the heatwave", they're eligible to collect free water from several partnering restaurants.
"They keep talking about 'if you choose to log in', but if you work in a precarious job that's a false choice. They're just washing their hands of responsibility," says Andy*, a food delivery courier. As his ability to make a liveable wage is connected to his ability to secure enough deliveries, reminders from gig-work platforms to 'stay hydrated' miss the point. "The whole mentality is hustling to find more and more money. Often you don't have time to sit back and have a drink of water."
Shaf, who has worked as a courier for six years, points out that most couriers work by 'multi-apping', where they constantly switch between platforms to find the highest rates. "You can't afford to stop and rest." Moreover, kitchens usually make couriers wait outside to collect orders, meaning riders are exposed to the heat even off their vehicles. "Platforms might recommend staying hydrated, applying sunscreen, staying in the shade – but they're not making these things available."
Joe, who has worked as a courier for four years, says: "I always work in extreme weather. Because that's how you make a living." Extreme weather conditions create high demand, which leads to gig-work companies temporarily boosting pay, both to incentivise couriers to undertake the risk of working in brutal conditions and to ensure there are enough riders to service the spike in customers. While gig-work companies like to present this weather-pay uplift as helping riders to take longer in more dangerous conditions, according to Joe it's all demand related: "If the heatwave lasted all week, and customer demand returned to normal levels, the boost would be gone." He explains that when it snowed in 2021, "the first day was crazily busy, and all the boosts were out. Three days later, and demand had returned to normal, as had fees. But there was still ice all over the road."
A 'cowardly new world'.
In the US, the department of labor's occupational safety and health administration has launched a National Emphasis Program for heat. The programme allows inspectors – who are normally limited to visiting workplaces following a complaint or worker injury and death – to inspect high-risk industries like agriculture and construction whenever a heat warning is issued. In China and the UAE, outdoor work is regulated through partial bans during the hottest hours of the day and outright bans beyond certain temperatures. Closer to home, Spanish guidelines restrict indoor work in temperatures above 27C, or 25C for work involving physical activity.
View this post on Instagram
Rather than responding to this week's extreme heat with alarm, the Conservative party has variously warned against going "too hard and too fast" on climate action and rejected calls for maximum temperatures on the spurious grounds that an office and a blast-furnace are different temperatures, with one MP labelling heat warnings as evidence of a "cowardly new world…it is no surprise that in snowflake Britain the snowflakes are melting."
Some unions have secured heatwave concessions: Unison agreed with Barnet council to stop on-street parking enforcement from 11am on Monday and Tuesday with no loss of pay for staff. Nick Marro, co-secretary of the PCS Victoria & Albert Museum branch, explains that not all of the museum's rooms have air conditioning, and several galleries and offices lack adequate ventilation. His branch negotiated the distribution of fans and cold water for front-of-house staff, the relaxation of uniform guidelines, and the closure of galleries that reach 30C or above. "I don't recall us ever closing as many galleries as we did today," he adds. Similarly, the British Museum has amended its opening hours, closing early at 3pm, a decision the branch believes was in response to its call for a response to staff safety concerns.
Yet as the climate crisis worsens, and climate policy stagnates, the risk of workers jeopardising their health at work due to rising temperatures increases. "You know how people say it's so hot you could fry an egg outside?" Shaf asks. "Working in this heat, it feels like you're the egg."
*Some names have been changed to provide anonymity.
Polly Smythe is Novara Media's labour movement correspondent.