Prisoners Are Stuck in Cells Like 'Ovens' in the Summer
Prison officers even blast the heating as punishment, campaigners claim.
22 July 2022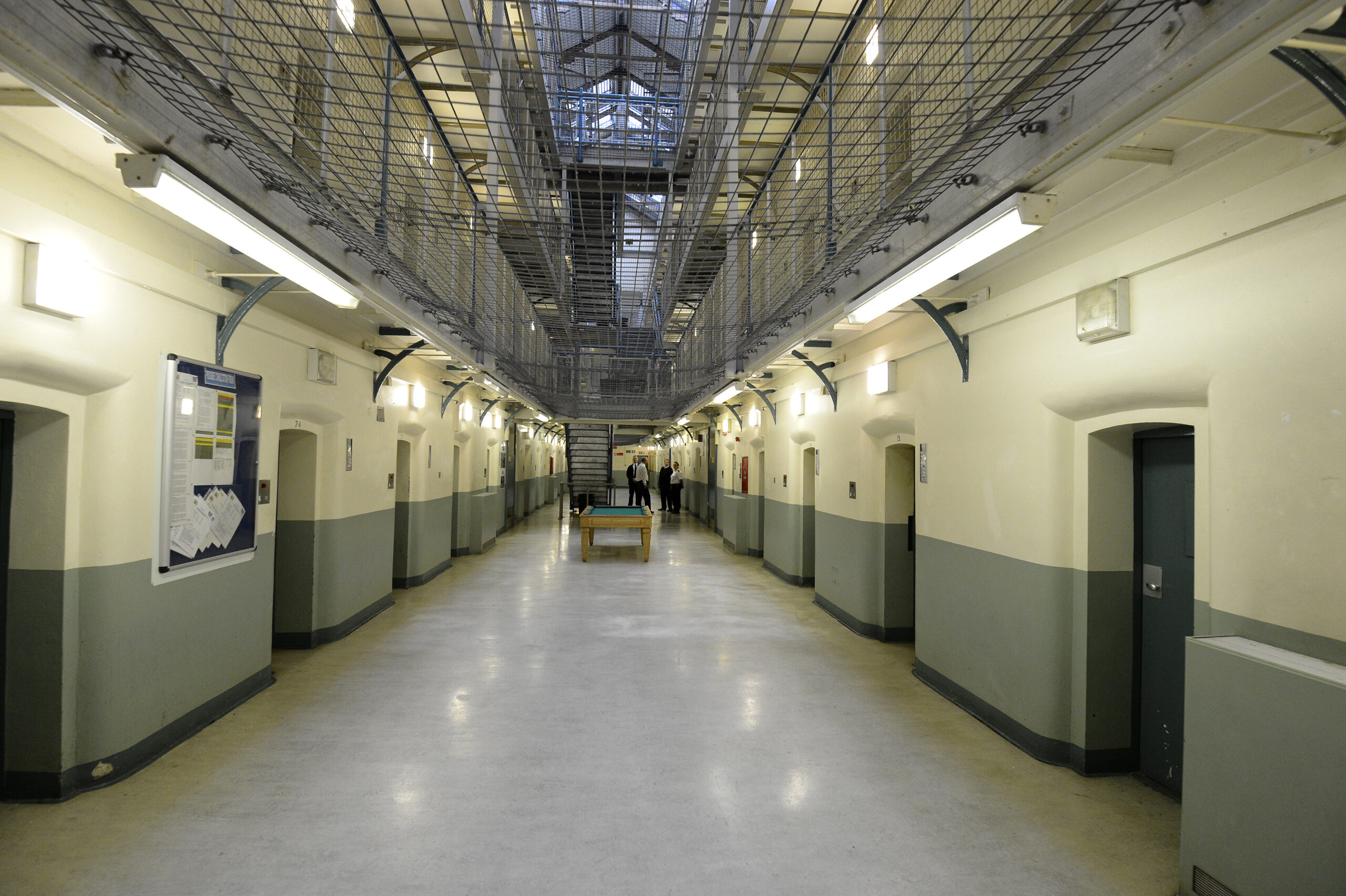 Wormwood Scrubs prison in London. REUTERS/Paul Hackett
"The headaches and dehydration caused by the heat can be intense," says Kevan Thakrar.
Thakrar has been imprisoned for almost 15 years. In testimony shared with Novara Media via activist group Community Action on Prison Expansion, he describes prison life during the hot summer months. He says he has spent "weeks naked, feeling too weak to move from the heat" in his cell.
With temperatures in the UK this week hitting a record-breaking 40C, campaigners have raised concerns about conditions in prisons and detention centres. Anti Carceral Solidarity said heat inside prisons was "unbearable" and called for "action to ensure those inside prisons and immigration don't overheat during the heatwave".
The United Nations rules that prison cells must pay "due regard to climatic conditions" and stipulates natural ventilation – but many UK prisons are built and run such that those inside face excessive heat. UK prison infrastructure, much of which was constructed during the Victorian era, is not built to cope with 40C heat.
At present, many prisoners have little-to-no time outside of stifling cells. A damning recent report from the Chief Inspector of Prisons warned that despite Covid-19 restrictions being lifted, many prisons are locking people up for 23 hours a day.
With the burgeoning climate crisis and a deteriorating prison estate, those who spoke to Novara Media say things are getting worse.
"Most jails are antiquated in terms of physical conditions, and designed simply to contain and confine prisoners," says John Bowden, a member of the Prisoner Solidarity Network.
When Bowden was in prison in the 1980s, 90s and early 00s, average temperatures were lower than they are today. Even back then, he says, "being confined to a small concrete box in the heat of summer was terrible".
Today, he says, hotter summers along with "mass overcrowding" and the "deteriorating condition" of prison facilities are making cells increasingly "like ovens". Prisoners in locked-down jails who have been in contact with Bowden during the heatwave have told Bowden life inside is "torturous".
Climate activist Nick Cooper spent five days on remand at Bedford Prison last September. Although it was only in the low 20Cs outside, the temperature in his cell gave him "borderline heatstroke", he says, contributing to him being unable to sleep, eat, and precipitating a mental health crisis. His cell, which he shared with two other people, had a lot of direct sunlight, no curtains and "only tiny pin holes for ventilation".
He says it took him threatening to kill himself for staff to open a fire door in the corridor, which "produced just a small draft into the cell". Some prison cells, such as those used for segregation in Close Supervision Units, says Thakrar, do not have openable windows at all.
Campaigners claim that not only are UK's prisons ill-equipped to accommodate people safely at high temperatures, but that some prison officers "use the heat punitively, refusing to unlock people during unlock time, and even blasting the heating".
Thakrar says he has submitted complaints to HMP Belmarsh about the heating being "on full-blast" in summer, and received responses amounting to no more than "excuses and lies". He believes prisons' excessive heat can be "deliberate". When he has raised the alarm about high temperatures to prison officers, he says they have made "comments to the effect of not wanting people to become comfortable".
The Ministry of Justice (MoJ) deny that Belmarsh Prison has the heating turned on during the summer months, saying, "there [is] no truth to these allegations".
Being in a cell for up to 23 hours a day is not only a threat to prisoners' personal wellbeing, says Bowden, but to their resistance – which he believes is "the true reason why prison guards want to permanently enforce the lockdown". During his time in prison, when cells got too hot, prisoners would organise collectively – for example by staging sit-down protests in exercise yards, refusing to return to cells. Protests such as this, he points out, are "now virtually impossible".
Meanwhile, those taking direct action around the climate crisis are increasingly ending up in prison. Fighting to end the climate crisis, and facing "prison cells [that are] heating to dangerous levels because of the very thing that we are trying to prevent" as a result, is a "cruel convergence", says Cooper. Due to his experiences in prison, he now runs training sessions for other climate activists facing arrest that include warnings about the dangers of hot cells.
Excessive heat inside is just one example of dangerous prison conditions overall. Far from being humanely-designed buildings, says Griff Ferris, senior legal and policy officer at global criminal justice watchdog Fair Trials, "Prisons in England and Wales are primarily built as cages, to punish people and keep them out of sight and out of mind from the rest of the public." A 2021 report about prison conditions during the pandemic by Fair Trials details tiny, dirty cells, unsanitary facilities in disrepair, rat infestations and inadequate nutrition. These conditions are "having a devastating impact on incarcerated people's lives and wellbeing," says Ferris, with prisons seeing "record levels of self-harm and death by suicide."
Most urgently this summer, campaigners are calling for fans, iced water and mobile air-conditioning for all prisoners. Beyond this, Bowden says that improved ventilation and more time outside are important.
Ultimately, he says, since prisons are "created to punish and brutalise prisoners… the conditions under which prisoners are held will never truly improve."
"The current Tory promise of spending over £4 billion on prison expansion will not result in more humane conditions for prisoners in the least," he says.
In response to a request for comment by Novara Media, the MoJ said: "Prisons have plans in place to protect staff and offenders during hot weather. This includes adjusting the working day to minimise exposure to heat, offering extra water and working with the NHS to support the vulnerable."
Sophie K Rosa is a freelance journalist and the author of Radical Intimacy.