Nurses Have Voted to Strike Across the UK for the First Time
'Anger has become action'.
10 November 2022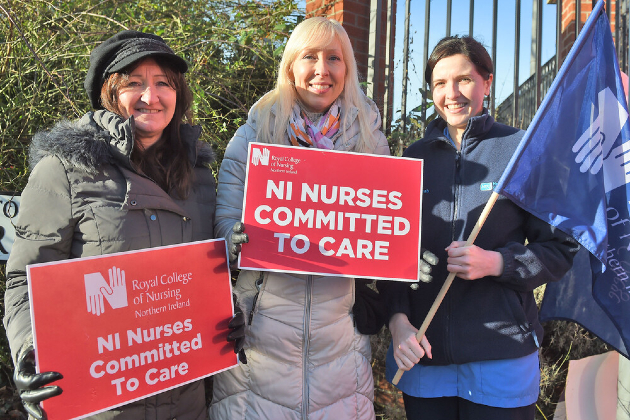 Nurses on strike in Northern Ireland in 2019. RCN
NHS nurses will take industrial action over pay and unsafe staffing levels in the first ever UK-wide nurses' strike.
The Royal College of Nursing (RCN) announced on Wednesday that nurses at the majority of NHS employers had voted to take strike action.
Nurses at many leading hospitals, including the Royal Infirmary of Edinburgh, University Hospital of Wales in Cardiff, and Royal Victoria Hospital in Belfast will be taking strike action. At St Thomas' Hospital in London – opposite the House of Commons – RCN members will be striking.
Anthony Johnson, a nurse, told Novara Media: "I got into nursing to make a difference. But now, you're not able to do your job properly, as you spend all your time constantly firefighting."
As of June 2022, there were 46,828 nurse vacancies in the English NHS, the highest figure since records began. Johnson said understaffing in the NHS is so severe that the health system currently operates on staffing levels similar to those in place during a strike. The age profile of nursing – with 51 to 60 year olds making up the largest cohort – and the looming retirement crisis means that future staffing levels are likely to get worse.
"I've looked after as many as 1,000 patients, when my caseload was only supposed to be 250," Johnson said. "We're not offering safe care. And as it stands, if we don't do anything, nothing's going to change.
"The public see patients waiting in corridors. They see nurses declaring critical incidents every single week within the NHS. They already know that people aren't safe.
"Our professional code requires us to whistle-blow when there's issues of patient safety," Johnson said. "I see no difference in campaigning at the bedside for a patient versus campaigning for them out in the streets."
In July, the government made a pay offer to around 1 million people working in the health service in England. The offer represents a pay rise of at least £1,400 for 2022-23.
However, the RCN are seeking a pay rise of 5% plus inflation, which is currently running around 10%.
The RCN says that pay for experienced nurses has fallen 20% in real terms since 2010, meaning nurses effectively work one unpaid day a week.
RCN General Secretary and Chief Executive Pat Cullen said: "Anger has become action – our members are saying enough is enough. The voice of nursing in the UK is strong and I will make sure it is heard. Our members will no longer tolerate a financial knife-edge at home and a raw deal at work.
"Ministers must look in the mirror and ask how long they will put nursing staff through this."
"This action will be as much for patients as it is for nurses. Standards are falling too low and we have strong public backing for our campaign to raise them."
The RCN has committed to maintaining care that is 'life-preserving' during the strike. This covers treatments such as emergency intervention, therapeutic services without which life would be jeopardised, and urgent diagnostic procedures and assessment.
The industrial action has been criticised by politicians from both the Conservative and Labour parties.
Health and Social Care Secretary Steve Barclay said that ministers "deeply regret that some union members have voted for industrial action." He added that the NHS has "tried and tested plans in place to minimise disruption and ensure emergency services continue to operate."
Shadow health secretary Wes Streeting has criticised the government for failing to negotiate with the RCN but has not backed strike action.
At the end of October, shadow health secretary Wes Streeting told the New Statesman's Future of Healthcare conference that a nursing strike would "certainly not" be "in the best interest of patients, and it's not in the interest of the NHS."
Streeting also said: "I can't see industrial action making that problem easier to solve."
The RCN has traditionally seen itself more as a professional body than a trade union and has never taken nationwide strike action in its 106 year history, although there was a nurses strike in Northern Ireland in 2019 – 2020.
But now, Johnson said: "It feels that now you have a grassroots swell of people pushing for and seeing the purpose and power of organising."
In the run-up to the strike ballot the RCN created an organising department with a team of new organisers, and established a group of nurses to work as 'voting volunteers' who helped discuss the pay campaign within hospitals.
The RCN's ballot announcement comes as other unions, including the GMB, Unite, Unison, the British Medical Association, and the Royal College of Midwives, ballot their members working in healthcare for strike action.
While the strike mandate lasts until early May, strike action is expected to begin sometime before Christmas.
Polly Smythe is Novara Media's labour movement correspondent.