This Protester Committed No Crime But Is Going to Prison Anyway
Injunctions allow companies to 'buy their own protest laws'.
10 November 2022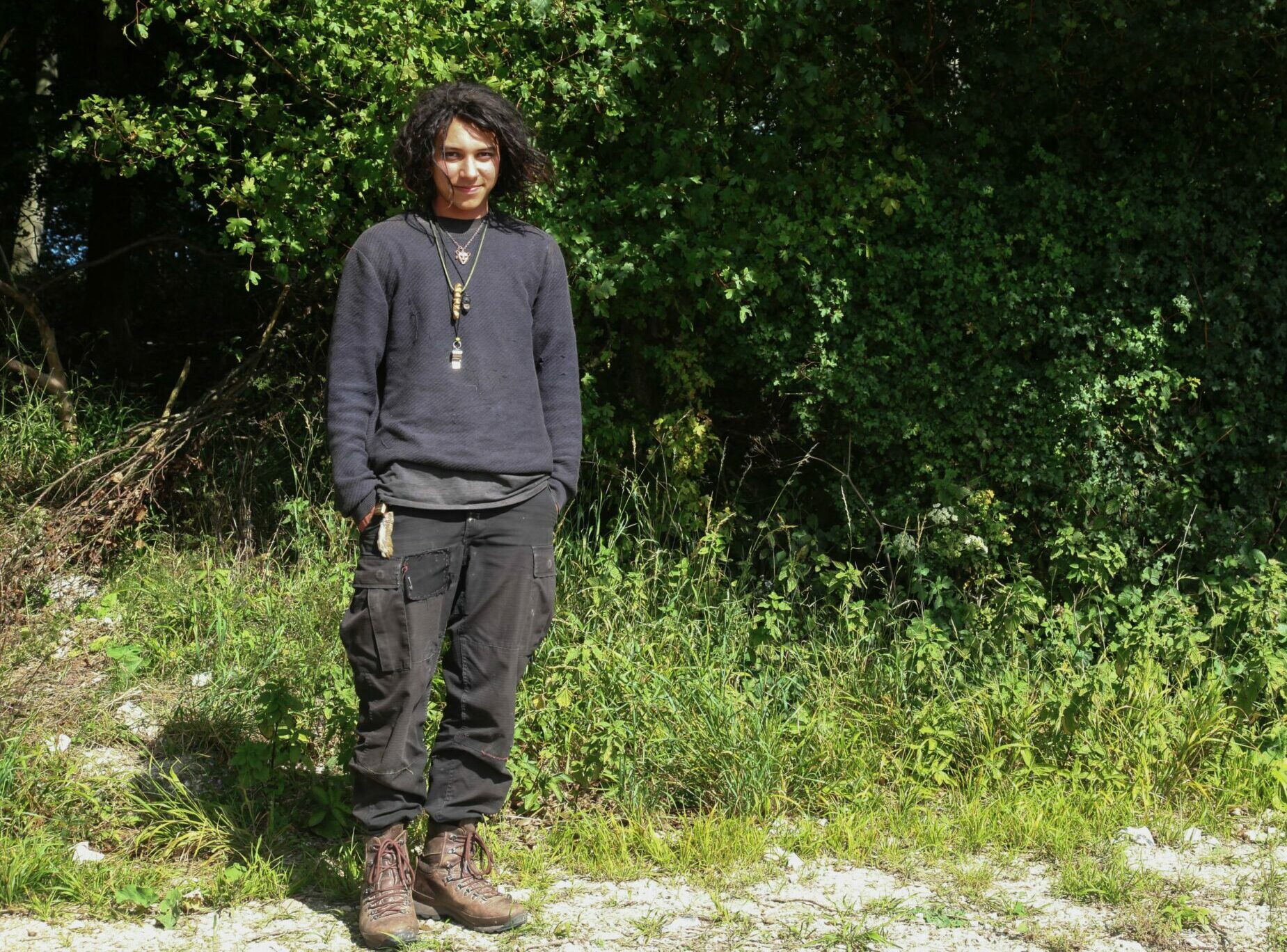 Photo: HS2 Rebellion/Twitter
This spring, environmental activist Elliott Cuciurean occupied a hand-dug tunnel in Staffordshire, alongside three other activists, for 47 days. They acted to protect the Cash's Pit woodland, alternately known to campaigners as Bluebell Woods, from imminent destruction by the HS2 railway line.
On 23 September Cuciurean was sentenced to 268 days in prison, despite not having been convicted of any criminal offences. Instead, he had fallen foul of a civil injunction taken out by HS2 Ltd which banned trespass, obstruction, tree occupations and tunnelling at Cash's Pit.
The company had taken out the injunction in anticipation of campaigners resisting their eviction from the land they had occupied for more than a year.
Cuciurean's case is a bellwether of the direction protest policing is headed. Cuciurean says the injunctions grant companies the power to make "political and financial decision[s]" about who has the right to protest, and who doesn't.
Buy-your-own laws.
An injunction is an order made by the civil courts either to do or not to do something. It can be applied both to named individuals and to "persons unknown", ie anyone in breach of the order (the HS2 injunction listed both). Those who fail to comply with the order can be tried for contempt of court. Civil contempt is a quasi-criminal offence, meaning it is not criminal but carries criminal penalties, including fines, the seizure of assets and a prison sentence of up to two years.
Despite hefty sentences, civil cases are not subject to the same rigorous court proceedings as criminal ones. People can be found guilty of an offence on the balance of probabilities – as opposed to the criminal standard, beyond reasonable doubt.
After failing to achieve convictions in the criminal courts, companies like HS2 are turning to the civil courts to impose punitive penalties on protestors.
Sentencing options for civil contempt are extremely limited; community sentences are not among them. "If you have no money or assets for them to take," says Cuciurean, "the only option is prison." This leads to disproportionate prison sentences for minor offences, as it did in the case of environmental activist Dave Buchan, who received a 100-day sentence after trespassing on HS2 land.
Buchan's case highlights the problematic processes involved in civil proceedings. Buchan was only notified of the civil action against him via a Facebook message from HS2's solicitors.
"I certainly wasn't expecting to be summoned to the high court via Facebook," he says. "Because of this I didn't find out about the proceedings against me until they were halfway through, and didn't have the opportunity to get myself legal representation."
A historic rise.
Historically, injunctions applied to named persons who had persistently used illegal methods to protest against a company, such as the seven known activists jailed in 1993 after a mass trespass at Twyford Down.
However, in recent years injunctions which apply to "persons unknown" have become common, meaning any person found in breach of the injunction's terms, whether they have a history of protesting or not. Persons unknown injunctions gained traction during the anti-fracking campaign of 2019, with fracking companies Ineos, Cuadrilla and Ukog having preemptively obtained "persons unknown" injunctions back in 2018 (only three people were ever sentenced for breaching these injunctions).
According to Simon Pook, a solicitor at protest-specialist firm Robert Lizars, and who represented Cuciurean, the use of injunctions has grown in the last 18 months, as far-reaching persons unknown injunctions have been used to criminalise activists from Just Stop Oil, Insulate Britain, Stop HS2, Free the MBR Beagles, Stop The Esso Pipeline, Animal Rebellion and Stop The Stink. The result has been a substantial increase in prison sentences and those held on remand: Rebels in Prison Support (Rips) and the Climate Action Support Pathway (Casp) – two independent groups monitoring these increases – say that nine people were sentenced for contempt of court in relation to injunction breaking in 2021; so far in 2022, they have counted 97.
Pook attributes the recent rise in the use of civil law, and specifically injunctions, to the greater number of cases failing or being dismissed by the criminal courts, often on the grounds of article 10 (freedom of expression) or article 11 (freedom of assembly and association) of the European convention on human rights.
One notable example of this is the Ziegler ruling from August 2021, where a roadblock disrupting the Defence and Security Equipment International (DSEI) arms fair was deemed a proportionate expression of the protestors' human rights under articles 10 and 11.
Protest cases heard in the crown court can also be acquitted by a jury, as was the case with the Colston Four. Civil cases are not heard by a jury, meaning that public consciousness around the issue plays no bearing on the verdict, which can prove a significant advantage for those taking out injunctions.
The floodgates open.
On 20 September, three days before Cuciurean was sentenced, HS2 was granted what is thought to be the farthest-reaching injunction ever granted. The landmark ruling prohibits persons unknown from causing disruption of any kind across the entire HS2 route – more than 140 miles. In their application, the two claimants, HS2 Ltd and the secretary of state for transport, argued that the injunction was necessary after a sustained campaign by climate activists against the project, which is set to destroy 108 ancient woodlands.
Corporations are already referring to the expansiveness of HS2's injunction to justify their own applications. On 24 October the high court granted the Three Counties Agricultural Society a "persons unknown" injunction covering the duration of the Three Counties Defence and Security Expo (3CDSE), an arms fair hosted annually at the ground. The injunction, which aimed to prevent disruption outside the arms fair as had happened the previous year, prevented anyone from "standing, kneeling, sitting or lying or otherwise remaining present on the Three Counties land or on a carriageway within 25 metres of any vehicular access to the Three Counties land."
The claimant argued that as their injunction application was only for a few days and only covered a small piece of land, it was perfectly reasonable considering the scope of the HS2 injunction, granted just one month before. Despite the injunction allowing non-disruptive protests on the public highway, no protests took place this year, demonstrating the chilling effect injunctions have had.
Public order, private laws.
The new Public Order bill – currently in the House of Lords – is set to liberalise injunctions even further. Buoyed by the success of its HS2 injunction, the government added further clauses to the bill during its third reading. These will enable secretaries of state to issue injunctions "in the public interest" and with the additional power of arrest and remand. Pook says the bill represents "the secretary of state […] granting themselves powers to silence dissent".
Most injunctions currently granted by the high court do not have the power of arrest or remand. Instead, the claimant must serve paperwork on the defendant privately either by instructing high court enforcement officers to serve in person or sending a message to a social media account known to have been used in the last six months.
These powers will make it easier for police to assist private companies in suppressing protests, leading to those legitimately expressing their right to protest, being arrested and incarcerated for lengthy periods without bail, before a trial. During the debate on the third reading of the bill, Green MP Caroline Lucas compared this to the government giving itself, "the ability to create new public order offences as and when they choose […] I do not think that it is an over-exaggeration to call such powers Orwellian."
Protestors are fighting back against injunctions. Cuciurean is appealing his sentence, while defendants against HS2's route-wide injunction are appealing the judgement on the grounds of its excessive and unclear scope.
Recent events offer some hope. In October of this year, the supreme court granted permission to various traveller advocacy groups to appeal the legality of "persons unknown" injunctions, which are being used by councils to ban them from stopping across entire counties.
Activists are continuing to stand up for their causes despite the threat of injunctions. But in the meantime, Cuciurean says, things are going to "get much harder" as the privatisation of protest laws increases.
"I think it's worrying that companies can buy their own laws," says Cuiciurean, "and then decide if, how, and against whom they are enforced."
Denise Laura Baker is a photojournalist and documentary photographer focusing on environmental and social issues.
Josie Argyle is a grassroots campaigner for environmental and social issues and a writer.