Tory Councillor Steps Down As Recording Reveals He Was 'Admirer' of Fascism
He also said that the EDL are 'honest guys'.
22 November 2022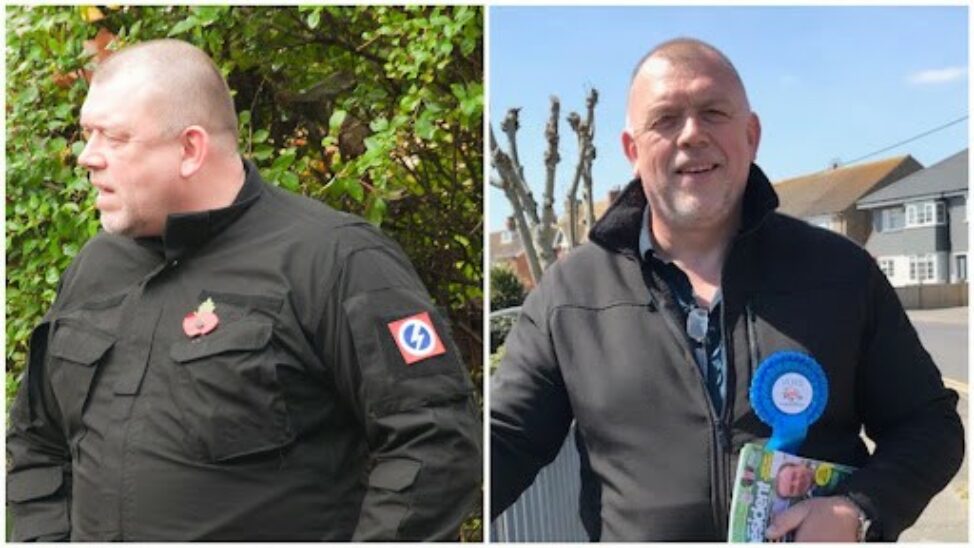 Cllr Andy Weatherhead at a rally outside the Greek Embassy in 2013 (left) and campaigning for the Conservative party (right). Photo: Hope Not Hate
An ex-Tory councillor who downplayed his former links to a fascist party said he was "admirer" of fascism and fascist leaders Benito Mussolini and Oswald Mosley, it has been revealed. The councillor has now resigned from Kent county council and the Conservative party.
Last week Andy Weatherhead said that his association to the New British Union (NBU) – a group of fascist revivalists who wear pre-war fascist uniforms and want to emulate Mosley's British Union of Fascists (BUF) – "was brief and made in the spirit of education and curiosity".
However, in a recording revealed by anti-extremism research group Hope Not Hate and heard by Novara Media, Weatherhead said: "I've always been an admirer of fascism. I've always been an admirer of Benito Mussolini and Sir Oswald Mosley.
"And last year, I was trawling through the internet, as one does, and came across the NBU. And I thought: this sounds right up my street."
The comments were made during an hour-long interview for American Nationalist Network, a small far-right online radio station.
Weatherhead had dismissed claims he was policy officer for the group. But in the recording, Weatherall is introduced under his pseudonym as "Andrew Blackhouse, the policy officer for the NBU."
"I think Gary [Raikes – NBU leader] liked some of my literary skills and an opportunity came up for a policy officer position and I thought, 'well, let's take it, let's see if I can make a difference'," he says.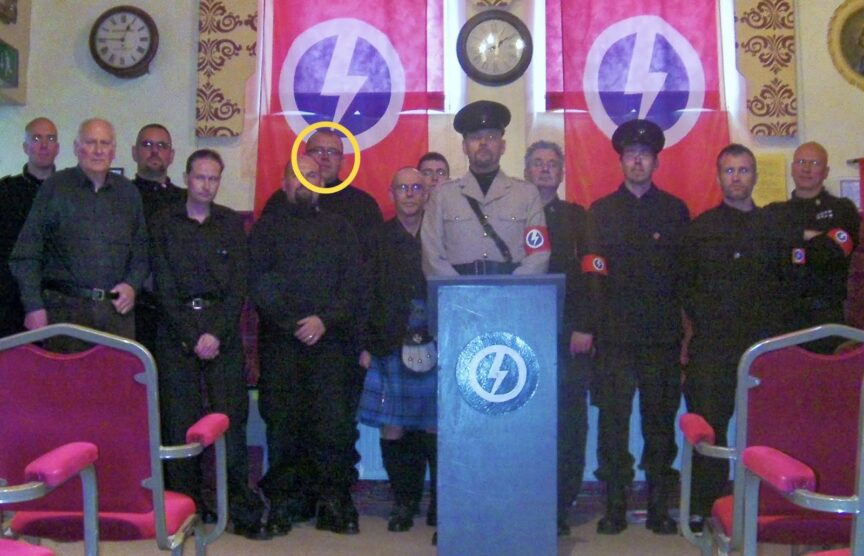 Weatherhead goes on to describe the English Defence League as "honest guys that are concerned with where their country is going," but says the far-right group "…desperately tried to distance themselves from the right wing, what they consider to be the National Socialist element, for the wrong reasons perhaps. They've tried to do so because they're scared that people will look at them and say, 'National Socialism is a dirty word'."
Asked by Novara Media to comment on the revelations, Weatherhead said: "I disagree with your summary of the interview, but given that it is now [an] irrelevant issue, I'll stop there."
Weatherhead said he had stepped down from Kent county council and that he was "no longer associated with the Conservative party and politics in general."
Gregory David, researcher at Hope Not Hate, said: "Weatherhead can no longer hide behind his flimsy pretence that his NBU membership was a casual acquaintance borne of 'education and curiosity'."
Weatherhead has denied allegations that he wrote antisemitic blogs for the NBU.
In a statement announcing his resignation on Facebook, Weatherhead urged voters not to vote against opposition parties with an anti-Conservartive vote, and said his former colleagues in the Conservative group on Kent county council, "do genuinely care and represent stable governance at a time of economic worries at both home and abroad." He lashed out at other political parties saying that they would "give up what little border control we have left".
"I think it's fair to say that my public life has now ended – somewhat sooner than I had hoped – but given that 'sorry' is not a word that carries any influence today – I must accept the repercussions of my actions of yesteryear," he said.
Weatherhead's public life saw him run as a Ukip candidate four times without success, beginning as a parliamentary candidate in 2015 in Bermondsey and Old Southwark, before successfully becoming elected as a councillor for the Tories in 2021.
In 2019, Scottish investigative journalism website The Ferret revealed an NBU document claiming that over the previous five years the party had stood candidates in local council elections as independents, because candidates standing openly as NBU members would "find themselves in an atmosphere both novel and repellent."
The document calls this strategy a "quiet revolution" in order to create "Blackshirt cells" which "will develop into Blackshirt units in every village, town and city in the UK".
Novara Media asked Weatherhead whether his candidacies for other parties had been part of the NBU's "quiet revolution" plans.
Weatherhead said: "Since terminating all and any lines of association or communication with the NBU, inclusive of any person associated with that entity, back in 2014 – I completely turned my back on that form of failed politic [sic.] and have not looked back since.
"I can quite clearly state to you that I was not and never have been involved in any 'quiet revolution'."
Stephen James, chairman of the Folkestone and Hythe Conservative Association, said: "I welcome the news that Mr Andrew Weatherhead has resigned from Kent County Council and Dymchurch Parish Council and must reiterate that the abhorrent images and associations described in the article have no place in our association or the Conservative party."
Green party council candidate Georgina Treloar, who came second to Weatherhead in 2021, said: "It's indicative of a desperate and morally corrupt Conservative party that they ever campaigned for an actual fascist to get onto Kent county council in the local elections last year."
The Conservative party has been contacted for comment.
Simon Childs is a commissioning editor and reporter for Novara Media.