Radical Farming is Going Mainstream—And Losing Its Edge
Popularity, but at what cost?
1 December 2022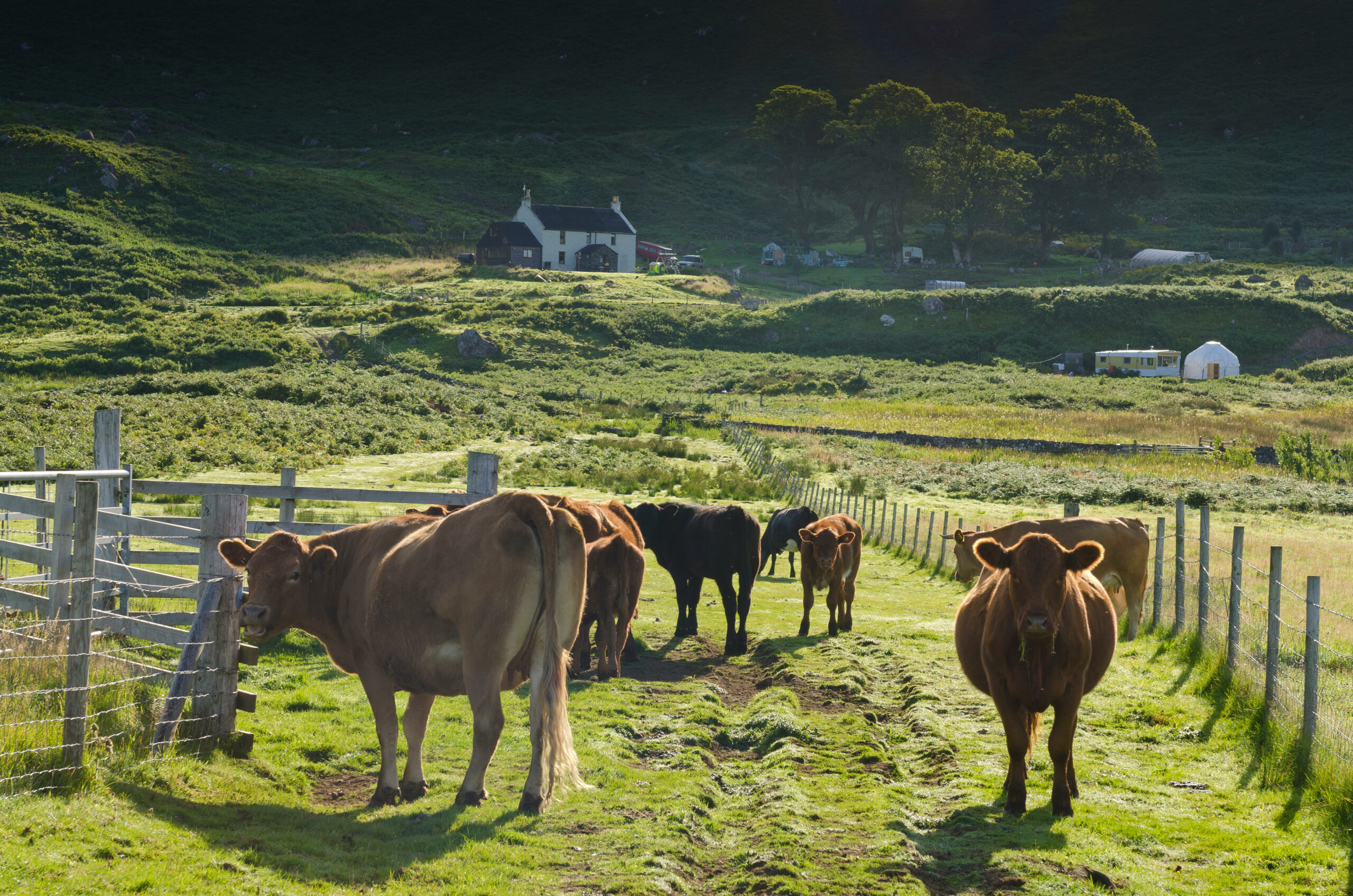 The UK government is taking an interest in agroecology as part of a 'Green Brexit' strategy. Allan White/Reuters
On a 121 acre livestock farm overlooking Stanton Moor, Derbyshire, Michael Orchard is giving a video tour documenting changes he's made to his farm in the last six months. They include the installation of a rainwater capture system, increases in plant diversity and the maintenance of infield trees and berry bushes. 
Orchard's video currently sits on a blog run by the Department for Environment, Food & Rural Affairs (Defra). He's one of 873 farmers who took part in a recent pilot for the new Sustainable Farming Incentive (SFI), one of three schemes that will make up Defra's flagship Environmental Land Management Scheme (ELMS), due to launch in 2024. The SFI is part of the government's new 'agroecological' agenda, designed to support farmers in adopting sustainable agricultural techniques and making space for nature. 
But 'agroecology' is a term under increasing contestation. Its roots are radical and Latin American; the term was first popularised by the international social movement La Via Campesina (LVC) in the 1990s in relation to rights struggles of peasant and other rural peoples. Yet a growing number of corporations and policy makers in the UK have diluted agroecology, using the term to refer to the the design and management of nature friendly farming systems alone; in the government's National Food Strategy, published earlier this year, agroecology was defined as: "The application of principles from ecology in farming, with the goal of achieving balanced growth and sustainable development". A fierce battle has therefore emerged to preserve agroecology's radical roots and stop it becoming another tool for 'greening' corporate agribusiness. 
Ground movements. 
One group with a stake in the debate is the Land Workers Alliance (LWA), a democratic member-led union of growers, foresters and land-based workers that organises across England, Scotland and Wales. Founded in 2012 under the name Via Campesina UK, the LWA's projects focus on creating a food and land-system that gives everyone access to local, healthy, affordable, and sustainably produced food. 
The LWA organises under the banner of agroecology and "food sovereignty"; a key element of agroecology that advocates the rights of people to design their own food and agricultural systems and to have access to culturally appropriate and ecologically sound food. 
Agroecology, the LWA believes, is distinct from other sustainable farming techniques because it aims to change the food system, not just the technical way food is produced. In practice, this looks like "localised food systems, where farmers work with local communities to decide what food to grow and how, rather than being at the behest of supermarkets or global supply chains," says Yali Banton-Heath, the LWA's campaigns communications coordinator. 
For example, the LWA is part of the Fringe Farming Project that looks to make fresh fruit and veg accessible to underserved urban communities in areas like Bristol and Glasgow. This means better understanding barriers to 'peri-urban' (farming or growing on the outskirts of urban areas) food production and developing national policy to enable agroecological farming in those locations. In an era of rising food prices and families on the brink of starvation, their work feels particularly relevant.
To the movements on the ground like the LWA, agroecology and food sovereignty are not check-lists of technocratic criteria but radical frameworks that advocate systemic changes to the industrial food system. "[Agroecology] describes a way of life, a set of values and a global movement grounded in justice, celebration, equity and respect. If these values crumble, then we're left with a definition that is just tinkering on the edges of capitalism," says Banton-Heath.
Establishment agroecology?
Agroecology has slowly been making its way up the political food chain. The 2020 Agriculture Act saw the government recognise agroecology as a 'public good' for the first time – a policy that followed four years of lobbying from the LWA and Sustain Alliance, a coalition of organisations and communities working together for better food, farming and fishing systems. Capitalising on the redesign of food and agricultural policy post-Brexit, the movement pushed for agroecology to be included in the act; its appearance represented a significant win despite the government's failure to provide anything more than a "fluffy" definition of the practice, as Banton-Heath puts it.  
The launch of the SFI represents the government's first attempt at meeting promises of a 'Green Brexit', the pledge to enhance environmental standards after Brexit. However, the scheme – which has already come under heavy criticism for excluding small-scale agroecological farms and offering insufficient subsidies – is now at risk of being scrapped altogether. The LWA point out that ELMS is currently under review and, with an unstable Tory party at the helm, is in an increasingly risky position: "We were reassured in late September by the now former-Defra head Ranil Jayawardena that it won't be scrapped, but who knows what could happen under Therese Coffey," says Banton-Heath. 
Radical agroecology movements that work alongside LWA, such as Sustain Alliance, along with adjacent organisations within the wider land justice movement, like Black-led collective Land In Our Names (LION), are calling for the expansion of government food and farming strategies, regardless of whether Defra continues ELMS. To them, ELMS is not a silver bullet for the entangled social and environmental destruction caused by the industrial food regime, such as rising greenhouse gas emissions, malnourishment rates and food system vulnerability. Committing to agroecology means tackling systemic issues in food systems like workers rights, wages and international trade policy. 
The current review of ELMS, and limited definition of agroecology adopted by the government, exemplifies a wider battle between radical grassroots movements fighting for food system change and official state actors looking for quick techno fixes to industrial agribusiness. "If policymakers and corporations are using agroecology in their documents and strategies but doing nothing to tackle systemic issues in our food and farming systems then all they are doing is using the term for greenwash[ing]," says Banton-Heath. 
Radical roots.  
Agroecology's radical critique of the global food system dates back to grassroots struggles in the 1970s against the neoliberalisation of agriculture in Latin American countries like Nicaragua and Mexico. Indigenous communities and rural people, forced into growing contestation with transnational corporations, began employing agroecology as a tool to defend their resources, territories and livelihoods. 
The term then entered international policy spaces at the 1996 World Food Summit when small-scale producers from the USA, Canada, the EU and Latin America came together under the transnational and anti-capitalist social movement La Via Campesina (LVC) and coined 'agroecology' as a science, practice and social movement inherently connected to the wider political project of building food sovereignty. 
Today, LVC provides a platform that unites over two million small-scale farmers, peasants, indigenous people and rural workers, from Canada to Angola, to campaign and organise for agrarian and wider socio-economic change. To UK groups like the LWA, it is absolutely crucial to stay connected to agroecology's radical international roots. "Being part of this global network allows us to share tools, sit in international policy spaces, organise collectively and build community with agricultural unions and social movements around the world," says Banton-Heath.
In Mexico, for example, Las Cañadas – an democratically run agroecological cooperative – is using agroecological methods like biointensive gardening and silvopasture to provide 70% of all the food needed to feed the 25 partners and their families."The agriculture of the future needs to be in the hands of those that are producing the food so that they get to eat it" says Juan Ortiz*, a partner in the initiative. All partners also receive equal pay for their work.
Agroecology's international reach and emergence from struggles against food and climate inequalities in the Global South serves as a critical reminder that food systems in the UK do not exist in a vacuum. Proponents of agroecology say agricultural transition plans need to reflect this. 
This also requires examining the UK's role in reproducing racial and class-based inequalities in the food system that finds ethnic minorities more vulnerable to food insecurity. Agroecology is anti-colonial and anti-capitalist by definition, but "there is a blinkeredness to look at colonial history in the UK," says Dee Woods, a member of LION. The collectives oversees projects such as Jumping Fences, which address barriers to land access for people of colour. "The government might be for agroecology and everything else, but have they really examined where it all came from? For me it has really come from the anti-colonial project," Woods adds. Westminster, Woods believes, is avoiding tackling systemic drivers of food system inequalities, including the likes of low pay and precarious work. 
An uncertain future.
Grassroots agroecology groups are continuing to lobby the government to work with food and farming organisations to include whole farm agroecological systems in the development of ELMS and engage critically with the role it can play in wider farming policy and climate change mitigation and adaptation. "International trade policy, GM regulations and seed legislation" are great places to focus efforts, suggests Yali Banton-Heath. 
At the time of writing, ELMS is still under review and Defra's pledge to "halt the decline of nature by 2030 and not undermine commitments in pursuit of growth" stands in stark contrast to the technocratic definition of agroecology they've co-opted. With government agroecology a far-cry from the anti-capitalist and decolonial definition put forward by grassroots organisations, will Defra look to the international movement to strengthen its commitment to agroecology or is the term doomed to end up in green capitalism's box of 'nature-based' solutions'?
This article was updated on 2 December 2022 to reflect that Dee Woods is a member of LION, not a co-founder and that LION collective is part of the radical land justice movement, in solidarity with the wider agroecology movement, rather than a dedicated radical agroecology organisation.
Maozya Murray is a writer based in Brighton.