An Energy Company Broke Into This Family's Home And Cut Off Their Heating
Exclusive: SSE Energy Services installed a prepayment meter, but failed to activate it.
15 December 2022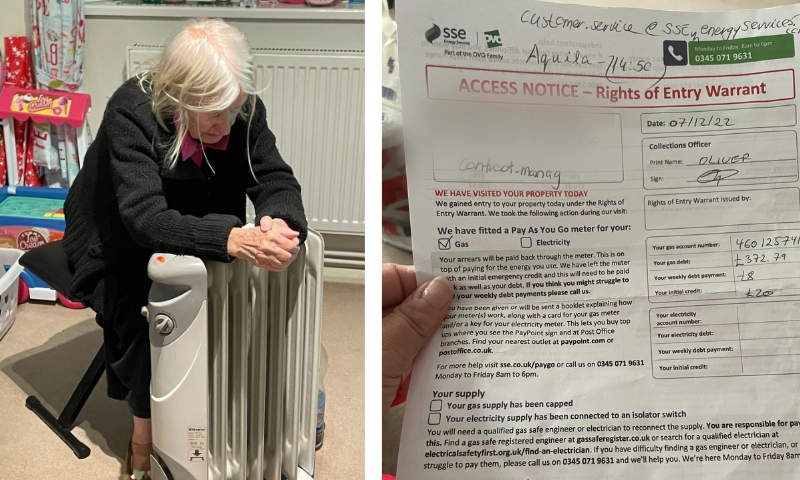 SSE Energy Services forcibly entered Cecila Klincsek's house and cut off her gas supply. Photo/Cecila Klincsek
A vulnerable family was left without heating or hot water for a week amid freezing temperatures after their energy provider broke into their home and forcibly installed a prepayment gas meter.
On 7 December, while the Klincsek household – comprising Cecilia, her 90-year-old mother, her husband and their five-year-old daughter – were out, a locksmith and an engineer sent by energy company SSE Energy Services (owned by OVO Energy) forced their way in to install the new meter because the family was £372.79 behind on their gas bill. The company served them with a 'rights of entry warrant' letter, left blank on the section intended to detail who the warrant was issued by, and billed them an additional £150 for the visit. 
SSE Energy Services staff did not leave a top-up card for the meter, nor did they activate it, meaning the family could not add credit. For over a week – during freezing temperatures and snow – the family went without central heating, warm showers and stove-cooked food. Only on Wednesday evening, after Novara Media contacted the company for comment, did SSE Energy Services send engineers to restore their gas supply. 
"You can't leave people like this," said Klincsek, who described "crying out" in agony while taking icy showers every morning.  Her pre-existing mental health conditions reached "breaking point," she said, detailing five panic attacks in as many days. She said her husband suffered "a breakdown" from the stress, and their young child woke up shivering in the middle of the night. Klincsek's elderly mother – who has respiratory issues – rapidly deteriorated. "[On Tuesday] she asked me to take her into the hospital and literally said goodbye to me," said Klincsek. "I was in tears. 
She added: "It's supposed to be the most wonderful time of the year. My daughter [said] all she wants for Christmas is snow and warmth." 
In recent months, Klincsek's family has been "just about surviving", she explained. Klincsek is a university student in the process of setting up her own business; her husband is a chef. The couple receive Universal Credit. After a recent bout of bed bugs in their private-rented accommodation entailed a £1130 extermination fee, the household fell behind on soaring energy bills. 
Klincsek said she was in regular contact with SSE Energy Services – which was bought by OVO energy in 2020 – by phone throughout November, attempting to arrange a repayment plan in line with when she receives her UC payments, to no avail. "It's not that I'm ignoring it," she said, "[but] at the moment I cannot pay." During these calls, there was no mention of a warrant – though she did later realise she had missed a letter warning her that one would be issued if she did not attend a court hearing. 
Despite attempts to negotiate a repayment plan, SSE Energy Services went ahead – without the family's consent – with the installation of the prepayment meter, which is more costly than a direct debit tariff, programming it to recover the family's debt by deducting £8 per week from their balance. Ofgem guidance states that prepayment meters are not suitable for vulnerable people, including those with mental health problems and physical disabilities. According to SSE Energy Service's own criteria, at least two people in the Klincsek household would be classed as vulnerable. 
In response to Novara Media's request for comment, a spokesperson from parent-company OVO Energy said:
"We've contacted Ms Klincsek and arranged for a credit meter to be installed. We've advised that we will support them with an affordable repayment plan to cover the cost of their usage. We did not have a record of any vulnerabilities at the property."
Klincsek disputed the latter claim, saying she informed them of the vulnerabilities within the household multiple times but no note was made on SSE's end.
Whilst living without a gas supply, Klincsek said they were lucky to count on neighbours for support, who lent money and electric heaters. One neighbour was present while Klincsek was on the phone to SSE Energy Services. After she began having a panic attack, he took over the call.  "He was very upset, he was very worried about us," she said.
Until Thursday, SSE Energy Services provided no further help. Klincsek and her husband contacted the company repeatedly, often spending hours at a time on the phone attempting to get the company to reactivate their meter or direct debit. But nothing happened until the company became aware of this report. "Everybody [was] washing their hands [of it]," said Klincsek, of her treatment by the provider. "I think they look at it like, 'You are in debt, you deserve this'." 
Klincsek's family is not alone in their experience. A recent investigation by the i newspaper revealed that almost half a million 'utility warrants' allowing energy companies to forcibly install prepayment meters have been issued since Britain ended lockdown measures in 2021. The i's reporting also showed that – as in Klincsek's case – the warrants are being granted through unclear procedures and without due concern for people's vulnerability or health issues. Ofgem itself has raised concerns over "vulnerable consumers […] left off supply" by the forcible installation of top-up meters. 
"We're so relieved the heating is back on – I've just had my first hot shower in a week," said Klincsek. "But I feel traumatised by this – I feel scared that the company will invade our home again because we are still in debt. I want everyone to know this has happened, I know we are not the only ones." 
*This article was amended on 16 December to clarify that Klincsek's energy provider is SSE Energy Services, which was acquired by OVO Energy in 2020. The photo caption on an earlier version incorrectly referred to SSE Plc, which is a different company.
Sophie K Rosa is a freelance journalist.