Gambling Firms Prey on the Working Class. Why is Labour Taking Their Money?
It's hardly the first time, either.
26 January 2023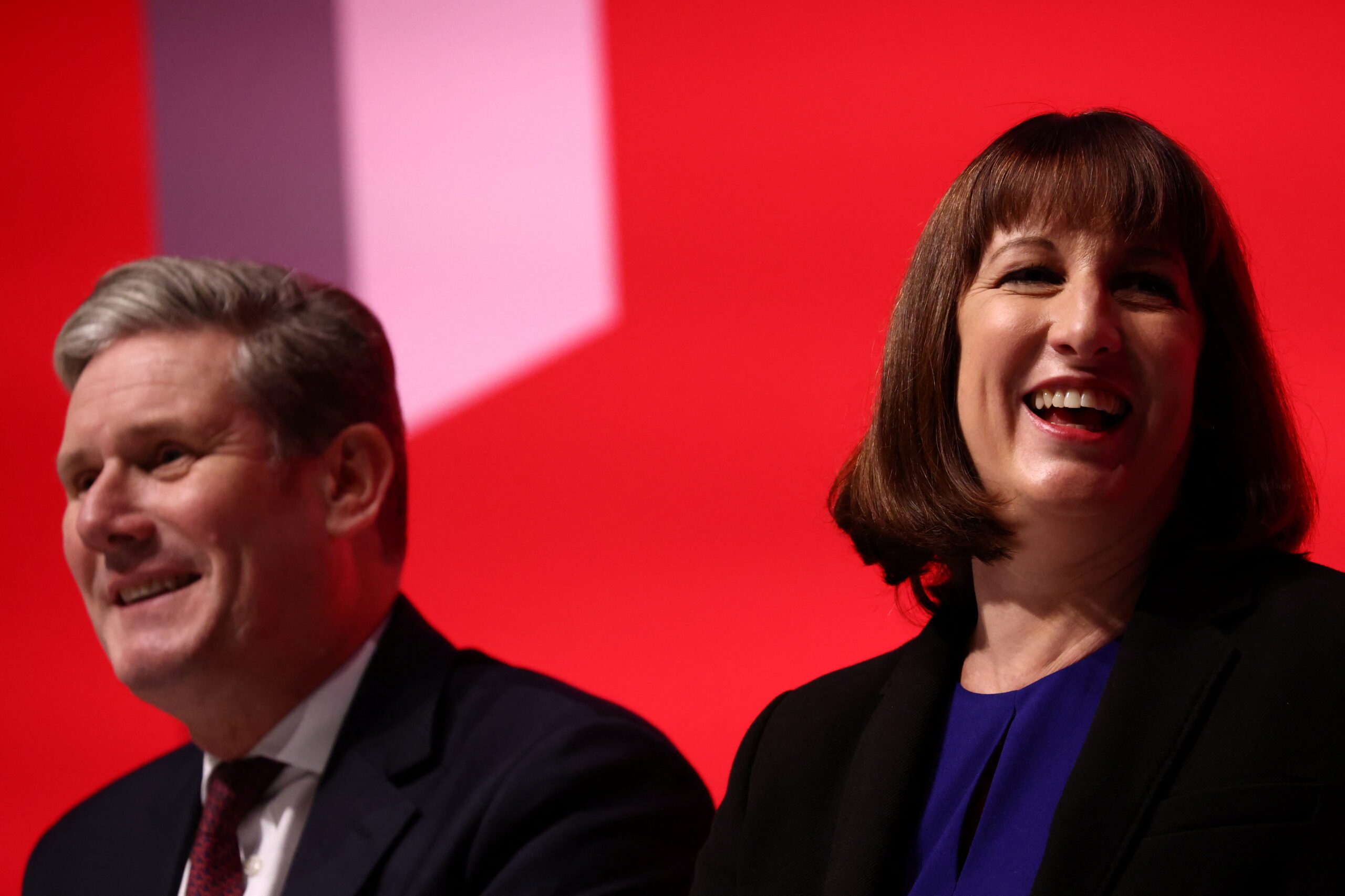 Keir Starmer and Rachel Reeves, who have both accepted donations from figures linked to the gambling industry. Henry Nicholls/Reuters
As Nadhim Zahawi's tax affairs dominate the news cycle, Keir Starmer will have breathed a sigh of relief that new revelations regarding Labour's links to the gambling industry haven't kick-started a new lobbying scandal. Shadow chancellor Rachel Reeves, it was reported in Open Democracy, took £20,000 from Neil Goulden, former chairman of gambling giant Gamesys. Meanwhile, shadow health secretary Wes Streeting received £5,000 from Red Capital Ltd, the company owned by Labour peer Jon Mendelsohn, chair of William Hill owners 888 Holdings. 
But perhaps this should come as no surprise. During his leadership campaign, Starmer received £25,000 from Peter Coates, founder of Bet365 (which only surfaced after the election, since Starmer refused to be transparent about donations he'd received while the campaign was ongoing). In doing so, he followed in a proud Labour tradition: bar a brief blip in the Corbyn years, the party has always had an intimate relationship with the gambling industry. Even Tom Watson, who under Corbyn's leadership proposed a series of radical reforms to tighten up gambling laws, has since joined the board of Flutter, the betting giant that owns SkyBet and Paddy Power. Former Labour MP and Gordon Brown spokesperson Michael Dugher has become CEO to the Betting and Gaming Council, with another ex-Labour MP Anna Turley becoming a consultant. Former Ed Balls adviser Gary Follis is also employed by the industry's lobbying arm, with more former Labour MPs such as Gemma Doyle working for a range of public affairs companies representing the sector, including FTI Consulting and Portland Communications – the latter founded by one of Tony Blair's former aides.
This revolving door between the gambling industry, its lobbyists and Labour MPs is best exemplified by Phil Wilson, a former lobbyist for Gala Coral during the passage of the Gambling Act, who assumed Blair's Sedgefield seat upon his departure from parliament. It's no surprise, then, that Blair's Gambling Act shifted a commodity that had been tolerated and controlled to a leisure activity that was actively promoted and encouraged. This meant the regulator and local authorities were required to "aim to permit" gambling: instead of putting the onus on gambling firms to justify why more premises or operators were needed, it forced licensing authorities to justify why they weren't, and made it very difficult to do so.
Labour might argue that hindsight is a wonderful thing. When Blair introduced the Gambling Act, the industry was defined by grannies going down the bingo halls or nights out at the dog track. Labour might argue – as the economist Sir Alan Budd, who put together the blueprint for New Labour's gambling liberalisation, has done since – that they could not have foreseen that soon everyone would have a casino in their pocket. With the benefit of hindsight, Labour might argue, they would have regulated gambling as a public health issue rather than creating a framework that has allowed such an extractive sector to wreak havoc on our most deprived communities. But Labour does now have that hindsight – and its front bench has jumped back into bed with gambling firms anyway.
Research published by NatCen and the University of Liverpool that analysed online gambling operator data found more than 420,000 people are losing in excess of £2,000 a year, and losses were "strongly skewed towards the most deprived areas", with the 20% poorest regions supplying 25% of revenue. While the data covered only 37.5% of the British online gambling market, it found 50,000 individuals had played slots for the equivalent of eight full days in a year, losing £5,000 on average. Slots contribute around half of the overall online gambling losses, amounting to £6.3bn last year. Gamblers are targeted with free spins, bonuses and other inducements that drive them towards the more addictive content such as slots, while individuals are profiled without their proper consent so firms can tailor marketing to them even in spite of obvious signs of gambling harm.
Following sustained campaigning on this issue from Carolyn Harris MP, Labour's gambling spokesperson Alex Davies-Jones has called gambling harm "a public health issue". But in politics, actions speak louder than warm words. And since the money started pouring in from gambling-linked donors, the policy reforms that briefly flowed the other way have suddenly dried up.
While Labour's front bench remains silent, the Tories have the chance to right the wrongs of Blair-era liberalisation with the government's impending Gambling Act Review. This has promised to reform our outdated laws so they are "fit for the digital age" – an agenda with huge public support. Meanwhile, recent polling shows the public simply doesn't know what Starmer stands for. Perhaps now is the moment for Labour to prove it is on the side of working class people rather than an extractive sector that sees them as prey.
Matt Zarb-Cousin is a campaigner against the abuses of the gambling industry and a former spokesperson for Jeremy Corbyn.