Keir Starmer Is a Big Fan of This Union Leader. His Staff, Not so Much
'This is truly rock bottom for Usdaw.'
30 September 2022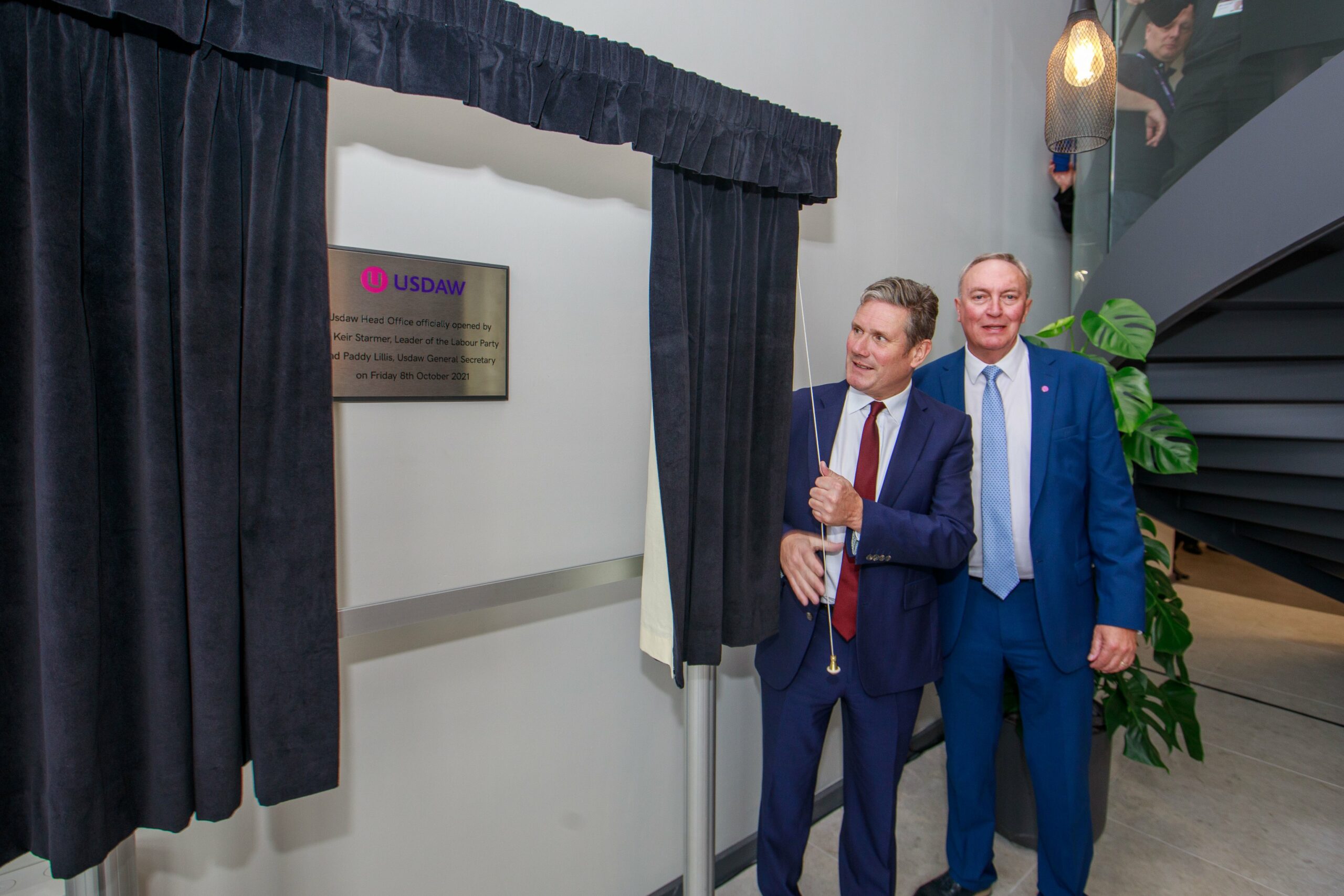 Keir Starmer with Usdaw general secretary Paddy Lillis. Photo: Usdaw
A union general secretary has been accused of pitting trade unionists against each other as his staff take strike action.
Office staff at trade union Usdaw are taking two days of strike action against the trade union. Across the country, Usdaw staff represented by GMB have unanimously rejected a pay offer of 3.5% and are seeking a commitment to potential home working.
This week at Labour conference, Usdaw, which strongly backs party leader Keir Starmer, was promoting its "new deal for workers", which includes "fair treatment and equality for all". In 2021, Starmer opened Usdaw's new office in Salford which has been the site of strikes this week, thanking the union for "all the hard work you do on behalf of your members and all working people."
Speaking to Novara Media from a picket line outside Usdaw's head office in Salford on Thursday, one worker who wished not to be named for fear of repercussions, said: "Staff mood is really low and it has been for a while."
"Barely any of us have ever taken action before and I think most of us hoped we wouldn't have to.
"None of us want to strike. We really hoped, and still do, that Usdaw would talk to us and reach an agreement on what we're asking for."
A second worker, who also wished to remain unnamed, said: "The majority of people taking part in this action are long serving Usdaw staff, who have been left devastated by these recent developments.
"Morale is at an all time low and they feel that they have been left with no choice but to vote for and take part in strike action."
Novara Media understands that GMB is ready to take further strike action if an agreement is not reached.
Speaking to the Guardian two weeks ago about the potential for strike action, the general secretary of Usdaw Paddy Lillis said he was "absolutely livid" with the GMB organisers involved.
Lillis also said, "Our members are low paid, and all had to go to work during the pandemic to keep the country moving. I've told them – pick your battles, and this isn't one to pick."
He claimed the true value of the 3.5% pay offer was above 11% when the £1.3 million committed to the union's salary pension scheme was taken into consideration.
Those represented by the GMB, Lillis said, were in a comparatively privileged position in comparison to the shopworkers Usdaw represents: "Some of them can't even afford to buy food in their own supermarket, and we're going on strike when we're all well paid with good terms and conditions, as you'd expect from a trade union."
His comments caused shock and disappointment among office staff. "It was really upsetting for staff to read," the first unnamed employee said.
The employee said, "It's a real shame management are pitting Usdaw staff against Usdaw members. At the end of the day we're all workers and trade unionists who want better terms and conditions for all. Surely you'd think Usdaw would want to be the driving force of that?"
Some supermarket workers represented by Usdaw blame the low pay and conditions they experience – which Lillis is citing as a reason for GMB members not to take strike action – on Usdaw's complacency and outdated partnership agreements. These agreements became popular under the Blair government and were billed as a way to stop the "us and them" mentality in industrial relations. In August, Novara Media reported on the frustration of workers who have been unable to take strike action over low pay offers this summer.
Supermarket worker and Usdaw rep Craig Paterson said: "To use the plight of one set of workers to hammer another is not what trade unionism is about. Instead of using us as a stick to beat their own workers with, perhaps the leadership at Usdaw could put their efforts into getting a better rise for the workers they're meant to represent."
Despite the ongoing dispute being in part around the union's decision to not permit home working, Usdaw office staff who are not on strike have been allowed to work from home for the duration of the GMB strike action so that they don't need to cross a physical picket line in order to continue working.
The workers who are not partaking in strike action are represented by internal organisations, which have accepted Usdaw's pay offer.
In granting those workers the right to remain at home, the first unnamed worker said the union had shown how the "request for a hybrid working policy is perfectly reasonable and easily accommodated."
"We're not asking for anything radical, just the implementation of a hybrid working policy to allow occasional home working like we did for 18 months during the pandemic."
The second unnamed worker said, "Hybrid working is a gender-based issue because women in the UK bear more of the childcare responsibilities."
"This issue is compounded by the lack of flexibility in working hours and conditions that makes it difficult for women to progress in Usdaw."
Jen Bell, who works at the Co-Op and is an Usdaw rep, said: "This is truly rock bottom for Usdaw, at a time when we should be taking the fight to the supermarket bosses looting our shopworkers and our communities."
Paterson said: "I urge my union to get back round the table and come up with a fair solution that does not leave the very people we rely on to run our union financially worse off during this cost-of-living crisis."
It's not the first time the union has run into trouble this year. Back in June, Morrisons workers represented by Usdaw rejected a 2% pay offer that the union had endorsed. Members at the time described the union as having "shafted" its own members, with one worker asking, "How on earth has this been allowed to happen?"
Lillis, a strong supporter of Keir Starmer, recently criticised the general secretary of Unite, Sharon Graham, after she told the leader of the Labour party to "get a spine" in a BBC Radio 4 interview.  He said: "I think it's actually unfair. I think Keir Starmer has demonstrated over and over again that he's on the side of workers."
Bell said, "If Usdaw can't even support its own staff, then it doesn't have a leg to stand on."
Novara Media have approached Usdaw for a comment.
Polly Smythe is Novara Media's labour movement correspondent.