Everything You Need to Know About the UK's Biggest Strike-Day in a Decade
'We warned that our action would spread, and we're good to our word.'
31 January 2023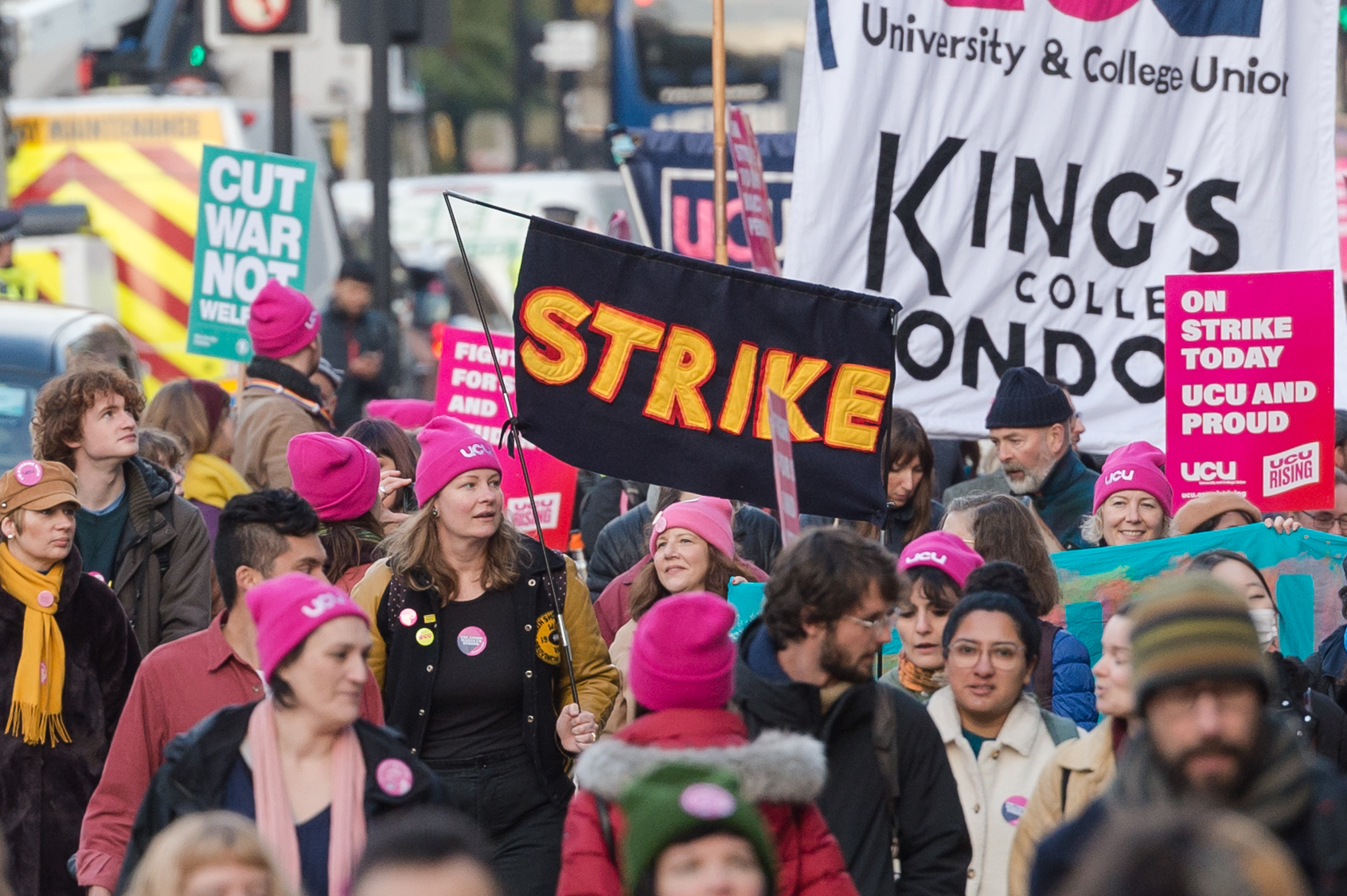 UCU workers demonstrating. Wiktor Szymanowicz/Reuters
Up to 500,000 workers at eight different trade unions will walkout on Wednesday, in what the Trades Union Congress has called the biggest strike in over a decade.
This coordinated action coincides with the TUC's national "protect the right to strike" day, called in response to new government legislation that will impose minimum service levels on trade unions during strikes.
TUC general secretary Paul Nowak said: "Instead of scheming up new ways to attack the right to strike, ministers should get pay rising across the economy."
The day will see disruption across transport, the civil service, schools and universities. Here's a guide to the day's industrial action.
Transport.
Around 12,500 train drivers in Aslef are striking, having rejected an offer from the Rail Delivery Group last month that tied a pay rise to changes in working practices that the union called "clearly unacceptable."
Train drivers represented by the RMT will join Aslef in striking. 14 train operators will be affected by the combined action.
Abellio bus drivers in London, represented by Unite, will also strike in a long running pay dispute.
Civil servants.
Over 100,000 members of the Public and Commercial Services union (PCS) in the civil service will take part in Tuesday's one-day strike over pay, pensions, jobs and redundancy terms. The action is the union's largest for a decade.
Workers will walk out across 124 government departments, including the Department for Education, the Department for Work and Pensions, the Department for Transport, and the Home Office. They'll be joined by PCS members at the Office for National Statistics, Driver & Vehicle Licensing Agency, Maritime & Coastguard Agency, and National Highways.
The union is re-balloting 33,000 union members in five more government departments, including HMRC.
Mark Serwotka, the PCS general secretary said: "We warned ministers that our action would spread if they ignored our demands, and we're good to our word."
Education.
Teacher members of the National Education Union in England and Wales and support staff in Wales will strike.
The NEU, which is the biggest education union, balloted 300,000 of its members. Its first strike day on 1 February will impact 23,400 schools in England and Wales. This action will be followed by six days of regional stoppages.
Dr Mary Bousted and Kevin Courtney, Joint General Secretaries of the NEU, said: "This is not about a pay rise but correcting historic real-terms pay cuts. Teachers have lost 23% in real-terms since 2010, and support staff 27% over the same period.
"Teachers are leaving in droves, a third gone within five years of qualifying. This is a scandalous waste of talent and taxpayers' money, yet the Government seems unbothered about the conditions they are allowing schools and colleges to slide into."
In Scotland, teachers who are members of the Educational Institute of Scotland in Aberdeen and Clackmannanshire will take industrial action as part of their rolling 16-day strike programme.
University staff.
Over 70,000 university staff at 150 universities represented the University and College Union will strike. It is the first of 18 days of strike action planned by the union for February and March.
The union is striking for a pay rise that recognises the cost-of-living crisis, having been given a 3% pay increase this year. The union also want an end to insecure contracts and excessive workloads.
Outsourced security guards at UCL, represented by the Independent Workers' of Great Britain, will also strike. Employed by subcontractor Bidvest Noonan, the security guards will be joined by striking lecturers from UCU.
Polly Smythe is Novara Media's labour movement correspondent.