Amazon Uses 'Intimidation' Against Historic First Legal UK Strike
'We're treated as numbers under permanent stress.'
26 January 2023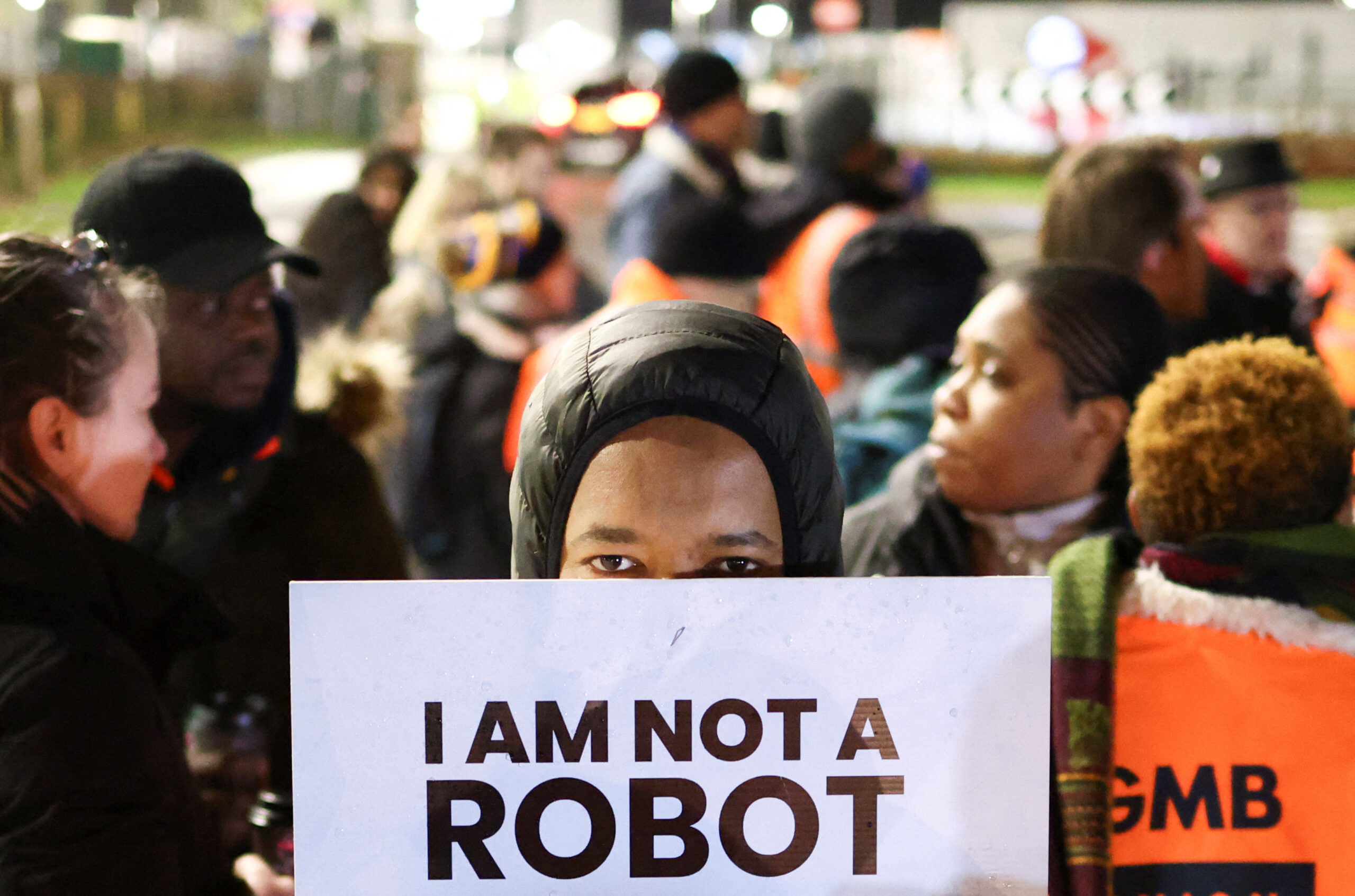 A person holds a placard supporting striking workers outside Amazon's Coventry warehouse. Henry Nicholls/Reuters
Amazon was accused of "a huge level of intimidation" as hundreds of workers made history by taking lawful strike action against the corporate giant for the first time in the UK on Wednesday.
The workers at the BHX4 warehouse in Coventry walked out on Wednesday morning demanding to be paid £15 per hour.
Private security guards hired by Amazon were present in large numbers on the picket lines at both the walk-in and drive-in entrance. Stuart Richards, a senior organiser for GMB, said: "If you're one of the workers who walked out in the middle of your shift, or if you're a worker stood on the picket line surrounded by security guards, that's a huge level of intimidation."
Also present on the picket line were a number of police vans, as well as officers patrolling.
One worker, who chose to remain anonymous for fear of retribution, said: "Amazon customers should know the real story behind what's happening in warehouses around the world. Amazon is trying to promote a fake image of associates being treated well. It's not true. We're treated as numbers under permanent stress. We can't afford to get sick."
Mikey, who has been at Amazon for two and a half years, pointed at the giant Coventry warehouse where he worked throughout the pandemic, as Amazon's quarterly profits tripled. "Workers in there, they want to join," he said. "They're scared. But the union is supporting us on this journey."
Another worker, Emma, said. "If you'd have asked me when I started this job if we'd ever get to this point, I'd have said no." Referencing Amazon's slogan, she said – "Work Hard, Have Fun, Make History" – and laughed. "We're historical."
Emma has worked inside the warehouse for close to five years and another four at Amazon's BHX1 in Rugeley, making her a veteran at a company with notoriously high staff turnover. She points to a text from management on her phone, explaining that workers arriving late for tonight's night shift won't be penalised. "This is the politest message I've ever had from management," she joked. "And all it took was a strike."
Amazon has been repeatedly criticised for the working conditions at its fulfilment centres. There have been reports of timed toilet breaks and surveillance software that ruthlessly sets impossible performance rates. After the GMB revealed that ambulances had been called out to Amazon's warehouses 1,000 times in five years, the online retailer cracked down, instructing workers to instead call a taxi or to drive the injured person to hospital.
The path to this first official UK action has been long. The GMB have spent close to a decade trying to organise Amazon workers. Currently, no trade union has been recognised at any of Amazon's UK sites. In August there was an unofficial walkout at the site as part of a nationwide wave of wildcat strikes over a proposed below-inflation pay rise.
Worker dissent is nothing new to Amazon's global business empire, however. In April 2022 at a warehouse in Staten Island, the Amazon Labour Union became the first organisation in history to unionise a US warehouse. In August, the company was hit by walkouts across the globe, with workers in the US, workers in Turkey and Germany striking.
Union membership has been growing quickly at the Coventry warehouse. In July, the GMB had around 30 members at the site, a number that had grown to 300 by January out of a staff of around 1,400. On the day of the strike, the union recruited over 50 new members, mainly by stopping workers as they arrived for their shifts and explaining the union to them.
One new union member, who arrived intending to work but instead decided to join the picket, excitedly spoke to his dad over Facetime as he signed up. He said, "there's not enough money at Amazon. Everything's expensive. Rent's expensive."
Amanda Gearing, a senior organiser at the GMB, said: "We're looking to get union recognition. Look what we've done on the outside, and now imagine what we could do on the inside."
Amazon has so far refused to engage directly with the GMB. Since the launch of the first ballot in September, Amazon has implemented a number of anti-union measures.
It closed a formerly public pathway that led to the warehouse to restrict access to the site. It resprayed white lines on the ground to mark out company property and prevent "trespass" by union organisers. In early October, Amazon announced a £500 cost-of-living payment to workers, payment of which was dependent on attendance on possible strike dates. A bus service that drops workers off at the warehouse and bypasses union organisers has been reinstated. Four of the most-active union members have been offered promotions.
In September, Amazon bizarrely mistook the opening of the GMB's ballot for strike action as the beginning of their strike, and relocated goods to an Amazon site in Doncaster, the UK's only other so-called "cross-dock" site – where items are scanned before they're sent out to fulfilment centres.
Richards said: "Amazon does a lot of things because they're incredibly scared of the union. They think the union is us, and they do everything they can to keep us out. But the union isn't us, it's the members inside."
Nina, who travelled from the fulfilment centre she works at in Mansfield to be on the picket line, said: "Working at Amazon, you forget you're a free person. The beauty of this country belongs to everybody. You don't belong to Amazon, and you don't belong to Jeff Bezos."
Workers and organisers are hoping that the unionisation effort at BHX4 will spread across the country, allowing them to ballot at other sites, and therefore take on Amazon's ability to rely on other fulfilment centres not hit by industrial action. Following the wildcat action in the summer, a Midlands Amazon workers branch has been established and the GMB have seen increased membership across other sites.
Amazon played down the scale of the action, with a spokesperson saying only a "tiny proportion of our workforce is involved."
The spokesperson also said, "we appreciate the great work our teams do throughout the year and we're proud to offer competitive pay." Depending on location, workers receive between £10.50 and £11.45 per hour.
Polly Smythe is Novara Media's labour movement correspondent.