Inside the Fight for the UK's First Formal Amazon Warehouse Strike
'I'm not going to sit at home in a jumper and decide whether to feed my kids or turn the heating on.'
18 October 2022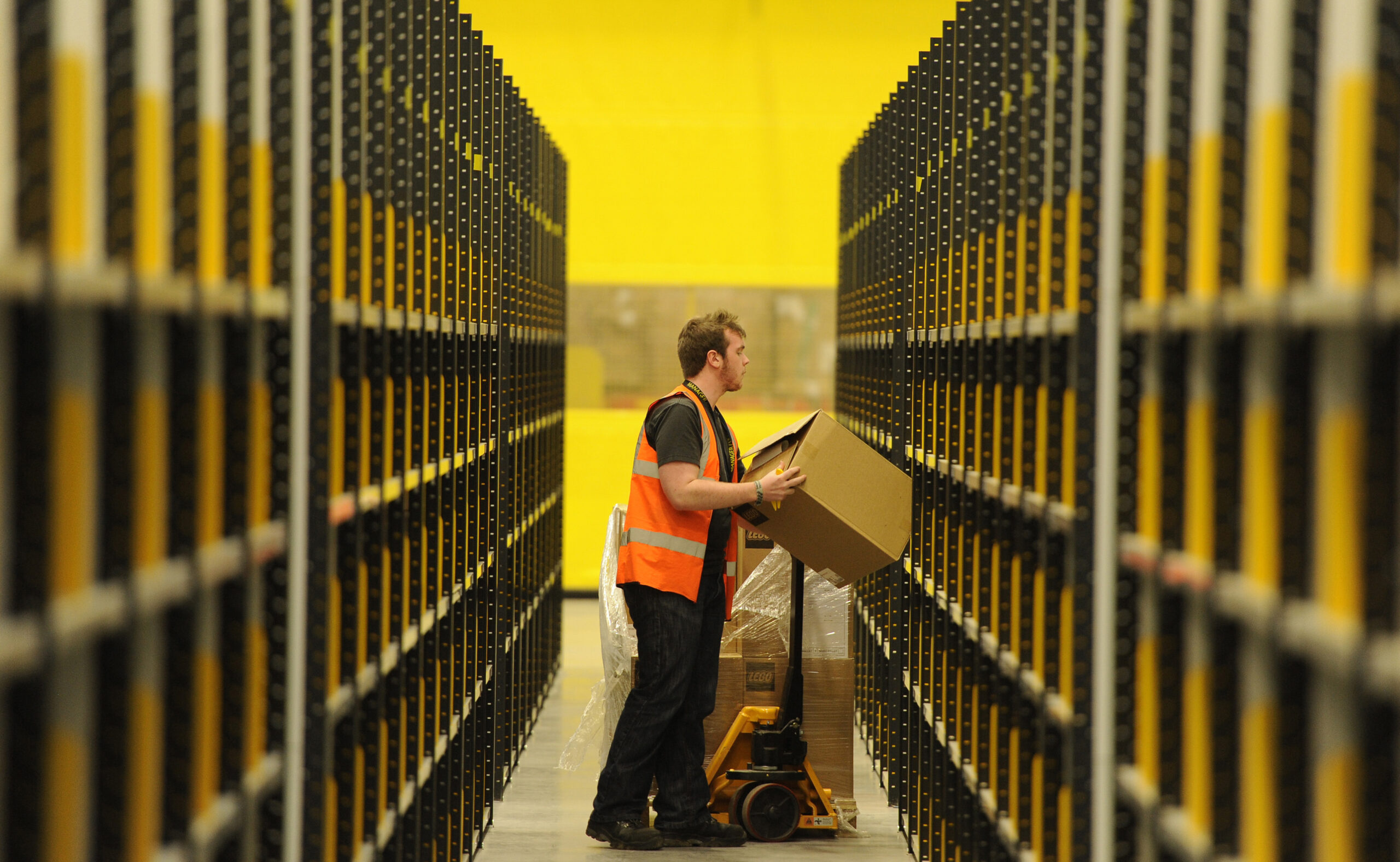 Amazon workers claim they have seen colleagues sent to hospital in taxis with broken legs or having serious panic attacks. REUTERS/Russell Cheyne
This week, a poster appeared on the back of the toilet doors at BHX4, the Amazon warehouse in Coventry, informing workers to call an ambulance if a colleague falls unwell.
The appearance of seemingly obvious health and safety advice was big news to staff. In 2018 the GMB trade union revealed that ambulances had been called out to the online retailer's warehouses 1000 times in five years. Since then, Amazon has cracked down on the calling of ambulances, instead calling for a taxi, or asking another worker to drive the injured person to hospital.
Coventry associates – Amazon's term for workers – told Novara Media that colleagues with broken legs, having severe panic attacks or heavily pregnant, have been sent to hospital in this way.
But since September, when associates, with the backing of the GMB, launched the first formal ballot for strike action at an Amazon warehouse in the UK, the delivery giant has started demonstrating a willingness to address specific issues employees have, all the while appearing to undermine union activity.
The strike ballot closes on Wednesday, with confirmation of the result expected in the afternoon. If a ballot for strike action is achieved, associates are likely to strike in December, in the critical pre-Christmas season.
"Before the union, Amazon would never have posted that. Instead, they'd have held you responsible for calling an ambulance," said Jordan, who like all workers featured in this article chose not to give their real name for fear of retaliation from the company.
Since the strike ballot opened, Amazon has also reinstated a bus service for associates, that takes them to the fulfilment centre, conveniently bypassing any GMB recruiters at the gates.
In early October, Amazon announced a £500 cost-of-living payment that will be paid in two instalments: £250 in October, while the ballot is being run, and £250 in December, when the union could potentially be taking strike action. The payment is "dependent on no unauthorised absence between 22 November [20]22 and 24 December [20]22." GMB believes that linking the payment directly to attendance may constitute unlawful inducement not to strike, and have instructed solicitors to take legal action.
On 14 September, the day GMB's ballot opened, management began the morning briefing at the centre by telling the gathered workers that Amazon doesn't recognise or negotiate with unions, going as far as to say that any union member caught trying to "coerce" colleagues into joining the union would receive a warning, if not outright dismissal.
Organisers suspect Amazon planted anti-union que­stions at the briefing – one woman asked whether Amazon would be able to guarantee her safety in the event that a picket line formed during a strike. Organisers also suspect that those critical of the company were blocked from speaking. "The microphone decided to strangely die when anybody was trying to question Amazon," said Alex.
Similarly, the "Associates Forum", a body supposed to represent associates' views to management, has increased its visibility since the ballot. "I said to one representative, 'sorry, but I didn't know you even existed. Where have you been for the last year? Because there's been no sign of you on the floor to come and talk to'," said Jordan. "But since the union, suddenly the Associate Forum is everywhere to be seen, getting the views again of the associates and parroting them back to management, to show that they're concerned."
On a "Voice of Associates" whiteboard, where associates are encouraged to share their concerns, messages about pay rises and the realities of trying to make ends on Amazon wages have been erased by management. "People ended up writing their messages eight inches wide," the massive letters being harder to erase, said Jordan.
"If we say Amazon doesn't have this or that benefit, all of a sudden we get about 20 texts listing different benefits they provide," said Alex, an Amazon associate. "They will spend hundreds of pounds on free t-shirts that end up in the back of our cars, lanyards, and balloons. But they can't afford to give us a decent wage."
Low wages in the context of the cost-of-living crisis were the catalyst for action. In August, wildcat strikes broke out at Amazon warehouses across the country in response to below-inflation pay offers. Associates at BHX4 staged a strike in response to an annual pay rise of just 50p an hour, which would take the basic rate to £10.50.
Following the wildcat action, associates in Coventry knew they needed to keep the momentum going. "As we started to talk to each other, we saw a pattern," said Jordan. "What happens at work doesn't just happen to me and another guy, it's a process they apply. Now we're talking, we're seeing a clearer picture in the mistreatment of the workers, which is on a regular basis."
"The diversity of the group meant there are a lot of languages being spoken, and we'd all gone into our own little pockets. But no one knew what to do next, no one was organised," said Charlie.
They decided to hold an open meeting in Coventry city centre and it was there that they met GMB representatives.
For Stuart Richards, the GMB Midlands regional officer, the wildcat strikes meant having to "relearn the fundamentals about where we should be going as a trade union." The GMB has been seeking to organise workers at Amazon warehouses around the UK for almost ten years.
"We've had to go back to grassroots, which is workers in a workplace determining how they might work better by standing together. We're helping to develop those leaders that came forward organically through their own structures, and then engaging with them to say, 'this is what we need to do to make your protest legal'."
GMB also organised an online rally where workers were addressed by Derrick Palmer, vice president of the Amazon Labor Union, which became the first Amazon union in the US after the JFK8, fulfilment centre in Staten Island unionised, and former US Presidential candidate Bernie Sanders.
Blake, an Amazon associate, said, "This is my first time in Amazon history seeing workers responding with anger. Everyone is coming together to say, you're treating us like animals, like slaves. But we are humans. This is the modern world. Why should you want us to keep quiet and subdued?"
"If you don't scan an item for five minutes, they come and they chase you. You have to work like a robot. If you spend 10 minutes, they're chasing you. They don't want to pay you for what you are doing, and they want you to work at 100%."
"You've got to work six days a week just to pay your bills," said Charlie. "I'm not prepared to sit at home with a jumper and make a decision whether my kids are being fed or I'm turning the heating on."
Amazon has refused to engage with the union directly, but it has responded to the ballot in other ways. At the site, additional security cameras and trespassing signs have been installed, lines marking out company property resprayed on the floor, and new security management employed – all seemingly to deter GMB organisers from getting too close to Amazon workers.
Restricting the GMB's access to workplaces has long been a key Amazon strategy in suppressing unionisation efforts at its sites. In November 2018, July 2019, August 2019 and November 2019, around Amazon Prime Day and Black Friday, the GMB received legal notices from Amazon's solicitors, alleging trespass and threatening injunctions for unlawful trespass.
Workers told Novara Media that within the warehouse, there has been an escalation in the number of formal processes, such as disciplinaries, sickness and absence management, instigated by Amazon. "I think it's a deliberate strategy to try and prevent workers from organising themselves," said Richards.
"As we have no accredited reps inside, we can't have our organisers inside start supporting other members. It just puts a massive target on their backs."
Having spent the ballot period door knocking and phone banking, Richards is realistic about the challenge of organising. "You have a large workforce with by and large no history of trade union involvement, who have very little chance to engage collectively."
"When you're at work, the number of people you're going to is very small. The average length to work at Amazon is relatively short, so you have to contend with a high turnover that they actively encourage."
Additionally, a large number of Amazon employees live in shared and precarious housing. Ensuring that they receive their postal ballot – how voting in trade union elections is conducted – is challenging.
The scale of the undertaking is also understood by associates. "The union has come along and given us focus and structure," said Jordan. "Amazon recognises that, so they're pulling out all the stops to try and dissuade the people in the building who are very fearful about loss of earnings and job entitlement to put pressure on them to have nothing to do with the union."
An Amazon spokesperson said: "We haven't been provided with any detail to validate or meaningfully investigate these unsubstantiated, anonymous claims. Safety is our top priority at Amazon. We benchmark against national data, published by the Health & Safety Executive, confirming we have over 40% fewer injuries on average than other transportation and warehousing businesses in the UK. We continue to listen to our employees and make measurable improvements in reducing injuries and keeping them safe; we appreciate the work from all of our colleagues and safety teams who are contributing to this effort."
"We appreciate the great work our teams do throughout the year and we're proud to offer competitive pay which starts at a minimum of between £10.50 and £11.45 per hour, depending on location. This represents a 29 per cent increase in the minimum hourly wage paid to Amazon employees since 2018. Employees are also offered comprehensive benefits that are worth thousands more—including private medical insurance, life assurance, subsidised meals and an employee discount, to name a few.
"On top of this, we're pleased to have announced that full-time, part-time and seasonal frontline employees will receive an additional one-time special payment of up to £500 as an extra thank you."
Polly Smythe is Novara Media's labour movement correspondent.