Deliveroo Thinks France Has the 'Most Progressive' Gig Economy. Deliveroo Has Been Fined for Workers' Rights Abuses in France
The company was accused of "willful infringement" of employment law.
1 October 2022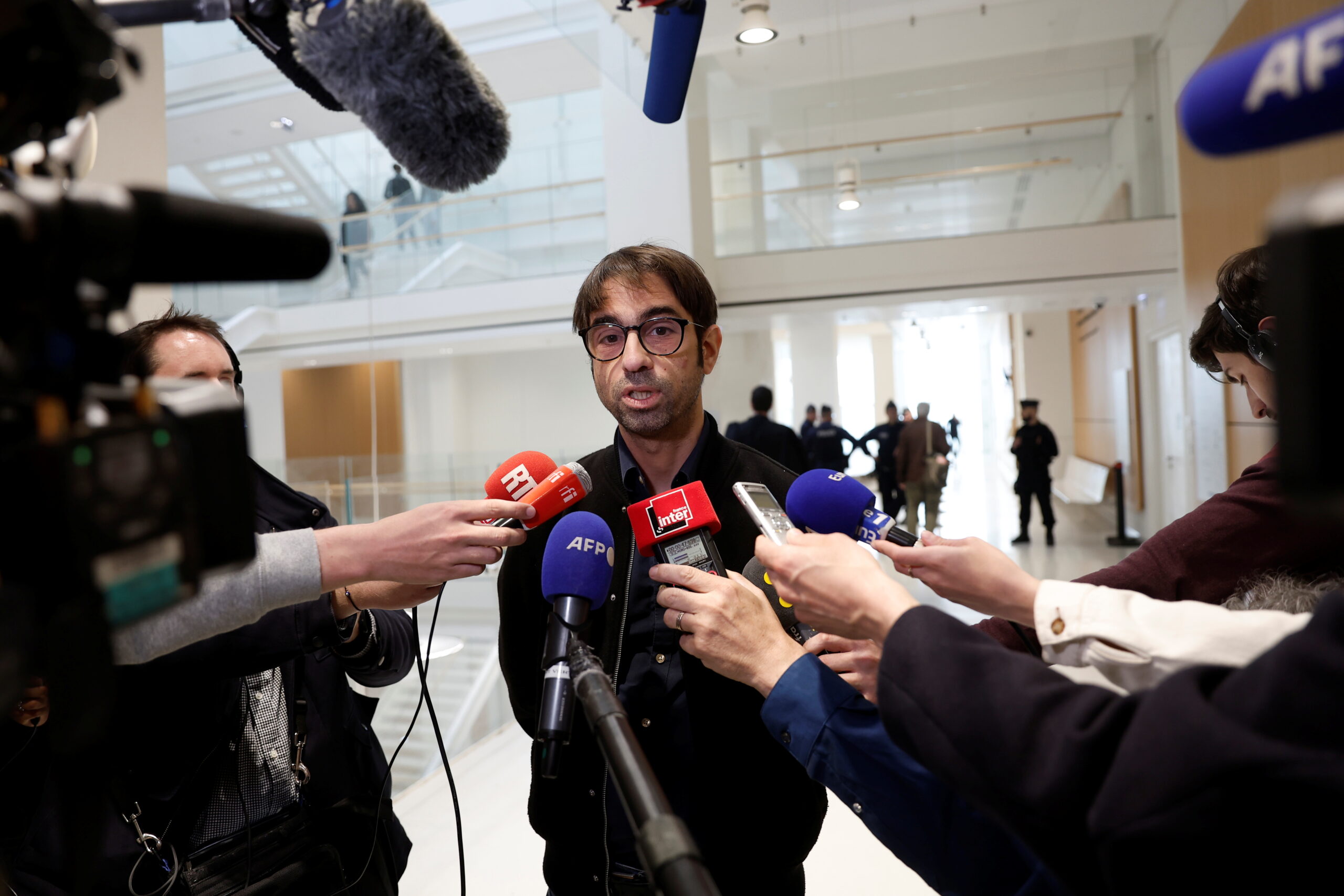 Damien Steffan, spokesperson for Deliveroo France, talks to journalists after the verdict in the trial of Deliveroo French executives for abuse of freelance status of dozens of former riders at the courthouse in Paris, France, April 19, 2022. REUTERS/Benoit Tessier
Deliveroo's UK director of corporate communications said that France – a country in which the gig-economy platform has been fined for abusing workers' rights – is "the most progressive example" of gig economy regulation.
He made the comments during a Labour Party conference fringe event on Monday about how to "deliver a progressive gig economy" sponsored by Deliveroo, which allegedly featured no actual Deliveroo riders. The meeting took place one day before over 100 self-organised Deliveroo riders took strike action in Luton against nose diving pay and conditions.
Joe Carberry who has been director of corporate communications for Deliveroo since June 2017, was asked for international examples of how to regulate gig work. He said France was the "most progressive example to point to," given Marcon's support for "the gig economy and self-employed work within it," such as setting "minimum standards for platform workers".
In April, a French court handed two former Deliveroo managers suspended criminal convictions, and fined the company 375,000 euros for its "wilful infringement" of employment law.
While Deliveroo claimed the riders were "freelance", the court found that they operated under "an almost permanent surveillance," with riders being allocated long time slots to ensure the platform had as many riders available at the weekend as possible, as well as telling drivers who refused they would not be allowed to work for the platform in the following weeks.
If the riders were employed under French law, they would be granted social security, pension contributions, and unemployment benefits.
A Deliveroo Spokesperson told Novara Media: "Deliveroo has appealed this decision. The judgement went against previous decisions in civil courts covering the same historic period, which have repeatedly found riders to be self-employed. While this case does not concern today's operating model, we strongly disagree with this judgement and the basis on which it has been made."
Other gig economy operators in France have also faced controversy. Earlier this month, hundreds of Uber Eats couriers in France took to the streets to protest the crackdown on undocumented workers by food delivery platforms, saying their accounts are being deactivated en masse. Uber Eats said it had conducted a "thorough audit" of courier accounts in order to crack down on fraud and illegal work.
President Emmanuel Macron has faced calls for a parliamentary inquiry after the revelation of secret undeclared meetings he held with Uber. Macron failed to record at least three of four meetings with Uber's chief executive and founder, Travis Kalanick, that were detailed in the leaked Uber files. There is no evidence of Deliveroo engaging in mass deactivation or secret lobbying.
Ludo Rioux, of the Confédération Générale du Travail (CGT) union, which organises Deliveroo riders in France said: "To Deliveroo, France is a social laboratory for them to experiment forms of new exploitation that give fewer rights to the workers."
Alex Marshall President of the Independent Workers of Great Britain (IWGB), a union which organises Deliveroo riders in the UK, said: "It is quite ironic that Deliveroo points to France as progressive when no they have received huge fines and a suspended jail sentence there."
However, at Labour conference Carberry highlighted other aspects of the gig-economy in France. He said: "So [France] legislated to say that platforms have to offer any independent worker they work with a minimum level of insurance covering accident and injury.
"The other thing that they're doing is having a mandatory process of social dialogue. So platforms have to negotiate annually with trade unions, those trade unions that participate are selected by platform workers."
Rioux said: "There is no obligation for the platforms to give social protection and insurance to the rider. While it is a possibility, it's not an obligation.
"Instead of giving us the same rights they give to other employees with a similar regulative system, they created a form of social dialogue that's not connected to anything that's been happening before."
Carberry was previously head of research for the Labour Party between 2015 to 2017, and a special adviser to David Miliband. Carberry is the godson of Peter Mandelson, and his mother, Kay Carberry, is on the board of Progressive Britain, a Blairite think-tank which hosted the event.
The event description in the conference brochure listed Martin Hermos, a "Deliveroo rider", as a speaker on the panel. In fact, according to his LinikedIn profile, Hermoso works as a "Deliveroo engagement manager", and has worked in corporate roles for seven years. There is no mention of riding on his LinkedIn profile and he made no reference to working or having worked as a rider during the panel – although Deliveroo has insisted to the Open Democracy website that Hermoso, "began riding with us and continues to ride today."
At the event shadow minister for employment, Alison McGovern, said that nostalgia for "old forms of work" was misplaced.
The presence of Deliveroo at conference raises questions around the Labour Party's position on gig work. On Monday it was revealed that Just Eat have donated more than £3,500 worth of event tickets to Labour MPs and staff, including Starmer himself. The App Drivers & Couriers Union (ADCU) said the party leadership has "gone soft on gig economy employers".
This perception won't be helped by the fact that shadow work and pensions secretary Jonathan Ashworth's former political adviser Collette Bird left her post as a Labour staffer in March 2021 to work as head of UK external relations for Just Eat, another gig-economy employer, joining several senior ex-Tories at the company.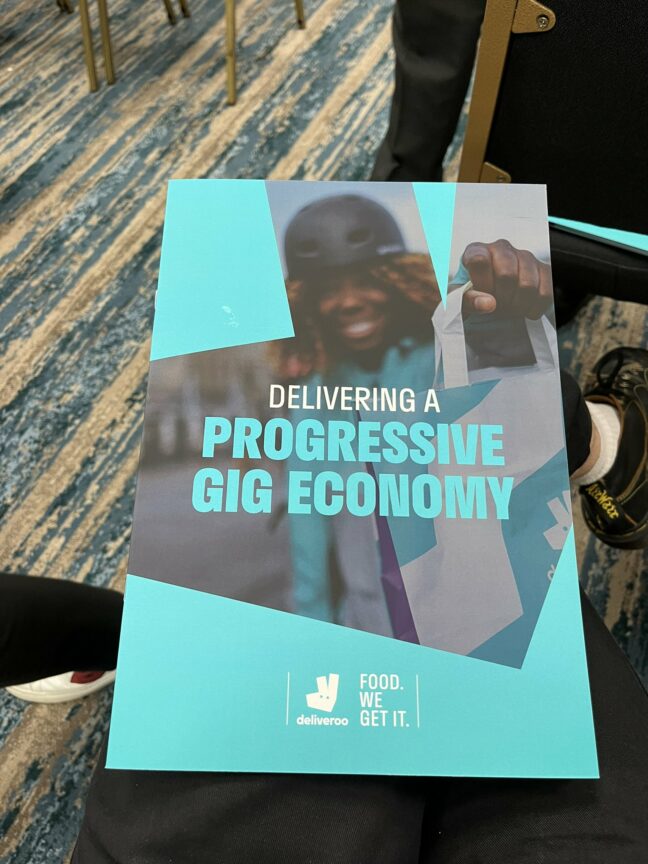 In a glossy leaflet provided to event attendees, the company boasted of using "our voice and experience to drive up standards for gig workers across the UK." The leaflet hyped Deliveroo's pledge to pay riders the National Minimum Wage. However, riders are still not paid when they are checked into the app and waiting for an order, meaning overall earnings per hour often fall well below the legal minimum wage. Last year the Bureau of Investigative Journalism revealed that riders can earn as little as £2 an hour. No one chose to mention this fact at the sponsored event.
In a section on flexibility, the company wrote that riders can "choose to work with competitors at the same time without being penalised."
This refers to what riders call "multi-apping" – the practice of using more than one gig economy platform at the same time to get more work. Joe Durbidge, a Deliveroo rider and rep for IWGB, said that while multi-apping "is very common and not in itself a bad thing", it "can't be used by companies to renege on their responsibilities towards riders on providing a decent volume of work."
"Flexibility here creates a narrative that we have plenty of places to find work and no platform is responsible, whereas they're all responsible to ensure decent volumes of work are coming out."
Carberry said, "The reason that people choose gig work is primarily the flexibility. It gives them flexibility that is incompatible with employment.
"Any traction that [the IWGB] may have with their campaign to turn riders into employees isn't something that riders ever tell us they actually want."
However, the IWGB don't want to turn riders into employees. They're currently challenging Deliveroo in the Supreme Court over the denial of collective bargaining rights, and fighting for "limb b worker" status, which would mean couriers were self-employed but entitled to "worker" status and the rights that come with that, such as paid holidays and automatic employer pension contributions.
Marshall said: "The UK is quite progressive in the sense that it has an employment status – 'worker' status- that is perfectly suited for the gig economy. This status enable workers to have both flexibility and rights. Deliveroo have been fighting the IWGB in the courts since 2016 to deny workers exactly this. The progressive answer to the gig economy is right on their doorstep, they are just choosing to spend hundreds of thousands to try and maintain a regressive way of employing people."
"If workers had been present [on the panel] their message would have been clear: it is possible to be self-employed, have flexibility and rights. This is something the IWGB has always fought for."
Durbidge said, "Riders don't enjoy flexibility unless we can secure a liveable income, and I don't see how riders can secure that without genuine representatives, who understand the issues riders face, being at the table."
Also speaking at the event was GMB national secretary Andy Prendergast. In May, the union signed a voluntary partnership agreement with Deliveroo, which it called "historic." But the deal was criticised as a "hollow and cynical PR move" by the IWGB. The "​​backroom deal" was intended to undermine its efforts to organise food couriers, the IWGB said.
The deal is similar to previous deals the GMB have with Hermes and Uber. It keeps riders classified as self-employed independent contractors, which means that they aren't legally entitled to sick pay, holiday pay or the minimum wage.
GMB has also faced accusations that they signed the deal without any record of organising riders. Prendergast said that although he was "reluctant to give any figures when the employer is in the room," GMB membership among Deliveroo riders was now in the hundreds.
Novara approached both Alison McGovern MP for comment.
Update, 4 October: This article has been updated to include a response from Deliveroo.
Polly Smythe is Novara Media's labour movement correspondent.