The Thinktank Behind Trussonomics Is Throwing a Party With a Crisis PR Firm
The IEA loves free markets, but free markets don't love it back.
30 September 2022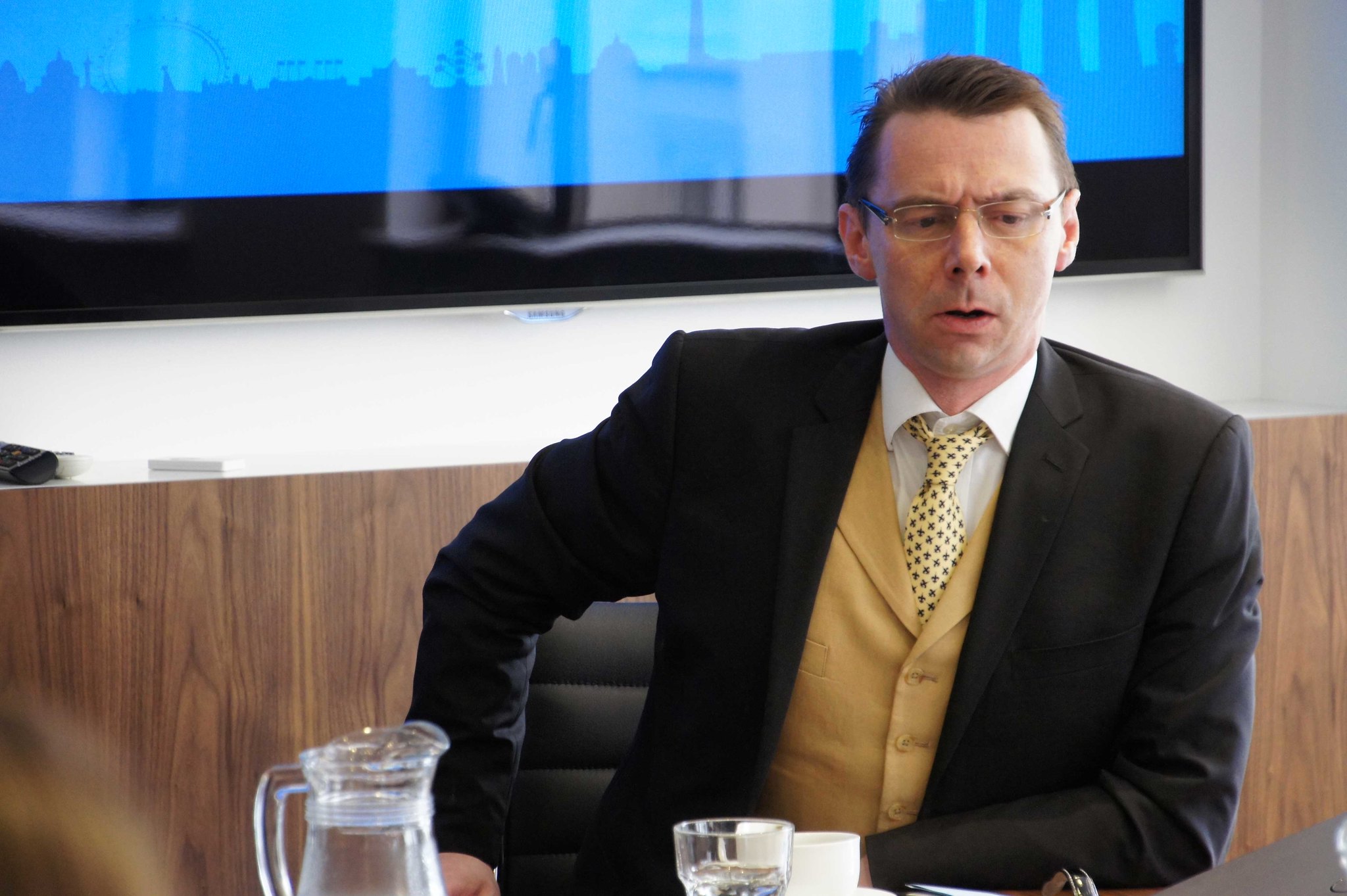 Mark Littlewood in happier times, taking part in a discussion in 2013. Photo: Cicero Group on Flikr (CC BY 2.0)
What a week for the Institute of Economic Affairs, self described as "the UK's original free-market think-tank", known to everyone else as the brain geniuses who have been laying the ideological groundwork for our current economic maxi crisis.
The weird neoliberal lobby group beloved of Liz Truss were some of the only people who were happy with Kwasi Kwarteng's car crash mini budget. A jubilant IEA general director Mark Littlewood called the budget "refreshing" and said, "If this was the Chancellor's 'mini' budget, I look forward to the 'maxi' budget."
A massive moment for @iealondon. They've been advocating these policies for years. They incubated Truss and Kwarteng during their early years as MPs. Britain is now their laboratory.

— Tim Montgomerie 🇬🇧 (@montie) September 23, 2022
Tim Montgomerie, a former speech writer to David Cameron, Tweeted that the budget was "A massive moment for @iealondon. They've been advocating these policies for years. They incubated Truss and Kwarteng during their early years as MPs. Britain is now their laboratory."
I suppose that makes us all something like the rodents in the lab of South Park's Dr Mephesto, a genetic scientist who thinks cross-breeding elephants and pigs to make huge elephant-sized pigs is a "brilliant idea", and who splices the genes of a chipmunk with a piece of cheese.
Since then the woke Bank of England has moved to stop a pensions "death spiral" and the Corbynite wreckers of the International Monetary Fund have politely asked if the government might give their heads a wobble.
Spare a thought for Littlewood and his mates. It must be weird spending your life with a huge crush on free markets, only to find out that the markets are just not that into you. But while you might think that they would want to lie in bed all day eating ice cream and crying into their pillows, the IEA's top boffins have already committed to an exciting programme of events at the upcoming Conservative Party conference.
The IEA's "Think Tent" series of events – in partnership with the Tax Payers' Alliance, another right-wing lobby group – has been taking place for a number of years and is advertised as a "staple of the fringe scene at Conservative Party Conference".
A hot ticket for Tory delegates will surely be an "in conversation" event with chancellor Kwasi Kwarteng, who is billed as "the person responsible for the UK's economic future", a description which was probably intended as a compliment rather than an accusation when it was written. Oh, to be a fly on the wall! And now you can: Bravely, they are choosing to live stream this event.
Also among their epic contributions to economic wellbeing will be a panel event entitled, "The cost of living crisis: is the worst yet to come?" to which the answer is surely, "yes – no thanks to you". The panel will include Alex Morton, IEA director of strategy. He was policy lead on Kemi Badenoch's pro-free-market Tory leadership campaign. Badenoch has since been appointed trade secretary by Truss and on Wednesday insisted to the Telegraph that the UK economy is "strong" and that we're "going for growth in a big way".
Not satisfied with having a hand in tanking the economy, the IEA seem like they would accidentally torch the planet given half a chance. Another panel will ask, "Can the UK afford net zero?" One panellist will be Steve Baker MP who recently shared a paper on Twitter saying that the climate emergency doesn't exist. Another will be Andy Mayer, COO and Energy Analyst for the IEA, who believes that "no intervention" is needed by governments on climate change, as "human ingenuity" alone is the best way to solve the climate emergency. If the human ingenuity that has been on display this week is anything to go by, we're in worse trouble than we thought. Overall, I'm not sure I would trust these people to look after my cats while I was on holiday, let alone run the country.
With everything happening in the economy, IEA staff may be in need of a stiff drink. Luckily IEA is also holding a drinks reception, sponsored by DRD, which describes itself as "a strategic communications consultancy focused on building value for our clients and protecting their reputations at moments of challenge and change". After the week they've had, IEA might want to ask about a mate's rate.
Simon Childs is a commissioning editor and reporter for Novara Media.