How Far Will Lula Go to Protect Indigenous Brazilians?
Taking on powerful lobbies is no mean feat.
31 January 2023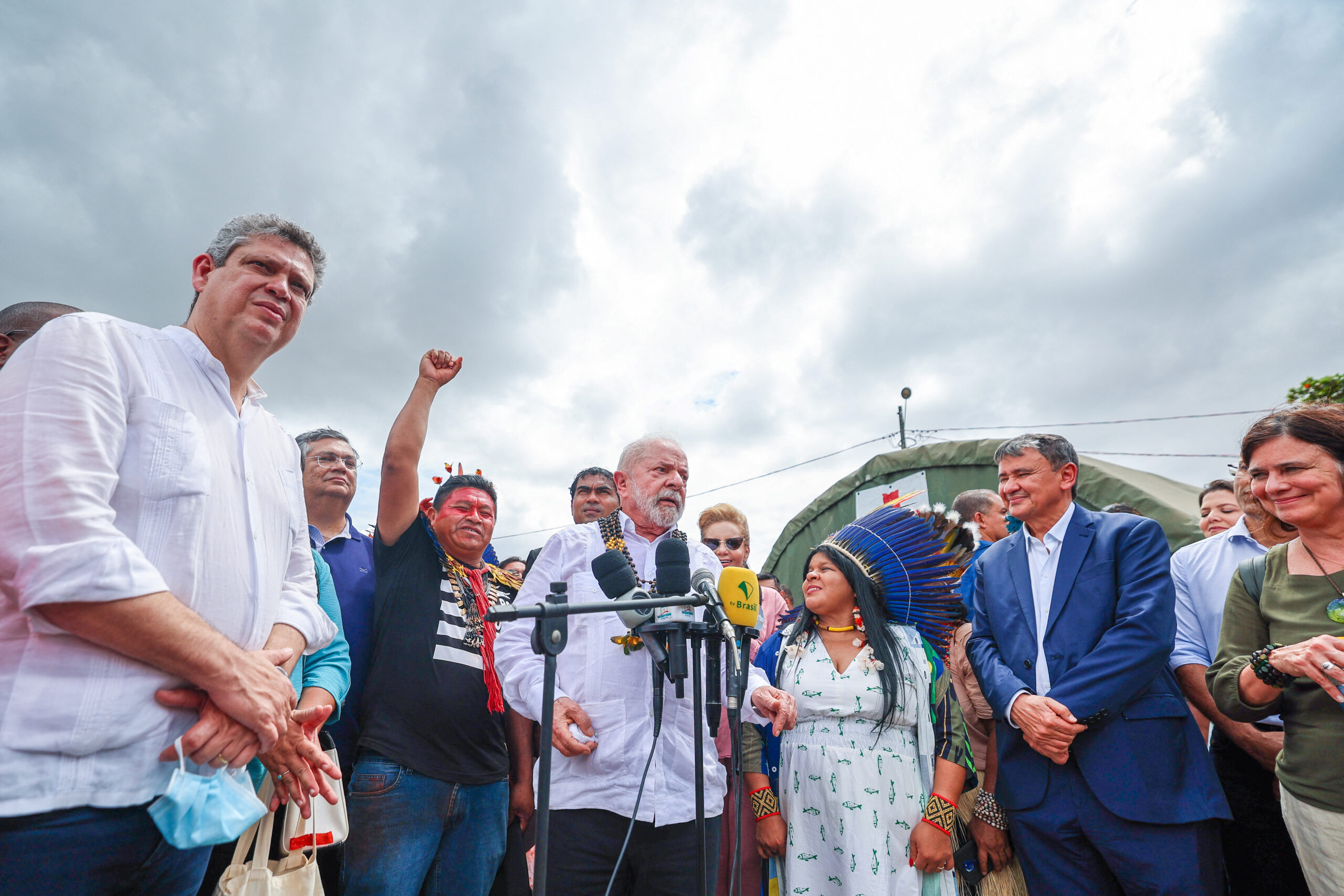 Lula visits a Yanomami health venue in Boa Vista, Roraima, January 2023. Ricardo Stuckert/Reuters
Last week, the Brazilian health ministry declared a state of emergency in Yanomami territory on the Amazon border with Venezuela following the discovery of thousands of cases of indigence and famine amongst the indigenous community. 
A report compiled after a visit to the region produced some harrowing statistics – not least that an estimated 570 children have died over the course of the last four years from mercury poisoning and malnutrition. Illegal gold mining is to blame, along with Jair Bolsonaro's administration, which was happy to neglect calls for help from local representatives.
President Luiz Inácio 'Lula' da Silva, who took power on 1 January, visited the state of Roraima shortly after the report was published. He branded the humanitarian crisis a "genocide" and had no qualms about linking the crisis to the policies of his predecessor. While he wasn't factually wrong, the fact is that if his own administration is to succeed in defending the rights of the povos originários (original peoples), it will have to contend with two of the country's most powerful lobbies: agribusiness and mining.
Bolsonaro's agenda.
In the 1970s and 1980s, there was a gold rush in the northern region of the Amazon Basin. The arrival of 45,000 artisanal gold miners, locally known as garimpeiros, led to the introduction of life-threatening diseases such as malaria to the Yanomami. An estimated 20% of the indigenous population died in this period, making the crisis an international human rights affair. Even King Charles commented on the topic in 1990, arguing that the Yanomami were being "driven into extinction" by gold prospectors. After pressure from Brazilian and international groups, Yanomami territory was demarcated in 1991, giving the indigenous population exclusive use of over 37,000 square miles of land. Gold mining became illegal. 
In 1992, when Bolsonaro was an up-and-coming conservative member of the Brazilian lower house, he proposed a bill revoking the Yanomami demarcation. He argued that "national security" was put at risk by offering constitutional rights to an indigenous group whose existence crossed the border between Brazil and Venezuela. Less than a year after the protection of the Yanomami was made law, Bolsonaro asked his fellow lawmakers: "Are the total of natives found by the National Indian Foundation (FUNAI) Brazilian or Venezuelan?" 
As president, Bolsonaro continued operating in this register, replacing many of the leaderships of indigenous and Amazon protection agencies with political allies and proposing legislation to make gold mining a legal activity in the region. It was also under his watch that various indigenous agencies, already struggling due to decades of underfunding, were starved of resources. FUNAI was particularly affected after Bolsonaro appointed a federal police chief with links to the ruralist lobby as its president.
Bolsonaro's anti-indigenous politics and the violence it enabled became international news last year following the murder of British journalist Dom Phillips and indigenous expert Bruno Pereira in the Javari Valley territory. Pereira had been a public servant at FUNAI, removed from his post by Bolsonaro's appointed leadership for coordinating an operation against garimpeiros on Yanomami land. He was working with Phillips on indigenous protection programmes when both were killed at the orders of a local illegal fishing boss. 
The challenge ahead.
In a recent interview with the Folha de São Paulo newspaper, renowned ethnographer Sydney Possuelo said that "the Brazilian state has the necessary conditions for the removal of garimpeiros." It will happen if there is "political will", he added. A critic of previous Lula administrations, Possuelo is nonetheless convinced that the president's visit to Roraima "sent the message that all has changed, that nobody here will support the invasion (of indigenous lands)."
Indeed, indigenous rights and their intrinsic link to environmental protection have been at the top of the new administration's agenda. Lula showed this symbolically by including Kayapó chief Raoni Metuktire in his entourage at his swearing-in ceremony. Days later, one of Lula's first acts as president was to create a Ministry of Indigenous People led by Sônia Guajajara – the first native woman elected to Congress and a member of the socialist party PSOL. The government also announced that FUNAI and the indigenous health department would have indigenous leaders, chosen from a shortlist compiled by indigenous representation groups. Once the crisis in Roraima was uncovered, the administration also proceeded to fire many of the officials responsible for indigenous welfare appointed by Bolsonaro. 
But for his presidency to be truly unprecedented in the fight for indigenous rights, Lula will have to go beyond political appointments and reshuffles. The Brazilian president will have to make use of all his diplomatic nous in order to push through policy in a nation where over 49% of the population voted for his opponent. One of the largest political groups in the Senate is now the so-called bancada ruralista – politicians representing landowners and cattle ranchers. Pro-indigenous politics will invariably ruffle some feathers, particularly in the nine Brazilian states housing the Amazon Basin – not least since Lula won in only three of them. 
In past presidencies, Lula was linked to controversial projects such as the Belo Monte dam, which restricts 85% of the flow of the Xingu River with drastic consequences for local indigenous populations, as well as the biosphere. Much of Lula's previous presidential success was premised on offering the private sector irresistible deals in exchange for much-needed social reform. But who will pay for the agribusiness and mining industries' greed if the povos originários and the Amazon rainforest are to be protected?
What's more, governmental bodies dealing with indigenous matters need an injection of capital beyond what a Lula administration can afford when also dealing with rampant inflation and worsening living standards more broadly. Lula promised to lower the price of meat so that ordinary Brazilians could find it back on their plates, but he's unlikely to be able to do so without heavily subsidising the very same cattle ranches that are driving the Amazon's deforestation. 
Currently, Lula's plan seems to rely on international support. Lula arrived at the COP27 climate talks in Egypt to great fanfare. There he was able to convince countries such as Norway to join his revived $1.2bn Amazon Fund. Britain's environment minister Therese Coffey signalled the possibility of also joining, alongside France. The fund's promotional campaign continued in Davos two weeks ago, with Brazilian environment minister Marina Silva making an impassioned speech. This week, Germany pledged $222m. 
Satisfying a politically divided nation, relying on international funds and fending off the often violent mining, logging and agribusiness lobbies will make keeping his vow to indigenous Brazilians an arduous and often treacherous path for Lula. But if there's a politician able to spin these plates, perhaps it's he.
Joana Ramiro is a journalist, writer, broadcaster and political commentator.