I Went to a Queer Platonic Co-Parenting Meet-Up
'I've been waiting for an event like this for years.'
7 February 2023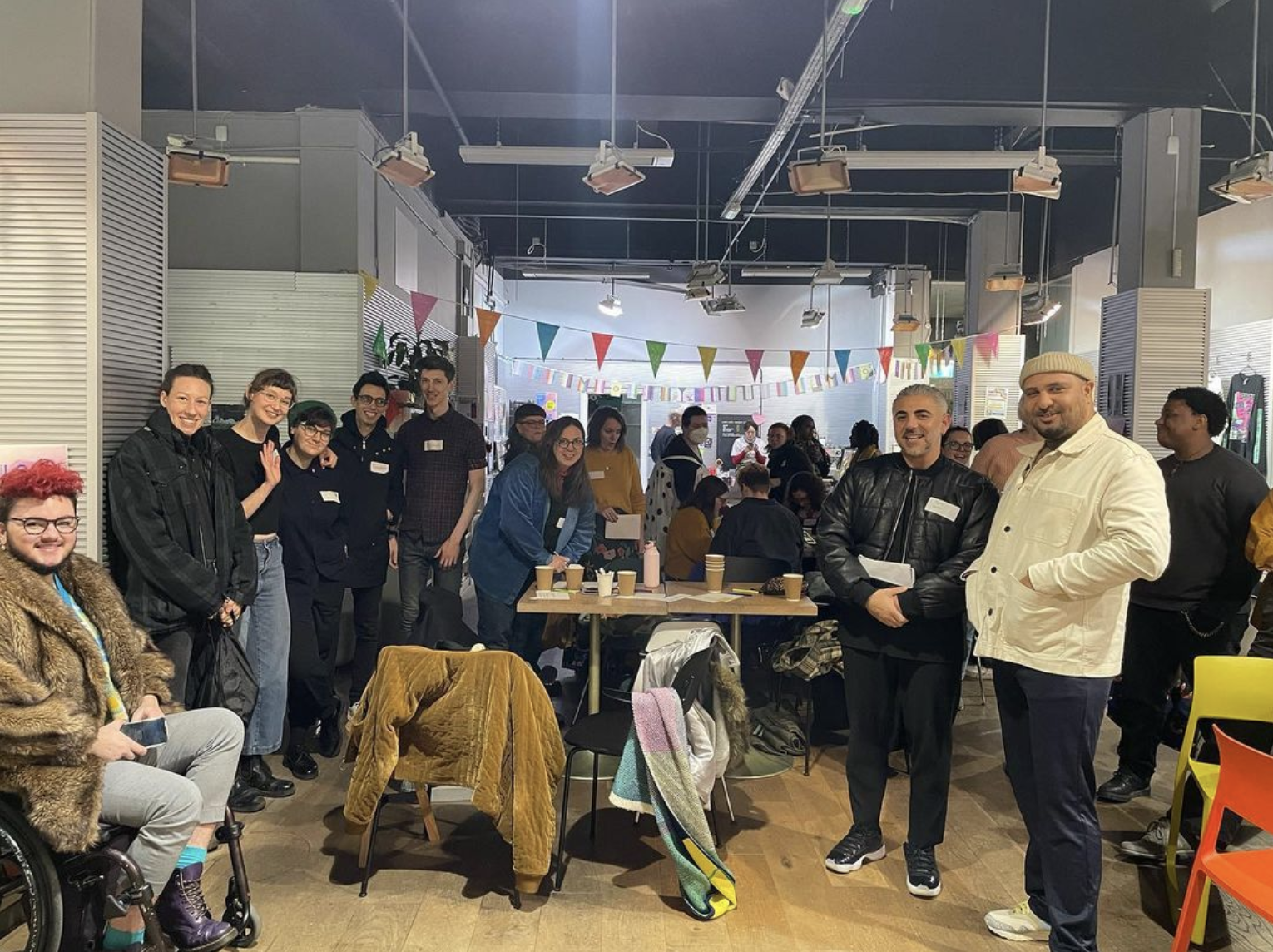 People attend the UK's only current queer platonic co-parenting meet-up, London, January 2023. Photo: Queer Platonic Co-parenting/Instagram
"Since I've known I was gay, I've known that – should I choose to have kids – it won't be simple," says Eleanor Margolis, a 33-year-old writer living in south London. 
A couple of years ago, in a discussion about whether the couple wanted to be parents, Eleanor's partner of six years, Leo Schick, 35, raised the idea of co-parenting: partnering up platonically with another person or couple in order to raise children. 
While at first "dubious because of the tricky logistics," Eleanor was eventually convinced it could be the answer. "The more I thought about it," she says, "the more I realised that in a society that is in absolutely no way structured to support parents, this could be the perfect parenting model." 
As part of their journey towards becoming co-parents, Eleanor and Leo organised what they believe is the UK's only current queer platonic co-parenting speed-meeting event, held one Saturday in January at the London LGBTQ+ Community Centre. 
As Leo opened the sold-out event – welcoming everyone to the space and explaining the itinerary, which was designed to facilitate compatible co-parents to meet – I looked around at the 40 or so attendees exchanging glances with one another. Could we be setting eyes on our future co-parents for the very first time? 
Thinking outside the box.
UK birth rates continue to fall, and whilst people's decisions around parenthood are personal and varied, the economy is undoubtedly playing a role. In a society with woefully inadequate public services and benefits, housing and cost of living crises and soaring childcare costs, support for parents is scarce. 'It takes a village to raise a child' is a popular saying – but in practice, most people still aspire and attempt to raise children in a two-parent household (with some support from grandparents at most).
In this context, critiques of the nuclear family are gaining traction, and more and more people are considering the likelihood that should they choose to become parents, they might need – or indeed want – to think outside the box. Queer people, Eleanor points out, have always been "great at challenging existing models" in society. 
A wide range of people attended the event; circumstances, desires and hopes were varied, and no one claimed to have it all figured out. While some expressed that they'd always been sure they wanted to parent, others had changed their minds as they'd gotten older, or were ambivalent, but were exploring the possibility because of their partner's desires. 
Event attendees Alice*, 35, and Tina*, 40, have been together for five years. Whilst Alice had "always imagined having a family", Tina changed her mind about it after meeting Alice. The couple hope to become parents with the support of a known sperm donor who wants to play "a supporting role" in their future child's life, within "a wider network of queer and non-queer families".  
"The current climate makes family life and parenting a big challenge," says Alice, "especially [around] childcare and employment […] and especially for women." As a result, she says, her and her partner are pursuing their "own pathway which puts the child's needs at the heart while also allowing [them as] parents to have a wider pool for decision-making support and input." 
Ruby, 34, meanwhile, attended the event as an individual interested in co-parenting; her partner of 12 years doesn't want to parent. She came to the idea of queer platonic co-parenting "to share the momentous responsibility and perhaps work together with other queer people to overcome the many barriers we face when it comes to having children."
Discussions at the event largely focused on a shared belief – whether long-held or recent – that there are many ways to be a parent beyond the heteronormative ideal. Indeed, what made conversations between her and her partner "very constructive", says Leo, was the fact they "didn't have a fixed view" of what it meant to become parents. 
Parenthood might mean two friends raising a child whilst living separately, or a polyamorous constellation raising children in a communal household, or former romantic partners collaborating as parents. It could look like long-term partners – in which one or both are reluctant to parent in a nuclear set-up – finding an approach that works for them both, perhaps by co-parenting with another couple or individual, or by parenting in collaboration with other parents, having made agreements around collective approaches to childcare. 
Whilst some at the event considered co-parenting a 'back-up' option should they not meet a romantic partner to parent with, others considered it their first preference. And unlike in traditional conversations around parenting, what it meant to 'have a child' did not mean one thing: coupled biological reproduction, assisted reproductive technologies, fostering, adoption and surrogacy were all discussed. 
The event didn't shy away from the potential challenges of non-normative parenting. Eleanor notes that co-parents might not be covered by existing legal frameworks, potentially risking problems if relationships break down. To minimise this risk, Alice and Tina plan to have "structured counselling" with the third co-parent ahead of having a child. Ruby, meanwhile, came away from the event "feeling really excited but also more grounded and realistic about what might or might not be possible" because of "logistics, money and geography".
More big, queer families.
January's queer platonic co-parenting meet-up will likely be the first of many. "Responses have been overwhelmingly positive," says Eleanor, with many saying they've "been waiting for an event like this for years". Already, attendees have offered to help organise more events – including in other cities – and have set up WhatsApp groups to continue the conversations. Ultimately, Eleanor's hope is that such events will support people to "make babies with big, loving queer families". 
"What if we could approach parenting in a similar way to queer polyamory?" asks Ruby. This, she suggests, could mean "dismantling structures which may be harmful, not expecting a child's needs to be met by just two parents, offering respite to carers, sharing the load of care work and expanding how a child can receive the nurture they need."
*Names have been changed to protect anonymity.
Sophie K Rosa is a freelance journalist.