'Racist NIMBYs', Neo-Nazis and Bigoted Politicians: How an Anti-Migrant Riot Broke Out on Merseyside
A member of far-right group Patriotic Alternative said being linked to the protest was 'free advertising'
15 February 2023
North West PA activist James Mac (AKA Costello) at a protest outside a hotel housing migrants in Knowsley. Screengrab: Red Flare
When rioters set fire to a police van outside the Suites Hotel in Knowsley, Merseyside on Friday during an anti-asylum seeker protest, far-right activists could hardly contain their excitement. A post in the Telegram channel for neo-Nazi group Patriotic Alternative's northwest group showed a picture of the riot van in flames and commented: "The uprising is happening."
However, anti-fascist researchers say that breathless initial reports of "several hundred far-right demonstrators" organised by Patriotic Alternative (PA) were not quite right.
According to Allan Jones, a spokesperson for anti-fascist research group Red Flare, "while PA activists were present, they are not capable of organising riots and have limited experience of public order situations." Police have said that the 15 people arrested were mainly from the Knowsley area, suggesting that the protesters were local, rather than visiting far-right activists.
The protest was called by two local Instagram pages with a combined following of almost 50,000, after a video appearing to show a 25-year-old man – allegedly a resident of the hotel – propositioning a 15-year-old girl for sex went viral. A post on the pages called for a "protest against the people staying in the hotel and the effect it's causing on the city." While the call-out said "no violence", holding the demonstration at 8pm on a Friday night was a naive move if organisers were hoping for calm.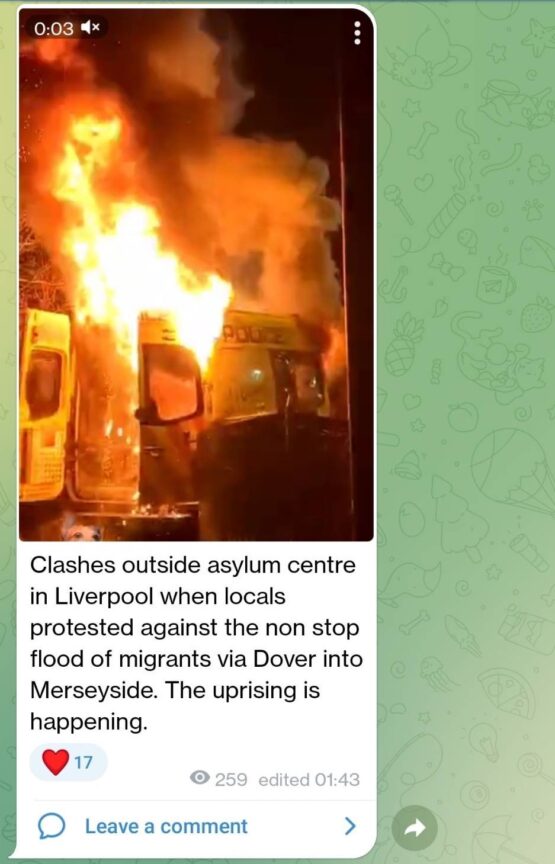 PA distanced themselves from the protest, with deputy leader Laura Towler tweeting in response to initial media reports: "The press are so obsessed with Patriotic Alternative they're now saying we're staging demos we're not even at."
However, activists were quietly pleased with the association. On a PA gaming stream broadcast on Sunday, a PA activist commented: "The fact that people are pinning it on PA when we haven't done it is kind of just free advertising, in a weird backhanded way."
While PA did not directly organise the protest, the group has had a hand in spreading hatred in the local area.
Activists from the fascist group leafletted the area in the weeks before the protest, claiming that migrants are being housed in "5 star hotels whilst Brits freeze". On 4 February, PA held a small protest outside the hotel.
The video of the alleged sexual harassment of a school girl was shared on far-right social media channels in the days before the protest, including by PA leader Mark Collett – the latest example of the far-right cynically focussing on sexual violence only when it is perpetrated by ethnic minorities.
North West PA activist James Mac (AKA Costello) was present at the protest and posted videos about it on social media. The riot in Knowsley comes after PA and other far-right groups have been organising protests against asylum seekers in hotels for years.
The Suites Hotel site is reportedly managed by Serco, one of the companies which profit from Britain's privatised "hostile environment" migration system. Serco won a £1.9bn, ten-year contract from the Home Office in 2019 despite having racked up millions of pounds in fines for its failings since 2013.
There are now record numbers of migrants languishing in hotels in the UK's crumbling, chronically underfunded migration system. There are frequent reports of dire conditions in the hotels, with migrants given disgusting food and £8 per week to live on while not being allowed to work.
The Home Office's attempts to house asylum seekers in hotels are frequently met with opposition from local people and politicians. Objections sometimes come in the form of sympathetic concerns that the accommodation will be inadequate for asylum seekers, but often appear to be motivated by anti-migrant sentiment.
Protests are often organised on "Hotels Housing Illegals", a Facebook group with 12,000 members who share anti-migrant memes and information on hotels which are being used for asylum seeker accommodation.
"PA tries to gain attention and support by exploiting causes with more popular appeal than straightforward fascism," says Jones. The group sees "attacks on migrant accommodation as a populist cause they can both influence and recruit from."
These attempts to piggy-back onto protests against hotels housing asylum seekers have had mixed results.
In Linton-on-Ouse in North Yorkshire, Home Office plans to turn an RAF base into a migrant processing centre were opposed on the one hand by charities who believed it would lead to "prison-like" conditions for refugees, and on the other by far-right group Britain First which delivered leaflets and PA activists who used the opportunity to talk to local residents about the Great Replacement conspiracy theory. Residents complained of facing intimidation after challenging far-right activists. The plans were shelved in August.
In Erskine, Scotland, a local protest group postponed a demonstration at a hotel in February, when it became clear that PA were trying to hijack the event. (According to the National, Derek Stitt, hapless organiser of local group Erskine Against Asylum Hotel, first denied that he was associated with PA, then organised a tiny rally that ended in recriminations about the poor turnout, and then went back on his word, "encouraging local people to join [the] PA rally after all").
In Cottingham near Hull, PA activist and "Hitler lookalike" Alek Yerbury has been accused of trying to use a campaign by local people against accommodating asylum seekers in empty student accommodation to gain support. However, the campaign was ultimately successful and the accommodation plans were shelved.
This is happening in the context of decades of anti-migrant rhetoric in UK politics. Home Secretary Suella Braverman's talk of a migrant "invasion" has been blamed for whipping up hatred. Her "dream" of sending migrants to be processed in Rwanda is now government policy, currently held up by legal challenges. The policy is similar to proposals under Tony Blair's Labour government in 2004 to give Tanzania extra aid money to process asylum seekers.
Incendiary rhetoric from politicians has at times been indistinguishable from far-right leaflets. The week before the riot in Knowsley, Conservative MP Ben Bradley responded to a protest outside a hotel in Mansfield saying: ​​"I think residents massively feel the unfairness of the situation, the idea that people are arriving illegally and being put up in hotels, having their bills paid and food provided and all the rest of it when British citizens are struggling."
Jones believes the riot in Knowsley could encourage the far-right to step up campaigns against asylum seekers in hotels and lead to further violence.
"Although the causes of Friday's events are complex and somewhat specific to the local area, the disorder in Knowsley and resulting media attention will likely galvanise far-right efforts to oppose the housing of migrants in hotels," he said.
It's possible that the scenes in Knowsley "will see far-right activists be more violent elsewhere.""We expect far-right activists to throw even more time and energy into campaigns against migrants being housed in hotels. PA will likely try to become the leaders of this emerging racist movement and pull it towards an overtly ethno-nationalist, anti-migrant position.
"Other far-right individuals and groups will also organise protests against these hotels, as will racist NIMBYs and other people concerned about the Home Offices' plan."
Simon Childs is a commissioning editor and reporter for Novara Media.