London Renter Left Homeless After Black Mould Complaints Go Unanswered for Years
He now sleeps at work.
8 February 2023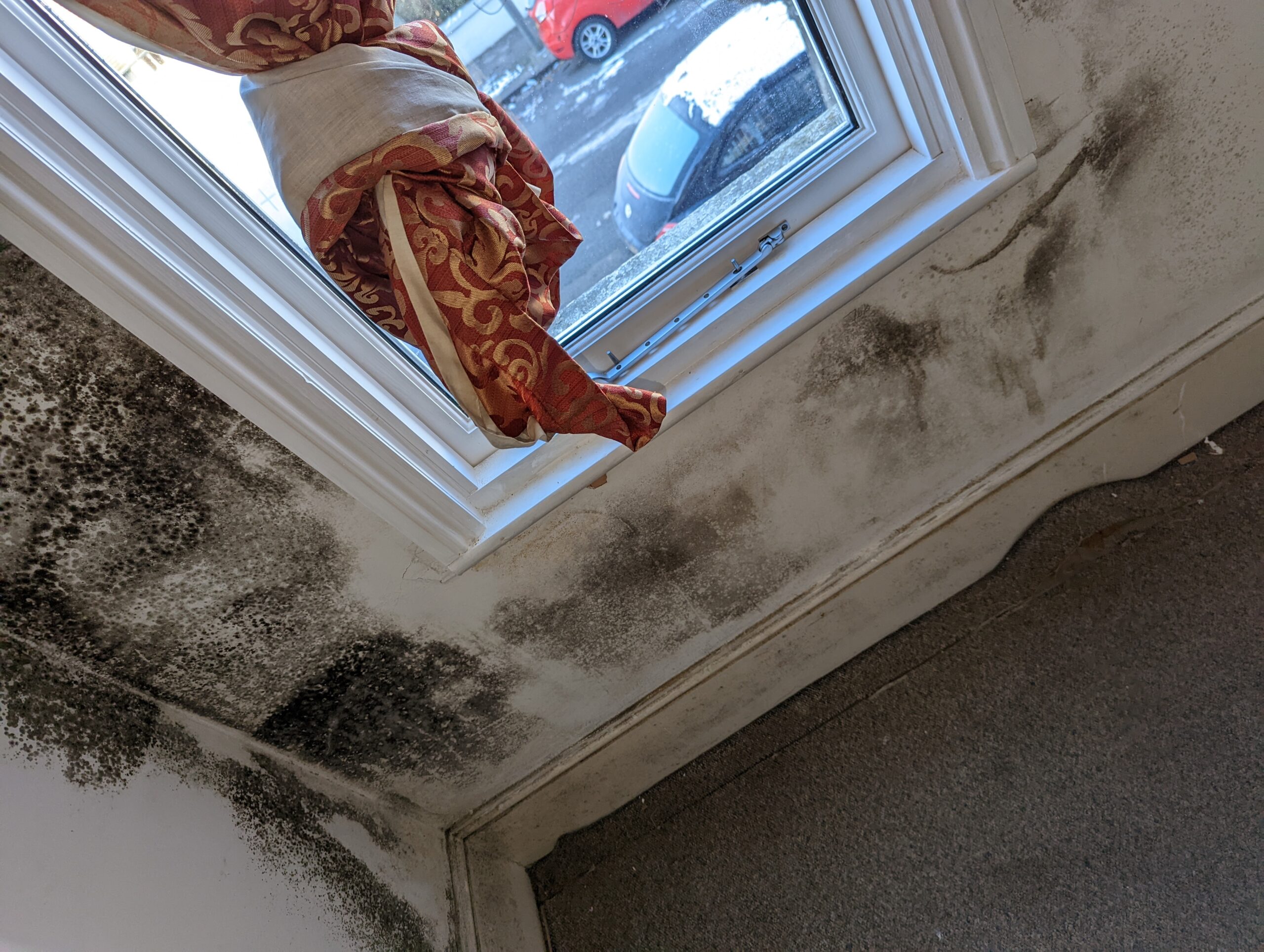 Black mould in the flat in December 2022. Photo: Andrew Kersley
A London renter has been left homeless and forced to sleep at work after his complaints of a black mould problem in his flat that left him using an inhaler went unanswered for years.
Luis Marmolejo, a 53-year-old porter, moved into his former flat in Streatham just a few doors down from London Mayor Sadiq Khan in March 2019. When Novara Media went to visit the property in December 2022, black mould covered entire walls of the living room. It snaked around skirting boards and window sills and dipped into the shadows behind sofas and cupboards.
The air was so heavy with it that even a couple of hours there left you wheezing and coughing. His neighbour, with a baby in tow, spoke to Novara Media about Luis' situation from the corridor – afraid to breathe the air in the flat.
The issues began as soon as Luis moved into his flat. He found ripped carpets, broken water pipes and electronics, mould, leaks and rotting wood on the windows.
Six months into his tenancy his landlord died and was replaced by a relative – though the property managers Foxtons did not inform Luis of that until many months later.
It wasn't until late in 2021, over two years after moving in and first complaining of conditions, that Foxtons and the new landlord chose to replace the flat's rotting windows. The work was so poorly done however that it damaged walls in the bedroom and living room.
The disrepair was so bad, the plaster and inside lining of most of the walls around the windows have fallen off. In places you could stick your hand through the wall and feel the outside air.
That was when the mould started to get a lot worse. It spread to almost every wall in every room. Luis started coughing so much that it kept his downstairs neighbours awake at night.
Eventually the mould became so bad Luis and his wife, Yulia, started using asthma inhalers to cope with the spore-filled air of the flat, despite never having had any serious lung problems before.
Over two years Foxtons and the landlord largely ignored Luis' repeated emails, or claimed they would look into issues, but failed to act, Luis says. Novara Media has seen 15 emails sent to Foxtons and the landlord, sent across the entire period of Luis' tenancy, in which he begs for help from the company as his breathing got increasingly ragged, often getting derisory responses.
In one, Luis was told by Foxtons that mould in the bathroom of the flat was the "tenant's responsibility" because he didn't turn on the room's extractor fan, even though the room in question never had an extractor fan.
"I had to live like this every single day," he said. "I am qualified as a football referee. But during a 90 minute game, now I struggle and wheeze."
"My doctors told me if I kept living in these conditions the asthma would get worse… I feel like a clown. I feel silly."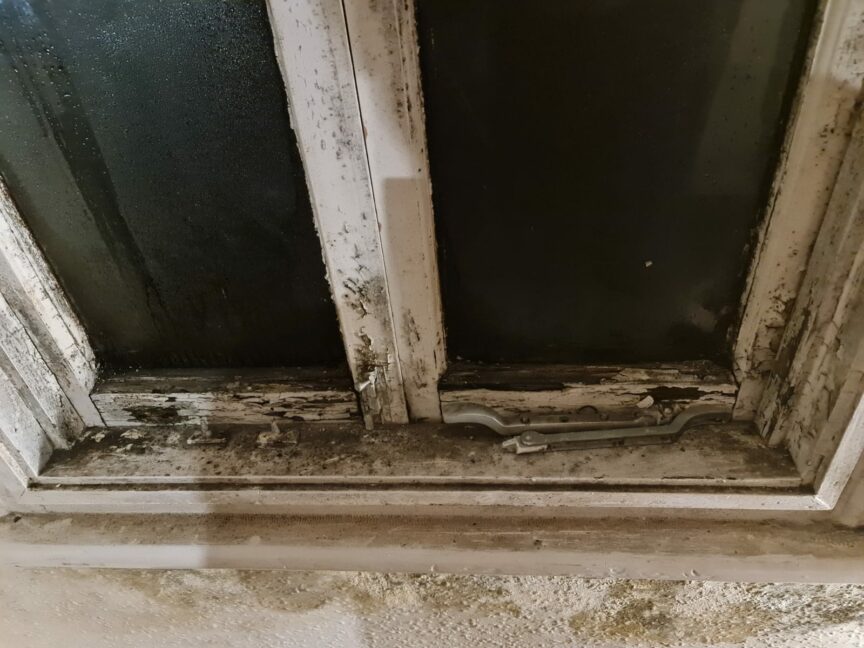 Foxtons told Luis that he legally had to permanently leave the property in order for work to take place, without offering him alternative accommodation. Caseworkers at the Safer Rating charity who are handling Luis' case told Novara Media that this was not the case.
When he refused to leave the property – insisting that the mould ought to be fixed without his eviction – he faced a campaign to try and force him to leave.
The flat's account with Thames Water was shut down. When Luis asked why, he was informed by a Thames Water officer that Foxtons had said that the property was unoccupied.
After years of worsening health and spreading mould, in January 2022 Foxtons and the landlord chose to serve a "no fault" eviction notice to try and remove Luis. Caseworkers acting for Luis said that the eviction was legally invalid as it tried to remove Luis before the end of his tenancy.
Luis eventually chose to leave the property in December last year, and since then has been left homeless, sleeping in a cell-sized room at his workplace.
When Novara Media approached Foxtons for comment, it initially claimed that "repairs have been made to the property throughout the tenancy as issues have been reported" and that mould problems were not reported until January 2021. Novara Media has since seen Luis's first email of complaint to Foxtons soon after moving in in March 2019, and have seen images of the extent of the rot and mould on Luis' windows when he moved in.
While the company claimed to regularly fix issues, many of the litany of problems listed in Luis' first emails were still present when Novara Media visited the property in December 2022.
Many of those problems were identified by Foxtons in a report it did on the property in March 2021 – in which it admitted it was in "bad condition".
As one example, the flat lacked a functional fire alarm. Foxtons identified this as a problem in need of "urgent action" in its report, but it still hadn't been fixed nearly two years later.
Foxtons added that "contractors subsequently investigated various causes of the mould and made repairs to try to address it," but a year later "it had become clear that more extensive work was required to address the causes".
Foxtons also claimed that Luis left the flat voluntarily. On 30 January Novara Media gave evidence that he had been forced to leave under the threat of an illegal eviction and details of the inaction over complaints. A spokesperson said they would respond, then didn't, then a week later asked for more time to look into it.
Last week, months after leaving the property in question, Luis was asked by Foxtons to make rent payments covering December, January and February.
Campaigners said cases like this are becoming worryingly commonplace in the capital.
There are an array of laws in place to hold criminal and rogue landlords to account for poor conditions or illegal evictions, but cash-strapped councils often fail to enforce them.
In particular, there are fewer than 200 entries on the mayor's landmark Rogue Landlord database, despite it first being launched to great fanfare back in 2017.
Previous investigations by Novara Media found that half of the city's boroughs either did not or would not say if they employed staff charged with investigating and prosecuting landlords who illegally evict or harass tenants. Meanwhile, the Met only investigated 22 of the thousands of illegal evictions that occurred in 2020.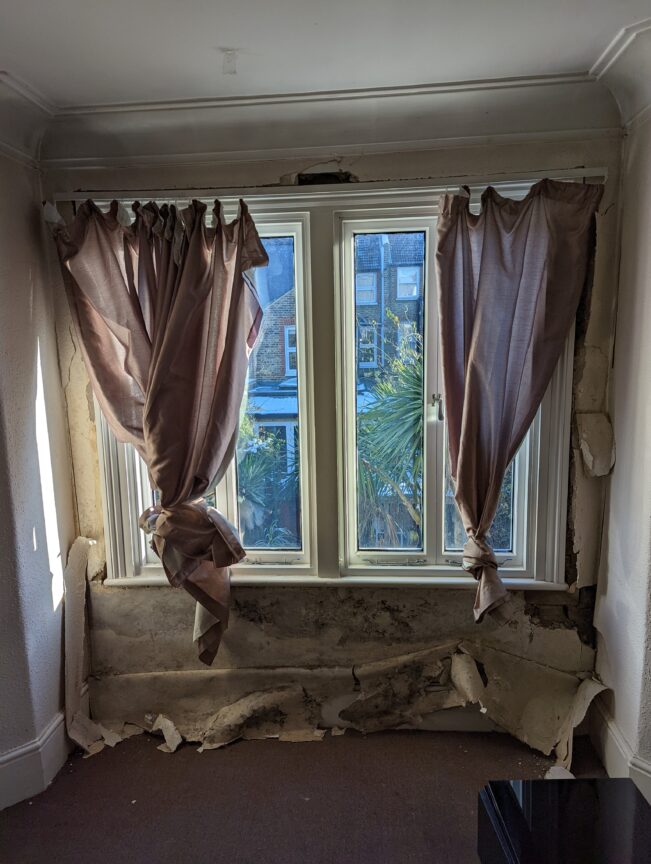 Novara Media understands the GLA has asked Wandsworth council to look into the case.
A spokesperson for Luis' neighbour, mayor of London, Sadiq Khan said: "No Londoner should face the horrific ordeal Luis has suffered. Councils across London desperately need more funding to address staff shortages, budget shortfalls and access to skills training. With more support, local authorities would be able to carry out increased inspections and enforcement and regulation of the private rented sector, which will help us to work towards a fairer London for everyone."
"It's like everybody looks the other way," says Roz Spencer, head of service for housing charity Safer Renting. "Generally the financial penalties for illegal landlords are often lower than what you would get for illegal downloading of music off the internet or shoplifting."
"The lack of enforcement and prosecutions [from councils] stem in large part from cuts to local authority budgets and a shortage of qualified environmental health staff," said Generation Rent deputy director Dan Wilson Craw. "We are concerned that some councils simply don't use the powers that they have, preferring to seek informal resolution of problems that leave tenants unprotected."
Siobhan Donnachie of London Renters Union said: "A lack of enforcement of housing standards means that it's more profitable for landlords to leave renters in unsafe housing than to deal with disrepair. If the Mayor of London is serious about tackling hazardous housing, he must work with councils to ensure they proactively enforce standards and hold landlords accountable."
Andrew Kersley is a journalist.